After a month of waiting, finally, it was the day to go to Maliau Basin. Though I had been preparing and looking forward to this trip, I still felt nervous when the moment came. In the morning of day 1, our group gathered in Kota Kinabalu. There were 5 persons in the group, i.e., me, Ms. S, Ms. D and Mr. T, and our guide Mr. J, an experienced naturalist who had been to Maliau many times.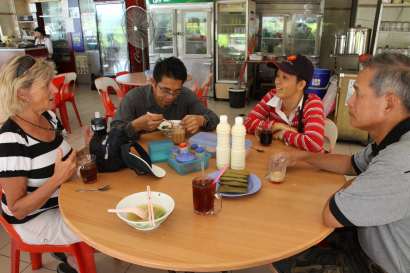 Departure
After we put our bags on our 4-wheel, we departed at 8:30am. Maliau Basin Conservation Area is located in south central Sabah, about 40 KM north of the Kalimantan border. FYI, there are two ways to go to Maliau Basin by land:
From Kota Kinabalu: go to the Keningau town and proceed to the east for 160 KM. You will pass by Sook, Nabawan and Sapulut (Sepulot). It took about 5 to 6 hours.
From Tawau: Maliau Basin is about 190KM at the west of Tawau. The ride takes 4 to 5 hours. (this was the only option when the new south-north "Keningau-Tawau" road was not available before 2008)
If you are rich, charter a helicopter to take you there in no time (do invite me!).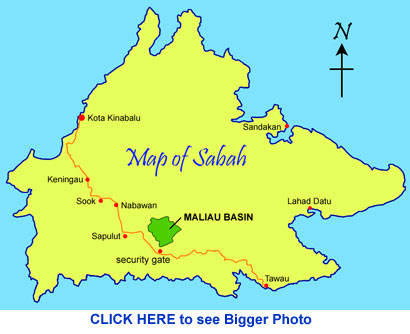 Stop over in Keningau Town
We arrived Keningau town around 11am, and we saw many logging trucks on the way. Some of us purchased Kampung Addidas (Village Addidas) shoes. Kampung Addidas is rubber shoe that has studs at the bottom and it is waterproof, making it the most suitable trekking shoe in the rainy and muddy conditions in tropical rainforest. It is only RM6 to RM8 a pair, very cheap but work better than your hundred-dollar hiking shoes.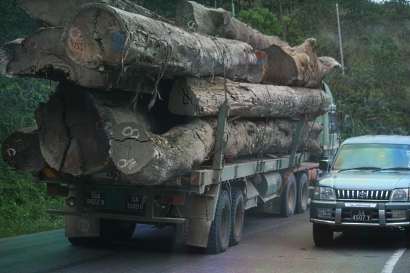 After we had our lunch in Juta Hotel, we went to Millimewa Supermarket to buy food supply. Since there is no restaurant deep inside the forest of Maliau, we have to carry and prepare our own food. We bought one week quantity of food supply consisted of rice, noodle, bread, can food, fruits, vegetables, fish, chicken, eggs, coffee & tea, salt & sugar, cooking oil, spices, drinking water, etc. Then we continued our road trip to Maliau Basin.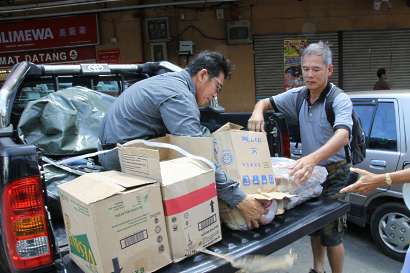 There is no petrol station between Keningau and Maliau Basin, so make sure your oil tank is full enough (don't forget you also need gas for return trip). If your car breaks down, there is no phone line, and you will be in trouble. There is no toilet too.
Road to Maliau Basin
(Updated: May 2016) A few years ago, a road trip to Maliau Basin required 4-Wheel Drive because of the gravel road in bad condition. Now most of the road from Keningau Town to the gate of Maliau Basin is paved and highly accessible by sedan and small cars.
Personally I give this road a score of 70%. Overall, this asphalt road is quite ok, but you have to stay vigilant and be careful of potholes, uneven surface and slow logging trucks that show up from time to time.
The 30-Km stretch of road between Nabawan and Sapulut (Sepulot) Town is poorly constructed, so it isn't a very smooth ride on this section.
You can take a look of the video below to get an idea of the road condition:

Though there are some damages, 95% of the road is in ok or good condition.
Please note the 27-Km road between the gate of Maliau Basin and its Studies Center is not fully sealed, so you might still need a 4-Wheel Drive, just to be safe.
Maliau Basin Studies Center (MBSC)
We reached the security gate of Maliau Basin Conservation Area at 3:30pm. The gate is 300 Meters above the sea level and Maliau Basin is still 27 KM away. We registered at the gate for permission to enter.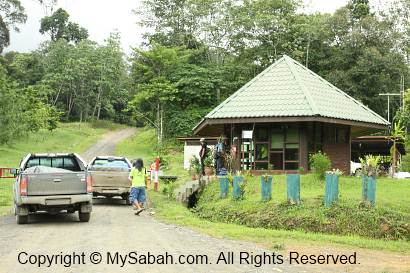 You should visit the Information Building nearby as it is a gallery with some good info and photos about Maliau Basin. You would see some Belian (ironwood) trees near the building. You could have your tea break at Maliau Cafe inside the building and use the toilet there.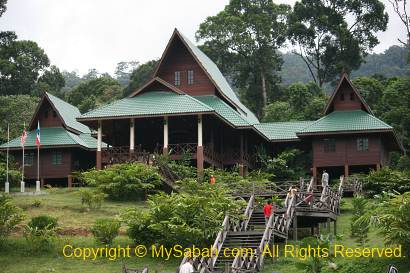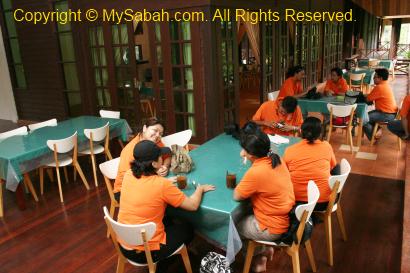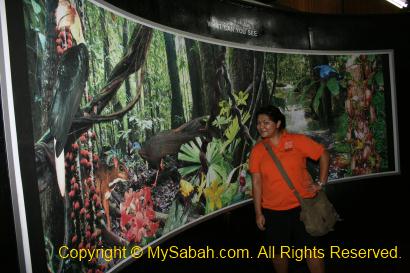 Maliau Basin Studies Centre (MBSC) is about an hour drive from the Maliau security gate, and that's the place where we stayed for the first night. The road to MBSC is unpaved and can be very slippery and muddy after rain. Your car has a very high chance of stranded in the mud if it is not a 4-wheel drive. And the driver has to keep vigilant on the road condition at all time. Our car slipped once and almost fell down the slope. It was so close man…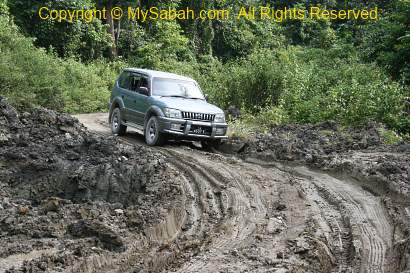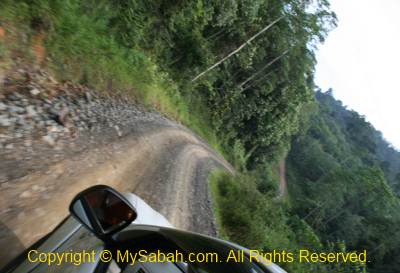 The forest view along the road is pleasing. We saw many fresh dung that belong to wildlife such as wild ox, elephant and deer. We saw a few Sambar Deer, the largest deer species in Sabah. They looked at our car briefly, with curiosity, before fleeing into the jungle.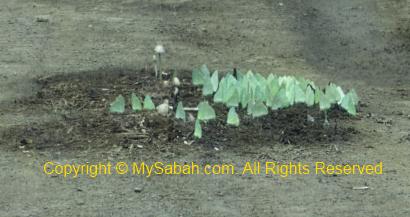 Above: butterflies eating dung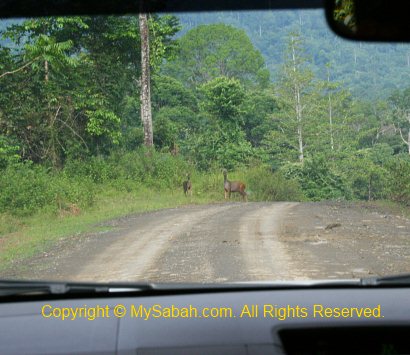 Maliau Basin Studies Centre (MBSC) is a big area consists of hostel, rest houses, administration & registration office, souvenir shop, conference room, laboratory and gallery. The buildings are wooden structure and look modern.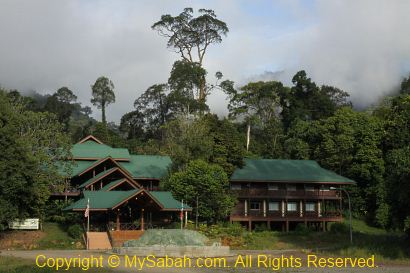 Above: Administration office of Maliau Basin Studies Centre (MBSC)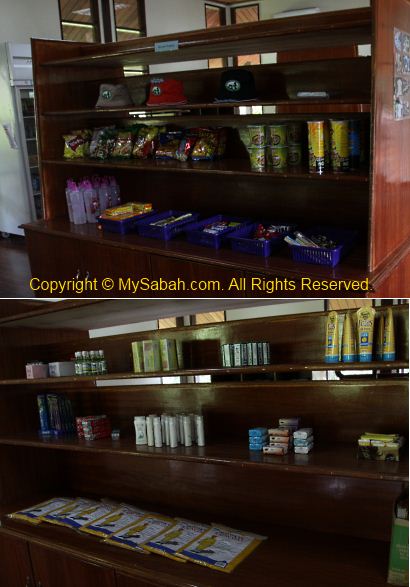 Above: you can get many things in the shop of MBSC, include leech socks. Be informed that they only open during normal working days and hours.
Below is a 2.5-minute video of Maliau Basin trip: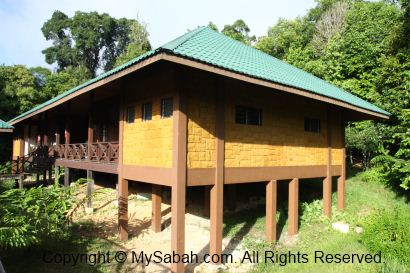 Above: Our hostel in Maliau Basin Studies Centre (MBSC)
Our hostel is quite spacious and comfortable, and it is split into male and female sides at each side. Each side has its toilet and bathroom. There are about 6 sections at each side; each section has two double-deck bunk beds (for 4 persons) and one ceiling fan, a luxury dormitory setting.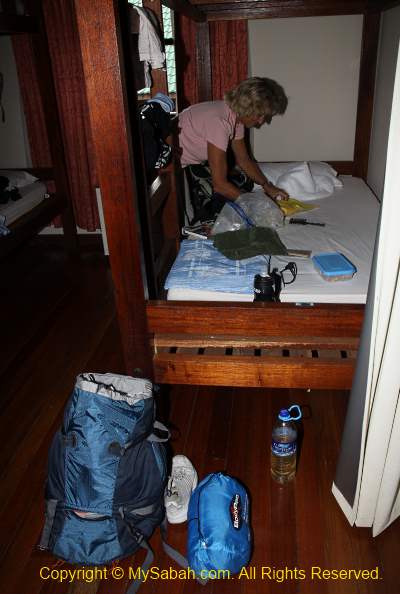 Above: our beds in hostel
The hostel is very simple and has no TV and air-conditioning, but in the next few days, we find that this hostel is the best accommodation in Maliau! There is no other guest, except a wild boar wandering outside. FYI, 013 (Maixs) and 019 (Celcom) have mobile phone signal in MBSC. I am using the Digi (016), and I don't know where is the fucking yellow fat man (mascot of Digi).
To learn more about the facilities of Maliau Basin Studies Center, you may download their leaflets below: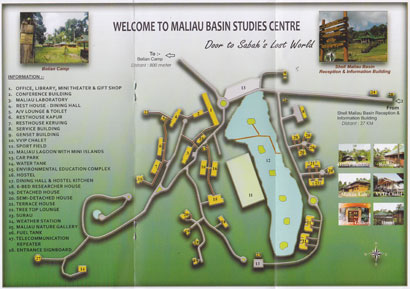 Above (Click to view Full Size): layout map of Maliau Basin Studies Center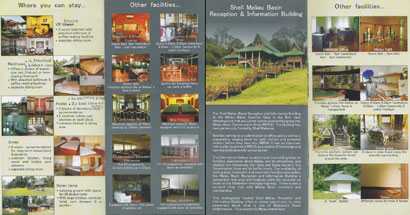 Above (Click to view Full Size): accommodation & facilities of Maliau Basin Studies Center
1st Evening in Maliau
After we checked in and unpacked our stuffs, it was about dinner time. We "tried" to cook "something" and called it a dinner. My lesson is – it is highly recommended that your group has at least one member who can cook, unless you bring your mom with you.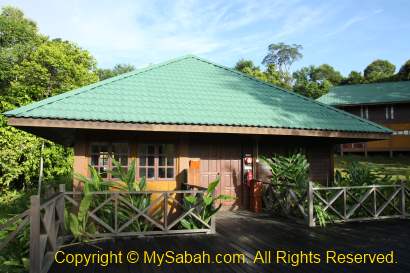 Above: the dining hall with kitchen. The kitchen inside is very well-equipped and has most things you need, e.g. cooking utensil, wok, rice cooker, gas stove, spoons & forks, plates & bowls, desks & chairs (for about 20 people), big & small knife, cutting board, cups, refrigerator, dish washing detergent.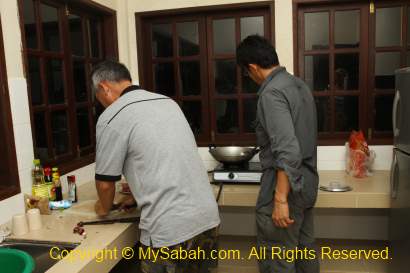 Above: cooking in dining hall
After the dinner, we attended a 1-hour video presentation of introduction to Maliau Basin and facilities at 8pm. The video gave us an overview on the geography, terrain, flora and fauna of Maliau Basin and the Do & Don't. Then we had a discussion with the ranger to decide the number of porters we need. The porters will carry our food as well as our bags (up to 12 KG per porter).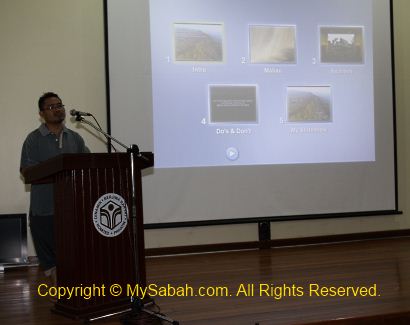 Above: Briefing by staff of MBSC
Before we went to bed, we divided the food into a few rations that to be carried by the porters to different camps (2 days in Ginseng Camp and 1 day in Nepenthes Camp). Again, a person who can cook will help a lot, coz he can plan the food menu and know the exact quantity of food for each ration. FYI, every camp has water supply, so you don't need to carry one week of water supply with you.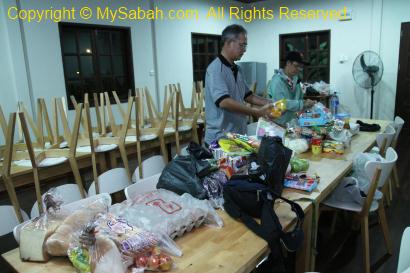 Above: ration our food
Photos taken in Maliau Basin, Sabah, Malaysia Borneo
All Articles of Maliau Basin Trip:
Part 1. Introduction to Maliau Basin
Part 2. Day 1 in Maliau Basin
Part 3. Day 2 in Maliau. Trekking to the 1st camp
Part 4. Day 3 in Maliau. Maliau Waterfall
Part 5. Day 4 in Maliau. Entering the garden of pitcher plant
Part 6. Day 5 in Maliau. Skybridge & Night Safari
Part 7. Day 6 in Maliau. Leaving Maliau
Part 8. Conclusion & Notes
More Photos
You may check out my Maliau Basin photo album for more pictures:


BONUS! More new photos of Maliau Basin…