Welcome to the digital era, now we can write an e-mail to reach anyone within seconds. Social media even allows us to chat in real time. Handwritten letter is dying. Decades ago, it was exciting to see postman dropped something in our mailbox because there could be a letter from our loved one. Nowadays? What we see in mailbox are just ugly white envelopes containing bank statements and bills.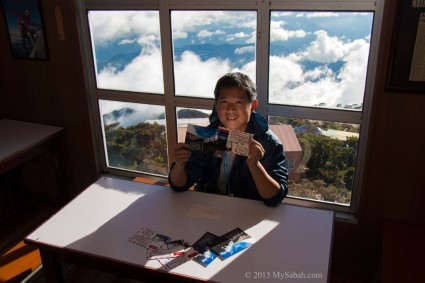 Anyway, people still appreciate handwritten notes today. However, your friends may not get the point if you suddenly send them a snail mail. To make it special and exciting, you can send them a postcard from the highest post box of Malaysia, which is located on Mt. Kinabalu, the highest mountain of Malaysia.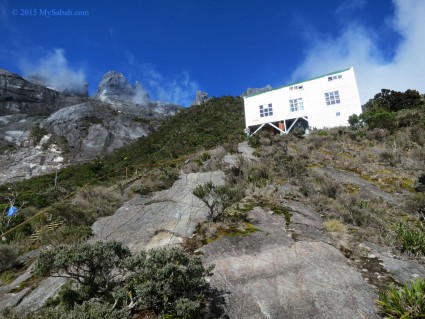 To reach this post box is no easy task though. You need to hike 6 KM to 3,289 Meters above sea level, but this effort adds more sentimental value to your postcard. Once you arrive Laban Rata Resthouse, the main accommodation for climbers of Mt. Kinabalu, you still need to climb 100 Meters of staircase behind the resthouse to Pendant Hut, where the post box sitting next to.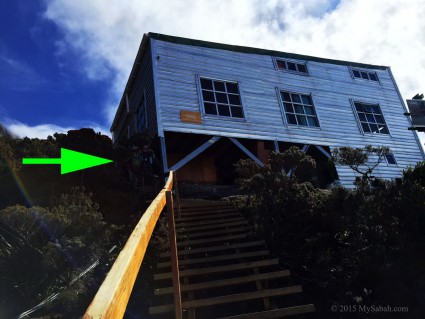 Pendant Hut is the training center and accommodation operated by Mountain TORQ for Via Ferrata and alpine sport climbing courses. They are also appointed by POS Malaysia as its licensed agent to handle its post box.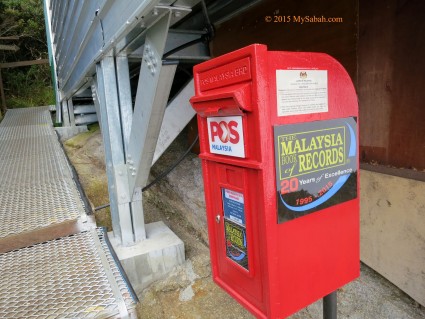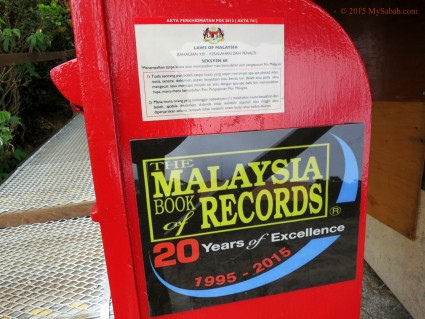 This post box is installed next to Pendant Hut on 14 Feb 2015, and certified as the Highest Post Box of Malaysia (and probably Southeast Asia too) by Malaysia Book of Records. You can buy postcard and postal stamps from the office of Mountain TORQ in Pendant Hut. If you have prepared your postcard with stamp, do not drop it to this post box before you get the special Mt. Kinabalu post office ink-stamp (chop) from the same office.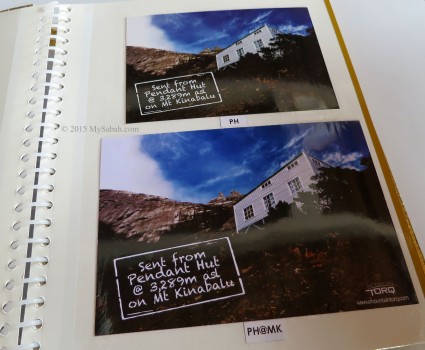 There are a few special postcards printed with message "Sent from Pendant Hut", which are ONLY available at Pendant Hut. Their postcards come with big (6.85 x 4.85 inches or 17.5 x 12.3 cm) and small (5.8 x 4.1 inches or 14.7 x 10.5 cm) sizes. Both cost the same (RM2.00 or USD0.60) so I recommend you to buy the big one.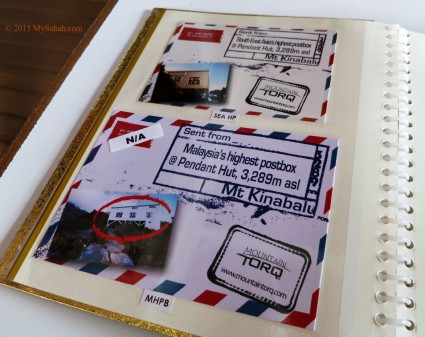 To be honest, personally I think their postcards look a bit boring. Hope they will have better design and more variety of postcards in future. You can use other postcards you buy somewhere else too (Laban Rata Resthouse have some standard Sabah postcards for sale).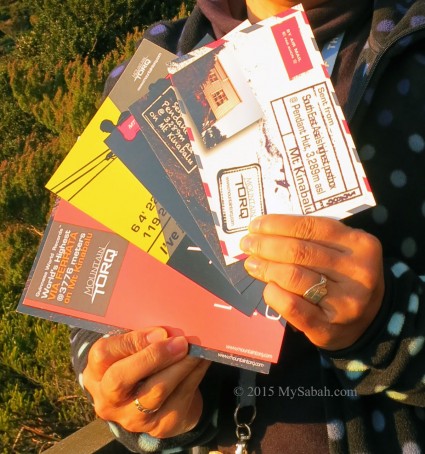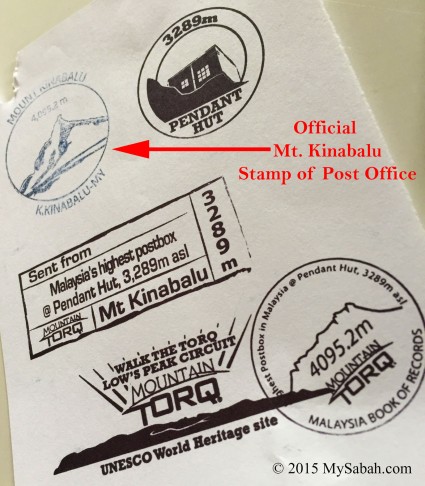 The reason to use the bigger postcard is to get more space for other ink stamps (see photo above). The Mt. Kinabalu official stamp by POS Malaysia should be your first choice. You can add other stamps just for fun (no extra fee). If you use small postcard, there isn't much room for more than two stamps.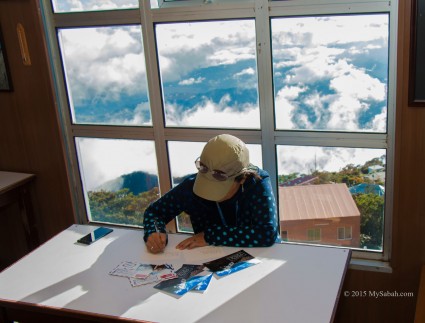 It's the coldest month (usually Nov – Dec) during my visit, the temperature at Laban Rata was only 10°C, so freezing cold that my fingers turned stiff and unable to write the words beautifully. Anyway, I enjoyed visualizing the happy faces of my friends who received my special postcards. It brought back my memory and feeling of writing a letter in the past.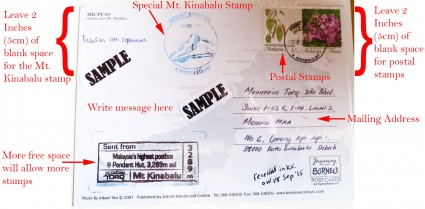 It's very important that you write the postcard in proper layout (see picture above). You should leave two inches (5 cm) of space on top of postcard. It's a post office requirement to stamp the official Mt. Kinabalu ink stamp on top. If you start writing on top, this stamp will be pressed over your writing and that doesn't look so good. Another reason to use bigger postcard if you need a lot of space for your message.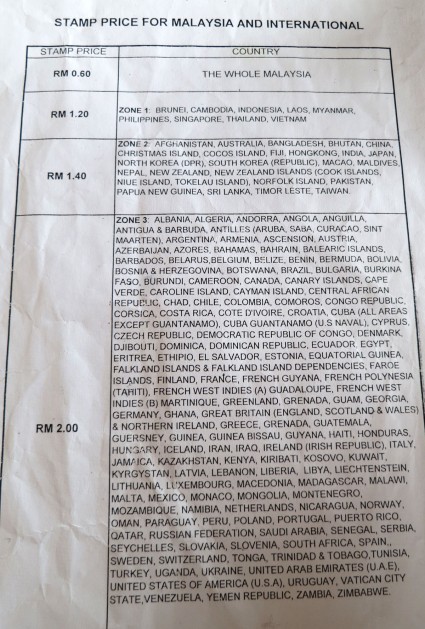 After writing your postcard, you need to buy postal stamp (RM0.60-RM2.00, depending on destination country). The staff of Mt. TORQ will add the Mt. Kinabalu ink stamp (and other stamps of your choice) on your postcard, then they will seal your postcard(s) in a clear plastic bag, to protect them from moisture of rain and fog on Mt. Kinabalu.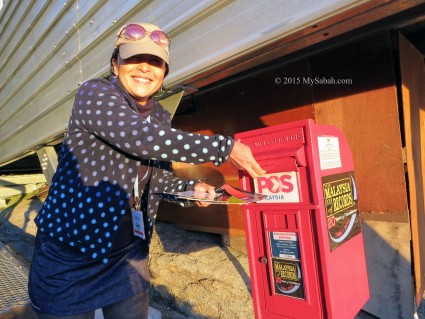 The last step is to drop your postcard into the post box. The photo above is just a demo. The postcards will be stored inside a plastic bag. Do prepare some cash for buying postcard and postal stamp. It already costs you at least RM26 by sending 10 postcards. They accept no credit card.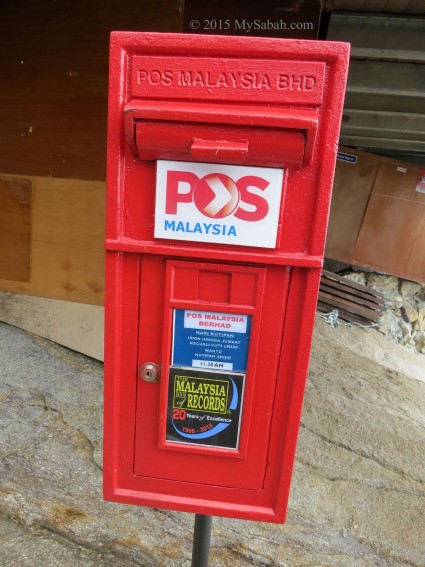 There is a postman to pick up the postcards and letters from this post box at 11:30am during weekdays (Mon-Fri, except Public Holiday). The postcards will be sent to Ranau Post Office first, before they are delivered to their destinations.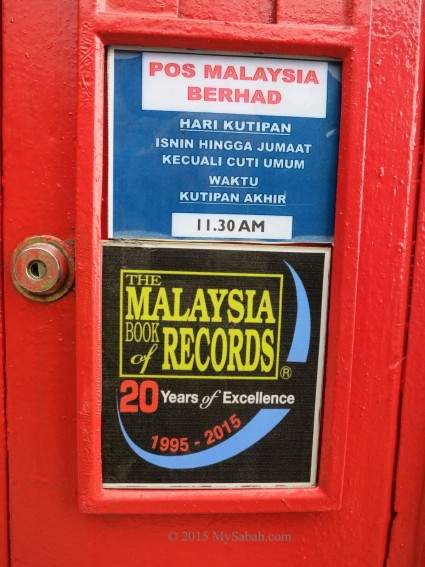 The delivery is not fast. It took a week or more for my postcards to reach different locations near Kota Kinabalu City (KK), one of the addresses is only 200 Meters away from KK Post Office. It'll definitely take longer time to reach destinations outside KK and Sabah.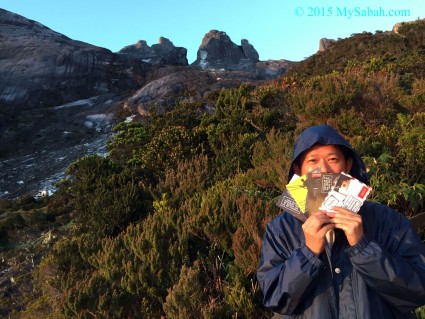 Besides postcard, you also can send letter. The Mountain TORQ office in Pendant Hut closes at 5pm, so it's better that you prepare the written letter in advance instead of writing it on the mountain. I also sent myself a postcard. Below is the photo of the postcard after delivery by post office. Note the cancellation mark (on the stamps) has the mailing date, name, icon and height of Mt. Kinabalu.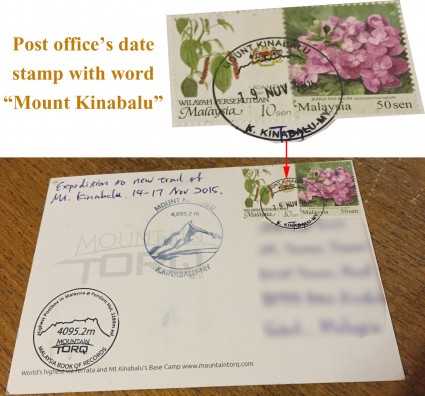 POS Malaysia has installed the deepest post box (40 Meters) at Layang-Layang Island. In future, they would install post boxes in other popular tourist destinations such as Sipadan Island and Tip of Borneo.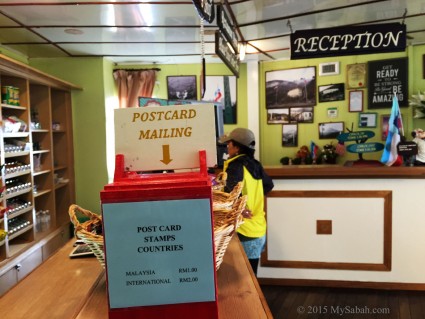 "I've always thought that receiving a handwritten letter is like getting a hug in the mail." -Christine French Cully (Huffington Post)
Message sent from keyboard, no matter how well-written, still can't replace the personal touch of a handwritten message. A postcard will be a delightful surprise to the people you care. I may forget 1,000 messages that you sent to me by smartphone, but I'll never forget the single postcard that you write for me.
Here is a video to see the launching of this post box:
Photos taken in Laban Rata, Sabah, Malaysia Borneo