Also known as "Sabah's Lost World", Maliau Basin looks like a huge volcanic caldera from the aeroplane, which spans 25 Kilometers in diameter. This saucer-shaped geological structure, which is formed about 5 million years ago, is not the remnant of a dead volcano. In fact, it is a plateau gradually uplifted by volcanic & tectonic movements, and the middle was eroded to a basin due to weathering. The basin is a sedimentary formation comprised mainly of gently inclined beds of sandstone and mudstone, deposited between 15 million and 9 million years ago when Maliau was a coastal delta.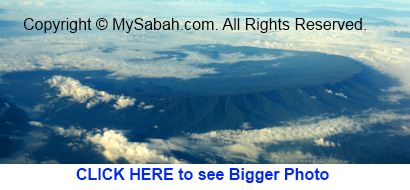 Maliau means "Land of the Giant Staircase" in Murut language. The reason Maliau Basin is called Sabah's Lost World is because of its almost circular outer rim, with steep slopes and cliffs range from 300 to 1,600 Meters in height, creating a natural barrier that isolates the basin from the world (and "gene exchange"). Some flora and fauna, which are "trapped" in the basin for millions of years, may have evolved into new species. The only "opening" of Maliau is via Maliau Gorge, a narrow gap to South East, where Maliau River flows and joins Kuamut River outside basin, then to Kinabatangan River, the longest river of Sabah.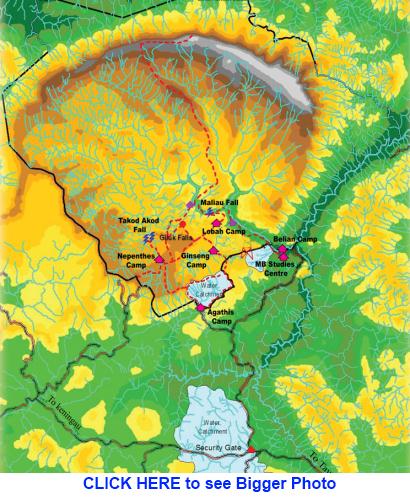 The Maliau Basin Conservation Area covers an area of sprawling 588.4 square Kilometers (nearly the size of Singapore!) in Tawau district, at the South Central Part of Sabah. The Basin itself is about 390 sq. KM in size, the additional 200 sq. KM is the buffer zones surrounding the basin for extra protection. The highest point of Maliau is Gunung Lotung (Mt. Lotung) on the north rim, which is over 1,676 m in elevation.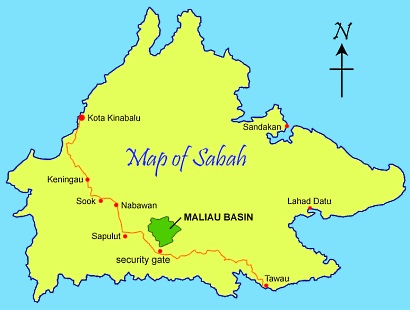 Sorry if you are bored with the geography stuffs above. However, those are the basic knowledge for you to really understand why Maliau Basin is such a special place.
Below is a 5-minute video of jungle trekking in Maliau Basin:
Forest Types & Vegetation
Because of its unique geology, topography, soils & range of altitudes from 215 Meters to over 1,650 Meters above sea level, Maliau Basin houses at least 12 forest types. They can be divided into 4 main groups:
Mixed dipterocarp forest
Occupy 12% of Maliau Basin. Tall rainforest trees with 25M-45M in height, greatest plant & animal diversity, dipterocarp means "two-winged fruit" in Greek, lianas & rattan crawling plant prevail.
Lowland dipterocarp forest
Occupy 11% of Maliau Basin. Tropical rainforest with abundant commercial timbers such as menggaris, seraya and ironwood.
Lower montane forest
750M – 850M asl, trees are only 15-30M high, fewer big tree but more epiphytes, conspicuous mossiness.
Tropical Heath forest (kerangas)
Occupy 21% of Maliau Basin between 900M and 1,600M asl. In Iban language, kerangas means underlying soils are unsuitable for growing rice, dense stands of smaller sized, small-crowned & shorter trees, up to 20M high.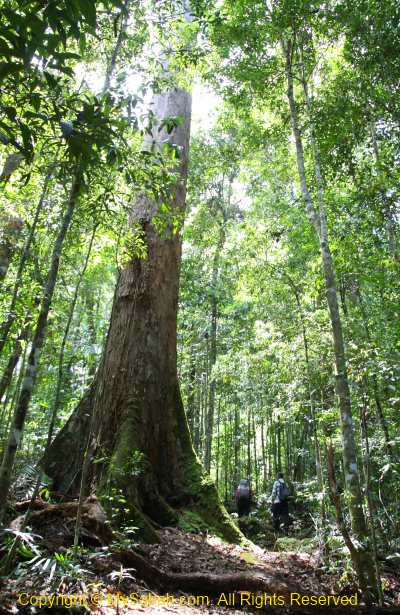 Above: dipterocarp rainforest
Their distribution is complex, with many overlapping and transitional zones, which are called "ecotone" by the scientists. Researchers are pretty excited by ecotone, because the hybrid conditions produce unique plant form, some can be new to science. For travellers like me, walking from one zone to another is like entering a different world each time.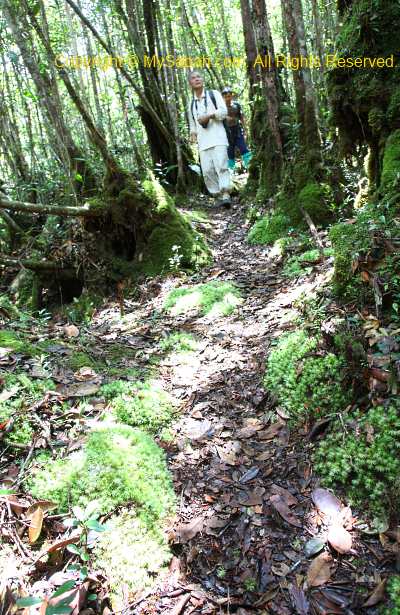 Above: heath forest (kerangas)
Over 1,900 species types of plant have been identified in Maliau Basin, including 9 species of pitcher plants, 440 tree species and 80 species of orchid. 54 plant species are endangered. For fauna, over 69 mammal species, 290 bird species and over 35 species of amphibians are recorded so far. A rare Rafflesia tengku-adlinii flower has been spotted in Maliau Basin.
Why Maliau Basin?
A 6-day-5-night "Full Loop" tour package to Maliau Basin costs me about RM2,000 (about USD$630) even after deep discount and exemption of some fees. Wow, with RM2,000, I can go to China, Bali, Thailand, Vietnam and other foreigner countries already. Going to Maliau Basin is like paying $ to buy suffering, as the trip demands a lot of physical strength. Exploring Maliau is more like an achievement, an adventure, than a trip.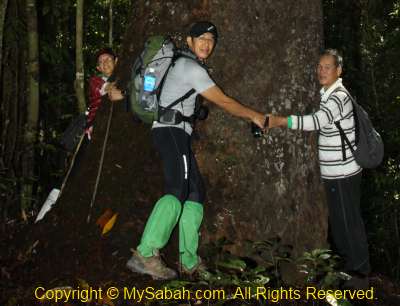 Why didn't I use that $$$ to go to more popular tourist destinations? The first reason is, to me, popular means "many had seen it", I dislike places that are too commercialized or frequented by millions of tourists. For example, just do a Internet search on Great Wall of China or Phuket of Thailand, you will find tons of info and photos. I want to see something pristine and less popular.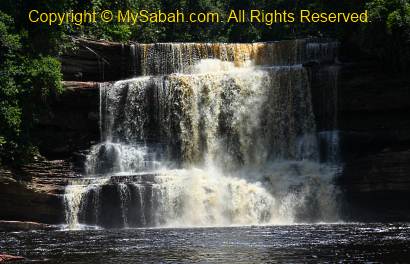 Above: Maliau Waterfall
For second reason, I love Sabah, so I would like to promote Maliau Basin to more nature lovers. To promote an attraction, we need a lot of beautiful photos and interesting info. Since not many photographers are keen to go deep inside the forest with heavy camera equipments, probably I can help to present Maliau Basin to the world with my blog.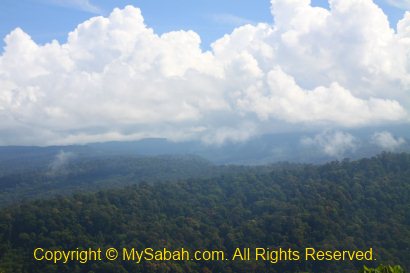 However, it'll be too lengthy to cover the 6-day trip in one single blog, so I break the stories into 8 parts like below:
Part 1. Introduction to Maliau Basin (this blog)
Part 2. Day 1 in Maliau Basin
Part 3. Day 2 in Maliau. Trekking to the 1st camp
Part 4. Day 3 in Maliau. Maliau Waterfall
Part 5. Day 4 in Maliau. Entering the garden of pitcher plant
Part 6. Day 5 in Maliau. Skybridge & Night Safari
Part 7. Day 6 in Maliau. Leaving Maliau
Part 8. Conclusion & Notes. Useful if you plan to visit Maliau
BONUS! More photos of Maliau Basin…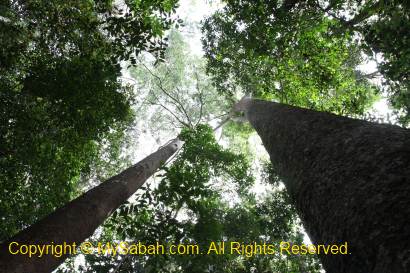 Below are some important items that you should pack for the Maliau Basin trip.
Things to Bring
Backpack (avoid the bulky one. Best if come with raincover)
Torchlight
Clothing (T-shirts, jeans, socks, underwear, etc.)
Light sleeping bag
Mini towel
Insect repellent (Mosiguard with anti-leech formula)
Raincoat
Water container / bottle (1 Litre or more)
Lunch box & spoon (for packed lunch enroute). Can seal to avoid leaking
Snacks and High energy bars
Cash
Personal toiletries (e.g. tooth brush & paste, soap, cloth pegs)
Adidas Kampung (rubber hiking shoes) or other good hiking shoes
Sandals / slippers
Plastic bags (to store dirty clothing or waste)
Hand glove (I'm ok without it. Recommended for lady with "soft" palm)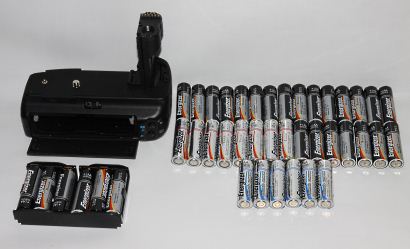 Camera & Accessories
Canon EOS 50D DSLR camera (LCD screen protector is a MUST!)
Lens: Tamron 17-50mm f/2.8 VC, Canon EFS 55-250mm f/4-5.6 IS.
Memories cards (a total of 18GB)
External Flash 580 EX II
Battery Grip (Phottix brand) and 50+ AA batteries
Tripod (ball head): Manfratto
Filters: UV, GND, ND8, CPL
Camera bag (with raincover)
After I packed everything, the total weight is about 17 Kg (about 10Kg are camera stuffs!). I hired a porter to carry 12Kg, so I only carried about 5Kg of weight, coz shooting photos around with 17Kg on my back was not very convenient. 3 day of porter service costs me RM300 (less than USD$100).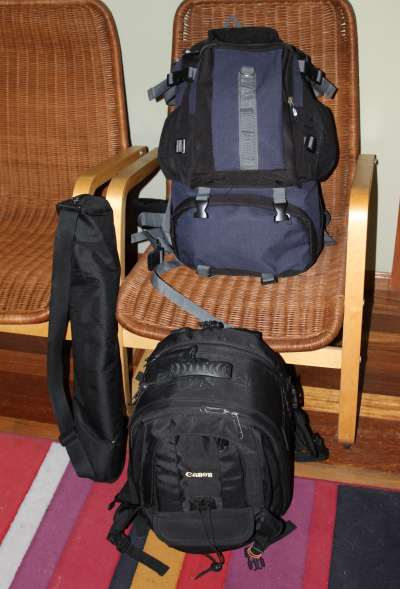 For long hours of jungle trekking, every pound counts. Keep your burden as light as possible or hire a porter. If you plan to carry everything yourself, I strongly recommend you to keep the weight between 6 to 8Kg only. 10Kg and above is for those who are really tough and experienced. You can wash your clothing so you can bring less clothing. I wore the same jean for 5 days. You think this is terrible? One of us wore the same cloth & jean for 5 days, I had to stay 10 feet away from this person while trekking, due to the strong smell like sour rotten food.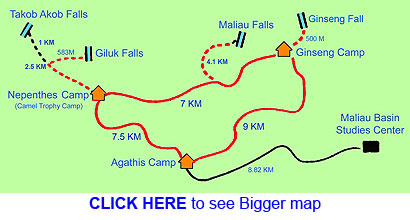 Above: the trail in red color was the trail I covered in 4 days.
Physical Exercise
Everyone says the Maliau Basin trip is tough and physically demanding. I was very lazy and never did any exercise for years, and I knew Maliau Basin trip was no joking matter. I felt really apprehensive when the Maliau Basin trip was only a month ahead and I was running out of time. Without hesitation, I started my intensive training. If weather permitted, I would jog about 4 KM every day. I also did some push-up and sit-up to strengthen my muscles, so I could carry heavy stuffs. Though the training was only one month, it did help me a lot. The Maliau Basin was not as terrible as it sounded. The trip was tiring but I was not totally exhausted, and that extra energy kept my photography going. Taking photos really can drain your energy. What I can tell is Maliau Basin is a nightmare to those who are lack of exercise.
More Photos
You may check out my Maliau Basin photo album for more pictures: