The Green Connection Aquarium is an eco theme park which showcases the remarkable biodiversity of Sabah. At first I thought it was just another new mini-zoo, until I saw its first-class facilities that are not found elsewhere in Sabah. This park combines zoo, aquarium and science discovery centre into one great environmental education experience.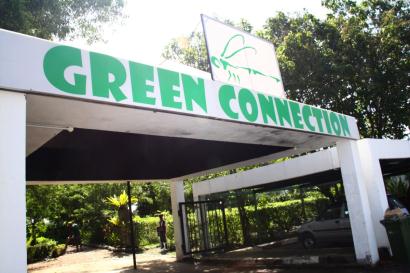 Click Here to see more photos of The Green Connection >>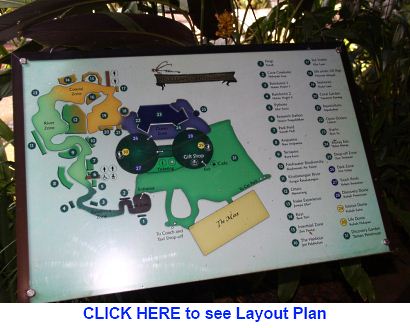 A Walk into Sabah's Biodiversity
Operated by conservationists, the Green Connection houses over 500 native species of animals from 9 major habitats. A friendly staff will guide you for an interpretation walk into different ecology zones: through limestone caves, dense jungle, muddy mangroves, magnificent reefs, coastlines and out into the open ocean.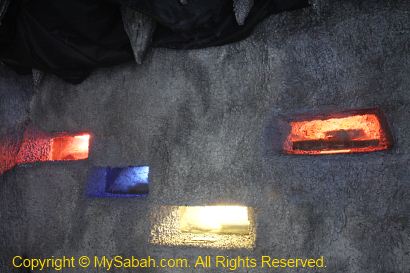 Cave Zone: a cave-like environment for you to see some creepy cave dwellers such as scorpion and spider in the dark.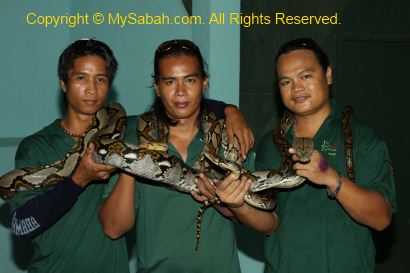 Rainforest Zone: information of status and threats of our Borneo jungle. A few big pythons wait to take photo with you.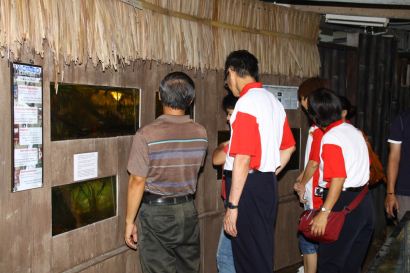 River Zone: a collection of native freshwater lives such as blade fishes, terrapins, catfish and pig-nosed turtle. Say Hi to reptiles such as monitor lizard, crocodile and snake.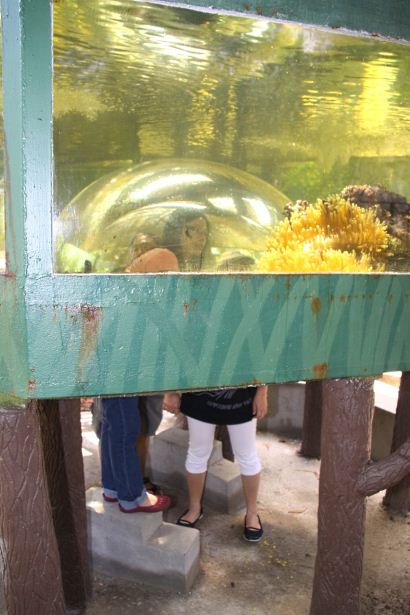 Coastal Zone: see feeding of turtle and stingray. There is a fish tank with a hollow in middle, where you can "pop" your head in and see yourself surrounded by corals and fishes. It is so fun!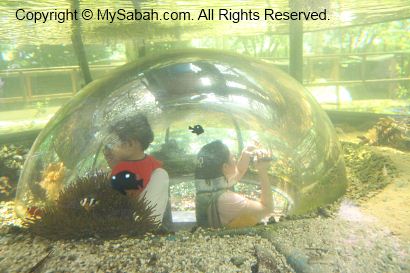 The coral garden tanks show various hard and soft corals, sea anemone and giant clams in close distance, without making you wet. You will see highly venomous marine creatures such as sea snakes, stone fish and scorpion fishes.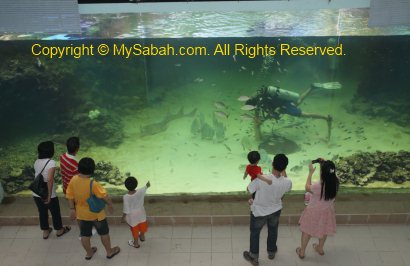 Ocean Zone: the aquarium tank with 8-inch thick glass is the highlight as it is the largest in South East Asia. During feeding time, you will see cowtail stingray, black-tipped reef sharks, striped catfishes, guitar shark, blue-spotted ray and bat fishes in a frenzy for food.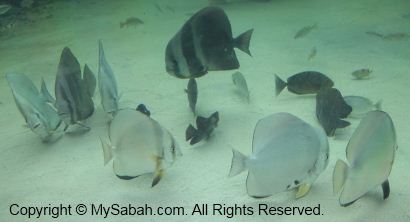 Above: these bat fishes change color almost every minute.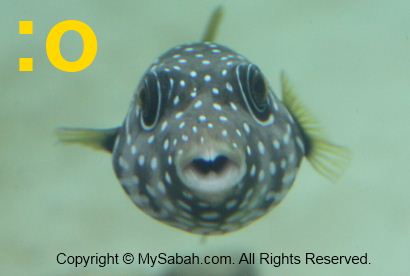 An Outdoor Classroom
I remember one day I was in Sabah Museum, a boy complained to his parents, "I'm so bored. Can we leave now?" If you ask the children what impresses them in the zoo, they might answer that is the parrot that they touch earlier, not the charismatic animals such as lions and giraffe. Kids are more interested in Nemo than clown fishes. Kids see and learn the world differently.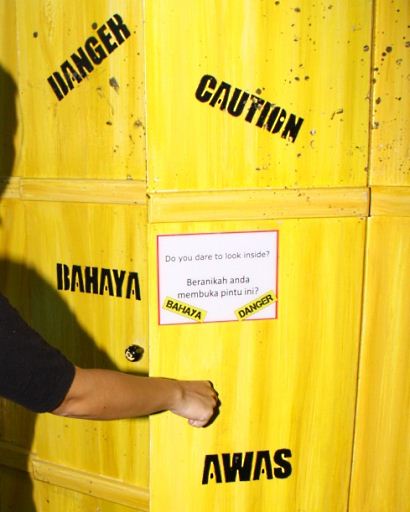 Click Here to see more photos of The Green Connection >>
Therefore, that is why I think the Green Connection is more than a tourist attraction. It is a great outdoor classroom that stimulates learning because it encourages kids to see, touch, feel and smell things in fun way. For example, the Touch Pools allows them to touch starfishes, bamboo sharks and horse-shoe crabs. This should work very well because Malaysians have very itchy hands and want to touch everything.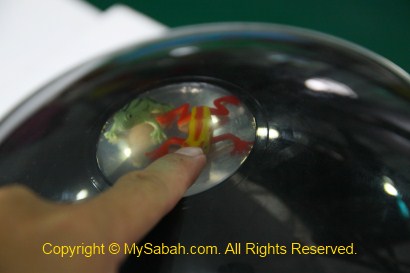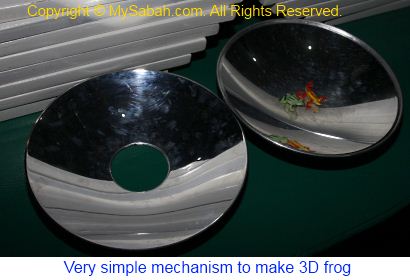 The science and discovery centre with creative and interactive hands-on modules which are not only fun but an interesting demonstration of oceanography, biology, chemistry, physics, maths, technology & engineering concepts. Even adults find them fun. When you can make the children open their mouths to ask WHY and HOW, you know it's great chance to educate them. My favourite is a 3D frog illusion projected by manipulation of reflection of light. The frog looks so real and solid but you cannot touch it.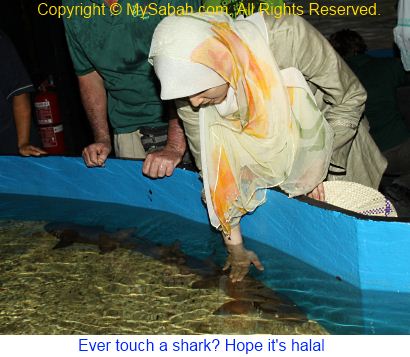 Kids nowadays seldom get in touch with nature. I recall my childhood that is filled with memories of fishing, cycling, tree climbing and "loitering". But when I look out the window, there are no children plays outside their house. Probably they are busy with computer, video game and TV? How do we expect the younger generation to conserve the environment if they do not love it? The Green Connection does an outstanding job to "connect" them to the nature and learn to love and protect it.
Click Here to see more photos of The Green Connection >>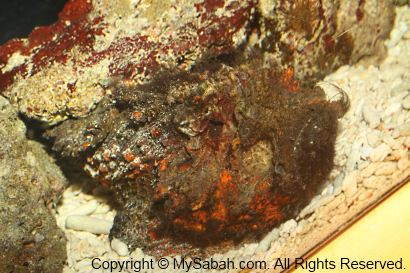 Above: not everything is touchable. Like the stone fish above. A victim says, "the sting made my hand felt like inside the boiling water for 3 days. It's so…. hurt." Its venom can be fatal.
Contact & Info
The Green Connection is situated at 5 KM Tuaran Road, Likas (see Location Map). Just make a turn to the junction near Wisma Wanita, follow the sign and you will see it next to St. John Ambulance. The entrance fee is RM25 for adult and RM15 for children (2 to 16 years old). Please note that they have discount for Family and School groups.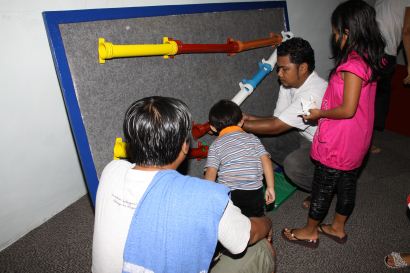 Opening Hours: 9:30am-5:30pm every day (last entry 4:30pm)
Feeding Show: Weekdays: 11:30am & 4:00pm, Weekend & Holidays: 11:30am, 2:00pm & 4:00pm
Address (see Location Map): The Green Connection, Badan Sukarela Complex, Mile 2, Tuaran Road, Lorong Bunga Matahari 2, 88450 Likas, Kota Kinabalu, Sabah, Malaysia.
Website: aadcgreenconnection.com
E-mail: Enquiry@aadcgreenconnection.com
Facebook: Green-Connection-Aquatica-Aquarium-Discovery-Centre-Sdn-Bhd-OFFICIAL
Phone: +60 13-8978005, +60 88-263326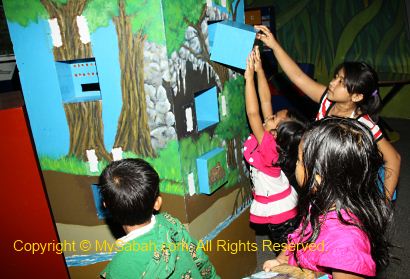 Click Here to see more photos of The Green Connection >>
Green Connection is quite big. I only show the photos of part of (not all) The Green Connection here, as a teaser. Personally I call it a must-visit place to family and recommend it to my friends. After they visit this place, they also become a fan and tell others about the exciting experience.
Photos taken in Kota Kinabalu, Sabah Malaysia