(Note: the island resort is closed) Whenever divers come to Sabah, they will think about Semporna and Sipadan only, as if there is no good dive sites in other part of Sabah. FYI, Tabawan Island (Pulau Tabawan), which is also known as Pearl Island, is a new gem inside the Coral Triangle zone of Darvel Bay. For many decades, the pearl farm of Tabawan Island has vigilantly safeguarded the surrounding waters to keep thieves and trespassers away. Recently they start to allow divers to visit the island, and an accommodation, Tabawan Eco Dive Lodge, was built for the tourists.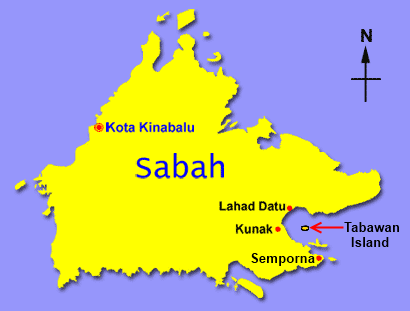 Click Here to see more photos of Tabawan Island >>
The security of Tabawan is tight. There is a police base, equipped with radar, stations on the island. We even saw a patrol boat on duty. Since no outsiders can come near, the corals are spared from destructive fishing methods such as fish blasting (fish bombing) and cyanide (poison) fishing. The size of the sea fans and various other corals are so big, making Tabawan one of the most impressive scuba diving destinations in Sabah. This is really a good news to people of Kunak town, as they try to promote the tourism in Kunak, and they were lack of island attraction.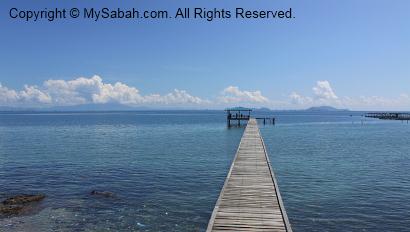 Click Here to see more photos of Tabawan Island >>
The tour operator told me that the name "Tabawan" was from Chinese words "大把湾", which means "so many bays". It is quite a close description of Tabawan coz this largest island off Kunak really has many bays, with calm water suitable for pearl farming. To go to Tabawan, you could book a diving trip with Sulawesi Sea Safari, which is a dive operator bases in Semporna. By boat, it takes about an hour to reach Tabawan Island from Semporna. For my trip last month, we departed from the jetty in Kunak, so it took only 20 minutes.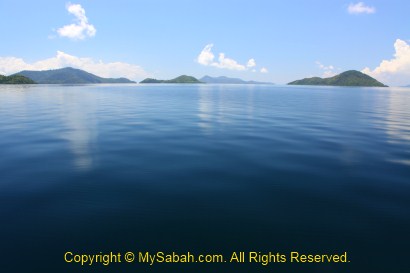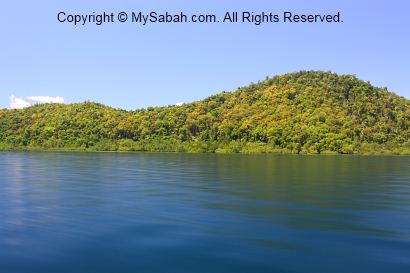 Click Here to see more photos of Tabawan Island >>
Because Tabawan Island is located inside the Darvel Bay and surrounded by many islands, the sea is very gentle and suitable for diving all year round, unlike other remote islands which have rough sea and easily affected by bad weather. The boat ride was not very bumpy and the sea was so calm that it even reflected the cloud like a mirror. The sea water is very clean too, another critical requirement for pearl farming. But the sea is dark blue color and look really deep, kind of scaring me a bit.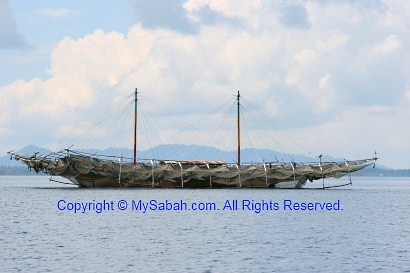 Click Here to see more photos of Tabawan Island >>
You will see dozens of "bagang" on the way. Bagang is a traditional fishing structure used by the local fishermen (usually Bugis people) to trap the fishes (mainly the small Bilis fishes). They will lower the fishing net into the sea in the evening, use light to attract fishes gathering over the net, then lift the net for the fish caught. I also saw Bagang in the sea near Pitas, they share the same concept but the design look a bit different.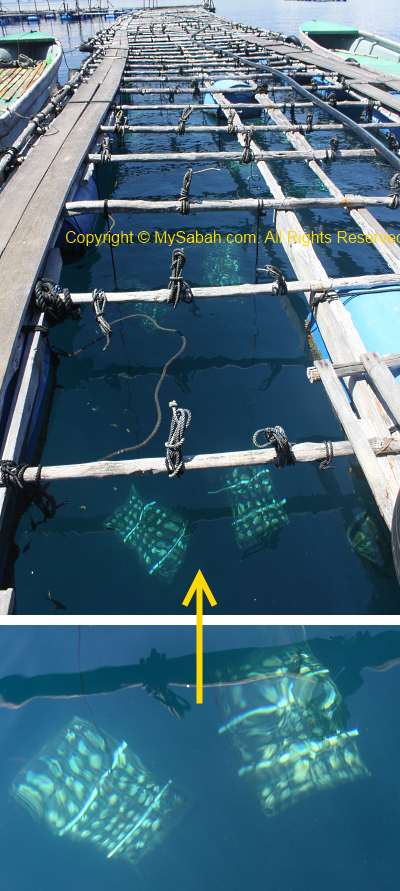 Click Here to see more photos of Tabawan Island >>
Very soon I reached Tabawan Island and saw their pearl farm on the sea. The pearl farm is actually some wooden frame structures float in deeper water, and you could see pearl oyster cages hanging from this structure. The pearl farm is run by a Japanese company, and they have an office on the island. I was told that they will move the pearl farm to other place as this site is less suitable for pearl farming now. But no worry, they may keep the farm around as an attraction. I cannot imagine if government builds the coal power plant near Darvel Bay, as the coal power plant will release water, which contains harmful metals such as mercury, into the sea and pollute the Coral Triangle.
Please join our Facebook anti-coal plant group to oppose coal plant. If the government insists to build coal plant, I will penalise the Barisan Nasional politicians with my vote in next election because long year of ruling has made them arrogant and deaf to the voices of rakyat (citizens). You really think that a new coal plant can solve all the black-out problems? Don't be so naive.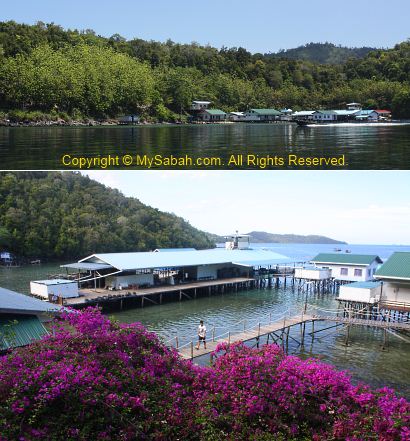 Click Here to see more photos of Tabawan Island >>
Tabawan Eco Dive Lodge is the only accommodation on the island. Currently they are expanding but a few lodges are already ready to host the tourists. The facilities are quite basic at the moment but they already have a dive center on the island. They will also install air-conditioning in some rooms. The lodge is good enough for a group of 10 to 20 divers. Day trip package, with 2 dives and lunch, is also available. This island has no other resident, so the island forest is mostly intact and we even saw a wild boar hanging around the lodge.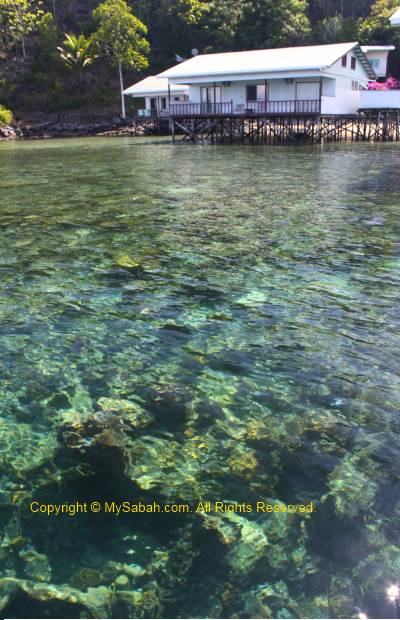 Click Here to see more photos of Tabawan Island >>
We did two dives in House Reef (26 Meters deep) and Turtle Station (15 Meters) around Tabawan. I didn't dive in Sea Fan Garden and the operator is still trying to discover more dive sites around the island. The visibility was about 5 Meters. This time I rented a camera with underwater housing so you could see the pictures of the dives. Well, I am not so familiar with the setting of this Olympus compact camera and it affected my buoyancy so it was a bit of struggle to take photos under the sea. Ok, after hearing all these excuses, you could expect the quality isn't good. Anyway, it is better than nothing.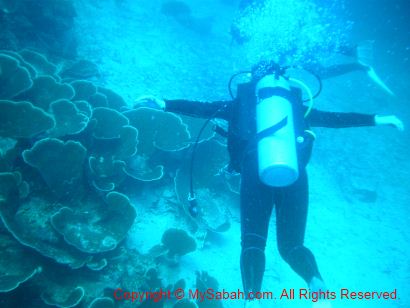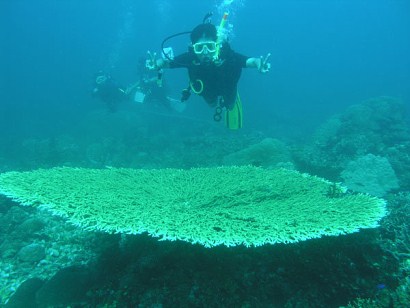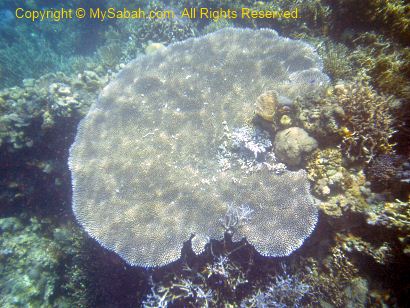 Click Here to see more photos of Tabawan Island >>
Personally I think Tabawan is one of the best place to see coral groups because they are huge, rich in variety and high in density. Many grow bigger than a human. We saw sea fans, black corals (which is not black), table corals, blue corals, staghorn corals, plate corals, brain corals, barrel corals, etc. We didn't see turtle and barracuda that live here and the fishes are not big. But it is rich of macro-life, we spotted filefish, dancer fishes, convict blenny fish ball, cuttlefish, nudibranch, striped catfish (dangerous!), giant clams, lobster, shrimp fishes, razor fishes, tubeworm, flatworm, starfish, etc. The underwater current was not strong so the dives were quite relaxing. We also dived under the pearl farm and saw the hanging pearl oyster cages.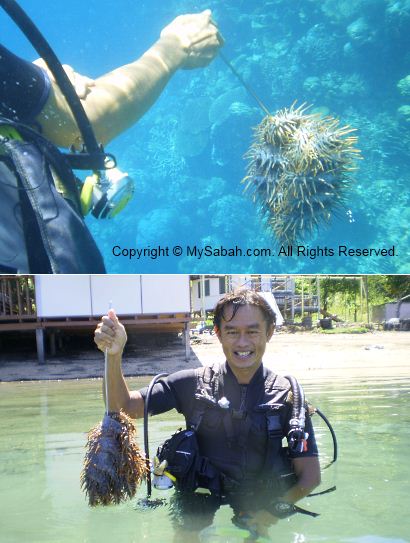 Click Here to see more photos of Tabawan Island >>
During the diving, Su, one of the divemasters, spotted a Crown-of-Thorns, a weird starfish with 15 thorny legs. He caught it and left it on the shore to perish. According to Su, crown-of-thorns eats corals so it is a pest to coral reef ecosystem. It is also very sly. Once caught, it will release a chemical to warn its kind. If you see many crown-of-thorns, you better organise the elimination with a few divers to catch them all in one go. If you catch only one, the rest will sense the danger and go hiding before you come back for them again. As nasty as it looks, its spines are poisonous. Sound like a sinister creature that deserves to be killed.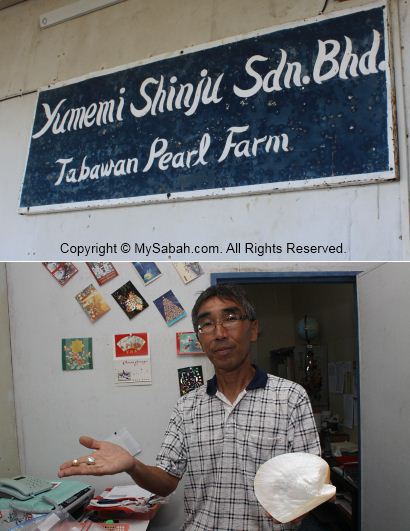 Click Here to see more photos of Tabawan Island >>
After the dives, we dropped by the office of the pearl farm. The manager is a gentle Japanese and he is telling us how a pearl oyster is cultivated and harvested. Basically they insert a tiny round-shape "seed" into the oysters to induce them to produce pearls after many years. This is a high risk business that needs years of intensive care and monitoring. He also showed us the specimens of two pearl types, gold and white (creamy white actually). The white pearl is more valuable than the gold one, which is about 10% cheaper. You can tell the color of the pearl inside an oyster from its shell color, which is same as the color of the pearl.
The round pearl is for making jewellery and the irregular-shape pearl is the raw material to make cosmetic powder for smoothening skin. Wow, some pearls cost more than 2 months of my salary and I almost wanted to put them into my pocket while nobody watching. Haha.. just kidding. Someone (not the pearl manager) told me that pearl is like jade, which has "life". A pearl "grows" over time. It would "die" if a pregnant woman touches it.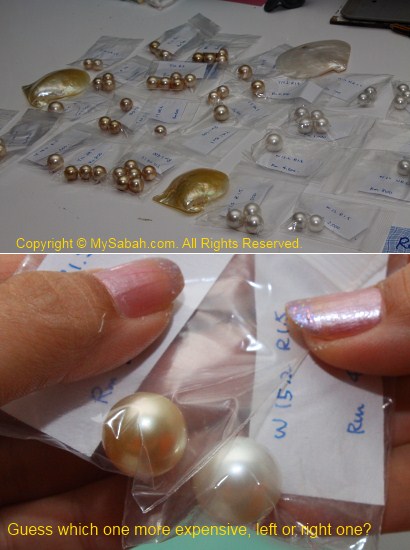 Click Here to see more photos of Tabawan Island >>
So that's all about my pearl adventure. If you want to go to Tabawan Island, you may contact Sulawesi Sea Safari to arrange the diving / snorkelling tour. They also have a lot of info and pictures in their web sites.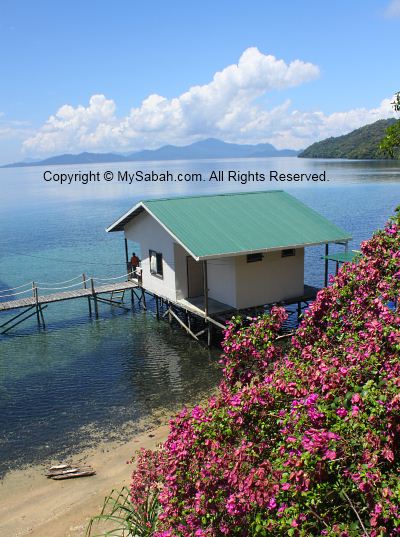 Click Here to see more photos of Tabawan Island >>
Photos taken in Kunak, Sabah Malaysia