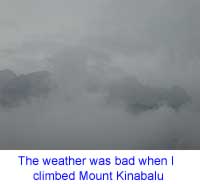 Due to the heavy rain, my trip to Mount Kinabalu was painful. Fortunately I brought my raincoat. But my hair and jean were wet and the temperature was freezing cold. Actually I had already expected the bad weather so I had booked two nights of accommodation at Laban Rata. The first night I was staying in the Gunting Lagadan Hut (3,323m), which has no heater and is quite far away from Laban Rata Resthouse. To get there from Laban Rata, you need to walk 100 Meters of ladder up there. After I finished the climb to summit in the next day, instead of going home directly, I moved to Waras Hut (very near to Laban Rata), where I spent another night. This gave me extra time for contingency. Otherwise the bad day would spoil my photography session in Mount Kinabalu. I found that the rain usually came in the afternoon, so I climbed down at 7:30 AM on third day.
My comment about this trip is "The Mount Kinabalu and Kinabalu National Park are unchanged, like 10 years ago." Well, if I say the nature is unchanged, it is a compliment coz it means the site is well preserved. If I say this to the park management, it is an insult. Yes, the park is not improved for over 10 years. I am a bit surprised that the BEST Sabah tourism spot is managed by the WORST organisation, Sutera Sanctuary Lodges (If you want to burn their office, it is located at ground floor of Wisma Sabah. And thank you).
There are so many positive reviews about the Mount Kinabalu trip. But I would like to criticise their management. Let me list a few of my frustrations:
1) Low Quality Mountain Guides
Personally I call them "Shepherd". Basically they do not provide any service or guide you. They just walk around you. Half of the time you don't see them. In year 2001, there was a young British girl wandered off the group, got lost, and died in Mount Kinabalu. Such a poor girl… Her father did not want to blame anyone. But… I believe this case is more or less the responsibility of their Mountain Guide. Still seeing the sloppy attitude of these guides, I'm afraid the same tragedy will happen again one day. If you bring your kids along, do always keep an eye on them, especially during the thick mist session (Aug – Nov).
If you move slower, they will push you. If you sit in the shelter for too long, you will hear them mumble "Go… Go… Go… Jalan… Jalan… Jalan…" beside you, like a cassette that repeats the same word over and over again. Someone told me that the good mountain guides are reserved for the foreigner tourists, and the locals will get the lousy one. Not sure if this is true. I did see a few mountain guides who were keen to show the foreigner tourists here and there, introduced what were along the trail.
2) Terrible and Expensive Food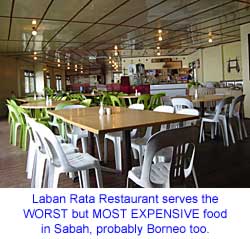 Make sure you bring enough cash. A 500ml water costs RM4.60. You better boil your own water in the hut. Remember to bring heat-resistant (not plastic) bottle / container so you can store the boiled water. Tea and coffee costs about RM8. There is only one restaurant in Laban Rata. If you don't eat there, tree roots will be your only choice (and they know this).
One of the popular dish here is the Fried Rice. This was the first time I paid money to torture myself. Their fried rice is the hardest and the most expensive (cost RM12) in Sabah. It is so difficult to push it down the throat, so I kindly asked them if they could give me a small bowl of soup. They said, "No free soup. You must order it separately." The soup will cost another RM8. Even the RM3.00 meal in the city comes with free soup. I wish I can throw their boss down the 4,095M mountain.
3) Lack of Heating
If a person takes shower with very hot water during summer, you will say that he is nut. Some huts do not come with heater and hot water. I wonder if their management expects the tourists to take cold water shower under the freezing temperature. I will not advise you to take cold shower even if you are strong. In case you got sick, the climb to the summit will become risky. I think the heater should be a basic facility coz everyone needs it.
The night is freezing cold. Bring extra socks and spare clothing to keep you warm at night. Do not count on their blanket. It is so thin and old. The blanket that I got looked like the same one I used more than 10 years ago, during a school trip to Mount Kinabalu (we also stayed in the same hut).
Because of the heavy rain, my jean, socks and shoes were wet, but I did not have the spare clothing (OH O!). The cloth will take days to dry due to the cold and humid air. I wanted to use the stove in the kitchen to dry my clothing. Then I saw a scolding notice "If you use the stove for purpose other than cooking, you will be fined RM200" (very smart). OK, what to do? Luckily I got a candle, so I used it to dry up my cloth. It worked! I could see the water vaporized from jean like white smoke.
4) Inconsiderate to Tourists' Well Being
One of the worst experience was caused by their inconsiderate. After I returned from the summit to Laban Rata, I felt really sick. This was because my body absorbed too much cold in the heavy rain, the hut was too cold and I did not sleep well (no heater and warm blanket), and I exhausted all my energy reaching the top.
According to their policy, we should check out before 10:30 AM. I checked out at 10 AM and got ready to move to Waras Hut that I had booked earlier. Then their staff said that the check-in time was at 1 PM. I felt really ill and I needed a bed to rest ASAP, so I asked the staff if I could check-in earlier coz I was sick. She looked at my pale face, just haha and said NO. I had to wait for 3 hours then. I sat in the restaurant coz I was so weak. I wanted to vomit whenever I moved.
After one hour, I asked again, with begging tune, "Please… I was sick and I needed a rest badly. Normally hotel check-out time is 12 and can check-in at 1 or 2 PM. The small hut has nothing much to clean up. Would you please let me in earlier?" She just said, "We only got one housekeeper and your hut is the last one to be cleaned. That's why it was slow." I replied, "Then would you please request her to clean my room first, so I could move in soon?" She was speechless and looked at me with a "I am not keen. You must check-in at 1 PM" expression.
Nothing much I could do, so I sat quietly at a corner. During the waiting time, I noticed that whenever foreigner tourists approached her, she smiled like sunshine. She never forgot to ask, "Is there anything else I can do for you?" with seducive eye expression, as if she will not hesitate to lick their shoes if they ask. I believe these tourists would get different answer if they asked the same thing like mine. Finally I got my room at 1 PM. Laying on the bed, I thought I would be sent to the hospital. It was quite scary coz I traveled alone, and their inconsiderate made me felt very insecure. Fortunately I survived.
5) Take Nothing but Photographs. Leave Nothing but your MONEY.
At the park, besides paying RM70 for a Dumb Shepherd, RM30 for Climb Permit, and RM3.50 for Insurance, you also need to pay RM12.50 per way (RM25 for return trip) for the transport from National Park to Timpohon Gate, where you start the climb. I think the transport fee is too high. The distance between National Park and Timpohon Gate is only 5 KM. After paying so many fees, they should at least provide a free shuttle service. Instead, they charge overly high fee to rip off the tourists. FYI, RM25 can buy a bus ticket to go to Sandakan, which is more than 200KM away. What a joke I need to pay RM25 for a 10 KM trip. And they send you there with bus or van, not a big limo. With that money, I expected a plane though.
I believe some of you may have some bad experience too. Please feel free to share it here…