Cuteness is a curse to wildlife. You would think so after seeing the Sun Bears of Borneo, which are also known as Beruang Madu (Honey Bear), Malayan Bear, or Dog Bear. As the smallest bear in the world, Bornean Sun Bear looks just like a walking teddy bear. Its cub is as adorable as a puppy, so many people keep it as pet.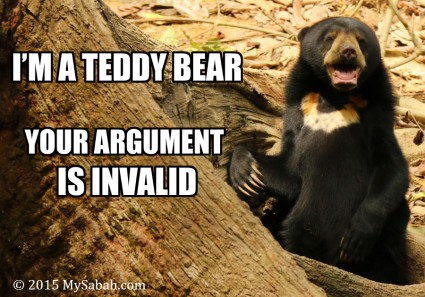 However, when sun bear grows up, it'll become a predator about 120-150cm tall and weigh up to 60 Kg. With long claws and big canine teeth that can rip apart a coconut in seconds, it'll be very intimidating to its owner, then it would end up spending the rest of its life in a small cage, or being abandoned.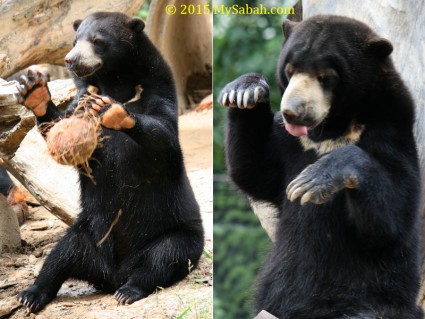 Bear cub, which is used to living with people, will lose its ability to survive in the wild. Some even forget that they are bear. When they are free, they will look for people and cause a commotion in village nearby. This is a sad but typical story of a sun bear, whose mother was probably killed by poachers and it was kept as a pet.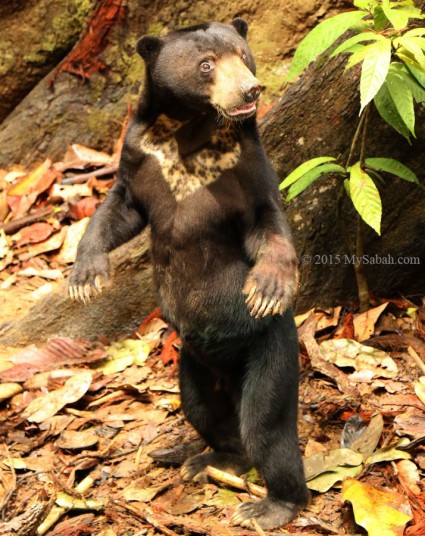 Sun bears are found throughout South-East Asia, but Bornean Sun Bear (Helarctos malayanus euryspilus) is a subspecies half the size of Malayan Sun Bear (Helarctos malayanus malayanus) and found only in Borneo.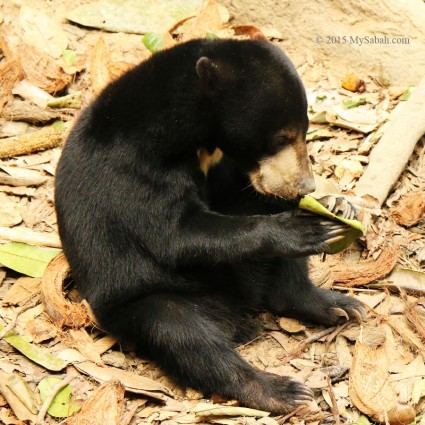 Due to illegal poaching and deforestation, there are probably less than 10,000 of Bornean Sun Bears left. I've seen orangutan many times in the wild but saw sun bear only once, they are highly endangered, I believe.
Bornean Sun Bear Conservation Center (BSBCC)
In 1998, a journey to Sabah changed the life of Mr. Wong Siew Te (黃修德), a wildlife biologist from Penang (Malaysian state). He studied the ecology of sun bears in Borneo rainforest and fascinated by this smallest, most arboreal and least researched bear, and he was heart broken to see the suffering of captive sun bears everywhere.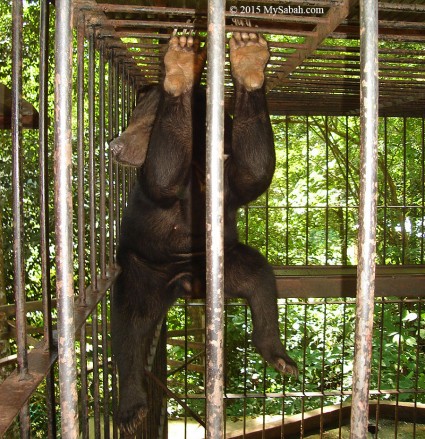 He always calls sun bears the forgotten bears, because they are not getting the same spotlight and protection like Polar Bears and Panda. Sun bear is a favorite target of poachers because of its highly priced gall bladder. Wong knew, if he didn't do anything, the only fate of this beautiful creature is extinction.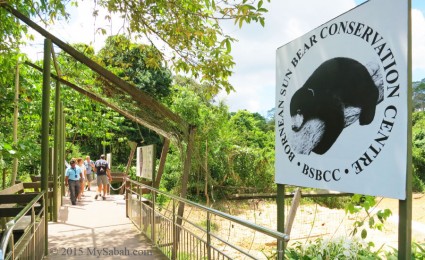 In 2008, Wong started Bornean Sun Bear Conservation Center (BSBCC) in Sandakan, for conservation and rehabilitation of Bornean sun bears. After some years of fundraising and support from government, public and NGOs, BSBCC was fully operational and open to public in 2014. This brings new hope to our sun bears because they receive attention that they long deserve.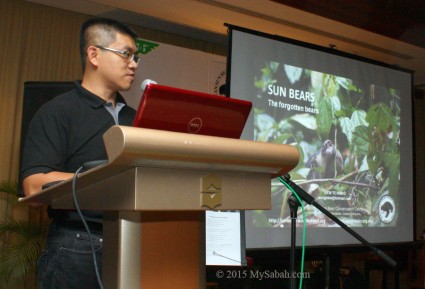 "The world is not changed by people who sort of care. …The world is changed by people who passionately, relentlessly care– sometimes, unreasonably so." -Sally Hogshead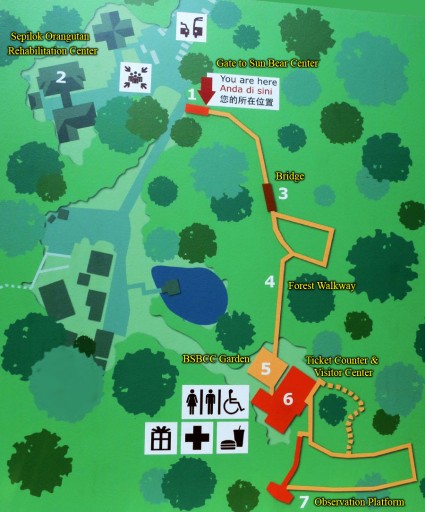 BSBCC is located just next to Sepilok Orangutan Rehabilitation Center and inside 2.5-Hectare Kabili-Sepilok Forest Reserve.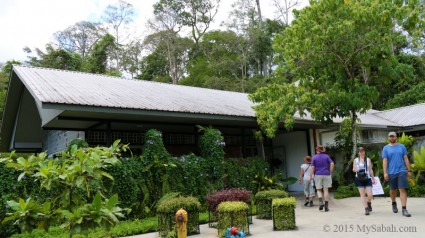 Visitors only need to walk about 5 minutes to enter the visitor center and observation platform of BSBCC from orangutan sanctuary.
Ticket Fees
BSBCC opens from 9am to 3:30pm to public daily. Visitors can just walk in and buy a ticket to enter the Center. The following is the rate of ticket (can be used on same day for multiple entry). The prices have included 6% GST (or VAT) Tax:
| | Malaysian | Foreigner |
| --- | --- | --- |
| Adult (18 years old & above) | RM5.30 | RM31.80 (≈USD$8.50) |
| 12-17 years old | RM2.10 | RM15.90 (≈USD$4) |
| Children (Below 12) | Free | Free |
| Senior Citizen (above 55 years) | Free | RM31.80 (≈USD$8.50) |
This is not a zoo, so be kind to the bears. Feeding, calling and disturbing the bears are prohibited. You are welcome to take their photos but please don't use camera flash.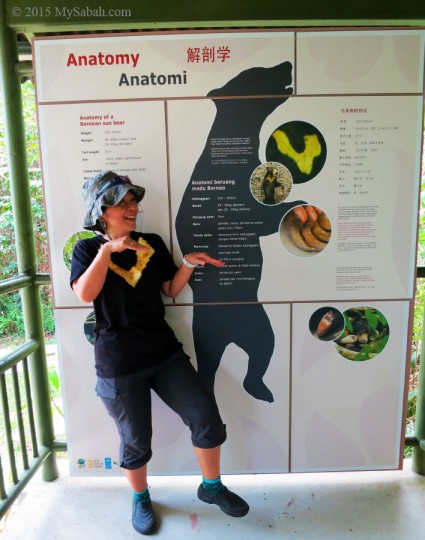 Besides conservation of sun bears, BSBCC is an educational site to show visitors the mysterious life of Bornean Sun Bears. A few information boards with info and photos of sun bear are erected along the stairway to sun bear viewing area. By the time you reach the observation platform, you already have basic knowledge about the bears.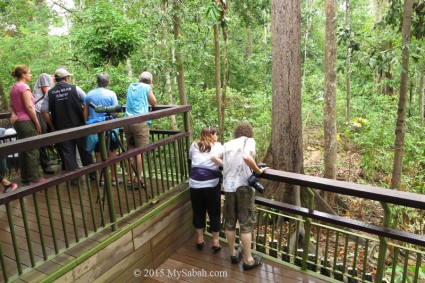 The Observation Platform is where tourists can see the sun bears exploring and foraging in a forest enclosure. As I mentioned, sighting of sun bear is very rare in the wild, but you can see 4 or more of them at the Center. With short, sleek, dark brown or black fur, they look like big dog.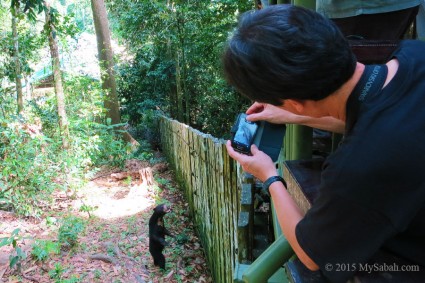 Between the bears and visitors is a high wall with a few electrical wires running across it. The 5,000-volt wire can deliver a painful but harmless shock to sun bears which try to climb over the wall. After being zapped a few times, all bears are quick to learn to avoid touching the fence.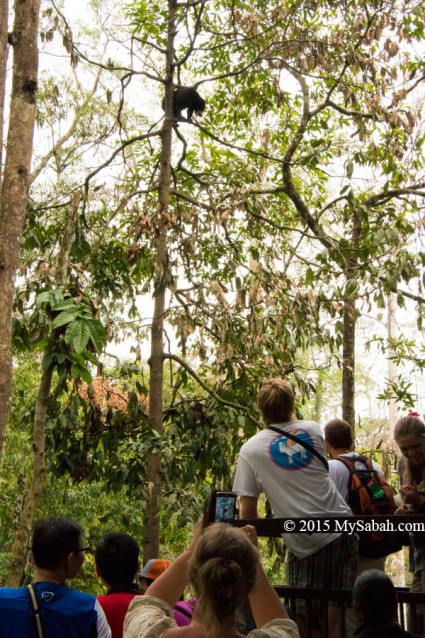 Sun bears are forest dependent species and male sun bear needs 15 Sq. KM to find enough food. Sun bears are omnivorous and this natural forest is a good training ground for them to learn to survive in jungle, before they are released to the forest. Sun bears are excellent tree climbers too, and honey and durian are part of their favorite menu.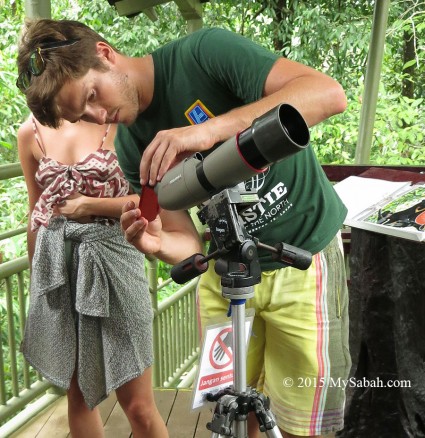 44 Bears 44 Stories
Most bears in BSBCC are victims of illegal captive and pet trade. So far BSBCC has rescued 44 bears, and all of them have a sad story in the past.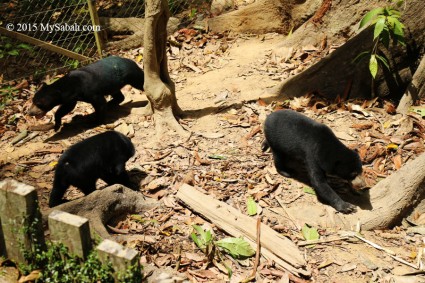 The first bear (named Natalie) was rescued from an illegal pet trade in 2010. She has "graduated" from rehabilitation program of BSBCC and released to her natural habitat on 17th May 2015. The latest member is a 3-month-old cub (Name: Tan-Tan) coming from Paitan in Aug 2015.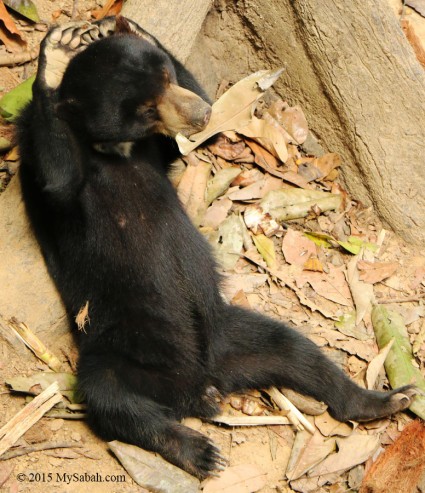 The rich expression and cute actions of sun bears really amused us. However, according to BSBCC staffs, some of the adorable behaviors are probably a sign of stress, for example, relentless pacing and obsessive grooming. One of them pacing back and forth at the same spot, it was used to do this when locked in small cage, but still carry on this stereotypic movement disorder in forest.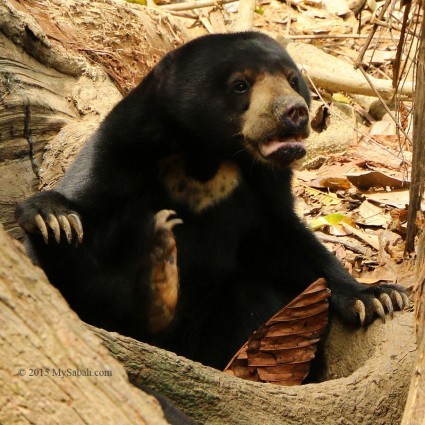 Another bear, Mary was captured by poacher and kept as pet in Ranau. Because of malnutrition, she has smaller body. She grew up with human so she forgot that she was a bear. Luckily, after mixing and learning from other bears, she is no longer walking on hind legs like human. Damai is probably another bear that thought she was a human. She wandered in residential area of KK after being abandoned by her owner.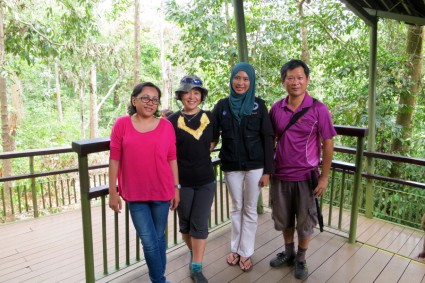 At BSBCC, the experience is more than just looking at playful sun bears. BSBCC staffs and volunteers are always around the tourists, and they are beary passionate in sharing the individual story and amazing facts about the sun bears.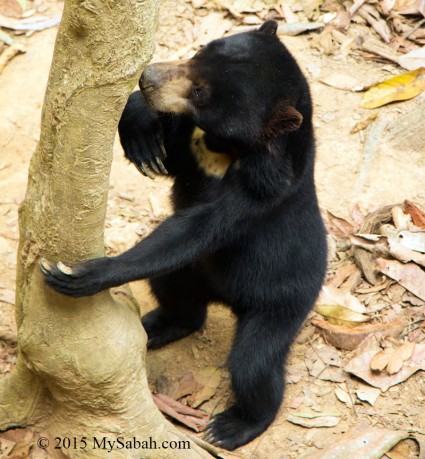 Same as Orangutan, Sun Bear is totally protected under the Sabah Wildlife Conservation Enactment 1997. Hunting or selling them and you could be fined up to MYR 50,000 (USD 16,000) and/or being jailed up to 5 years.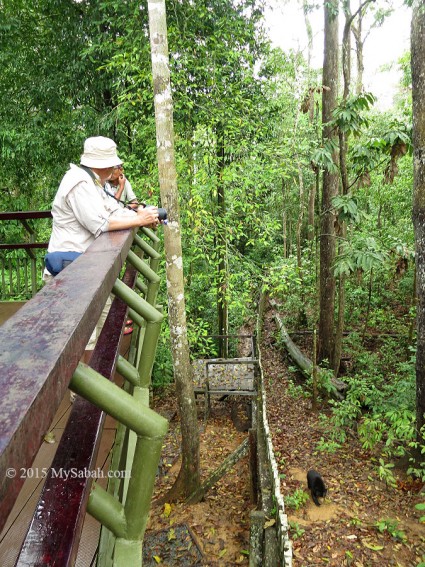 However, poachers will still pull the trigger because each sun bear is valued over RM1,000 for its gall bladder (expensive ingredient of traditional Chinese medicine) and meat. You can contact Sabah Wildlife Department or BSBCC to report the offense.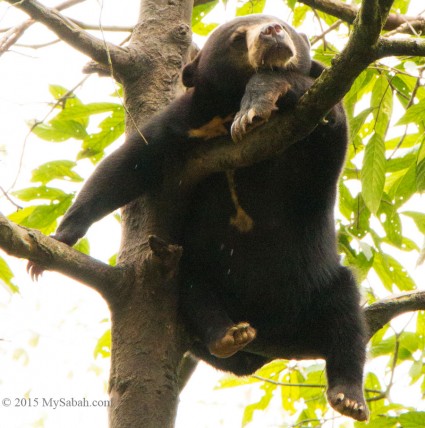 The forest enclosure could be the first natural environment that some captive sun bears exposed to. A few of them were so afraid of walking out of their bear house to explore. Therefore, it's great to see some bears such as Debbie is making progress. Debbie was saved from becoming a delicacy in a restaurant in Kota Marudu. She loves to climb high up to the tree for a nap and don't mind others laugh at her drooling while asleep.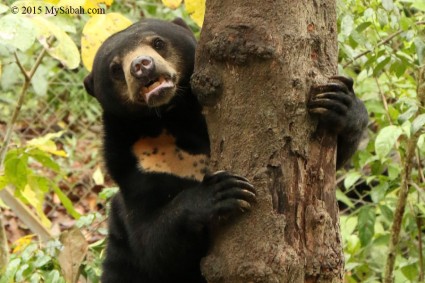 Climbing is an important skill for sun bears to reach the fruits and honey bee hives on tall trees. Sun bears also build nests on tree to sleep in, which is a dryer and safer resting place to avoid leeches and clouded leopard. Sometimes the staffs have to play the role as a surrogate mother to train sun bear to climb.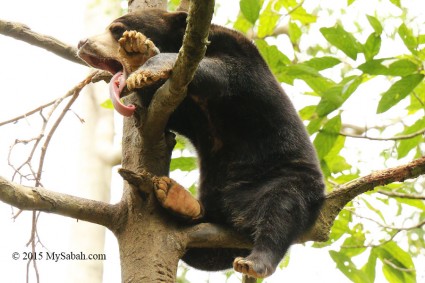 Only in outdoor, sun bears have the opportunity to use their sickle-shaped long claws to dig and ripe apart decayed wood to reach ants, termites and beetle grubs, the important protein source when fruits are scarce. Sun bears also help to build nesting hole for hornbills and flying squirrels after they dig a cavity in the tree for termites and honey.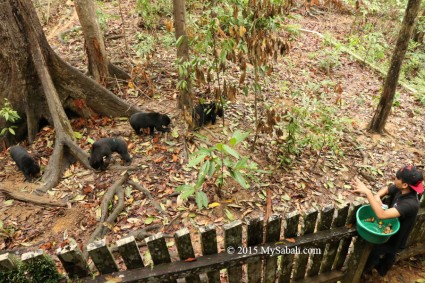 BSBCC also feeds the bears every day so they can enjoy a balanced diet. The Center currently houses 36 rescued sun bears in two houses and a quarantine facility. Rescued bears will go through health check, quarantine, indoor & outdoor rehabilitation, a series of evaluation on fitness, before they are reintroduced to natural habitat. These processes can take a few years.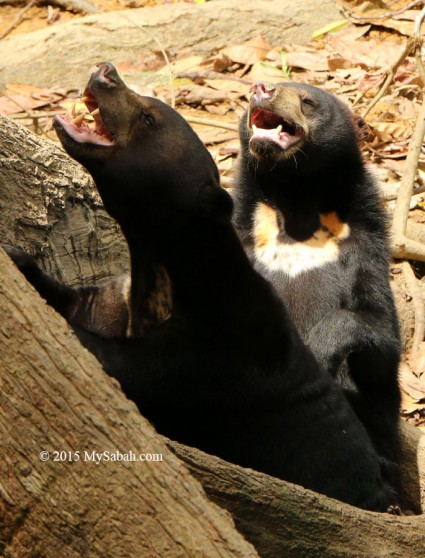 One of the characteristics of sun bear is its beautiful chest mark from cream to orange color with spots. Every bear has unique chest mark like a finger print. Below is a video of BSBCC to see sun bears in action:
Giving a Bear Hug
There are many ways to help Bornean Sun Bears. For example, you can adopt a sun bear, donate money, join their 2 or 4-week volunteer program, or visit the Center.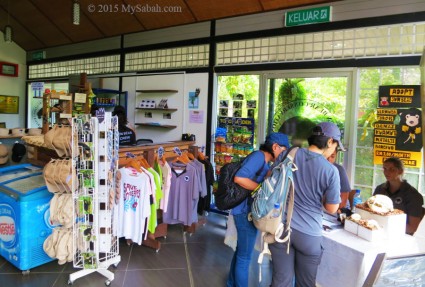 In Visitor Center, you also can buy some souvenirs / snacks / drink, or make a donation at the mini shop. They have sun bear T-Shirt, caps, toys, postcard, stickers, etc. for sale.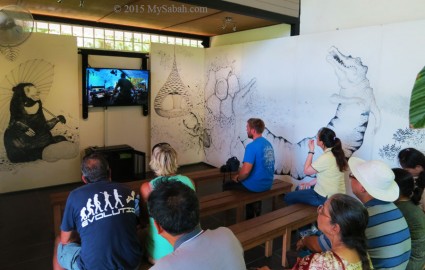 For more information about Bornean Sun Bears, below is the contact of BSBCC:
Website: www.bsbcc.org.my
Facebook: fb.com/sunbear.bsbcc
E-mail: info.bsbcc@gmail.com
Tel: +60 89-534491
Postal Address: PPM 219, Elopura, Sandakan, Sabah 90000, Malaysia
GPS Coordinate: 5.864658, 117.949878 (see Location Map)
How to get there
Bornean Sun Bear Conservation Center (BSBCC) is located 25 KM to the west of Sandakan City and next to Sepilok Orangutan Rehabilitation Center. Public transport to Sepilok is available readily and the journey takes about 45 to 50 minutes one way.
By Bus
The following is the departure time of regular shuttle between Sandakan and BSBCC. The bus fare costs RM4 (≈USD$1) per person one way:
Sandakan City → Sepilok: 9am, 11:30am, 2pm, 5pm
Sepilok → Sandakan City: 6:30am, 10:30am, 12:30pm, 4pm
Tel: +60 12-8067067, +60 17-8632684
Or you can take the mini-bus (route: Batu 14) near to the bus terminal of Nak Hotel in Sandakan.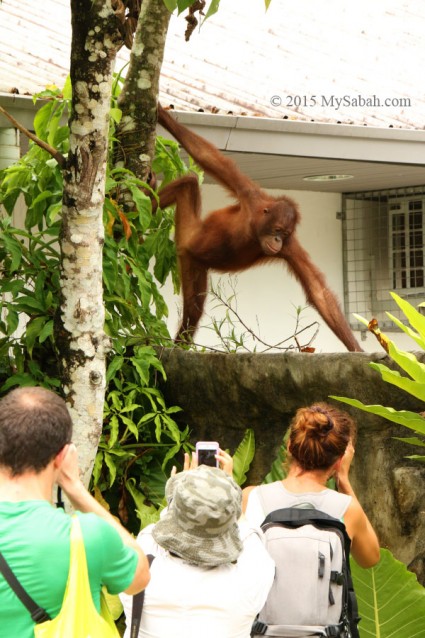 By Taxi
You can hire a taxi for a return trip for about RM100 per car (≈USD$28)(negotiable). There is also a taxi stand in car park of Sepilok Orangutan Rehabilitation Center.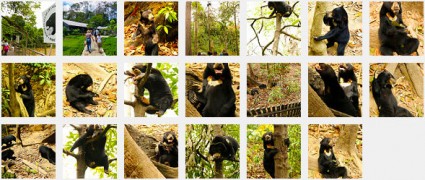 Photos taken in Sandakan, Sabah, Malaysia Borneo