It's a lucky moment that I have been waiting for. Blooming rafflesia! Not one flower but two, which is very rare.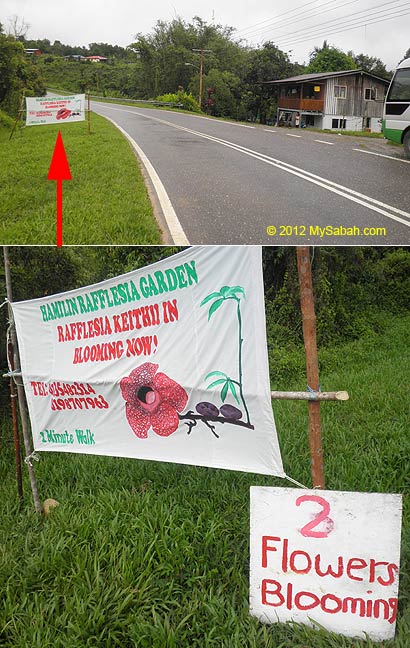 On the way to Poring Hot Springs, there are a few families which have rafflesia grows on their land. Whenever there is any rafflesia blooming, they will erect a banner next to the roadside to announce it. However, rafflesia has no predictable blooming season and its flower can last only 6 days, so the tourists need luck for such amazing sight.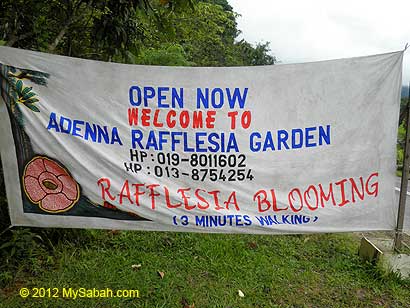 Above: another rafflesia garden in Poring. Most gardens are only a few minutes walk to the blooming spots.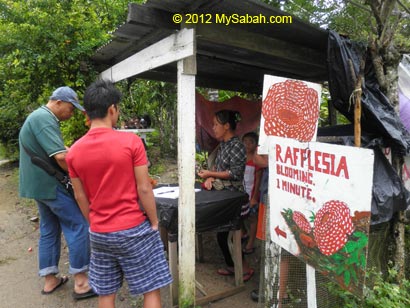 Last week there was a twin-blooming of rafflesia keithii (the largest rafflesia species of Sabah) in Hamilin Rafflesia Garden near Poring. You need to pay an entrance fee (RM20 or USD6 for locals, RM30 or USD9 for foreign tourist) to see the rafflesia.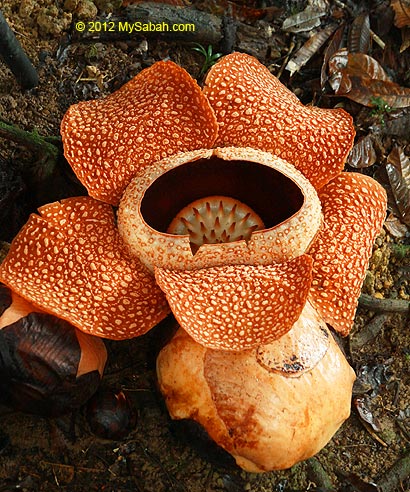 Here you go, the blooming rafflesia. The rafflesia takes 6 to 9 months to bloom from bud (like human baby isn't it?). See the big cabbage-like bud under the rafflesia? It blooms on next day!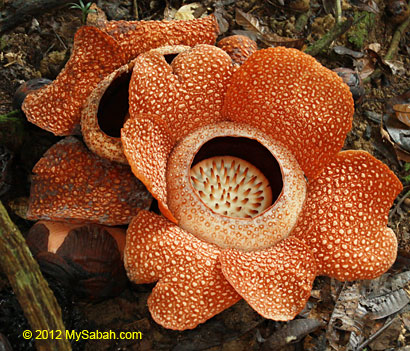 Twin blooming is already rare. And one of them has 6 fleshy petals (normal is 5)!!! That was one time they have 3 rafflesia bloomed at the same time. The flower usually opens at night and the petals take about 24 to 48 hours to fully extend.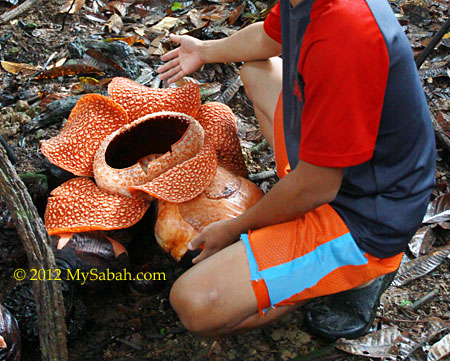 You may watch the video of twin-blooming below: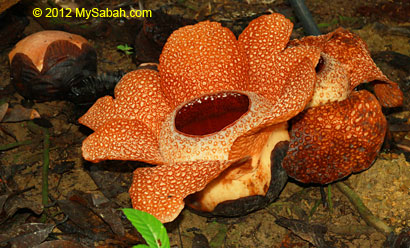 Another angle of the blooming. The flower is about 73 CM in diameter. Rafflesia keithii can grow up to 80 CM.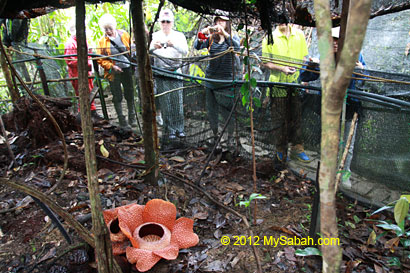 The flower of rafflesia can last about 6 days. The best viewing time is from day 1 to 3. On 4th day, you can see that the flower turns darker and not that pretty. It'll wither faster if the weather is bad or the flower is exposed under direct sunlight. That's why there is a netting on top to protect it from rain and sunlight.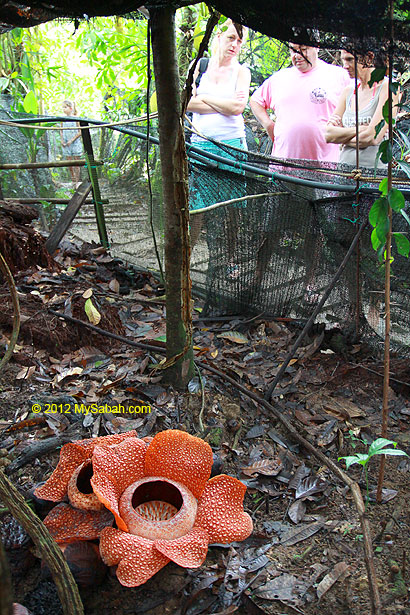 They fence the area so the tourists only can see the flower from a distance. The over-excited tourists always want to take photo next to rafflesia flower and they will step on the fragile rafflesia seedling under the soil.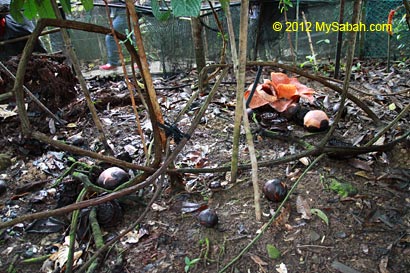 If you look carefully, you will see vines and buds in the garden. The vine is tetrastigma, the host plant of rafflesia. Rafflesia is parasitic flower that absorbs all the nutrients from its host. Please note that rafflesia has no leaf, stem and true root.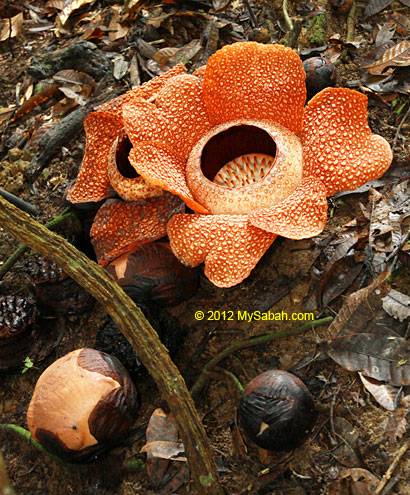 Ms Hamilin started this garden with only 2 or 3 rafflesia buds. After 10 years of conservation, now her garden has about 30 rafflesia buds! During my visit, I saw over 40 tourists paid to see this flower in a day. If you do good to the environment, it'll repay you handsomely. Another good thing is – their rafflesia seeds will spread to nearby houses so other villagers can benefit from extra income as well. I wish I have rafflesia grows in my house too. They even have dogs protect the rafflesia at night to prevent someone stealing the flower.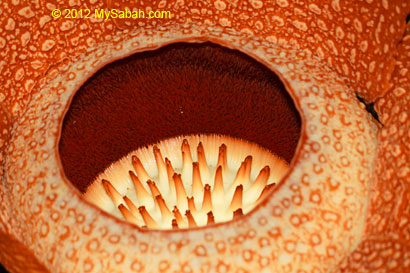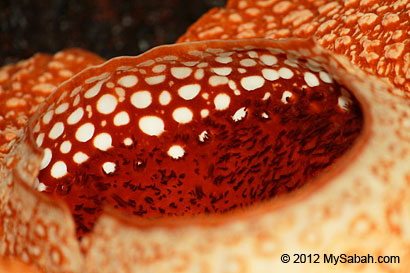 Above: close-up of rafflesia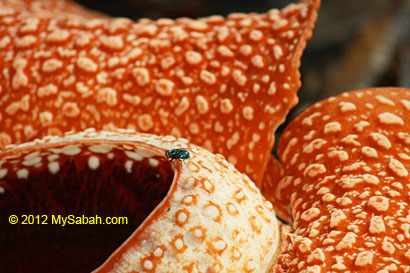 Rafflesia is also known as "Corpse Flower" because its flower smells like rotting flesh. They say the smell is the strongest from 6am to 7am (early morning).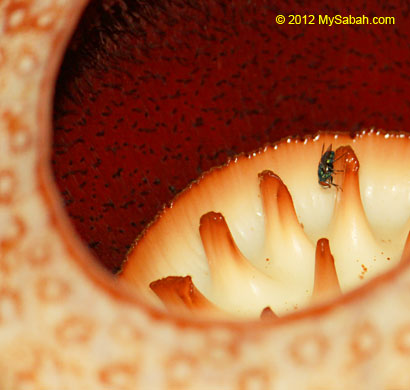 The odor of decay will attract insects such as fly, which transports pollen from male to female flowers. I saw a number of flies busy around.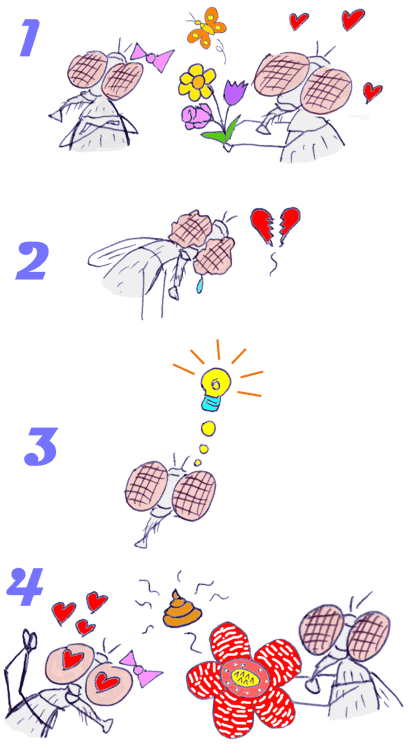 Since flies love stinky rafflesia, I draw a comic for that. Yeah, I know my drawing s*ck..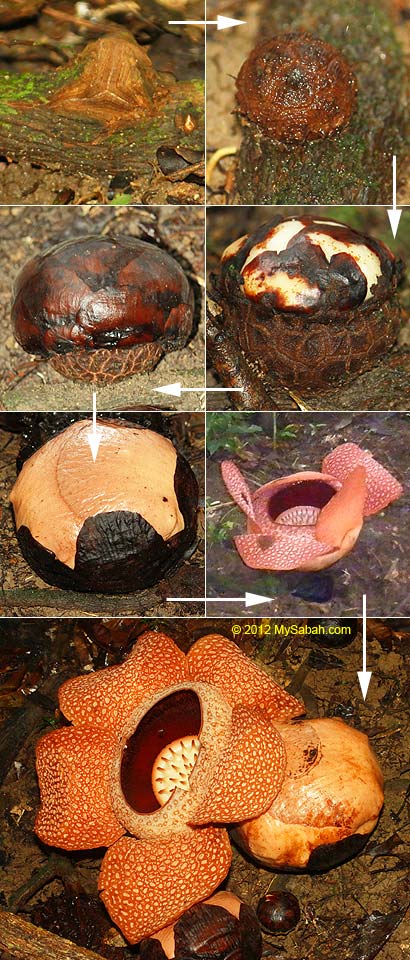 Above: the life cycle of rafflesia. In first stage, it emerges like a swollen stem about as big as a thumb, and bloom after 9 months.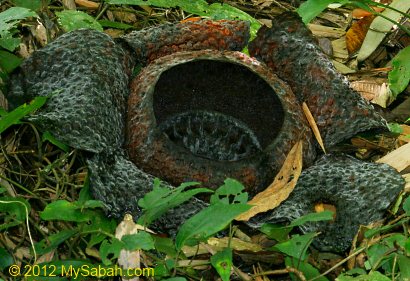 Rafflesia flower is totally wither after a week of blooming, but this doesn't mean that it's dead.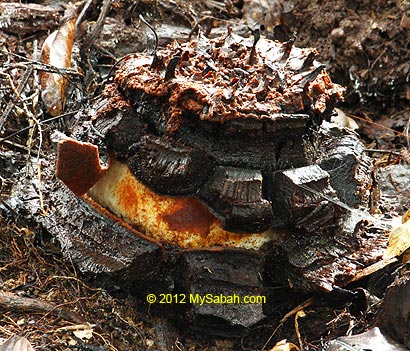 Instead, it starts to bear fruit (if fertilized), become ripen after 6 to 8 months, then ready to be dispersed. The germination will take more than 3 years and very little is known about the reproduction process.
Rafflesia Gardens of Sabah (rafflesia keithii)
There are a few sites in Sabah where you can see rafflesia. The place with best chance is the area around Poring.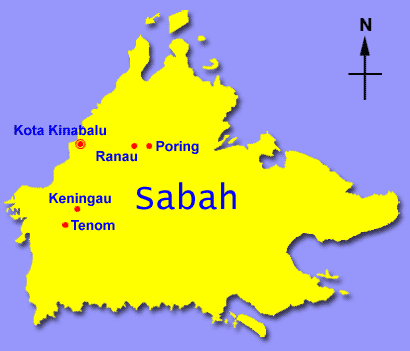 As I said, you need luck to see the blooming. Below are the numbers that you can call before you visit, or Facebook to check for blooming update. Upon request, most of them are keen to sms or text you to inform you about the blooming. However, the following phone numbers may have changed. If one number doesn't work, just try another:
Adenna Rafflesia Garden (Poring): Tel (mobile): +60 19-8011602, +60 13-8754254. Facebook
Vivian Rafflesia Garden (Poring): Tel (mobile): +60 19-8935751
L&J Rafflesia Garden. Facebook
Mt Kinabalu Bongol Rafflesia Garden. Facebook
Parul Rafflesia Garden (Poring): Mobile: +60 13-5539537 (Parul), +60 19-8014743 (Julineh), +60 13-3317840 (Chalyn)
Heavennie Rafflesia Garden (Poring): Tel (mobile): +60 14-5674398, +60 12-9857753
Kampung Kokob (Ranau): Tel: +60 17-8380878 (mobile), +60 88-875114 (house)
Hamilin Rafflesia Garden (Poring): Tel (mobile): +60 13-5482314, +60 19-8707963
Esther Rafflesia Garden (Poring): Tel (mobile): +60 14-5576201
Napalus Rafflesia (Poring): Tel (mobile): +60 13-8742681
Poring Hot Springs: Tel: +60 88-878801 (sometimes blooming is announced in Facebook of Sabah Parks)
Crocker Range Park (Keningau): Tel (mobile): +60 19-809 8683
If none of the sites above have blooming rafflesia, you may check with Sabah Agriculture Park and Perkasa Hotel in Tenom (but the chance is slim).
The habitat of Rafflesia pricei, the second largest species in Sabah, is in Tambunan. You may read this blog for more info.
Related Posts
Rafflesia pricei & tengku-adlinii
Biggest flower in Sabah
Photos taken in Poring, Sabah, Malaysia Borneo