Tag Archives:
Poring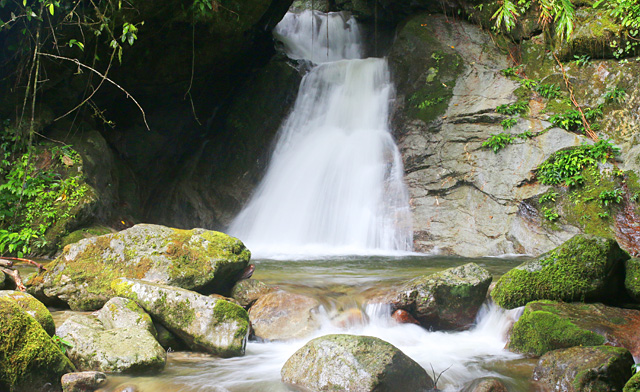 Some people prefer to camp in park equipped with Wifi, air-conditioning and cozy bed. To truly appreciate the nature, some campers want to get away from civilization totally and live among trees and wildlife, like Lupa Masa Jungle Camp. Lupa Masa means Forget Time in Malay language, you would lose sense of time there when you forget about your Facebook, your computer and your boss.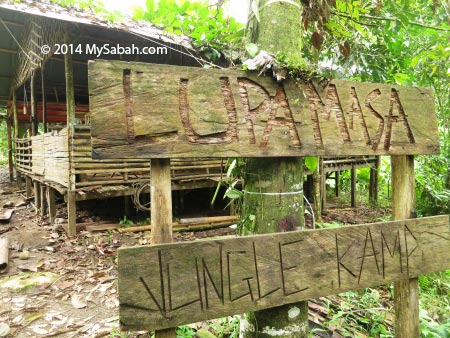 Lupa Masa is located between Borneo rainforest and lower montane forest at the foothill of Mt. Kinabalu, the UNESCO Natural Heritage Site of Sabah. To visit the camp, I met the camp manager, Michael from Scotland, at Poring Hot Springs. He marries a sumandak (girl) from Tamparuli and able to speak Malay fluently. He already blends into the community and now behaves more like a Sabahan wearing a "orang putih" skin (Caucasian). However, he hasn't fallen in love with Durian yet.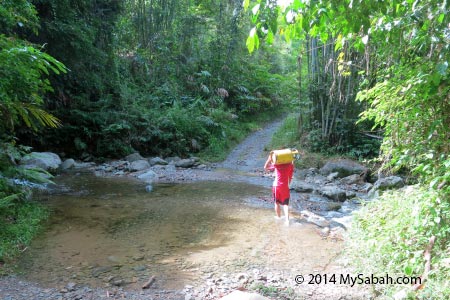 Pic: Michael crossing a stream with a gas tank
Michael got some groceries from Poring and led the way. We walked on a gravel road in village and plantation for about 10 minutes, then we entered a soil trail that took us deep into the forest. The forest is an aged regenerated secondary forest that gives us much needed shade in muggy day. The trail is mostly mildly inclined, with a short section of steep slope.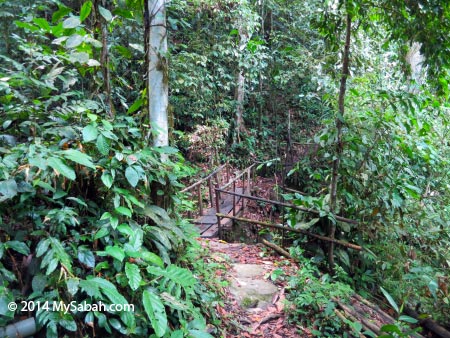 Pic: nature trail to Lupa Masa
The walk was supposed to take about 30 minutes. I was carrying two bags weighed over 15Kg and one of them broke, so it took me an hour to reach the camp. Since this camp is near the boundary of Kinabalu Park and situated between rainforest and cloud forest, you would see wildlife from both habitats. This attracts naturalists who are expert in snakes, mammals, birds, etc. to stay in Lupa Masa. A snake expert even found 12 snake species in a day. But please note that wildlife sighting is depend on luck.
Camping in Lupa Masa
My "room" is only a basic hut with raised floor and a canvas roof over my head. Albeit being pounded by heavy rain a few times during my stay, the roof didn't leak. It is near the edge of campsite and far away other shelters, so I feel so alone at night.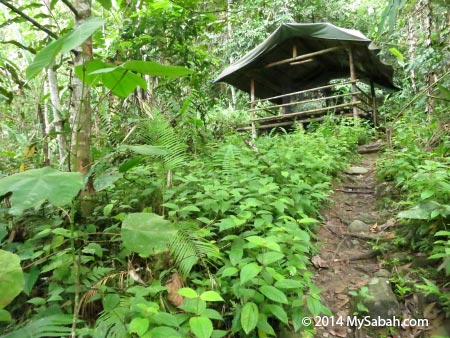 Pic: my private "chalet" surrounded by greenery
As there is no wall between me and the wood, I was fully exposed to the wildlife territory. In the morning, I was always waked up by a flock of noisy Buff-rumped Woodpeckers, and countless chirping birds came to check me out. Then cicada took the afternoon shift to continue the rainforest choir, at night it was the sound of frogs and crickets that sent me to dream land. I was like an outsider. Perhaps I should have tried to join their orchestra by making some rhythmic calls too.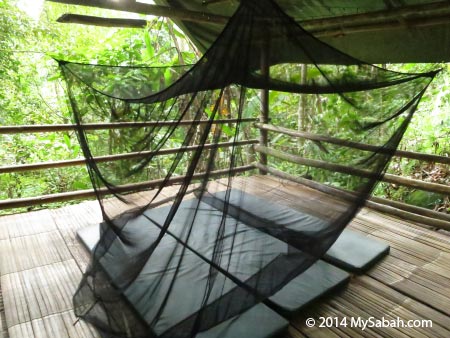 Pic: my bed on bamboo floor
My bed is a few camper beds enveloped in mosquito net. Mosquito is the most active during dusk and I would find 4 or 5 of them bumping the net from outside. In other time, there were very few mosquito in the campsite. The temperature here during daytime is about 25°C (77°F) but can drop to 15 (59°F) or below at night. The camp provides blanket or you can bring your own sleeping bag. There are a few wires for me to hang my cloth between the poles in the hut. My clothing never turned dry in cold and humid days though.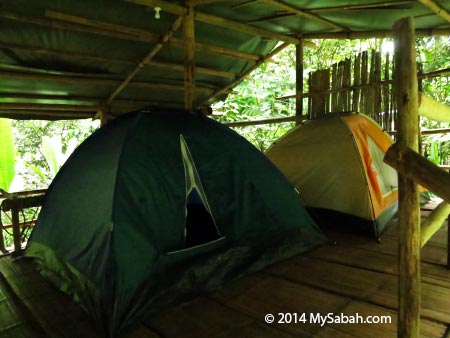 Pic: camping tent in longhouse
If you want more privacy, you can choose to stay in shelter that has camping tent. In Lupa Masa, there are 6 shelters that can host up to 25 campers. The accommodation costs about RM70-90 (≈US$22-28) per night. Food is included, mainly vegetarian meals because they don't have fridge to keep the meat. Some of the food that I had there were rice with curry vegetables, French toast, oat meal with fruits, fried rice, etc.
Night Walk
Night Walk is the highlight of Lupa Masa. You can see far more animals in the dark as most wildlife are nocturnal. You can choose easy walk that takes 2 to 3 hours, or long challenging trek that requires you to cross river and climb steep hill with more rewarding sighting. The guide fee is RM30 (≈US$9.40) per hour, RM75 (≈US$24) if 3 hours. You can share the cost with others if you go in group.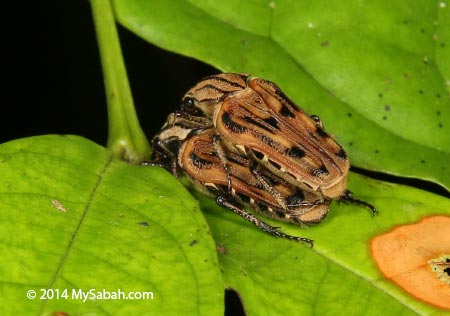 Michael seemed to be more excited than me in night walk. After dinner, we started our night safari on foot at 8pm. Spotting animals in the dark is no easy task because of their camouflage. You need a good torchlight and great eyesight. Anyway, you won't need both when Michael is around, as he is an excellent spotter. Even if he showed me the things he found, it still took me quite a while to see it. His secret is to look for light reflection in animal's eyes.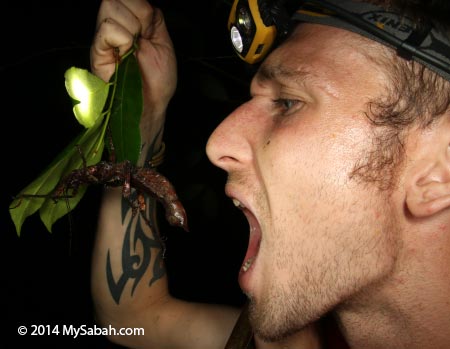 Pic: big juicy stick insect, endemic to Borneo
In case it rains, you better bring a raincoat. Leech is expected, so wear your anti-leech socks. I didn't get any leech bite though there were many leeches around. We shined our torchlight to every corners to find those critters hiding in burrows, tree holes, bark, river rocks, shrubs and fallen log.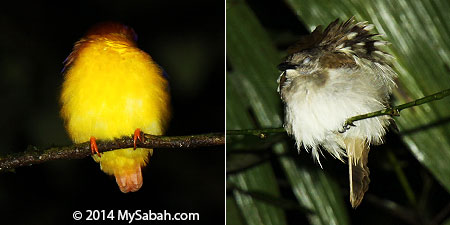 Pic: sleeping birds. Note the kingfisher has only 3 claws.
We saw a number of sleeping birds on the trees. It's interesting that they turn into "fur ball" while asleep.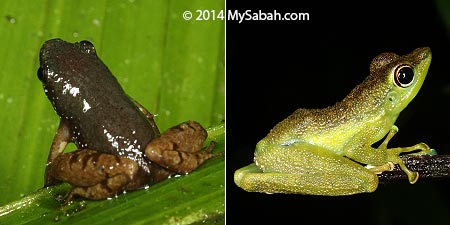 Frog are everywhere. I saw and heard many of them after rain, e.g. Lesser River Frog, Black-spotted Rock Frog, Giant River Frog, Montane Litter Frog. Some leaped away before I got close enough to take a photo. "You have to approach them like a Ninja," Michael said.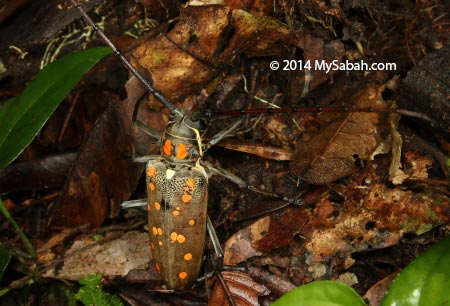 Pic: a big long-horned beetle
Other animals that we spotted included Small-toothed palm civet, long-legged millipede, Agamid lizards, white lantern bug, spider, scorpion, tree-hole crab, dead-leaf grasshopper, trilobite, geckos, katydid and a green pit viper.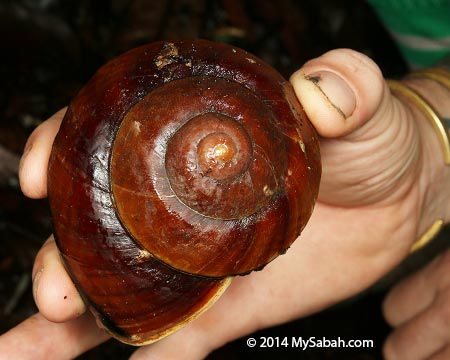 Pic: a giant forest snail
Suddenly Michael paused and smiled, "How much you would pay me for spotting a horned frog?"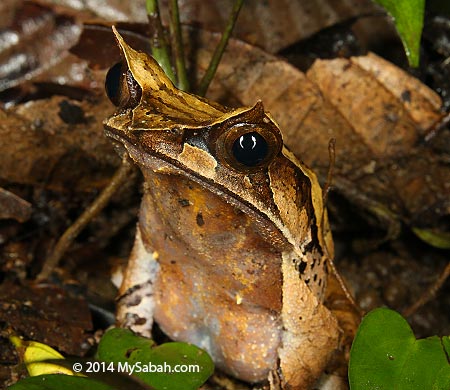 Oh yeah, we found a Bornean Horned Frog, no, two!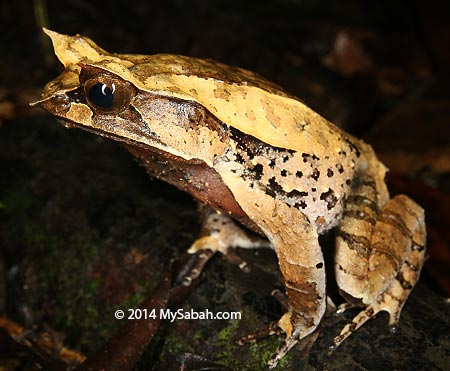 Bornean Horned Frog looks like a little devil. Actually it's a gentle frog. Its "horn" is an extension of its eyelid, to make its body shape looks like a leaf.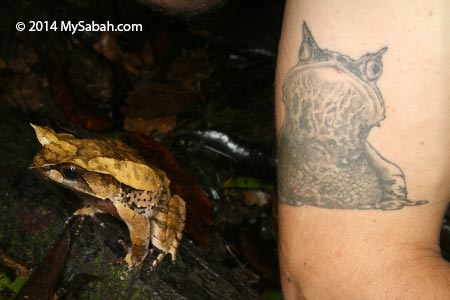 From his tattoo, obviously Michael is also a fan of horned frog lol.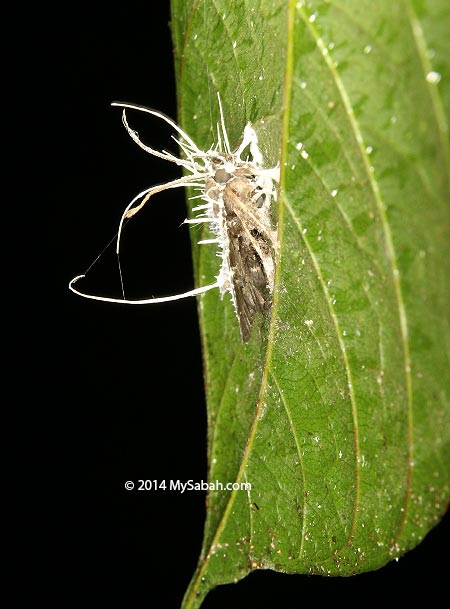 Pic: a moth which was infested by parasite fungus which turned it into a "zombie." This fungi can mind control its host to climb to the higher spot, to spread its spores.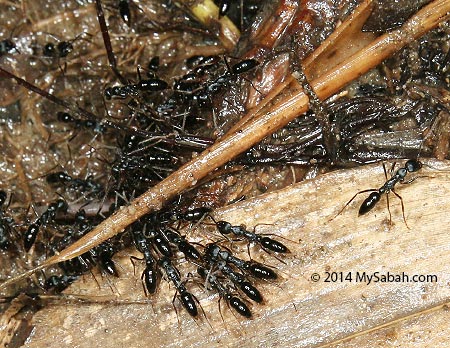 Pic: Beware of aggressive fire ants on forest floor. Their stings can penetrate sock and very painful hence the name.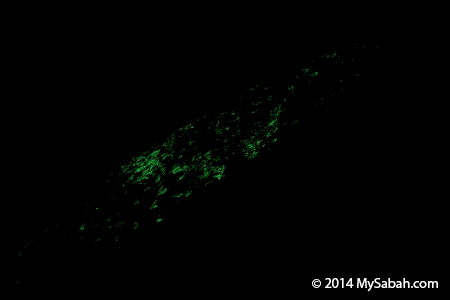 Pic: animation to show luminous fungus with the light on and off
Then Michael showed me something really special but we needed to turn off our torchlight. It's luminous fungus that glows like green neon light on a decaying log. The glow is quite bright in the dark. We saw a few glowing mushroom too.
Some "trophy species" of wildlife photographers such as Western Tarsier, Slow Loris, Bornean Leaf Nose (snake), Wallace's Flying Frog and Caecilian (a limbless amphibian) are known to be present at Lupa Masa, but you will need some luck to see them.
Day Walk
During daytime, you can take a stroll in the campsite or surrounding forest. Walk slowly and quietly in the morning, you would find a lot of birds around the camp. This place is great for birding because flock after flock of sunbirds, flowerpeckers, bulbuls and other forest birds frequent this camp during dawn and dusk. I saw Orange-bellied flowerpecker, Crimson-breasted flowerpecker, Broadbill, Ashy Tailorbird and Kingfisher during my stay.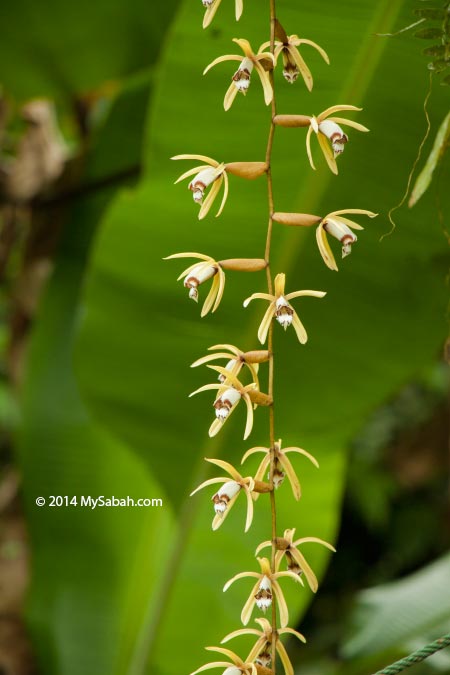 Lupa Masa campsite is a garden by itself, planted with vegetables, fruit trees and flowers. The blooming orchid here attracts butterflies such as Rajah Brooke butterfly, tree nymph and birdwing butterflies in different colors.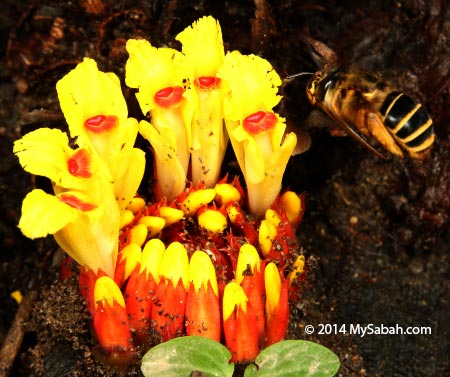 Pic: Ginger flower that looks like a birthday cake (Species: Etlingera fimbriobracteata),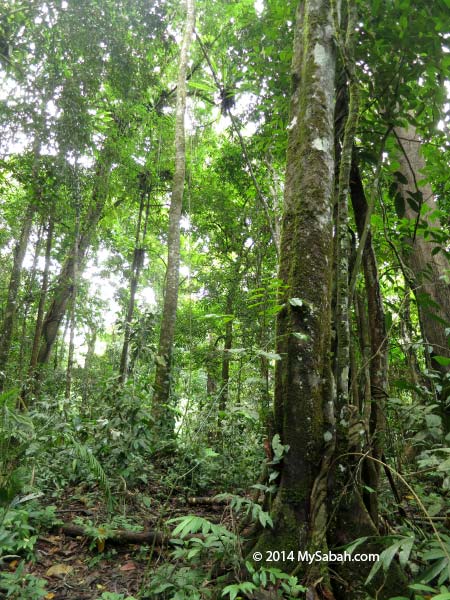 The boundary of Kinabalu Park, the most bio-diversified forest of Borneo, is just a few minutes walk away from the camp. The jungle is well lit by daylight, so you can enjoy the view of standing tall trees. The zappy Pygmy squirrel, the smallest squirrel in the world, is commonly seen busy moving up and down tree trunks. Look high above you would find bird's nest fern and wild orchid on the trees.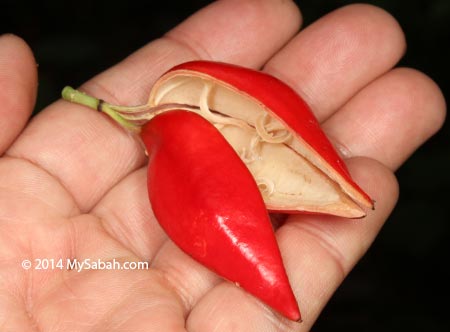 Pic: a fig fruit that looks like red chili
Lupa Masa is one of the few places where you can find three types of corpses flowers, namely Rafflesia, Rhizanthes and Titan Arum (Samurai Flower). Their flowers take many months to bloom, so you should be very happy if you see such rare sighting.
River & Waterfalls
During hot day, one of the favorite activities of their guests is to soak in the icy river or pond of Lupa Masa Waterfall nearby. You can enjoy the cleanest (and Chlorine-free) flowing water from Mt. Kinabalu.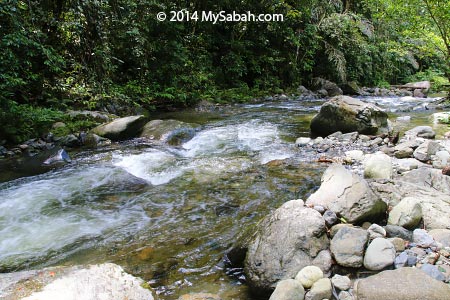 Pic: clean and unpolluted river from Kinabalu Park is only 10 Meters from the camp.
The water is shallow so it is safe for a swim, or you can just sit in the river for a free massage from river current (do bring beer with you).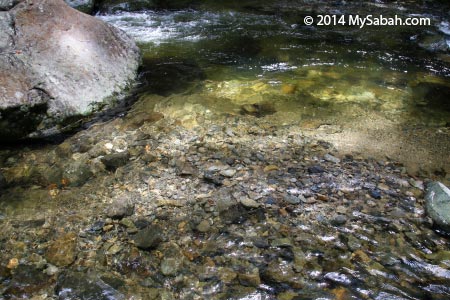 Pic: you can tell how clean is the water from the photo. It's so crystal clear that I can't see the water. Sometimes otters and kingfishers forage for fishes here too.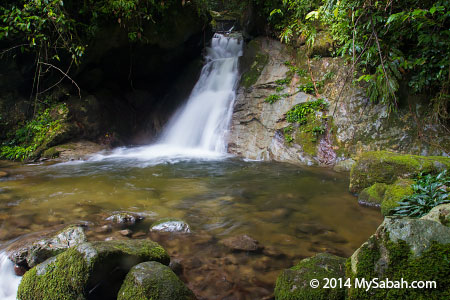 Pic: Lupa Masa Waterfall near the camp (7 minutes walk)
For those who are adventurous, they can hike one hour uphill to explore the "hidden" waterfall, which is five times bigger than Lupa Masa Waterfall.
Amenities
The camp was started by Tom in 2010, with the concept of providing authentic jungle experience, so the amenity is basic. The campsite has solar panel and power generator but electricity supply is not available most of the time, so you better bring a torchlight (with spare batteries). There is no outlet to charge your phone and battery. No Wifi in camp, but my phone can receive 2G connection, slow but able to use Whatsapp and SMS.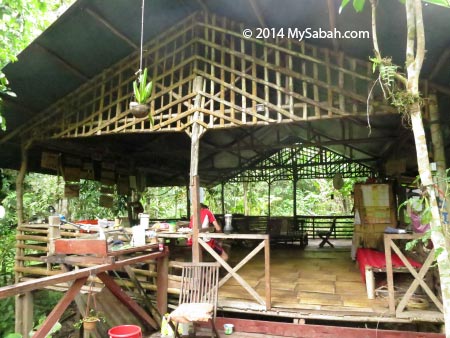 Pic: activity hall where guests can sit around and relax
You can sit at the deck facing the river and dense forest, looking at starry sky and firefly. Tom said, "I'm so glad that this forest wasn't turned into a paddy plantation." Looking at the beautiful trees and river, I can't agree more.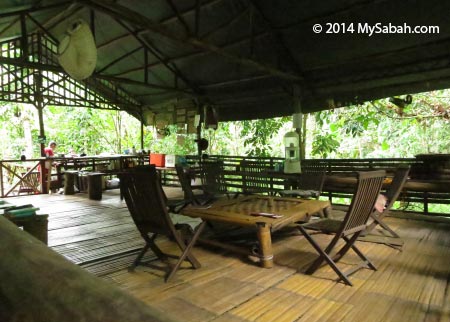 Pic: table where guests can have meal, chit chat and playing cards.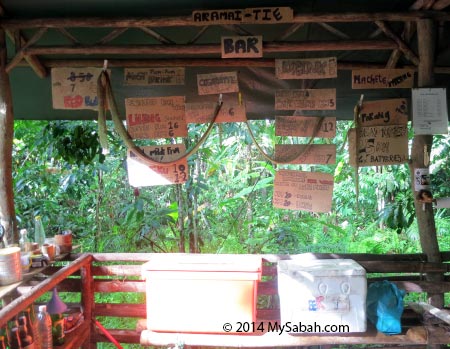 Pic: "mini-bar" for you to buy some soft drink, beer and wine. The hanging object is a shed snakeskin.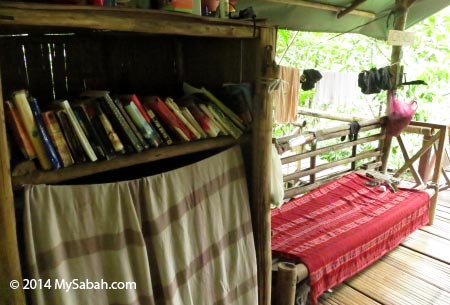 Pic: reading corner. Guide books on animals such as birds and snakes are available.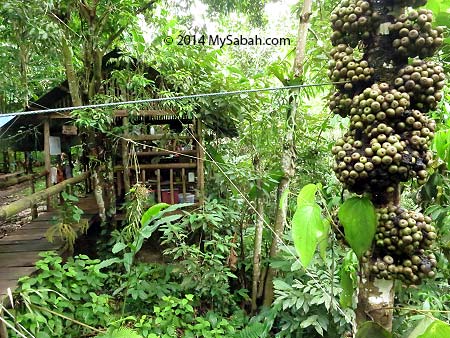 Pic: kitchen. The lucky guest would see Slow Loris around here at night. I saw an ant mimic spider the other day.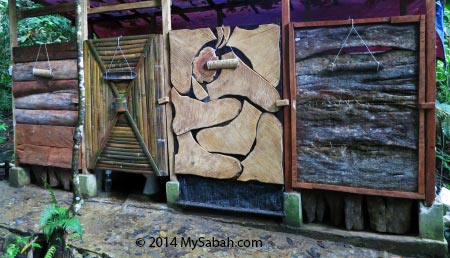 Pic: the toilet with creative door design.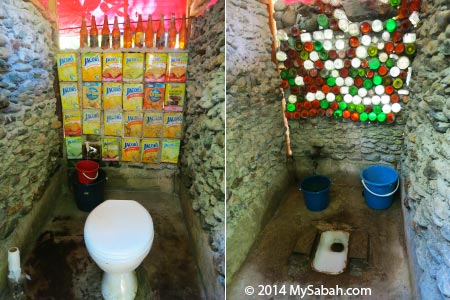 Pic: you can choose to sit or squat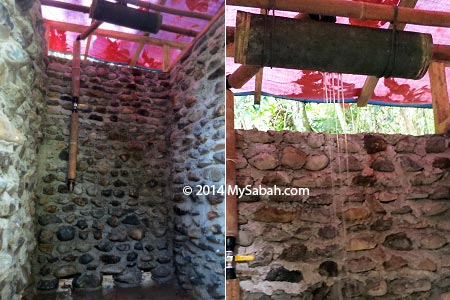 Pic: bathroom with bamboo shower head. The water is from the river, very cold and refreshing (I advise you to bath before the cold evening approaches).
Contact
To stay in Lupa Masa, you need to contact the camp to book a place prior to your visit.
Tel: +60 11-32024500
E-mail: LupaMasaBorneo@gmail.com
Website: LupaMasaBorneo.com
Facebook: LupaMasaRainforestCamp
(Now this camp is managed by Top Peak Travel)
The camp also welcomes volunteers. You can get free stay and meal if you contribute some labor work. There is no fixed requirement but you need to have special skill such as cooking, carpenter and house-keeping. You may contact them for more details.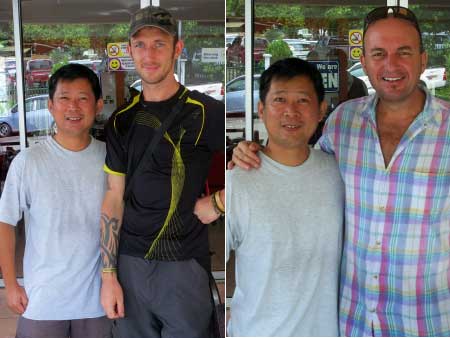 Pic: photos with Michael (left) and Tom (right). I look like a dwarf next to them lol. Thank you for your hospitality!
Tom has stayed in Borneo for 15 years. He is actively helping the local communities across Sabah and Sarawak to develop their local attractions. One of his latest project is Lupa Masa Longhouse in Kudat. You may visit the website of his company (Adventure Alternative) for more info.
Getting there
You can take a bus to Ranau town from Inanam Long Distance Bus Terminal (see Location Map) or Kota Kinabalu Merdeka Field (see Location Map). The fare costs about RM15 one way (≈US$4.65) and the bus reaches Ranau in 2 hours. In Ranau, get a cab or bus at taxi station (see Location Map) / bus terminal (see Location Map) to Poring Hot Springs (where the staff meets you), the fees are RM40 (≈US$12.50) and RM10 (≈US$3.10) one way respectively and the ride takes about 25 minutes. It takes 30 minutes to walk to the camp from Poring.
More Photos
You may check out my photo album to see more pictures of Lupa Masa: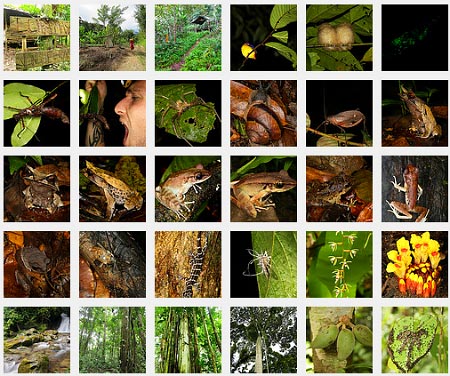 Photos taken in Poring, Sabah, Malaysia Borneo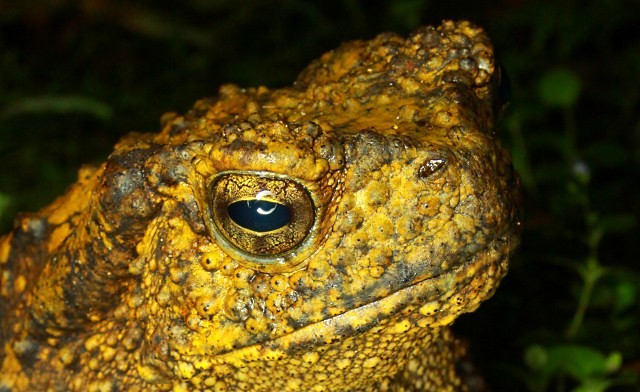 It was an exciting night in Poring rainforest. I finally found the insect that I had been looking for years. Many friends are also very impressed with this insect. Please read on to see it.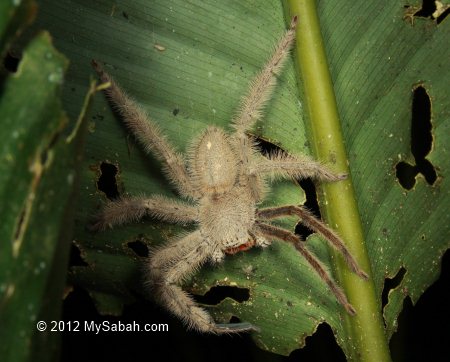 I suppose Poring rainforest is an ideal site for night walk due to its rich flora and fauna. Surprisingly, no tourist asks for a night safari in Poring, so I had to hire a nature guide to start one at 7pm. The fee is about RM70-100 (≈USD20-30) per hour. We have a happy start when we spot a white wolf spider with red mouth.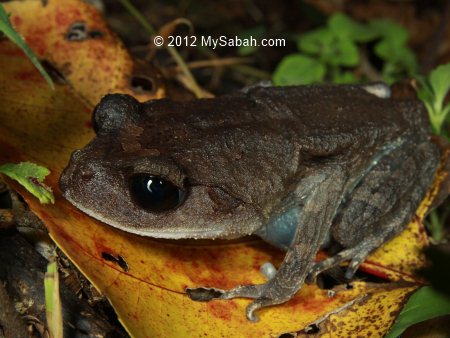 Above: A litter frog that has big head, cute..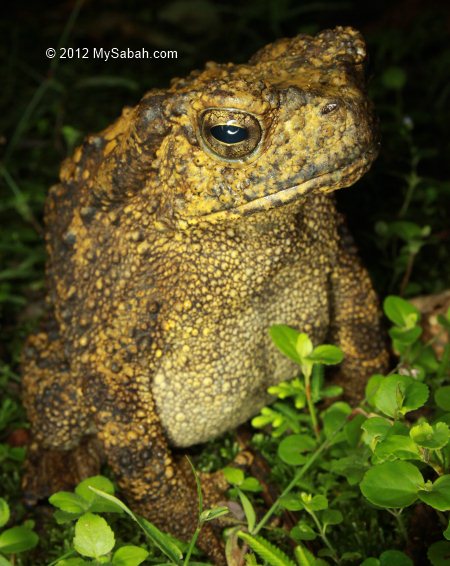 Then we saw a giant river toad, which is endemic to Borneo and famous for its foul smell. I didn't smell anything though. There is a myth that this toad will laugh if you tickle its belly.
We rub its belly gently with a twig. You may watch the 1-min video below to see if it laughs:

Click Here for bigger video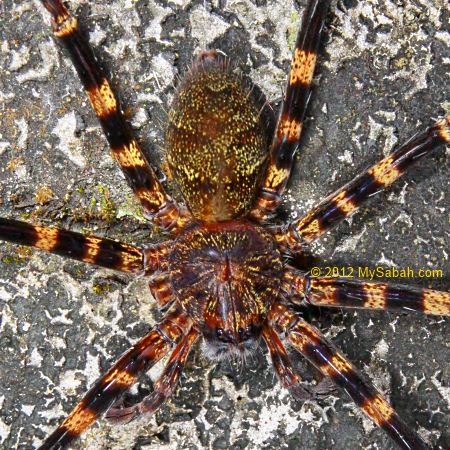 There are quite a number of big spider around, like the leopard spider above. It is easy to spot them coz their eyes reflect our torchlight.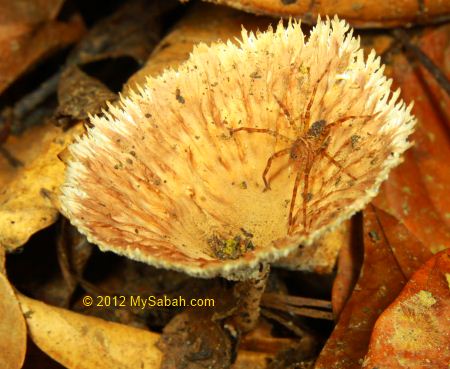 Small spider waits for prey in fungus cup.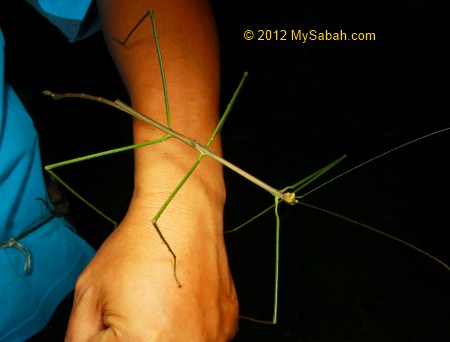 A very long stick insect. The guide says the village kids are used to eat the eggs of stick insect because its eggs are big and look like chocolate.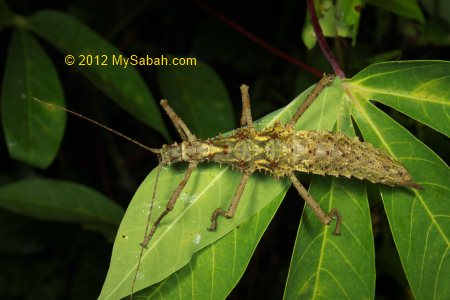 Fat stick insect on tapioca leaf. Seem like stick insect loves tapioca leaf coz I found a few more.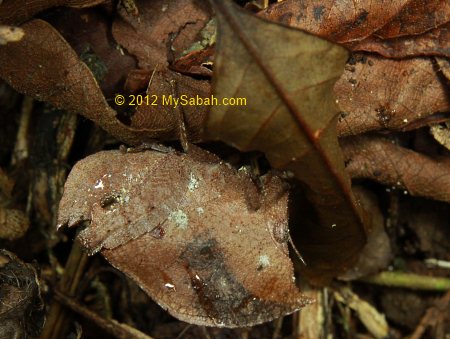 Here comes the highlight of my night walk. Can you spot anything in the photo above?
Can't see it? Below is the answer. It's a Leaf mimicking Grasshopper (Chorotypus gallinaceus) that perfectly camouflaged as a dead leaf.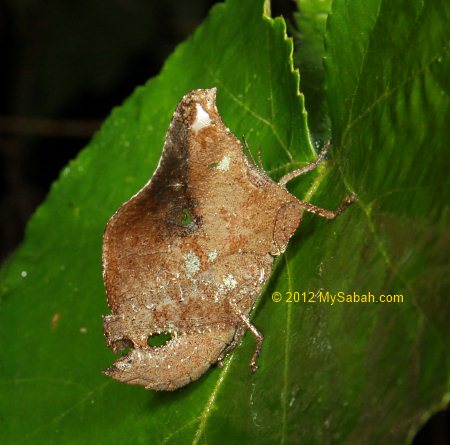 I had heard about this insect. I'm so glad to see one. When I was busy taking its photo, suddenly it just played dead and dropped itself to the ground. The guide and me shouted, "Oh sh*t!" because it would be very hard to spot it among the foliage. Luckily we located it again.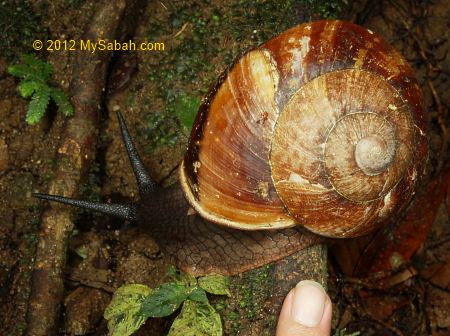 We also saw a big snail near Kipungit Waterfall. So far it's the largest forest snail that I've ever seen.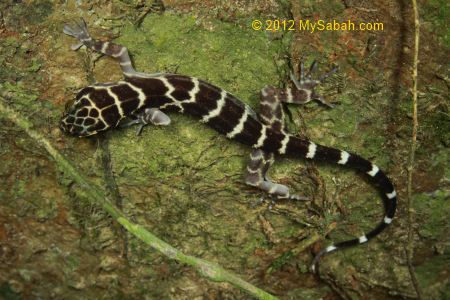 Above: Giant bent-toed gecko on tree trunk.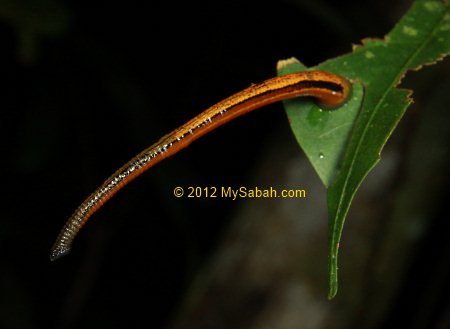 There are some tiger leeches lurking in the bush. They were so excited when they sensed our heat.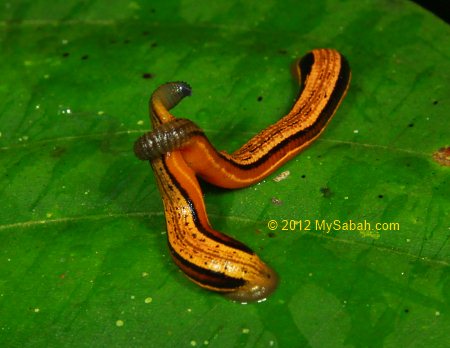 Another highlight is the mating of two tiger leeches. It lasts for quite a long time and both leeches caress each other like crazy. You may see their action in the 1-min video below:

Click Here for bigger video
Our night walk ended at 11pm, just before the heavy rain came. I can't wait to go back there again one day. If you love such activity, Poring is highly recommended for night safari.
More Photos
You may check out my photo album on Poring night walk for more nice pictures: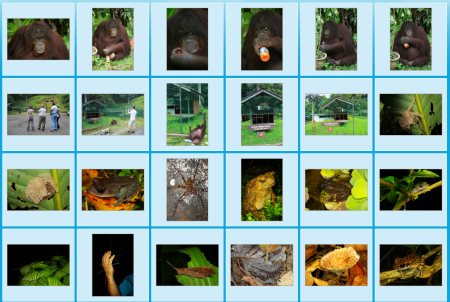 Related posts:
Night Walk in Miki Camp
Night Walk in Crocker Range Park
Other articles about Poring Hot Springs Park:
Photos taken in Poring, Sabah, Malaysia Borneo