Poring Canopy Walkway is not for those who have height phobia. The canopy is over 175 Meters long and 41-43 Meters in height, which is higher than a 8-floor building. I wonder if any 9-life cat can survive the fall. Next to Poring Hot Springs, the Canopy Walkway of Poring is the 2nd favorite activity of tourists.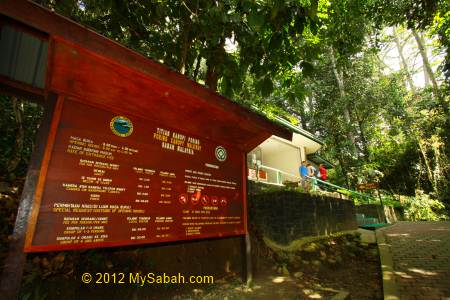 The entrance to Poring Canopy Walkway is about 835 Meters away from park entrance. It is open from 9am to 4pm daily.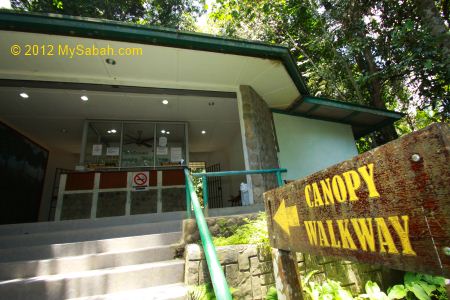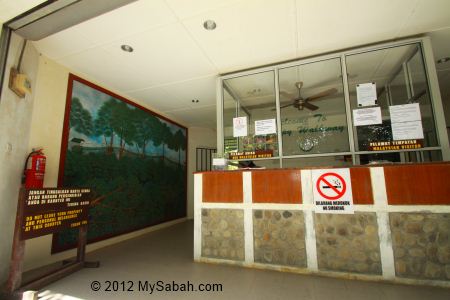 Above: the Ticket Inspection and Registration Counter of Canopy Walk.
Please note this is NOT a ticketing counter. If you didn't buy any ticket, you will have to turn back to buy it at park entrance, or you can buy the 2-in-1 entrance ticket (Canopy Walkway + Butterfly Garden) from Butterfly Farm about 20 Meters away.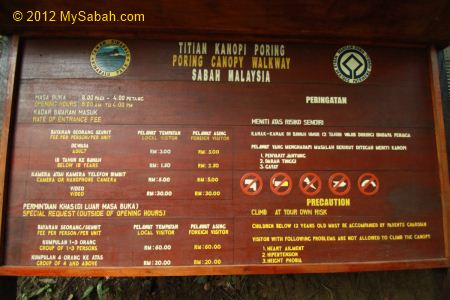 With effect from 1 Jan 2023, the entrance fee of Canopy Walkway is RM5 for Malaysian adult, RM10 (≈USD2.30) for foreigner adult. Add another RM5 (≈USD1.20) camera fee if you bring a camera with you. You can click the signboard picture above for all the fees and detail.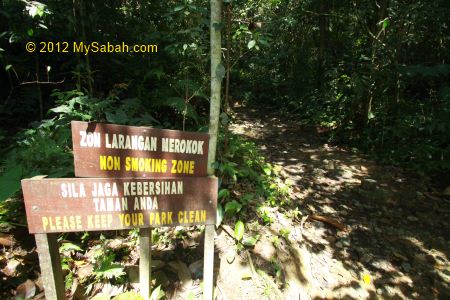 After the ticket inspection, you still need to walk 550 Meters on a gravel trail to go to the starting point of the Canopy Walkway.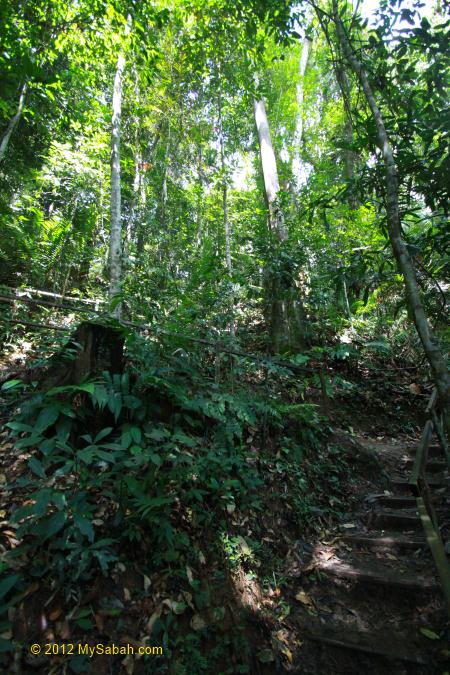 The walk to starting point will take about 30 minutes. Just relax and go slow. It will help if you wear comfortable hiking shoes and carry some water. You better bring your umbrella just in case it rains.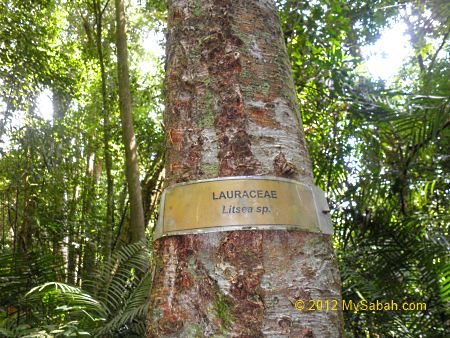 Along the way, you will see many trees labeled with species tag. I'm not a botanist, so it's meaningless to me.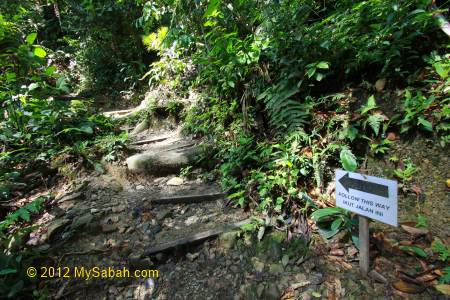 The trail is ascending route but it's not very steep. As I walk under the shade of dense canopy, I didn't feel tired.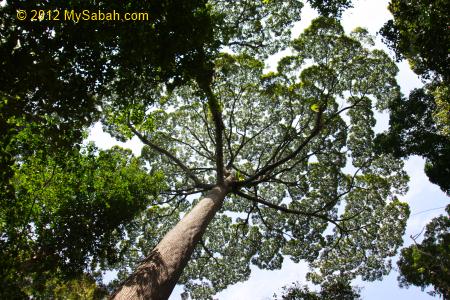 Above: a tall tree with huge canopy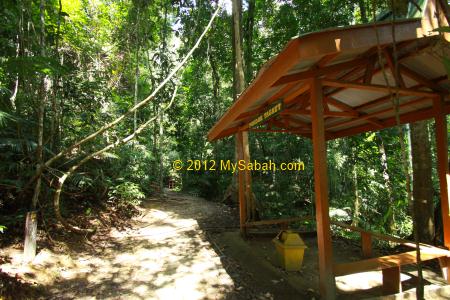 After 350 Meters, there is a small shelter (named "Pondok Tagaut", Pondok means Gazebo) for you to sit down and rest.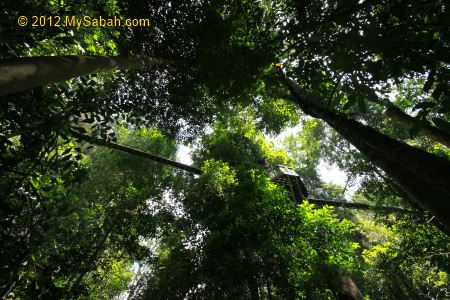 There was nobody around. I walked quietly, suddenly I heard girls screaming above. I looked up and saw the canopy walkway. No kidding, it's really high.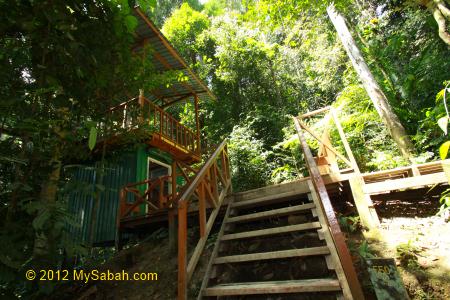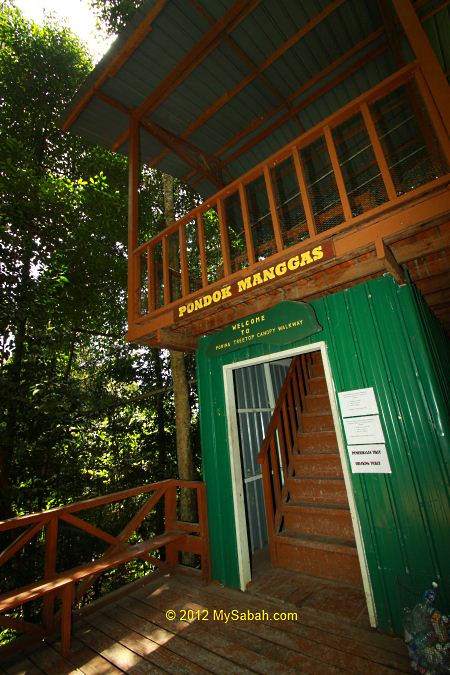 Very soon I reached the tower (named "Pondok Manggas") where the starting point located.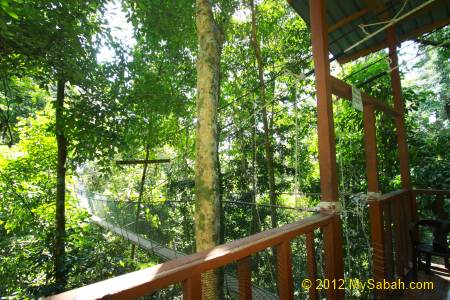 Above: the place where you start your first step
The canopy walkway is narrow and only can take 6-people load at a time.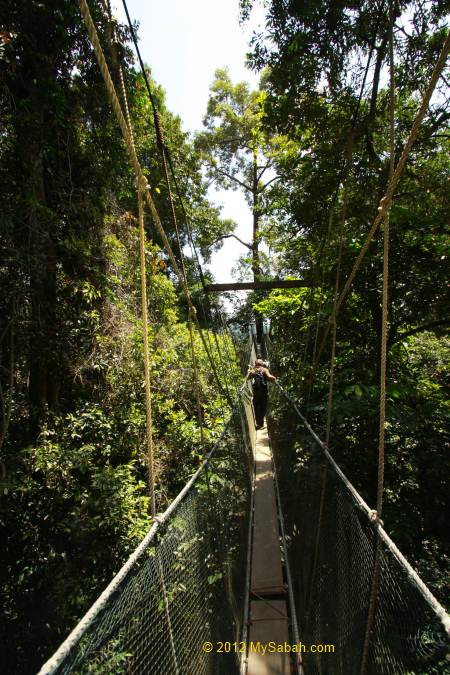 The canopy walkway is a suspension bridge constructed with ropes, steel cables and a series of aluminum ladders bolted together. Laced with polyester ropes, the open rungs of ladders are covered with walking plank. Netting enclosed both sides for additional security.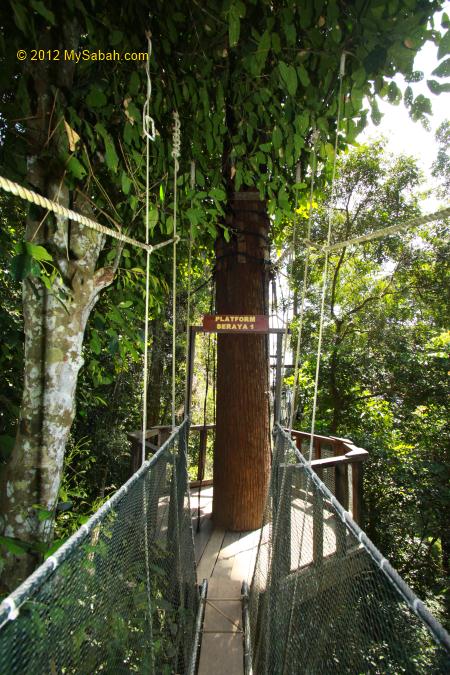 The bridge is connected between 3 super-big trees of Borneo rainforest such as Menggaris (species: Kompassia excelsa) and Seraya (Shorea sp). This is the first tree-top platform.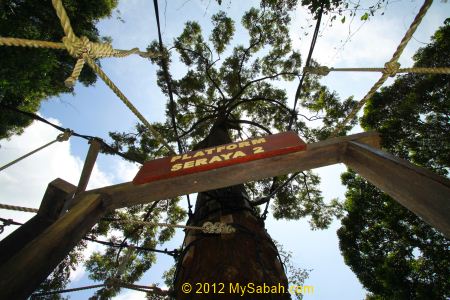 75% of rainforest animals spend their time on forest canopy. Some of them never come to ground, so canopy walkway is great for observing these animals. The tree platform is supposed to be a good spot for bird watching, but I didn't see much, probably the birds are less active in late morning.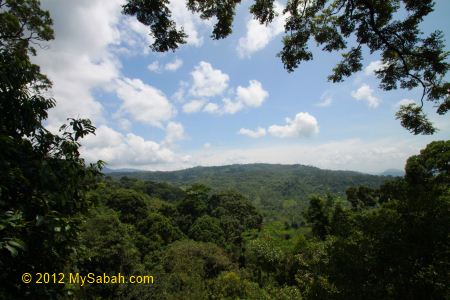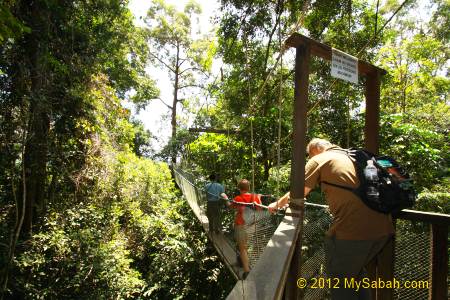 The walkway is an elastic structure, so it will bounce and swing when we walk on it. Some find this thrilling, while some think it's scary.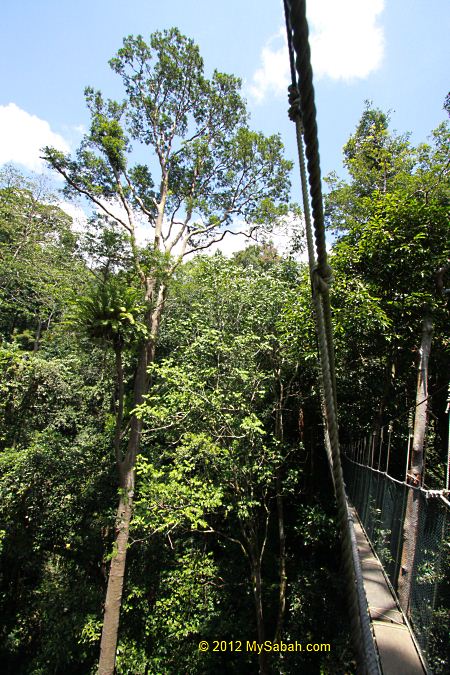 Isn't it exciting to see tree crowns at your eye-level?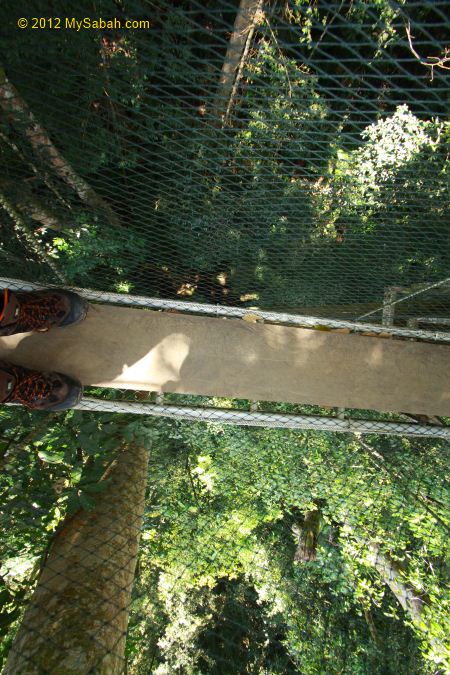 Above: My heart skips a beat when I look down
This is what it looks like when you are over 40 Meters off the ground. That's why people with height phobia, hypertension or heart problem are not advised to try this, though it's a safe activity. It's the worst nightmare for height phobia.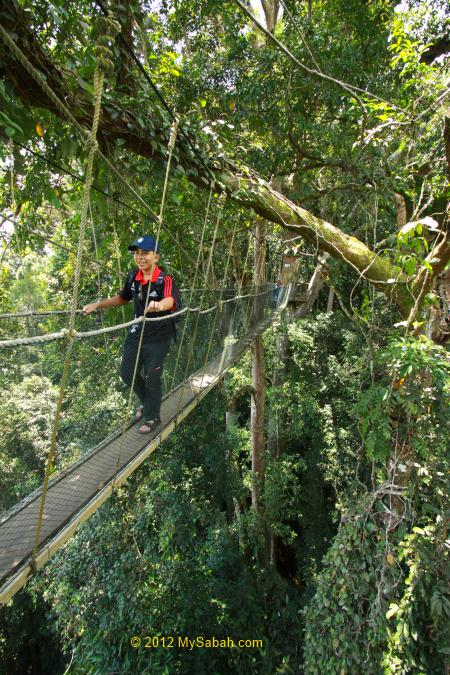 However, I notice that kids enjoy canopy walkway more than adults. Most adults just walk carefully and busy imagining that they would fall.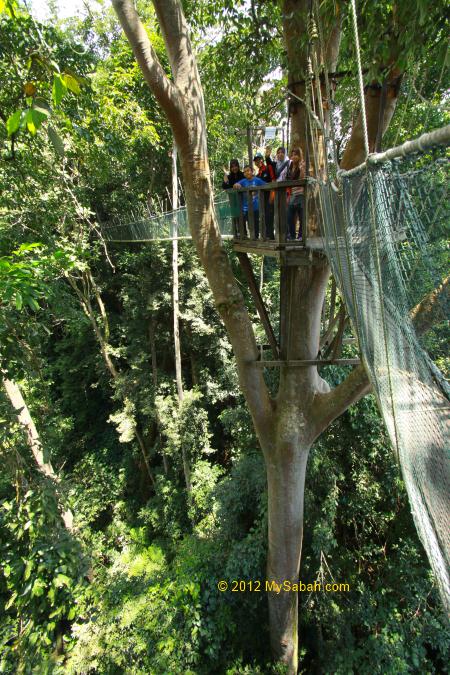 You may watch the 2-minute video below to get a feel of the experience:
Site Map of Poring Hot Springs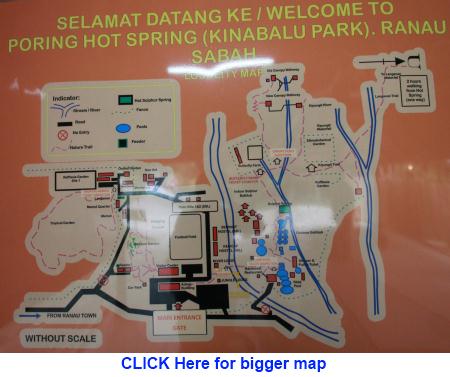 You may click the picture above to see bigger map.
More Photos
You may check out my photo album on Poring for more nice pictures: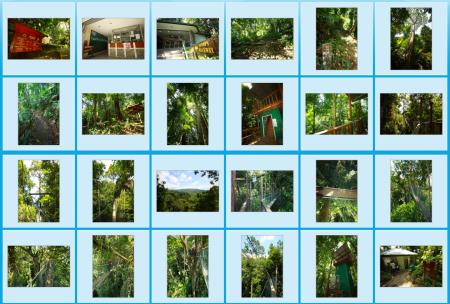 Other canopy walk in Sabah:
Skybridge of Maliau Basin (longest canopy walk)
Canopy Walk of Danum Valley (award-winning attraction)
Rainforest Discovery Center (best for bird-watching)
Other articles about Poring Hot Springs Park:
Photos taken in Poring, Sabah, Malaysia Borneo