Poring Hot Springs is one of the "must-visit" attractions, if you ask the locals for recommendations for your Sabah trip. Hot spring is just a small part of Poring, you also can find rafflesia flower, waterfalls, cave, canopy walk, rainforest, orangutan, orchid farm, butterfly garden, etc. there! I'll cover all these fun activities in 8 articles. For this 1st article, I'll talk about the hot springs.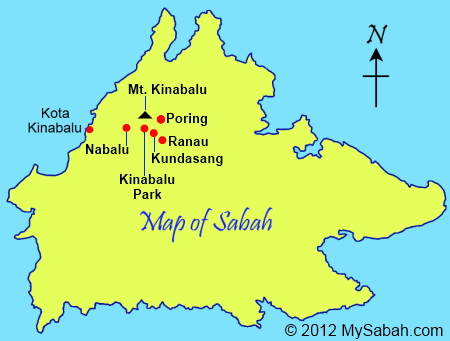 Poring is about 43 KM away from Kinabalu Park, the 1st UNESCO World Heritage Site of Malaysia. Japanese also came here to bathe during their occupation in World War II.
1. Outdoor Hot Springs
The hot springs is the most visited area. Once you enter the park (opens from 9am to 5pm daily), just buy a ticket at the counter (RM10 (≈USD2.30), rates with effect from 1 Jan 2023), then you can enjoy the hot spring in open area for first 3 hours (RM10/Hour thereafter). We believe the hot sulphur spring has therapeutic properties that heal certain skin diseases, and the heat and minerals also can soothe muscles and improve blood and lymphatic circulation, thereby improving our health and skin.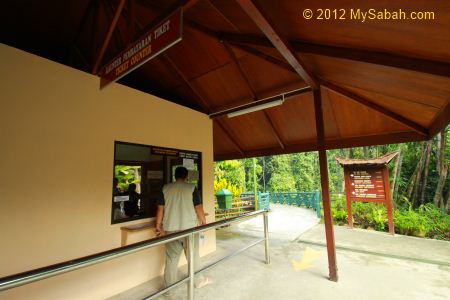 Above: the ticket counter at entrance. After 9am, you will see a long queue at this counter.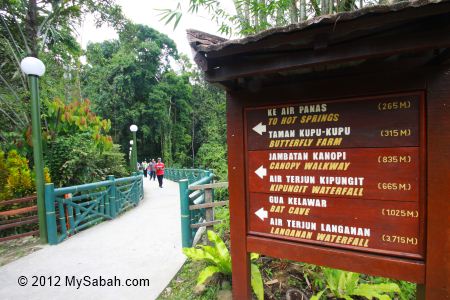 Then you walk 265 Meters to the hot springs area. You can smell Sulphur when you are getting near.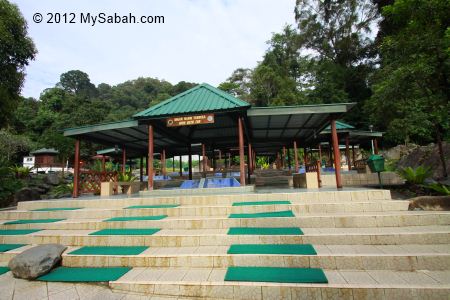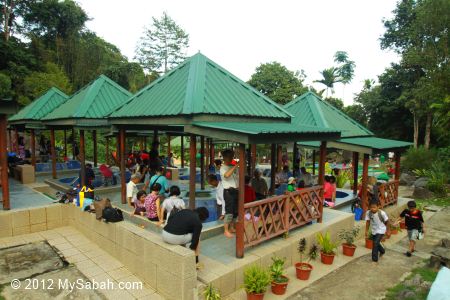 Above: outdoor bathtubs of Poring hot springs
Be warned, if you go there in weekends, you will see hundreds of tourists, especially during school holiday.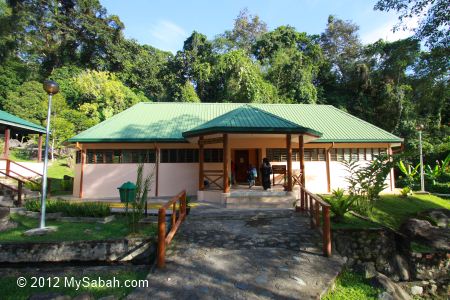 There is a changing room and toilet for you near the hot spring area.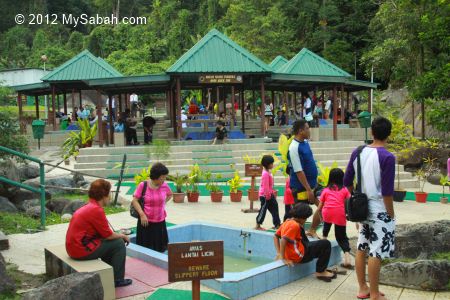 You can soak your feet here if you don't want to get totally wet.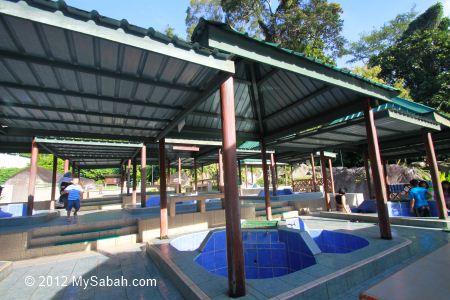 The outdoor bathtubs are shaded, so you won't be cooked by hot spring and sunlight at the same time.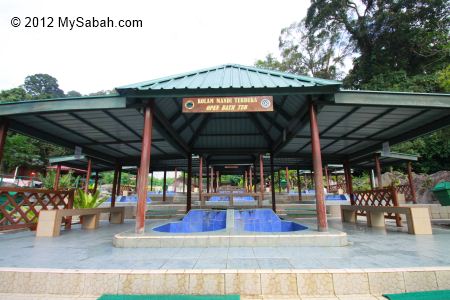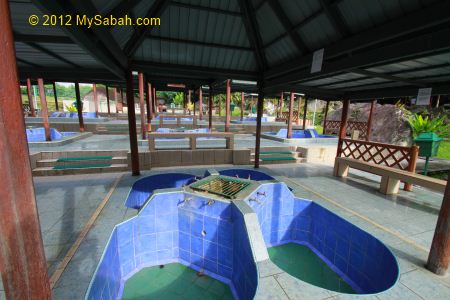 There are dozens of bath tubs in open area. Just pick any one that is not occupied and start your hot spring SPA. The standard bathtub can hold about 2 adults.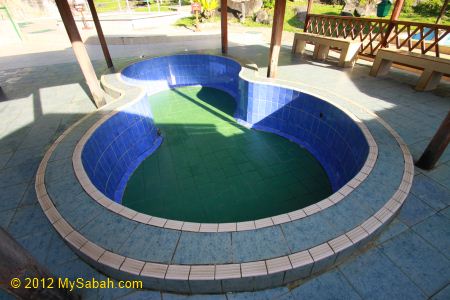 Above: a few 8-shape bathtubs that is big enough to host your family from grandma to grandchild.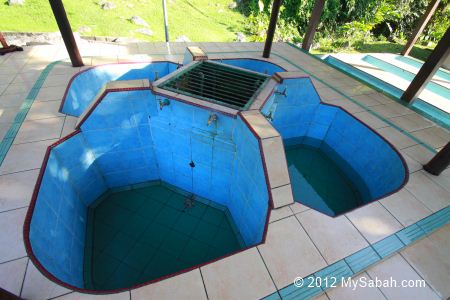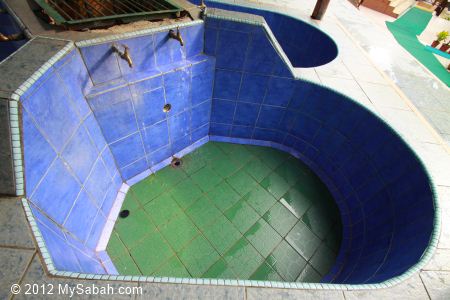 Closer look of the public bath tubs.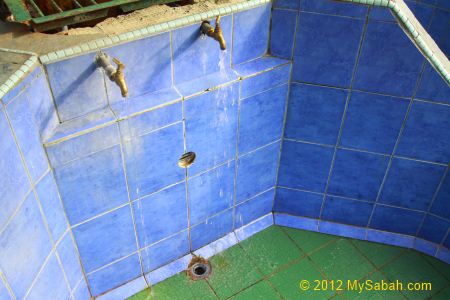 Note there are two water taps, one is hot spring, another one is cool water, so you can adjust the temperature. The temperature of hot spring is 45 to 60 degrees Celsius (113-140 degree F).
You may watch the following 3-minute video about Poring hot springs:

Just next to the open-air bathtub area, you would notice a big dark boulder with steaming pond under it. It's the source of the hot springs (Mata Air Panas in Malay language).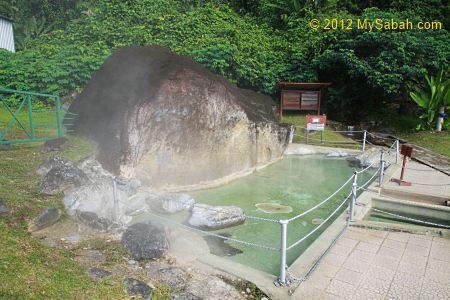 Hot sulphur spring water is formed by the less violent manifestation of volcanic areas, even when the volcanoes are no longer active. They represent the final stage of heat loss by igneous (crystalline rock), masses beneath off high temperature vapor and gases while slowly cooling down. This gaseous phase is composed of primarily of overheated steam that losses part of its heat while coming up to the surface and expands and is transformed into water, forming hot water spring.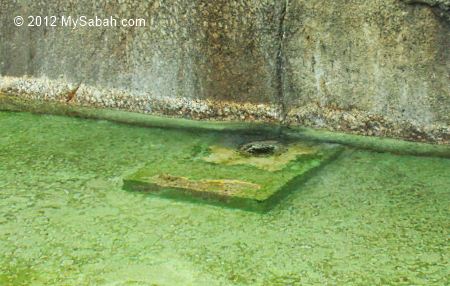 You can see hot water flowing out of this hole all the time. Many hot springs contain Carbon Dioxide and Hydrogen Sulfide (H2S) in varying proportions and mineral salt are always dissolved in the thermal spring water, thus you have sulphur in hot spring.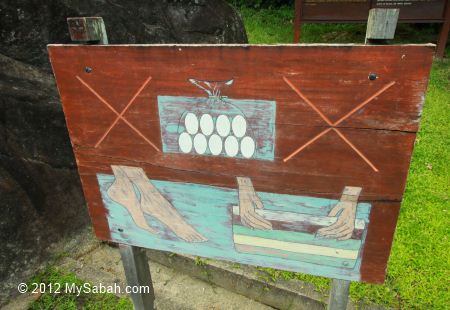 Since this is the hot spring source, you are not allowed to boil eggs, wash towel and soak your feet there. In the past, someone put the egg in the boiling hot spring and it really cooked!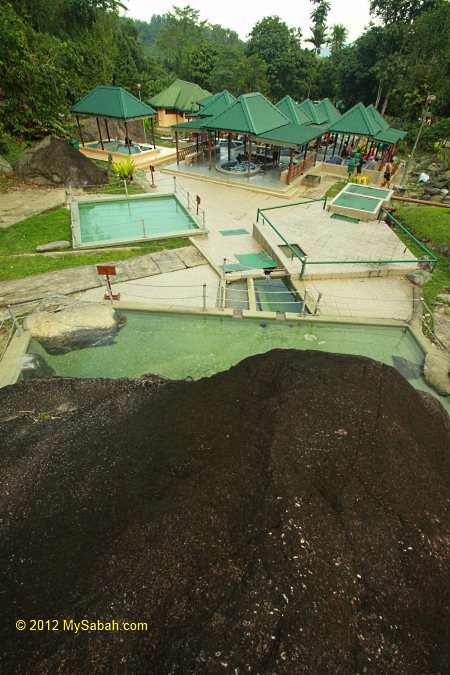 Above: photo of hot spring source and the open bathtubs area.
2. Indoor / Enclosed Bath Tubs
The open bathtub area is always crowded with people and noisy kids. If you want more space and privacy, you can consider Indoor / Enclosed Bathtubs, the fee for Deluxe Bathtub is RM35 (≈USD8.00) per hour, Standard Bathtub is RM25 (≈USD5.70) per hour.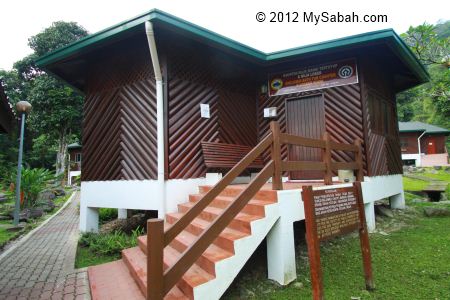 Above: the counter for enclosed bath tub and locker room. They open from 9am to 5pm.
Please note that this is NOT a ticket counter. You must buy the ticket for Indoor bathtub at the park entrance.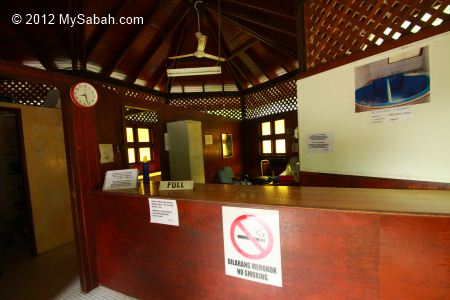 After getting the ticket, you just register here with the staff. If you didn't buy the ticket, you will have to walk back and forth for half a KM (500 Meters) to buy ticket from the Park entrance.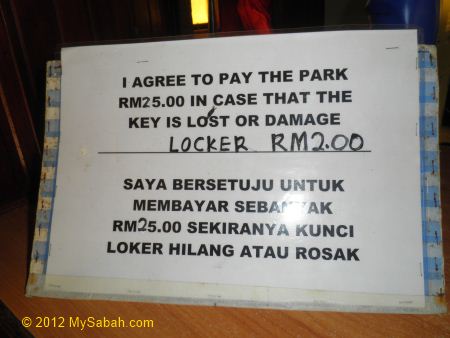 They also have locker service (RM5.00 per day, with effect from 1 Jan 2023), but it's not necessary for indoor bathtub users. It's meant for bathers in open bath area.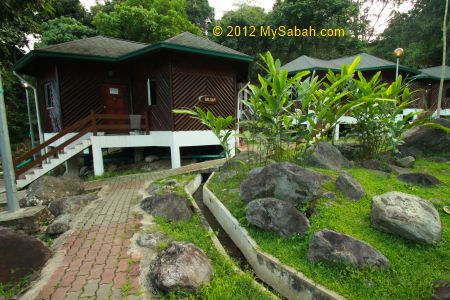 Show the staff your Enclosed Bathtub ticket and they will bring you to one of these cabins for indoor bathtubs.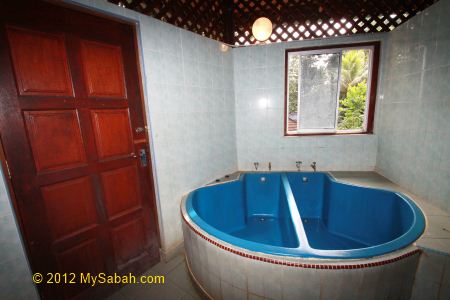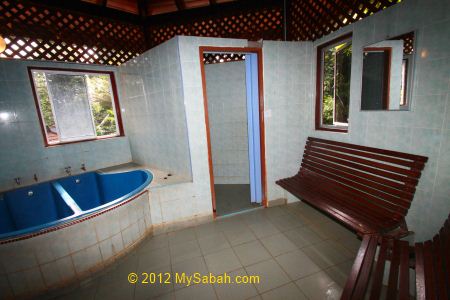 Above: the interior of Indoor / Enclosed bathtubs cabin. There is a toilet cum shower room, ceiling fan, two benches and two bath tubs.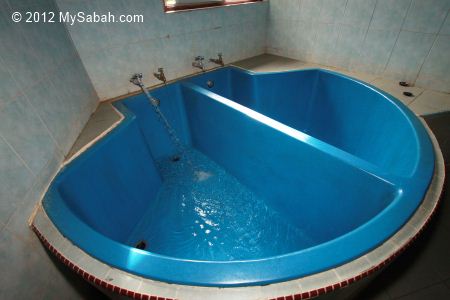 Above: filling up the bath tub and enjoy the hot spring. It's so quiet compared to noisy and crowded open bath area outside. Next time I'll bring beer and food here for best enjoyment.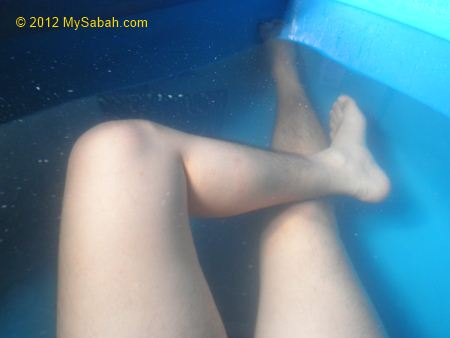 Too bad the bath tub is small so I can't lay inside. Even in relax sitting pose, I can't fully extend my legs. I am not even 6-feet tall, so this bathtub would be a bit small for big guys. Ok, that's all about the indoor bathtub. I guess nobody want to see me naked. 🙂
You may watch the 1-minute video below to explore the indoor bathtub:
3. Rock Pool
For those who prefer cold water over hot spring, there is a Rock Pool next to the hot spring area. Just jump into the water, no purchase of another ticket required.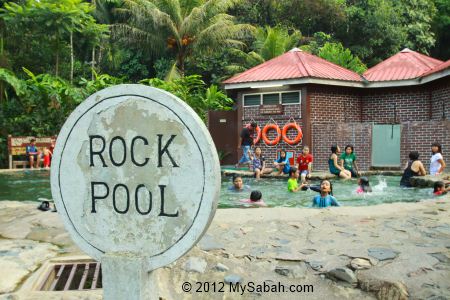 However, try to avoid jumping into the water right after a hot spring bath. A sudden shift from hot to cold water will cause thermal shock. Somebody passes out because of that.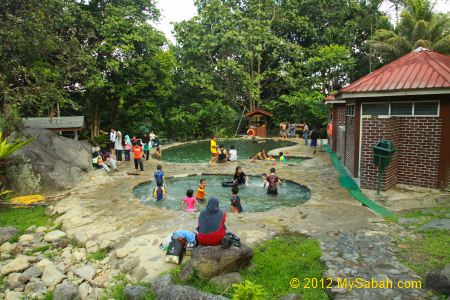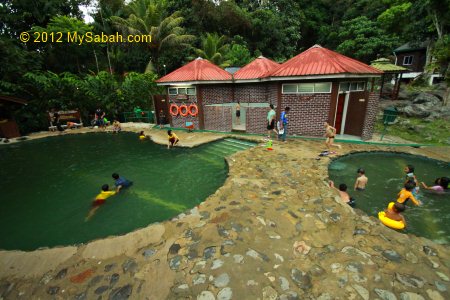 The Rock Pool is divided into two sections. The small and shallow one at the right is for children who don't know how to swim. The left one is 6-feet in deepest area. Though there is life guard around, you better keep an eye on your child. Buoy is available for rent for RM2 per hour (≈USD0.60).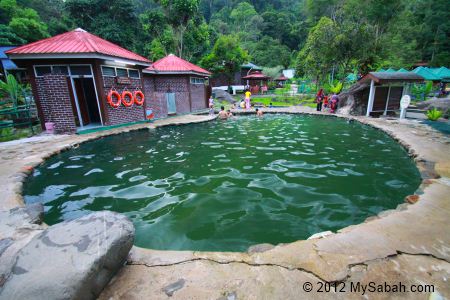 The water is from the mountain stream so it's really icy cold that you will shiver in the pool. But you will get used to it after a while. The water is natural stream water so it appears green, unlike the blue-color pool filled with Chlorine.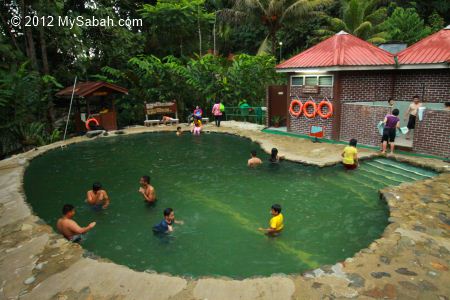 Same as other facilities, the Rock Pool is also open from 9am to 5pm daily. There is a toilet and changing room next to the pool.
You may watch the following 1-min video about Rock Pool:
4. Slide Pool
Another pool next to the hot spring is the Slide Pool (opens from 9am to 5pm daily too). Same as Indoor Bathtub, you must buy the ticket at Park entrance. The entrance fee is RM3 (?USD0.90) for adult (same rate for local and foreign tourist).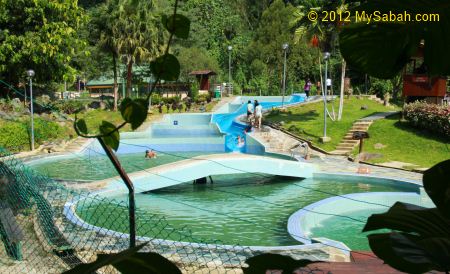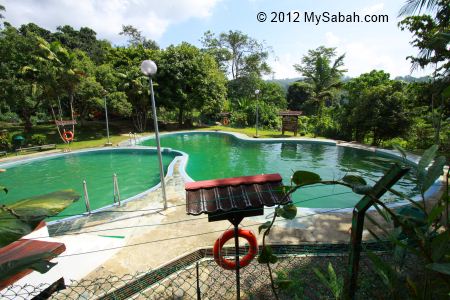 Well, the slide pool is quite ordinary so I won't cover it in detail.
Site Map of Poring Hot Springs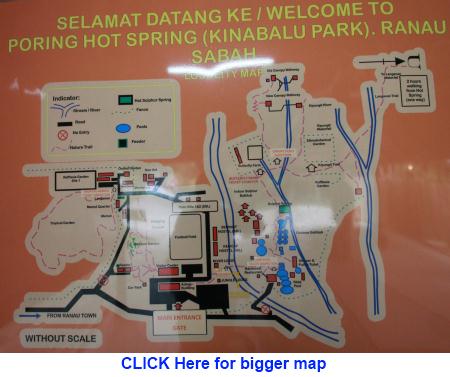 You may click the picture above to see bigger map.
The hot spring is only 20% of what Poring has to offer. If you care to know more about other interesting activities in Poring, please read the following articles:
More Photos
You may check out my photo album on Poring for more nice pictures: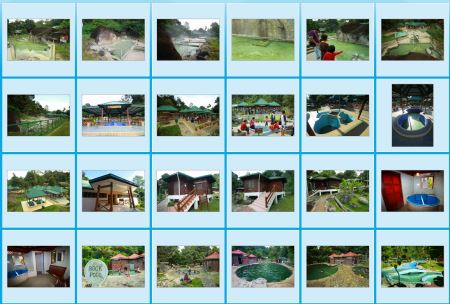 Photos taken in Poring, Sabah, Malaysia Borneo