Guess you all had heard the drowning tragedies below happened in Pantai Dalit (Dalit Beach):
On 22 Aug 2006, four secondary school students of SMK Sanzac drowned. Two months later (on 25 Oct), 3 more children suffered the same fate.

After the incidents, the local authority has put up two warning notices for swimmers. The best solution seems to be "Don't Swim!" Whenever such tragedy happens, many will scare themselves with "Water ghost looks for replacement" bull shit. A maritime researcher has the answer, the victims were dragged away by the Rip Current:
"Rip tides are currents flowing away from the shore, and are very powerful… it can drag you away even if you are a strong swimmer…" said Universiti Malaysia Sabah (UMS) Maritime Institute deputy director Dr Shahbuddin Saad.
Watch the video below. You will be shocked to know that how easy you can fall victim to Rip Current. The video also teaches you how to escape:
The sea of Pantai Dalit looks so calm, besides locals, there are many tourists from Shangri-La Rasa Ria Resort doing watersport, horse riding, etc. on that beach. Hard to believe that it kills.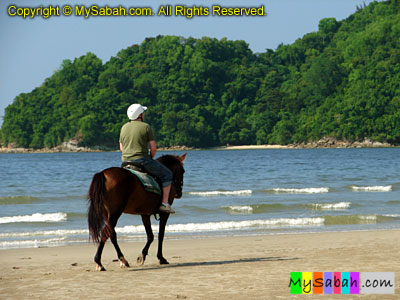 According to the survivors, they were swimming at the waist or chest-level deep water, and suddenly a big wave came and swept them away. But one thing I would like to point out is – most people underestimate the power of water. All rescue experts know that water level up to knee is enough to wash us away, if the current is strong enough. When we truly feel the enormous power of water, it is usually too late.

Driven by curiosity, I decided to see what makes this beach so different. I only noticed that the seabed was not even, so the waves reach the shore at different speed and duration. I was there during high tide, where the sea water started rising. I will come back again during low tide, when the beach exposes more of its underlying structure.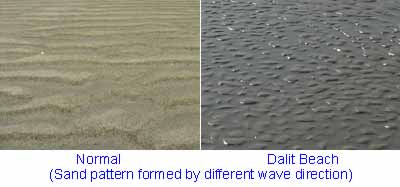 Dalit Beach looks calm. Its water is so inviting that youngsters ignore the warning signboard.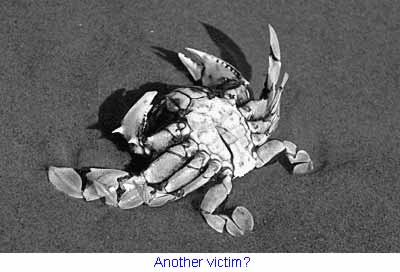 Later I checked out the bird view of Dalit Beach through Google map. Interestingly, there is a big river mouth near the beach. is it responsible for the strong rip current?

When I zoomed in further, I found something weird (pointed by red arrow in picture above). There is a huge spiral-like wave, about 0.5 km across, in the sea of Pantai Dalit. You may click the picture below to zoom in for closer look.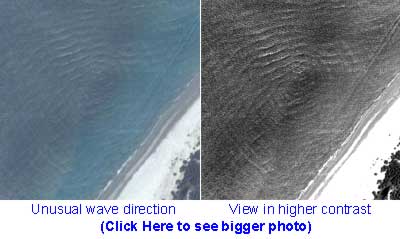 You may look at the map yourselves:

View Larger Map
I suspect the murky river carries large amount of sediment that builds up sand bars under the sea at Dalit Beach. And this uneven underwater terrain is the key recipe for a deadly Rip Current. Do you agree with me?
Update
21 Jun 2010: A father and son, from Kg Tambalungon in Tuaran, were swept away by strong currents and drowned while trying to save their 17-year-old family member on Father's Day.
7 Jan 2013: two youths, both aged 20, from Kampung Telipok, Tuaran, were being swept away by strong currents. (reported as Missing)
Photos taken in Tuaran, Sabah, Malaysia Borneo