Have you ever imagined walking under the sea without gill? Well, it is not a dream, you don't even need to know how to swim or have special skill such as scuba diving. I had tried sea walking last week at Borneo Reef World, the largest reef activity pontoon in Southeast Asia (second largest on the world). This pontoon is a floating platform on the sea off Sapi Island of Kota Kinabalu (KK), Sabah, Malaysia.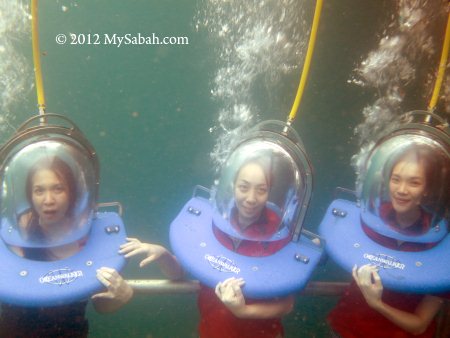 Pic: sea walking allows you to have fun underwater without getting your hair wet.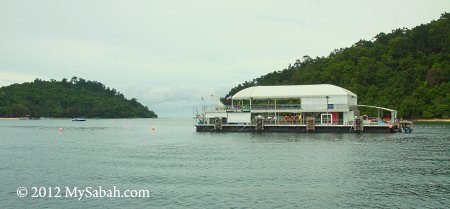 Pic: Borneo Reef World is only 15 minutes by boat from KK city. You can see Sapi Island at the left and Gaya Island at the right (See location map).
There are a few fun stuffs to check out on this pontoon. Let's start with their Underwater Observatory.
Underwater Observatory
Just follow the staircase that leads to the bottom of the deck and you would be greeted by hundreds of reef fishes living in Tunku Abdul Rahman Marine Park.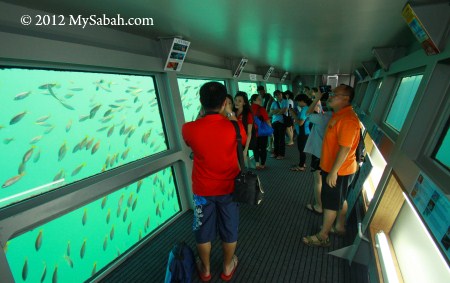 The Underwater Observatory is a 20-Meter air-conditioned walkway about 4 Meters under the sea.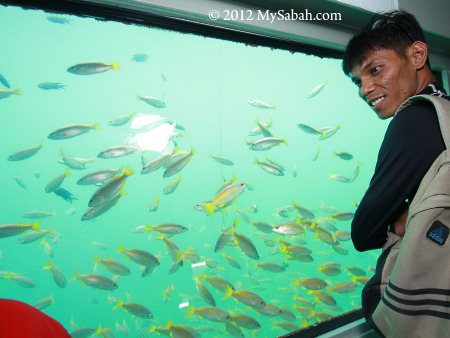 The glass windows turn the Underwater Observatory into a natural aquarium.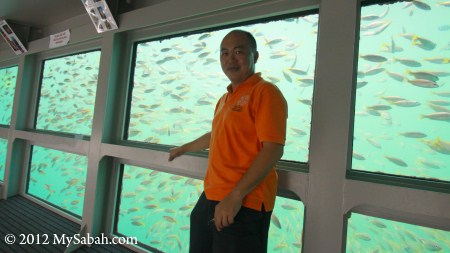 So who is in the "fish tank"? Fishes or people?
Sea Walking
Sea Walking (or Helmet Diving) is the highlight of my tour. Though I am a scuba diver, I wonder if the feeling is the same in sea walking.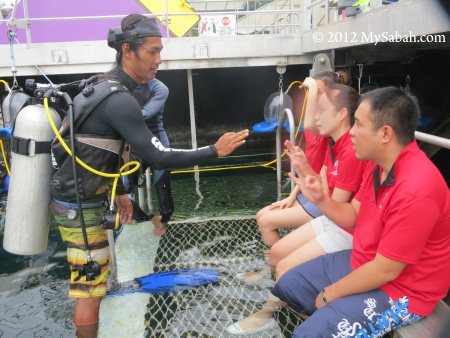 Pic: Briefing before the sea walking. This activity is so safe that even non-swimmers can join. A few staffs will follow you into the water and watch your every steps. The sea walking is carried out 5-Meter underwater for 20 minutes (Fee: RM150 ? USD50).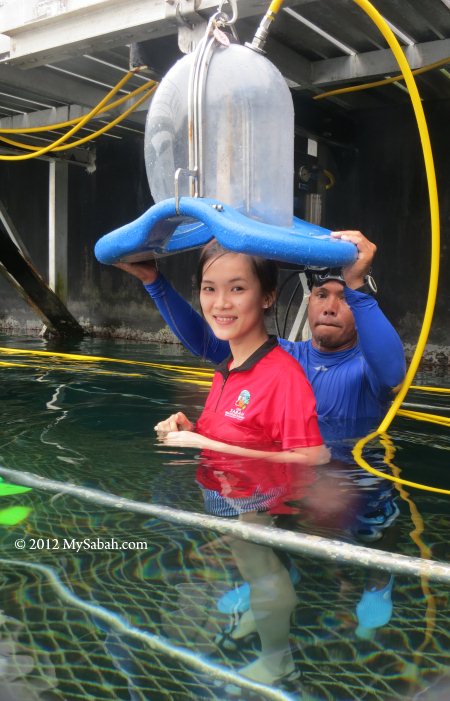 Basically, they just put a helmet over your head, and a long (yellow) pipe, which provides oxygen, is connected to this helmet. When you walk deeper into the sea, you will feel a bit of discomfort in your eardrum in the beginning, due to increased water pressure. Just pause once in a while, equalize (as instructed in briefing) and let your ears adapt, and you shall be fine to proceed. Scuba divers can dive more than 20 Meters deep without problem, so 5-Meter is… nothing. Just go slow and don't be panic.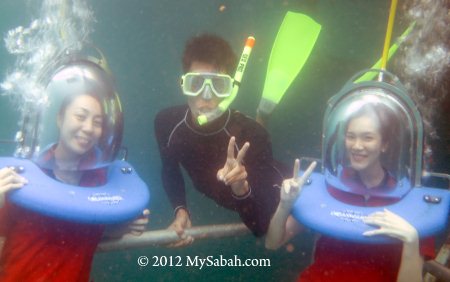 Walking with this helmet under the sea was like having an adventure in outer space and Abyss. The feeling is funny in the water with dry head. Don't worry, the helmet won't float away.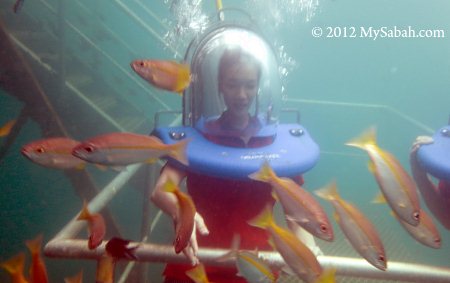 There were schools of fishes swimming around me, so close that I could almost touch them. It was very quiet under the ocean. All I heard was the bubbling from my helmet. We couldn't hear one another talking too.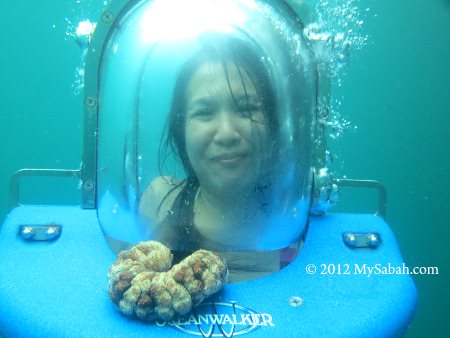 Hey, someone shit on her helmet!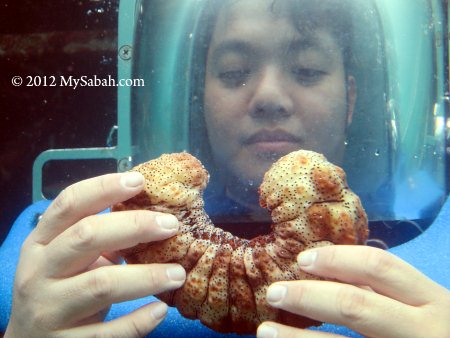 Just kidding, it is a sea cucumber.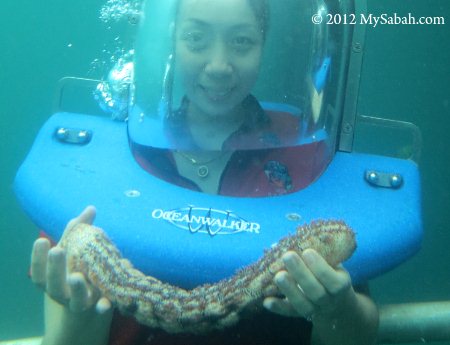 This sea cucumber turned long in lady's hand. Don't know why..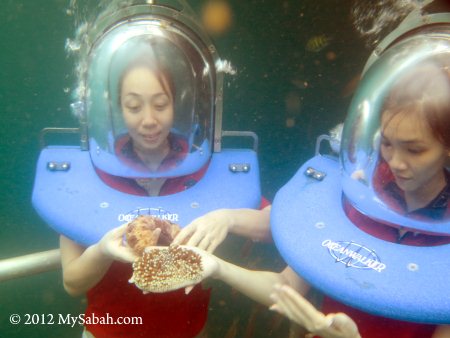 To keep our eyes and hands busy, the staffs brought us some coral and sea cucumber for a touch & feel experience.
You may watch the 90-sec Sea Walking video below:

Click Here for wider video
Snorkeling
The snorkeling mask, fins and life jacket are provided onboard, so you can snorkel in the sea near Sapi and Gaya islands.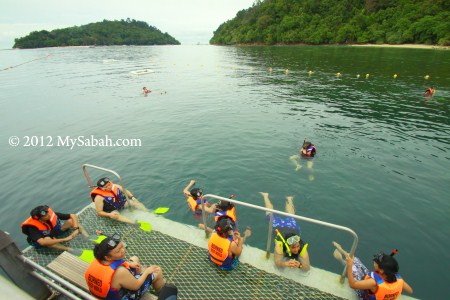 Pic: the platform for snorkellers.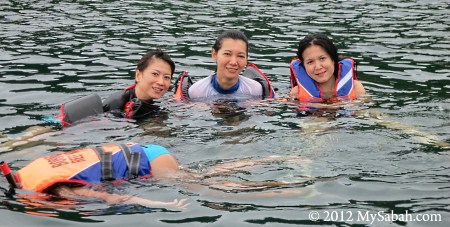 Pic: group photo with a floating dead body, just joking.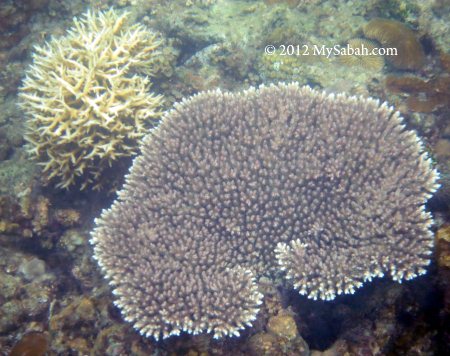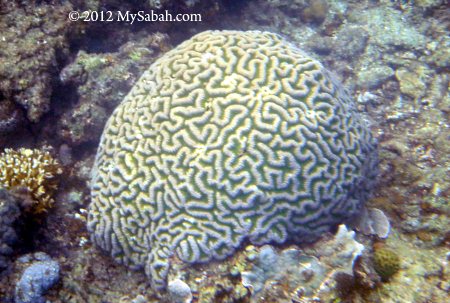 The corals there are in ok condition and I saw many colorful fishes. The day was cloudy so the visibility was poor underwater that day, otherwise I would have gotten better photos.
If you really love watersport, you may join their Discovery Scuba Diving, which requires no open diver license.
The Pontoon
The reef activity pontoon of Borneo Reef World is 880 Square Meters in size and 37.35 Meters in length. It can accommodate up to 500 people onboard. Personally, I think it's the most suitable for a group of 100 people to have a private party. The pontoon has 3 levels, i.e., underwater observatory, lower deck and upper deck.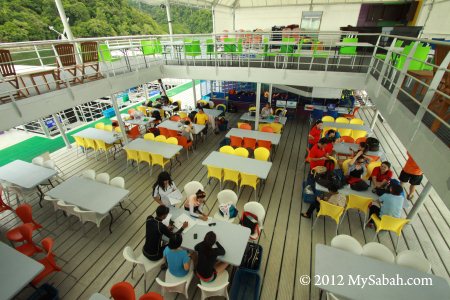 Pic: the lower deck is the dining and main activity area. I had salad, rice, noodle, fish, prawns, tropical fruit, etc. as lunch here. Btw, there is free flow of coffee.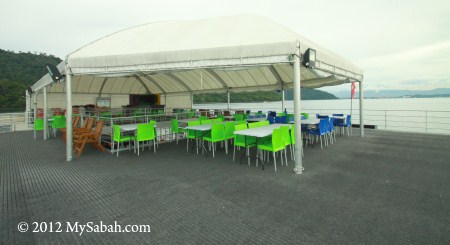 Pic: the upper deck area is wide
The pontoon is stable (in case you are prone to seasick) and built with high marine grade rust-proof aluminium. There are already some pontoons operate in Great Barrier Reef of Australia. I'm happy that Sabah has the largest pontoon in South East Asia.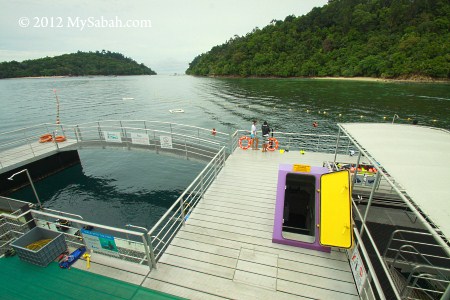 To see more of its surrounding, you may watch the 2.5-minute video of walking tour on this pontoon:

Click Here for wider video
How to Get There
Borneo Reef World has operated since Jun 2012 and now open for public. You can book the tour with Dynamic Holiday Cruise (License: KPL/LN 4117), the owner and operator of the reef pontoon. Below is their contact info:
Tel: +60 88-241908 (Office), +60 16-8325179 (Mobile)
Address: Suite2-4, Second Floor, Kompleks Asia City, Jalan Asia City, 88000 Kota Kinabalu, Sabah, Malaysia.
Website: http://www.borneoreefworld.com.my
Facebook: http://www.facebook.com/pages/Borneo-Reef-World/
E-mail: enquiry@borneoreefworld.com.my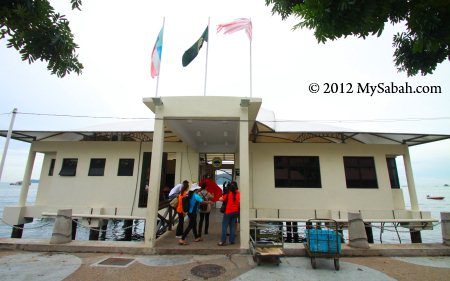 Pic: jetty of Sabah Parks (behind Wisma Merdeka building in KK). See Location Map
They depart from Sabah Parks jetty on Fri, Sat and Sun.
Boarding Time: 9:00 AM / 11:30 AM
Return Time: 2:30 PM / 4.30 PM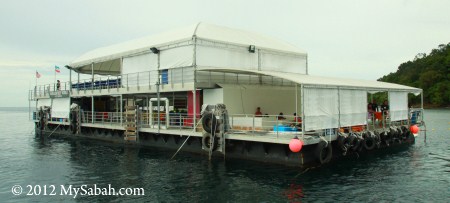 The standard rate is RM295 (?USD89) for adult (above 12 years old). Child who is 4-12 years old gets 50% off (Fees include: Jetty Fee (RM7.00), PA Insurance (RM3.00) and Fuel Surcharge (RM30.00)). Please contact them for updated fees.
The day tour package includes:
Buffet lunch
Return boat transfer
Life jacket, mask, snorkel & fins
Please bring sun block lotion, towel, hats and cloth for changing.
More Photos
Below are 48 more photos for your enjoyment:
Photos taken in Kota Kinabalu, Sabah, Malaysia Borneo