Good food enhances the quality of family time. Sabah Chinese likes to eat out with family on special days. During weekends and festive seasons, you will see every tables of Chinese restaurants are filled up by family members of 3 generations (i.e. grandparents, parents and grandchildren). Only a handful of Chinese restaurants in Kota Kinabalu (KK) can pass the stringent standard of their taste buds, especially housewives who dislike restaurants that use excessive Ajinomoto.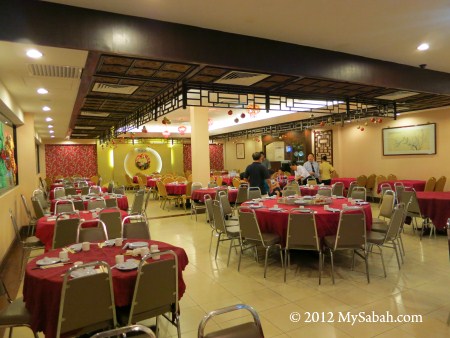 One of my favorite Chinese restaurants is New WK Restaurant or New Wong Kwok (??????? in Chinese) in Luyang, KK. The photo above looks empty because we went there earlier to avoid the peak hours (or we had to stand to wait for our turn).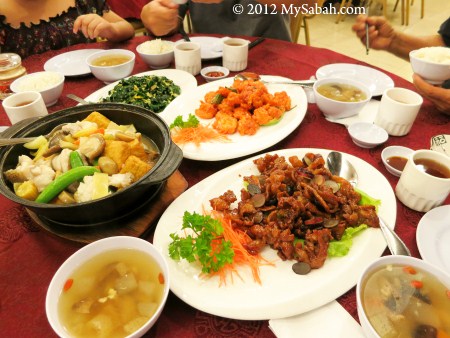 The restaurant is super-efficient. Our food arrived in 10 minutes, as if they knew what we would order.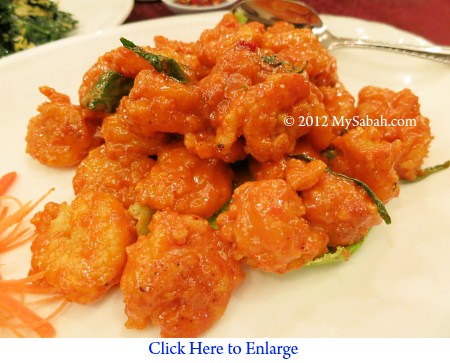 The first dish I strongly recommend is the Fried Prawn with Salted Egg Yolk (???? in Chinese). The prawns are covered in creamy and aromatic egg yolk sauce. I chewed slowly and wishes this taste could stay longer in my mouth. My family agrees that this dish is more delicious than Butter Prawns, which is used to be our favorite.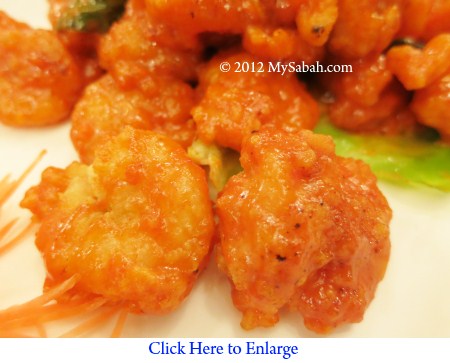 The dish costs RM45 (≈USD15), quite pricey. I hoped the prawns are bigger. It's a must-try of New WK Restaurant anyway.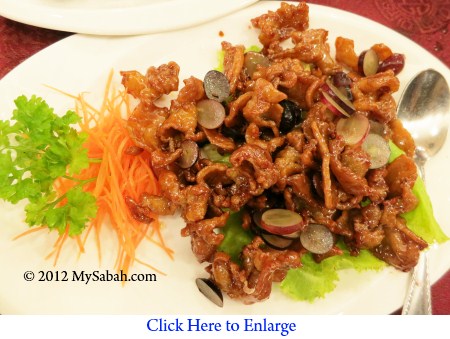 I also like their Pork Belly Meat with Blueberry Sauce (???? in Chinese). It tastes like crunchy pork jerky covered by honey. It is interesting to see them cooking the meat with grapes.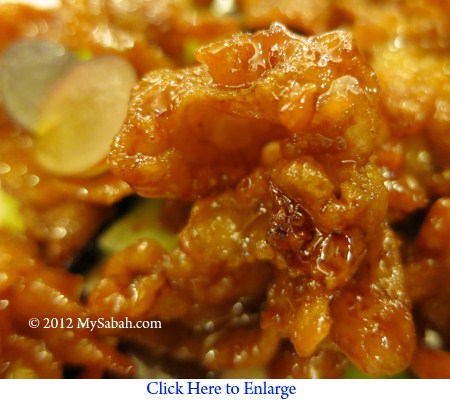 This belly meat dish costs RM28 (≈USD9.33).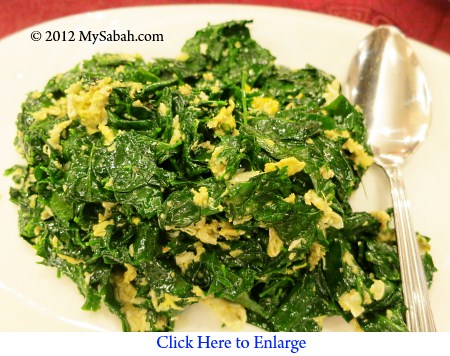 To balance our diet, we order "Sabah Vegetable" (????? in Chinese) for RM15 (≈USD5). I don't like most vegetables, this Sabah vege is one of the exceptions. Probably it has no "smell of grass" commonly found in other vege.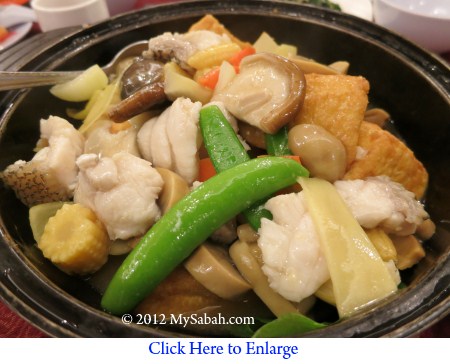 Next is Braised Beancurb with Seafood in Claypot (????? in Chinese). Not bad. Everything is "smooth" and soft in this claypot, the bean curb (tofu), mushroom, fish slices.. RM30 (≈USD10) per dish, a very fulfilling serving.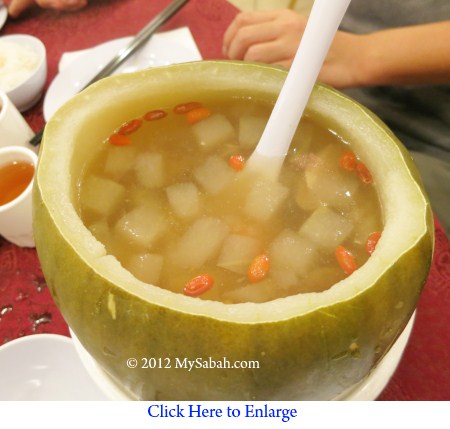 Chinese who dines in Cantonese style must have soup. We ordered Double Boiled Whole Winter Melon Soup (????? in Chinese) for RM35 (≈USD11.70).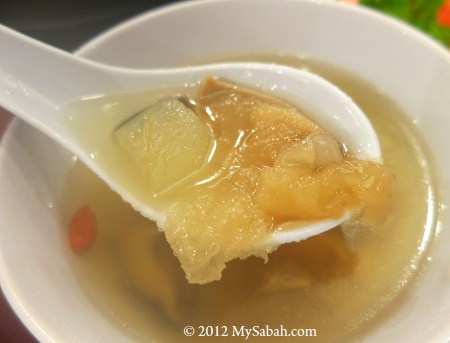 Winter melon is used very oftenly in broth, as it enhances the taste of meat. The restaurant added fish maw to this soup too.
Overall it was a great dinner. The bill cames and it costed RM170.40 (≈USD56.80) (Note: prices as of Dec 2012), after adding the fees of pickles / peanuts (appetizer), steamed white rice, Chinese tea, fruit dessert (papaya & watermelon slices), 6% government tax and 4% service charge, besides all the dish mentioned earlier. Quite a reasonable price for 5 adults and 2 children.
How to Get There
Now you know where to bring your family for dinner for the coming holiday. The opening hours of New WK Restaurant are 7am-2pm and 6pm-10pm daily (include holiday). Below is their address and contact:
Address: Lot 4, 5 & 6, Wisma HCS, Jalan Kolam, Luyang, Kota Kinabalu, Sabah, Malaysia.
Tel: +60 88-217278, +60 16-7101728 (Mobile Phone)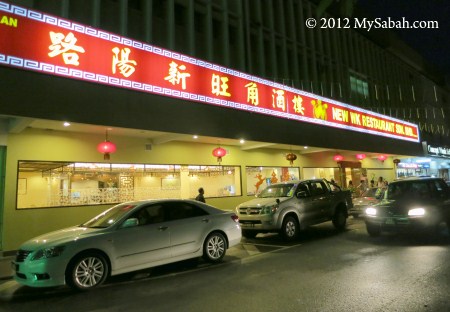 The location map of New WK Restaurant (???????):

View My Sabah Map in a larger map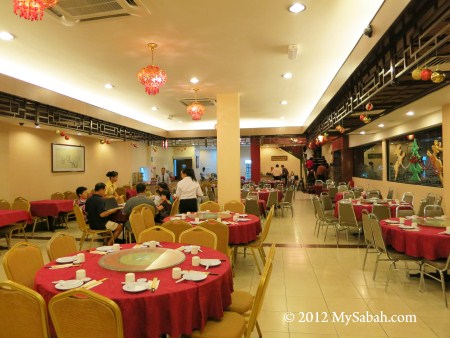 The restaurant has two floors, each floor can host about 100 guests. It is spacious and clean. I like its interior design with nice ambience. This restaurant is also a popular spot for Dim-Sum breakfast on weekends.
Do you know any other nice Chinese restaurants for family dinner in KK? Please share with me.
Photos taken in Kota Kinabalu, Sabah, Malaysia Borneo