After serving over 25 years of excellent Ngiu Chap in Menggatal town, Nyuk Pau Beef Noodle (孟加达 玉宝牛什 in Chinese) has become a brand name. Founded by Mr. Simon Saw in Menggatal (Kedai Kopi Nyuk Pau Baru), today Nyuk Pau has 8 franchise and one franchise in West Malaysia. Ngiu Chap (or Ngau Chap), which means Mixed Beef, consists of beef slices, stew, tripe, tendon and beef meat balls, usually served with noodles and beef soup.
As Nyuk Pau Zai Restaurant (玉宝仔牛什) of Lintas Plaza, which was opened by Brandon the son of the founder, was the nearest to my home, I decided to check it out.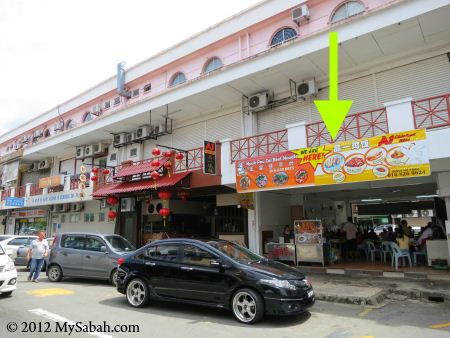 Pic: Nyuk Pau Zai Restaurant in Lintas Plaza
Below is the location map:

View My Sabah Map in a larger map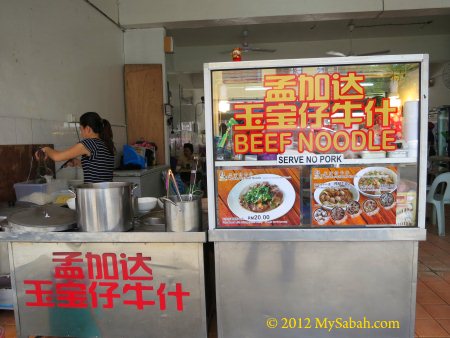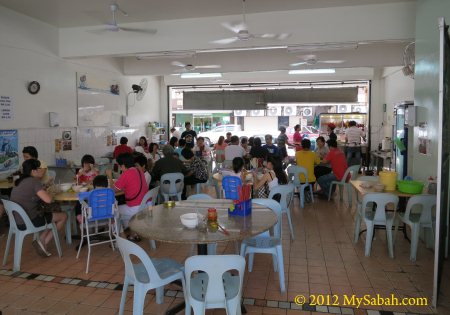 The restaurant has high ceiling with both sides open, so I don't feel warm inside.

As usual in my food tasting, I took a seat and ordered a Ngiu Chap Mee (Mixed Beef with yellow noodle). I used a compact to snap photos, so I didn't attract much attention. If I brought my big camera, everyone would stare at me, thinking that I was a reporter, haha.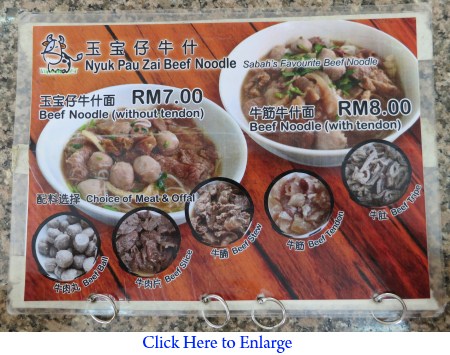 Pic: food menu of Nyuk Pau Zai
The menu is simple as it has only 2 items, i.e. Beef Noodle with, or without tendon. Ngiu Chap with tendon costs MYR8 (≈USD2.66), without tendon is MYR7 (≈USD2.33). (prices as of Nov 2012)
I like the pictorial guide. If you have special preference, you can point to the photo(s) to tell the waitress which body parts you (don't) want. Btw, you also can choose between rice (white) or egg (yellow) noodle.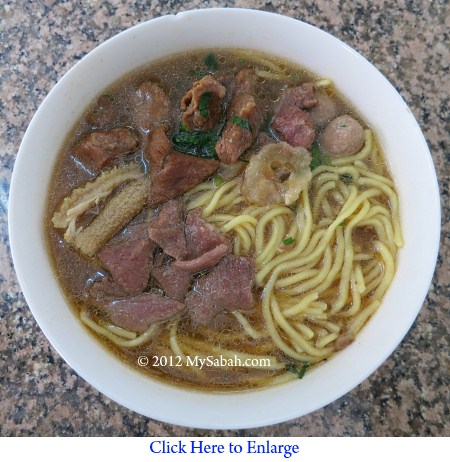 Shortly my order arrived. The food presentation is good. Probably the soup is oily, the serving looks a bit heavy to me.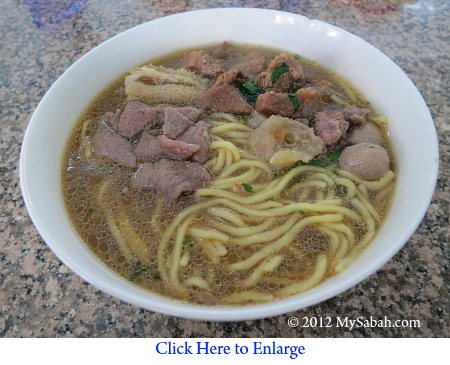 The beef is nice. Only the tendon is too soft. Overall, their Ngiu Chap lives up to its reputation, but I think there is room for improvement.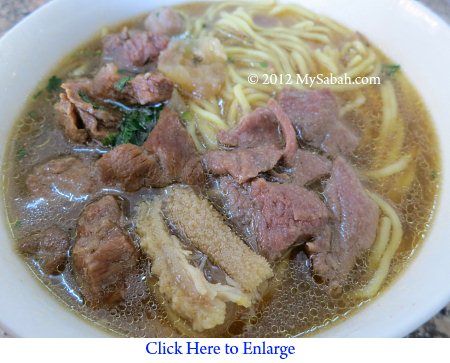 Pic: close up of Nyuk Pau Zai Ngiu Chap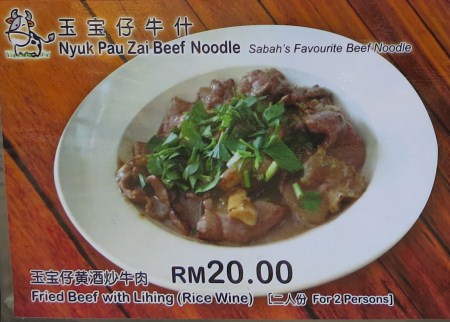 They are also selling Fried Beef with Lihing (local Rice Wine). I came alone and I was full, so I didn't try it. Please let me know how it tastes if you have eaten it.
The address of Nyuk Pau Zai is: Block J, Ground Floor, Lot 25-0, Lintas Plaza, Lorong Lintas Plaza, Kota Kinabalu, Sabah, Malaysia.
The restaurant opens from 7am to 9pm daily. The phone no. of Lintas Plaza branch is +60 16 8300975 (Contact Person: Brandon Saw).
Photos taken in Kota Kinabalu, Sabah, Malaysia Borneo