Sabah has over 32 indigneous groups, and each ethnic would have 5 or more sub-ethnic, so many that even Sabah Cultural Board can't tell who they are by looking at the custom (I asked them before). Murut means "Men of the hill," the 3rd largest indigenous groups in Sabah, they are usually farmers and hunters live in interior area. Murut are people also found in Sarawak and Kalimantan.
(Photo below is Murut Baukan)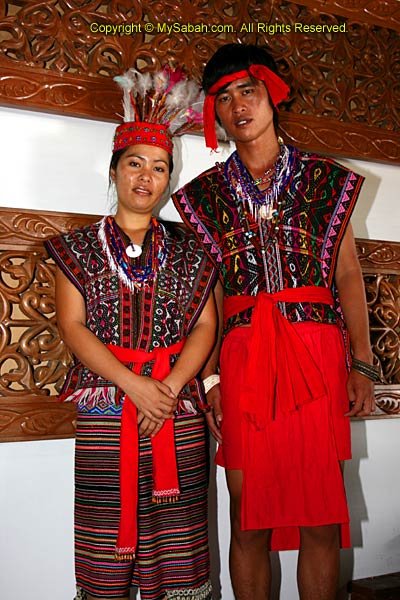 Kalimaran Festival is an annual state-level celebration for Murut culture in Murut Cultural Centre, which is made of Belian wood (hardest tropical hardwood timber), at Kampung Pulong, about 13km from Tenom town. To marry a KadazanDusun girl, a few buffalo is enough. However, to marry a Murut girl, you would pay the dowry for life. This festival is the best time to see the demo of Tinauh, the Murut wedding ceremony that would last for week, the biggest of all indigenous races in Sabah. For demo, they only show it in a day.
Photo below is Murut Nabai. The Paluan, Nabai, Gana and Baukan sub-ethnics live in Keningau, Sook and Bingkor along the shores of the Pegalan River. The Murut Tagol (Taghol) is the biggest group and stay in Nabawan, Sook and Kemabong.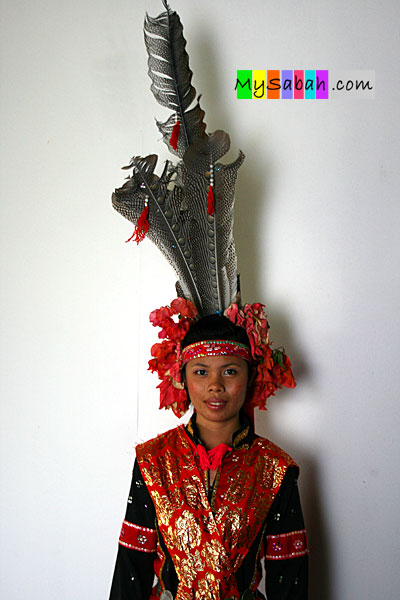 Murut has about 8 sub-ethnic (correct me if I am wrong). This year I only paid a brief visit (sigh… I missed the Miss Kalimaran beauty pageant). This year they have (sub-ethnic) Taghol, Timugon, Nabai, Kolor, Paluan, Sabakong, Gana and Baukan (Bookan) to introduce their cultres and customs. Though all Murut sub-ethnics sharesimilar culture, they can look very different from one another.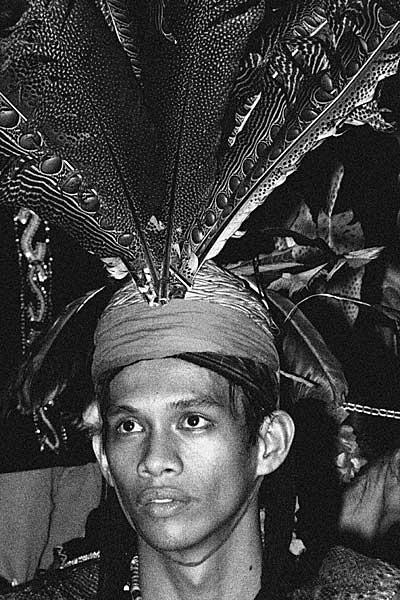 Kalimaran means craftsmanship of the Muruts, as they produce very impressive bead work and other crafts. Ralaa means young lady and alimar means hardworking, strong-minded, diligent and trustworthy. Below is a good background description of Kalimaran by Daily Express newspaper:
"The story has it that there was a young Murut lady named Ralaa who had all these wonderful personal virtues: hardworking, strong-minded and trustworthy. The sad part was, in the interest of their community, her brother named Yolomor believed he had to sacrifice her. But before that tragic event, she managed to produce a flurry of handicraft of excellent quality such as Tikar, Silaung, Tikalis, Buyung, Lintoyog and Onot by using raw materials like bamboo, rattan and bamban. That rush of Ralaa's handicraft inspiration climaxed in her Kalimaran by weaving cloth, sampoi (scarf), using threads produced from Timahan roots. Ralaa was finally sacrificed by Yolomor in order to get seeds for cultivation in his farm."
(Photo below is Murut Gana)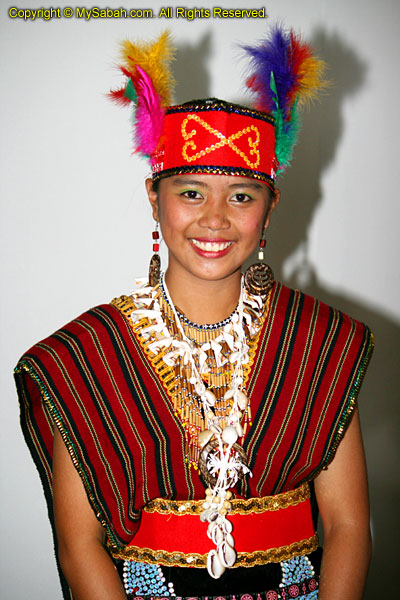 Murut Timugon and Kolor were mostly found in Tenom and some in Kemabong and Beaufort while the Sabakongs are mostly concentrated in Pulau Sebatik, Tawau.
I only managed to take a few photos. Click thumbnails below to see bigger photos. From left to right, top to bottom:
1. Murut Kolor
2. Murut warriors (wearing cloth made of tree bark)
3. Gana
4. Baukan
5. Serudung
6. Paluan
7. Timugon
8. Tagol
Related Post:
Kalimaran Festival: photos of Tinauh wedding and Kalimaran beauty pageant
Photos taken in Tenom, Sabah, Malaysia Borneo