Tell me, what would your dream tropical island look like? Is it an island with sandy beach and beautiful sea under blue sky? Well, there are hundreds of such islands in the world, but when you dive in their sea, many islands only have underwater desert with very few marine lives present.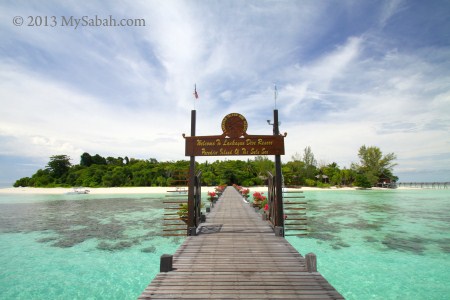 Lankayan Island (of Sabah, Malaysia) is more than sandy beach and crystal clear seawater. It is an island "approved" by sea turtles and sharks, a paradise for both tourists and wildlife. Please read on to see why or you may watch the beautiful photo slide show of Lankayan. Lankayan Island is only 5 hectares, about the size of 10 soccer fields. You only need 15 minutes to walk one round of this island. Though Lankayan is tiny, it is one of the important marine protected area and turtle nesting sites.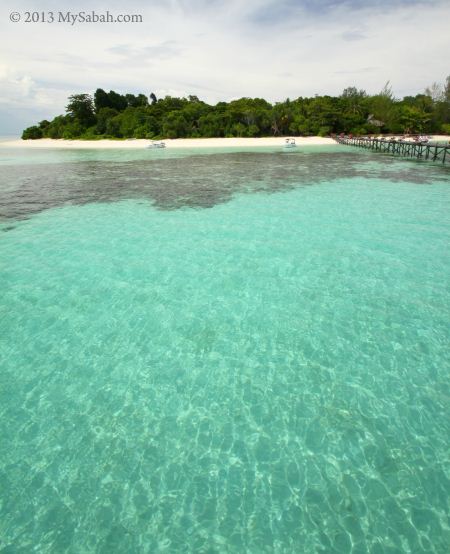 Look at the white sandy beach and turquoise-colored sea of Lankayan. Everyone smiled when they reached this dreamy destination. 70% of the island are covered with lush Pandanus sp trees.
The Corals
Coral reef is the rainforest of the sea and a habitat for over 2,000 reef fish species. Out of 700 coral species in the world, 400 live in our sea. Coral is very sensitive to pollution, destructive fishing, global warming, etc.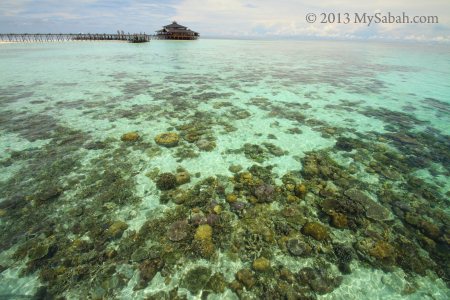 You don't need to go far for snorkeling. Just jump off from the jetty and you will swim among high density of colorful corals.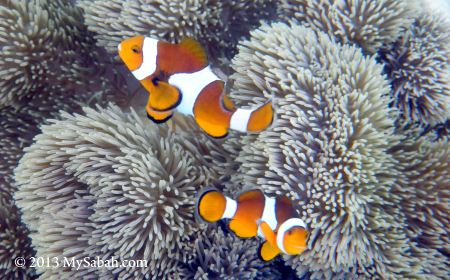 Say Hi! to Nemo of Lankayan. This photo was taken in water less than 1 Meter deep. Lankayan has huge area of shallow costal reef. During low tide, the water only reached my waist even though I was more than 30 Meters away from the shore.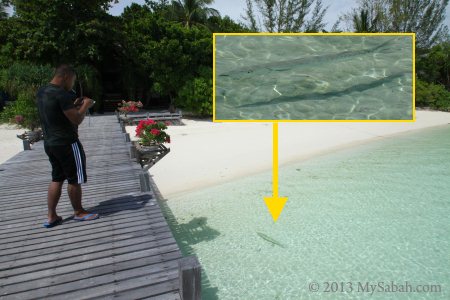 Pic: a lonely Barracuda swimming near the beach.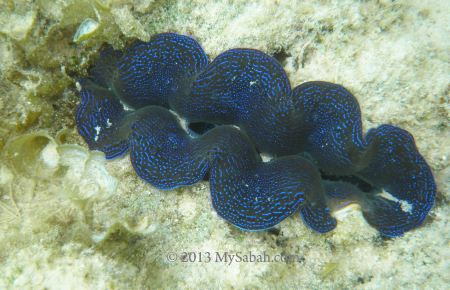 Besides coral reef, the wide sea grass bed also attracts foraging turtles and fishes. Visitors can swim, snorkel, dive and kayak in Lankayan. The dive center of the island also offers basic and advanced PADI scuba diving courses there.
The Chalets
Lankayan Island Dive Resort is the only accommodation on Lankayan Island and it is luxurious.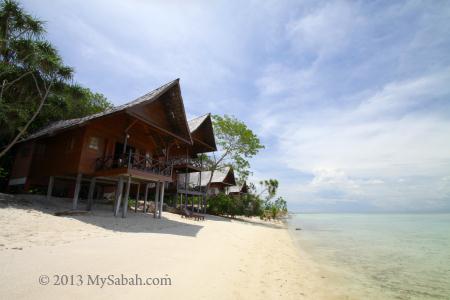 They have 23 wooden seafront chalets that face the sea (mostly at sunrise direction), and the beach is just a short walk away.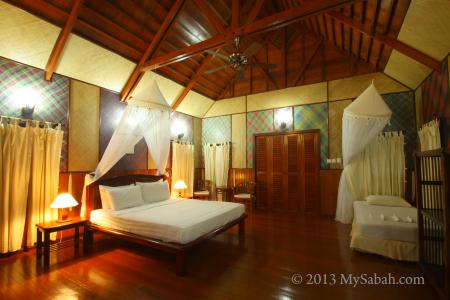 The chalets are on twin or triple sharing basis and include water heater, air-conditioning, mini-refrigerator, safe with 4-digit PIN, etc. I just love the warm ambiance created by wooden structure. But the best part is – the resort is eco-friendly, it uses Hydroponics Treatment System to treat effluent from resort before discharging it.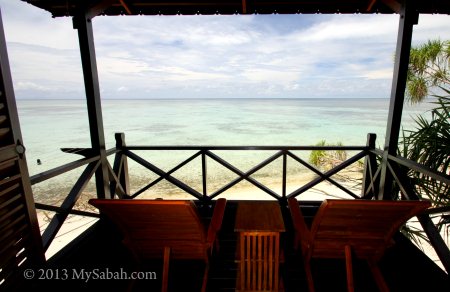 The super sea view of the balcony. Needless to say more..
You may watch the 4-min walking tour video of Lankayan below: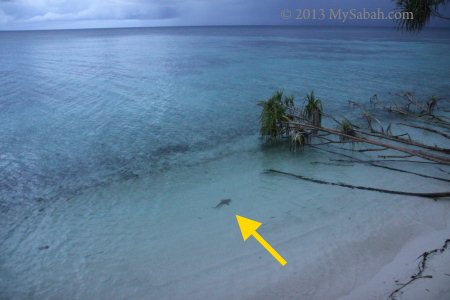 I waked up at 5:30am to take photos of sunrise at the balcony. Too bad the sky was gloomy. However, I saw something more interesting. A number of juvenile black-tip sharks were foraging in front until 6:30am. Btw, Whale Shark sighting from Mar to May is also a highlight of Lankayan.


Two sea turtles and a school of Jack Fish were passing by too.
Turtle Hatchery
What impresses me the most is the turtle conservation project and the number of turtle hatchery on Lankayan. Selingan Turtle Islands Park is the most popular turtle nesting site of Sabah but it is always fully booked. Lankayan is the next best alternative (good chance of sighting but no guarantee).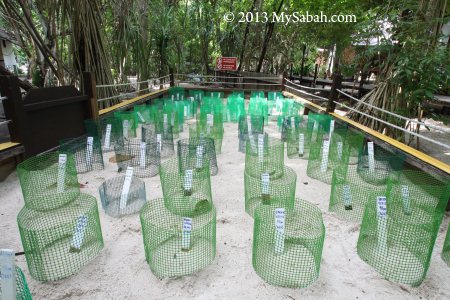 The peak months of turtle nesting are from Jul to Oct. The two common sea turtles that nest on Lankayan are Green Turtle and Hawksbill Turtle.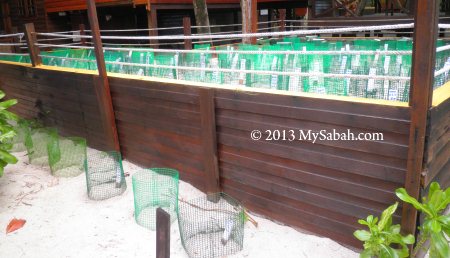 I was there in July, and the turtle hatchery area is full.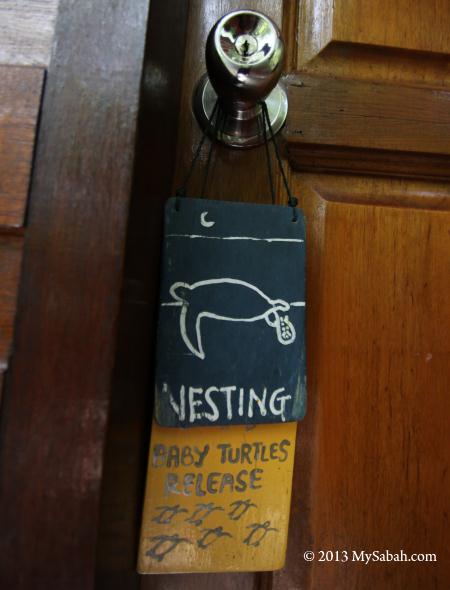 If you want to observe turtles, you can hang the wood tag on your door knob (blue tag for turtle nesting and yellow tag for hatchling release). Their staff will knock your door to inform you.
Releasing Turtle Hatchling
Once the baby turtles emerge from sand, the staff will release them ASAP for better survival rate. They will not wait for everyone to start the "show", just to remind you.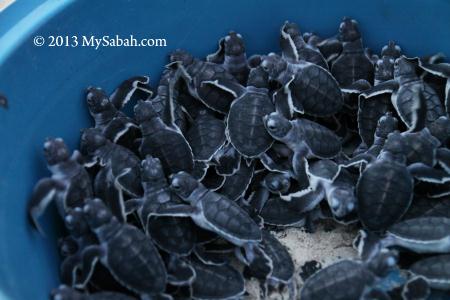 It takes turtle hatchling 3 to 7 days to dig and get out of the sand by group effort. The baby turtles were still so hyperactive despite long hours of digging.
You can see the baby turtles in video below: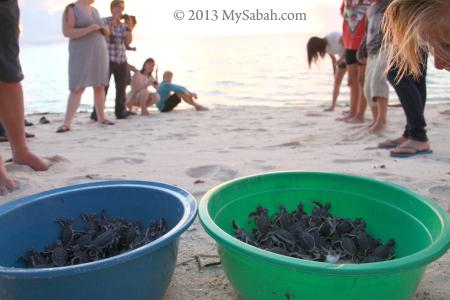 There were 125 baby turtles to be released. The guests were so excited, as if they were becoming parents. To avoid predators to predict the release, the staff picked a random location to free the baby turtles. We were asked not to move as the turtles would run all over the place.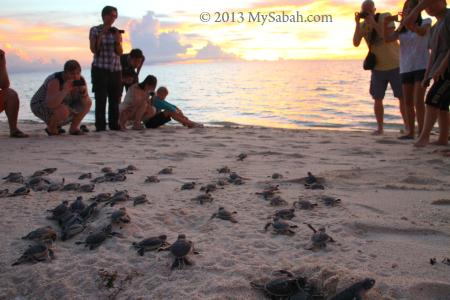 Pic: the race started and all the hatchling vanished into the sea in minutes. In year 2011, Lankayan released about 40,000 hatchling. Sounds like a big number, but less than 1% will survive to adulthood.
Turtle Nesting
Around 9pm in second night, I heard people busy moving outside my chalet, with chattering mixed with excitement. Then a staff told me that there was a green turtle nesting nearby. I grabbed my camera and joined a group of enthusiastic guests to see turtle laying eggs. We were asked to be quiet and keep a distance, as the turtle would turn back to the sea if it was disturbed. Photo taking with flash is also not permitted (that's why my photos look dark).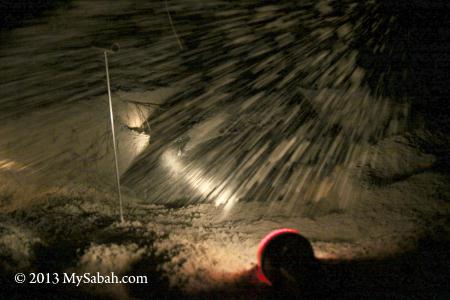 We stayed still and silent around the turtle, observing the event with the aid of a dim torchlight, as if we were witnessing a sacred ceremony. It took the mother turtle half an hour to unload all her 50 to 80 eggs into the pit she dug. Then she covered the hole with sand. I was showered by sand each time she scooped sand to the back. The staff said turtle purposely spread the sand all over the place to cover the smell, so the predators can't pinpoint the nest.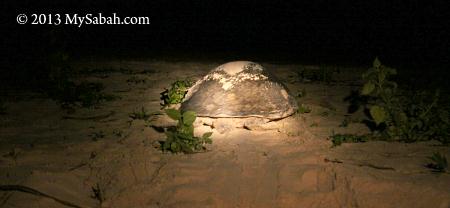 It was a long and slow process. The turtle would stop and take a breather once in a while, as if she was sighing. Finally she was done and headed back to the sea. In year 2011, there were 500 nesting on Lankayan Island.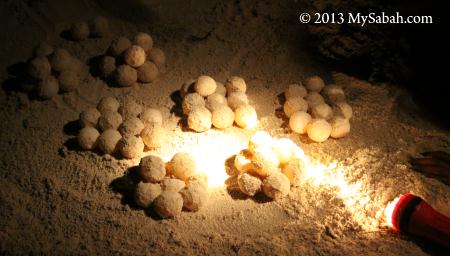 The staff dug out the turtle eggs to transfer them to hatchery. The eggs look like ping-pong (actually it's soft, like a sac than shell)! Sabah is one of the few Malaysian states that bans the trading of turtle eggs. Unfortunately, turtle eggs are still being sold illegally. In Sandakan, if someone shows an OK finger sign to you, that means he wants to sell you turtle eggs.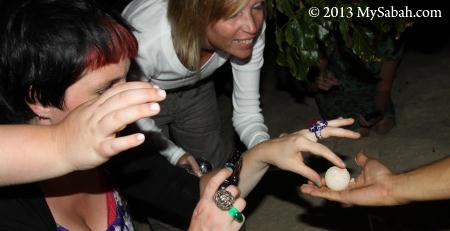 The staff also lets us touching the turtle egg. Sadly, Peninsular Malaysia still consumes turtle eggs today. For example, Terengganu was used to be an important nesting site of leatherback turtle. Due to egg consumption by human, its population drops 99% since 1960s, and now leatherback is a critically endangered species.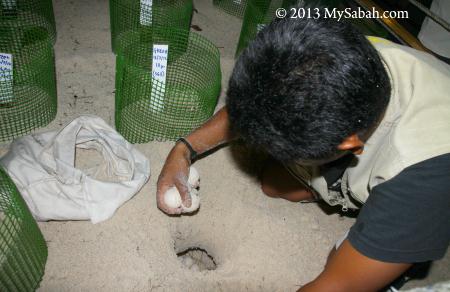 To protect the eggs from predators, the staff transferred the eggs to hatchery. The hatchlings will emerge after 50 to 60 days. I really appreciate what Lankayan does for the environment.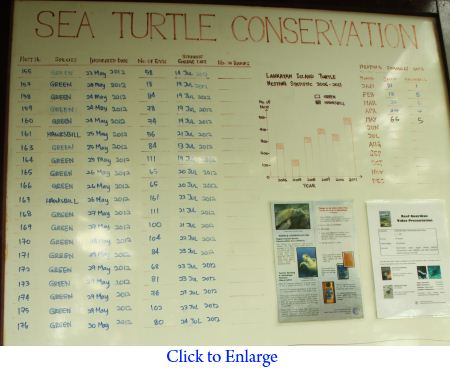 Above are some turtle nesting statistics in case you are curious.
Reef Guardian Exhibition Center
Lankayan forms SUGUD Islands Marine Conservation Area (S.I.M.C.A.) with Billean and Tegaipil, two nearby islands in Sulu Sea and Coral Triangle. SIMCA covers an area of 46,300 hectares of open sea, shallow coastal reef and sea grass bed. Reef Guardian is the manager of SIMCA and they have an exhibition center on Lankayan.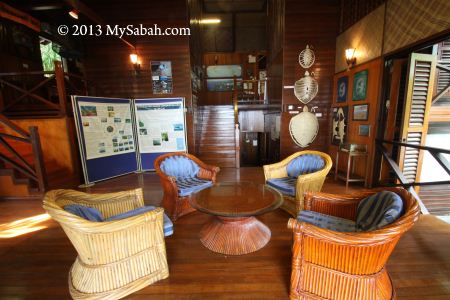 This building is also a "Combat Center". They have radar to detect fishing boat that intrudes the marine protected area. Many countries completely destroy their corals and overfish. When their sea has nothing left, they come to our water to steal.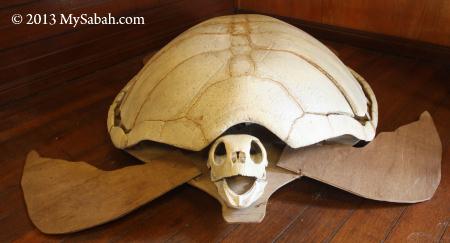 Pic: Sea turtle has existed more than 210 millions years, but human can wipe them out very soon.
Reef Guardian is open daily 8am-12:30pm, 2pm-4:30pm and 8pm-9:30pm. A 15-min video presentation about SIMCA is played on every Mon, Wed & Fri at 12:30pm. You may visit this center to see some interesting photographs and specimens about marine ecology. Do donate some money to fuel their combat.
Lankayan Restaurant
With panoramic sea view, the new Lankayan Restaurant makes meal time a very enjoyable experience. The design is modern but it won't block nature away from you. You can listen to the sea and feel the sea breeze inside.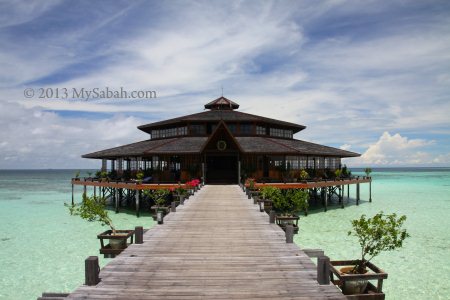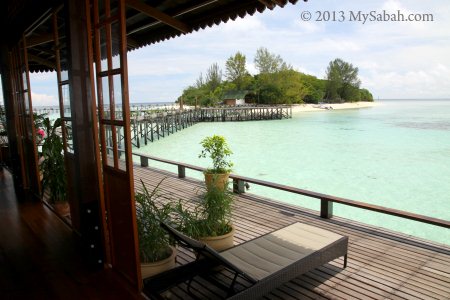 Good food, good view… everything in Lankayan is designed to make you lazing around.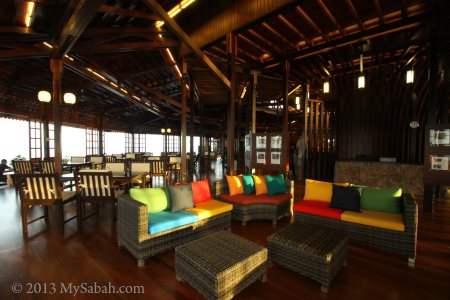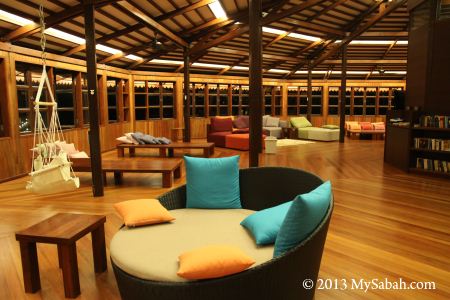 I love the colorful sofa. The atmosphere is soooo.. relaxing.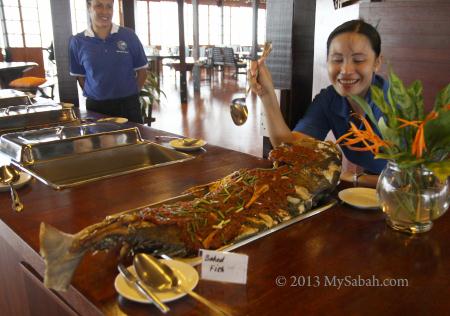 They have good variety of local and western food. Every meal is different from the last one so you won't feel bored. Just to name a few, BBQ chicken wings, fried noodle, pudding, prawn, lamb… If I'm not mistaken, the food is halal (for Muslim).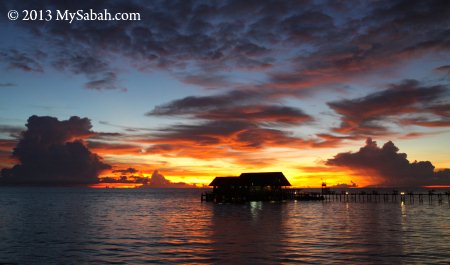 Pic: beautiful sunset over Sulu Sea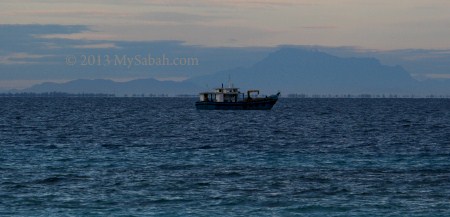 Pic: Lankayan is one of the few places in Sandakan where you can see Mt. Kinabalu, the highest mountain of Malaysia.
More Photos
Want to see more beautiful photos? Check out my Flick photo album then.
How to Get there
Lankayan is 85 KM at north-east of Sandakan city (location map). The boat ride from Sandakan Yacht Club to this island takes about 1.5 hours.
To visit Lankayan, you need to book a tour with the following agent:
Pulau Sipadan Resort & Tours Sdn. Bhd. (License: KPL 2536)
Website: www.lankayan-island.com
Facebook: lankayanresort
Tel: +60 88-238113 / +60 89-673999
Address (Office):
Kota Kinabalu City (KK): Block B, 1st Floor, Lot B-1-1, Plaza Tanjung Aru, Jalan Mat Salleh, 88100 Kota Kinabalu, Sabah, Malaysia.
Sandakan City: Block C, Ground Floor, Lot 38 & 39, Mile 6, 90000 Sandakan, Sabah, Malaysia
Lankayan has 35 dive sites, you may arrange a scuba diving trip with Asia Diving Vacation too.
Would you agree if I say Lankayan is the most beautiful island of Sabah?
Photos taken in Sandakan, Sabah, Malaysia Borneo