Poring Hot Springs is a popular attraction, but most tourists only come here for day trip. However, there are many other activities in Poring that you may need to stay a few days to try them all. This is not a problem and you have a choice of expensive and cheap options like following.
Accommodation in Poring Park
You can stay inside the Poring park (Resort Name: Poring Hot Spring & Nature Reserve Resort) and there are a few options that cost you hundred or thousand per night (Online Booking available):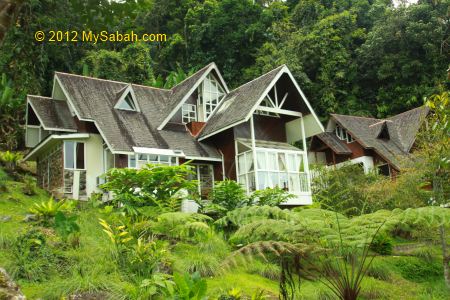 Above: Palm Villa 1 & 2 (Premier Chalet)
Price: RM4,400.00 (≈USD1,333) nett per day (max 6 persons)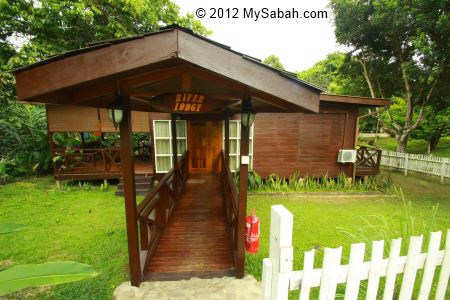 Above: River Lodge
Price: RM 972.00 (≈USD295) nett per unit (max 4 persons)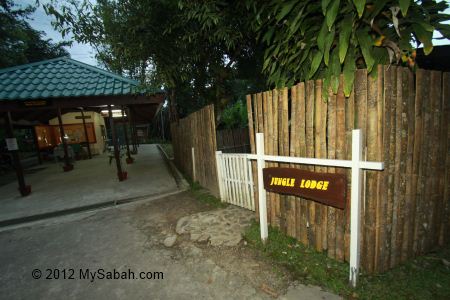 Above: Jungle Lodge
Price: RM 648.00 (≈USD196) nett per unit (max 2 persons)
Note: this lodge is next to the walkway to ticket counter (left), so it's quite noisy in daytime.
The hostels below may be more affordable:

Above: Serindit Hostel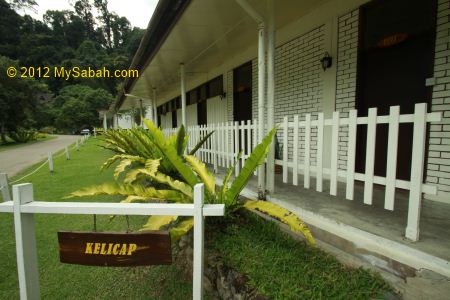 Above: Kelicap Hostel
Though this is an expensive option, the environment, amenities and services there are good. If you want the CHEAPEST option to stay inside Poring park, camping is available if that's what you like. The accommodation in Poring is managed by Sutera Sanctuary Lodges. You can book their accommodation online.
Below is a Site Map of Poring for you to see where these accommodation located inside the park: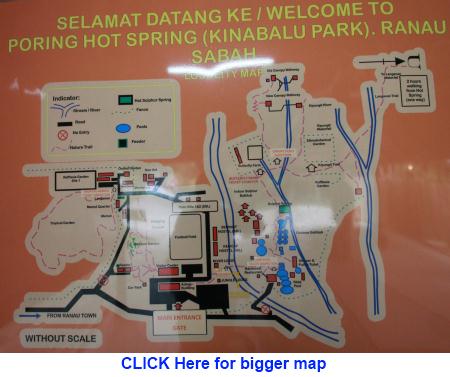 You may click the picture above to see bigger map.
Round Inn (???-?? in Chinese)
For budget guys like me, I only can go for cheaper option. I was staying at Round Inn, which is less than 20 Meters away from the gate of Poring Park. The fee per night is RM50 – 78 (≈USD15 – 24) per room, breakfast not included. Though it was school holiday (peak season), luckily they still have room for me.

As the name implies, everything is round in Round Inn. The owner, Mr. Lee is from Hong Kong and he loves deep sea fishing, so the design of Round Inn is based on fishing boat.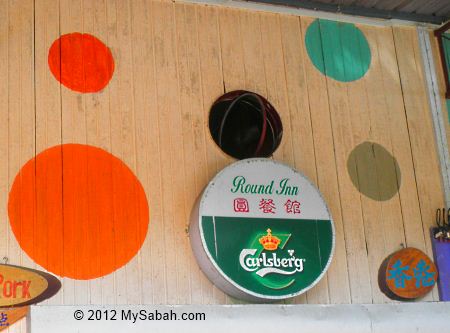 Even the signage is round shape.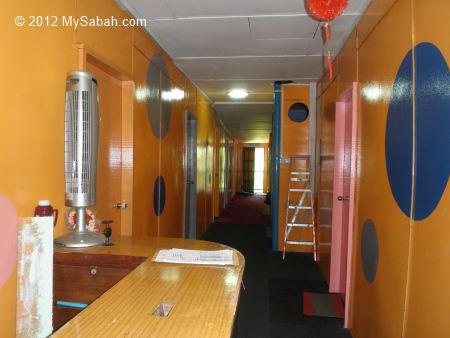 The ground floor is a restaurant and the rooms are on 1st floor. The check-out time is 11:30am – 12pm.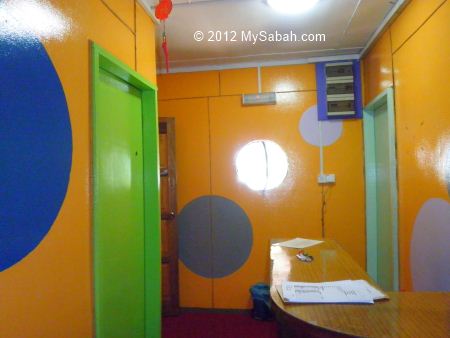 The window is also round.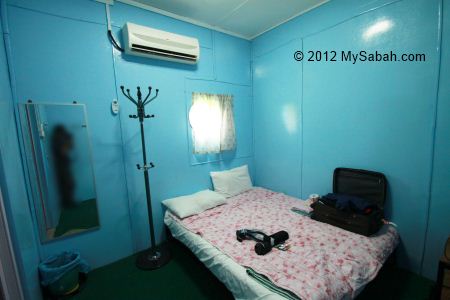 Above: I got a standard room for RM50. The room is basic and not the luxurious type. Anyway, I only need a bed so I don't really mind, as long as the room is clean. Towel, soap and toilet paper are also provided. The only things I want to commend are: (1) the towel is old, and (2) the wall is thin, so I can hear movement and talking next door. Overall, I'm happy with what I get for that price. I saw many European backpackers also stay here.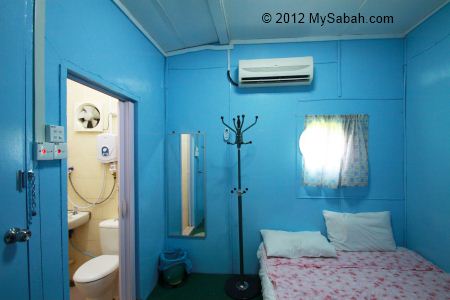 As you can see, the room has air-conditioning, heater for shower, and attached bathroom cum toilet. There is a small TV but it's not working.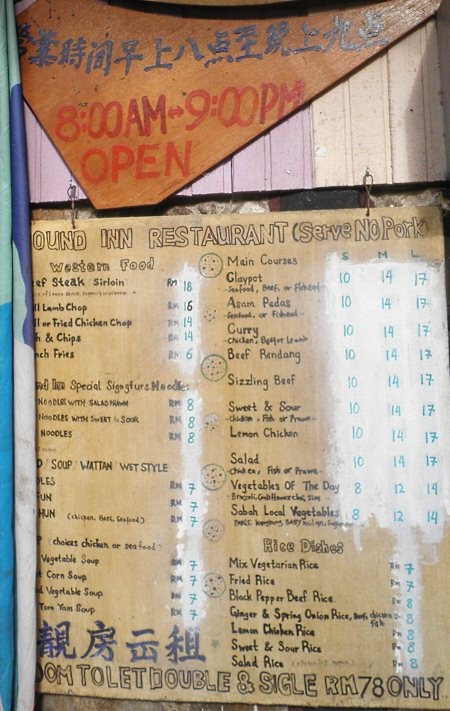 Above: The restaurant at the ground floor has good variety of local and western food. The food tastes good too. You can order beer here.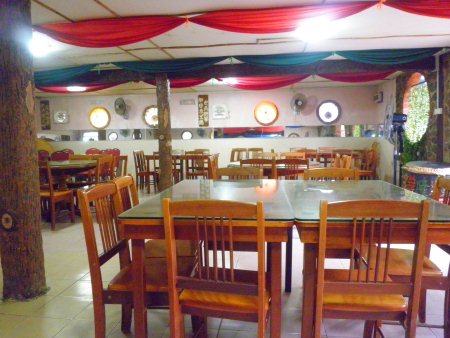 Above: Restaurant of Round Inn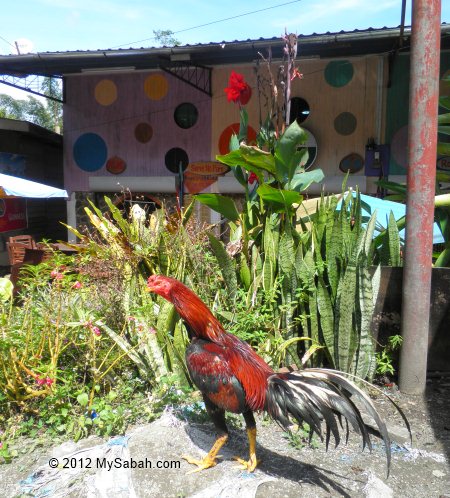 Round Inn is just opposite (slightly to the left) the gate of Poring Hot Springs across a road. A very convenient location. Below is the contact of Round Inn:
Telephone: +60 88-879 584
Mobile Phone: +60 19-802 0898 (Mr. Lee)
Ernah Laundry & Lodge
Ernah Lodge is also a famous accommodation among backpackers, though I haven't stayed there before. Their room rate starts from RM60 (≈US$19) per night. The Lodge is only 20 Meters away from Poring Hot Springs.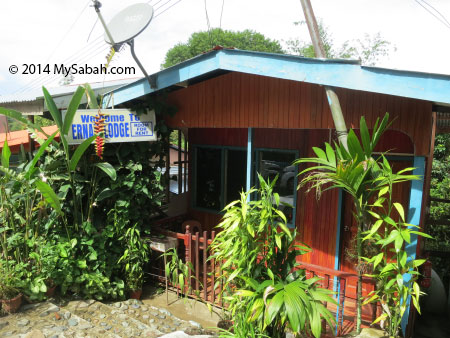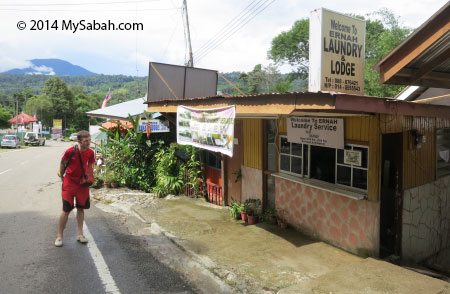 Pic: Ernah Lodge is at the right. You can see the entrance of Poring at the left, not far behind.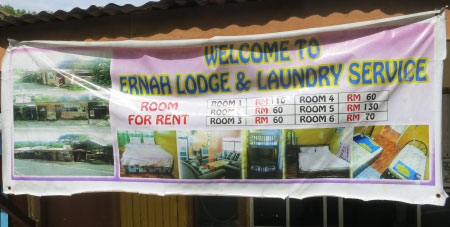 Pic: banner with room rates. You may click the photo to zoom in.
Below is the contact of Ernah Laundry & Lodge:
Telephone: +60 88-876421, +60 14-8555543
Email: ernahlodge@yahoo.com
Website: ernahlodge.blogspot.com
Facebook: Ernah-Lodge
There are other accommodations near Poring Hot Springs Park. Please share with me here if you know any other cheap and nice hostel around Poring.
More Photos
You may check out my photo album on Poring for more nice pictures: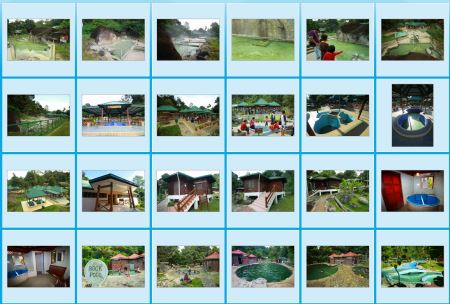 Other articles about Poring Hot Springs Park:
Photos taken in Poring, Sabah, Malaysia Borneo