Proboscis Monkey is the superstar of Klias Wetland. Every evening Klias River is like a busy canal, when hundreds of tourists come to visit this peculiar monkey. One guest even said, "there were more tourists than monkey."
Therefore, the Best Time to see Proboscis Monkey is in the morning, when there are very few tourists around. The monkey is less stressful and you can get really close to them. That's why I spent a night Firefly Eco Camp.

Pic: Firefly Eco Camp
Firefly Eco Camp is located next to Klias River. Staying there will allow you to see what other ordinary tourists miss – the starry night and misty morning over Klias River.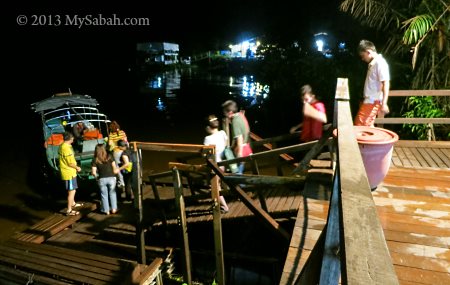 I checked in to the camp around 6pm. After the dinner, we started our night river cruise at 8pm to look for firefly Xmas trees and crocodile, when other tourists had left. Though we didn't find any crocodile, we saw many "summer Xmas trees", where hundreds of fireflies congregated and flashing in synchronized manner like heart-beating.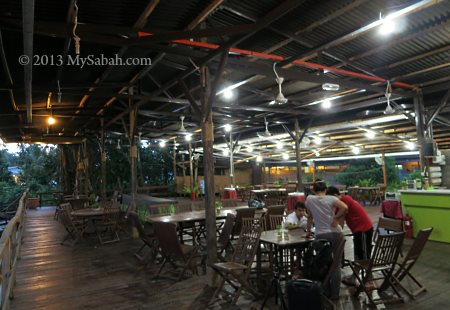 Hour later we returned to the activity hall next to the jetty, to enjoy a serene evening next to Klias River.
Night Fishing in Klias
Klias River is inside Peat Swamp Forest with brackish water, which looks murky all the time. The river seems lifeless, but you will know that you are wrong when you fish.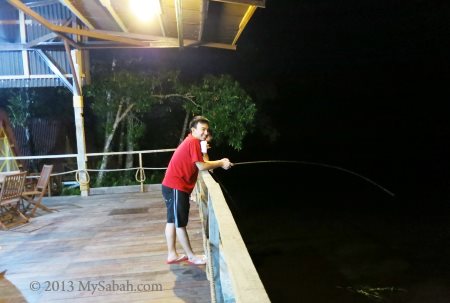 Klias River is connected to the sea. During high tide, fishes will follow the current entering the river for feeding. If you fish during that time, you will catch something in minutes.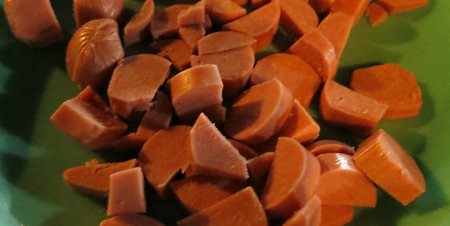 Pic: our fishing bait is hot dog LOL. But it works well!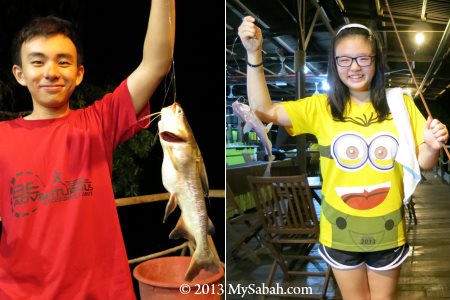 Most of us are first-time anglers. We were so excited when it was almost effortless to catch big fish in a few minutes.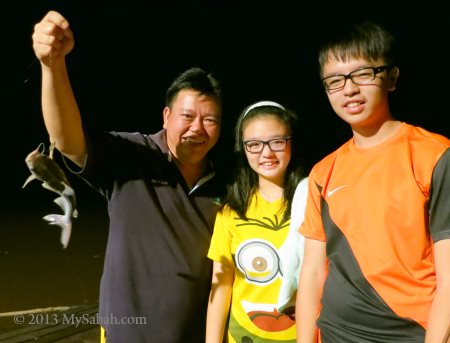 Pic: one caught to make one family happy
May be you want to watch our fishing video below: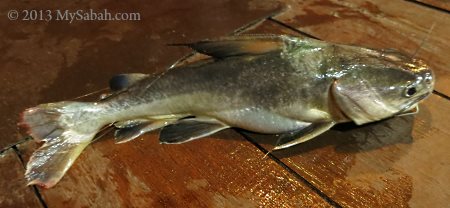 All the fishes we caught that evening was catfish (暗钉 in Chinese, means "Hidden Nail"). It is a very common fish, though edible, locals consider it a lower-grade (dirty) fish, due to the impression that it eats human dung fallen from riverside toilet. It has venomous thorns on its pelvic and dorsal fins, which can cause severe pain when poke into your skin. Be careful when you remove the fishing hook.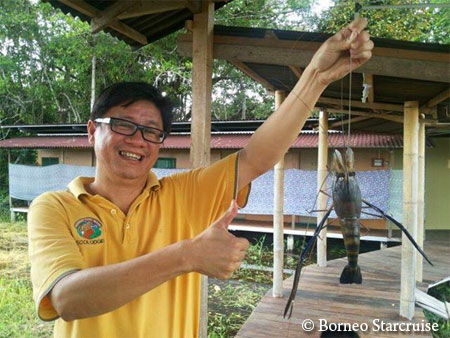 Actually we targeted for Giant Freshwater Prawn (Udang Galah) that night, so we released all the catfishes. It was fun anyway.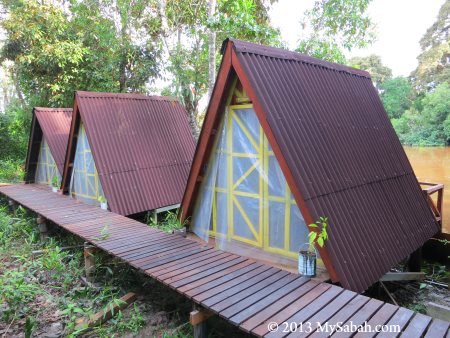 Pic: the hut where I slept
We had a couple of beer while fishing at river side. We talked until late night. I couldn't wait to enter my small hut as it was so cool.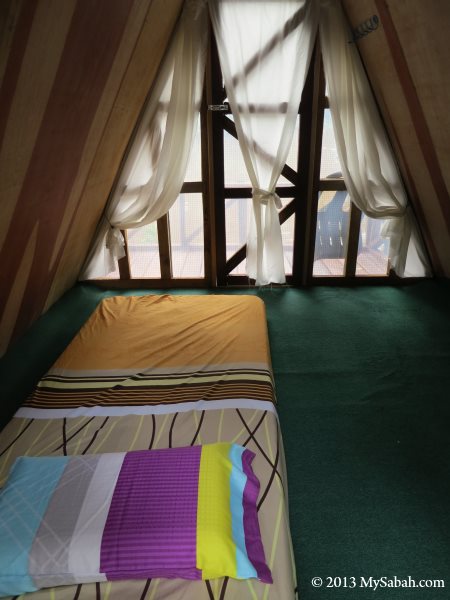 The hut may look small from outside, but it can fit two people comfortably. Though there are only bed, light and fan inside, to me it's a "luxurious camp". I slept really well throughout the night.
Morning River Cruise in Klias
The next day I waked up early, sat at the small balcony to enjoy the nice river view. It was quiet in the morning and I saw some movement in the canopy. The monkey had waked up earlier than I did.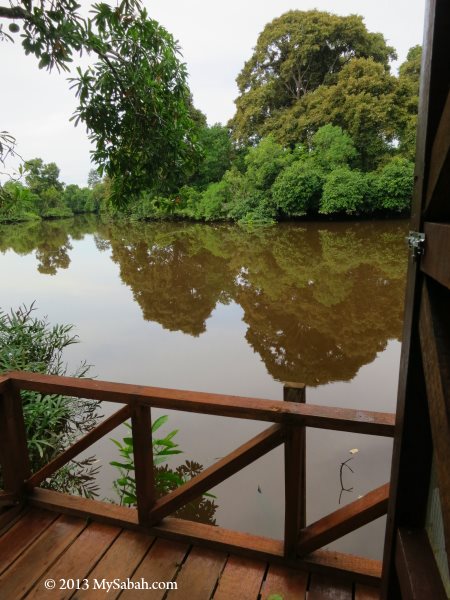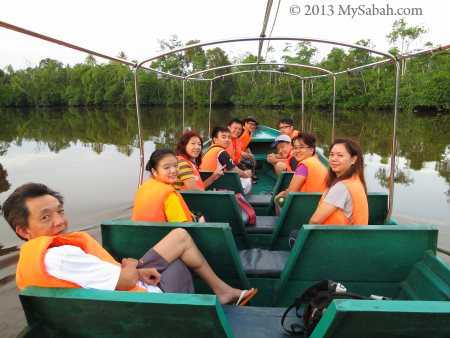 After having some light breakfast, we were ready for a morning river cruise on Klias River.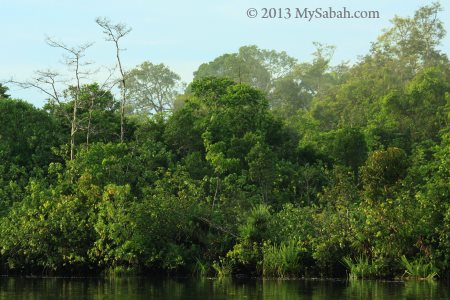 Pic: the misty swamp forest in the morning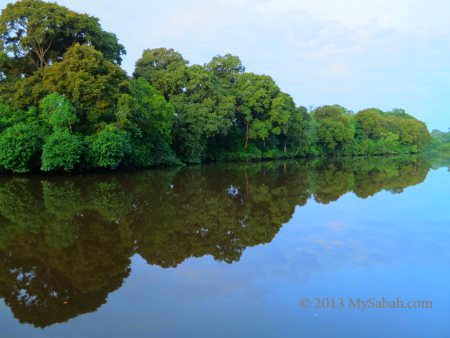 Pic: the calm river of Klias with beautiful reflection on water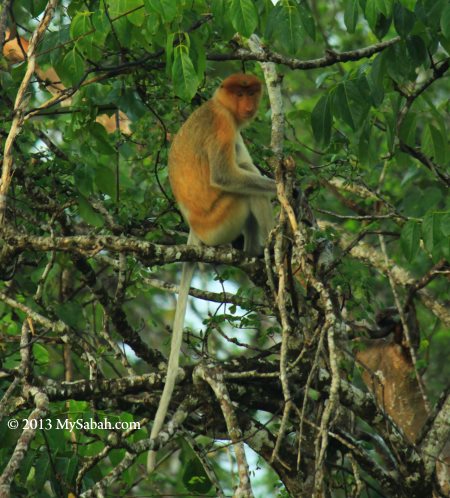 Very soon we spotted the first proboscis monkey. It's a female with pointy nose.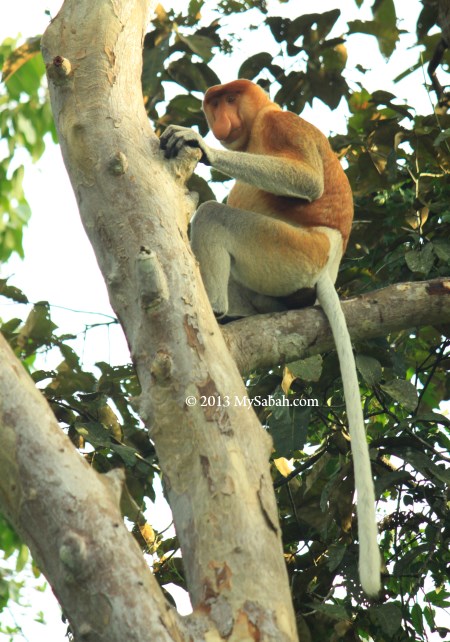 Then we saw the male proboscis monkey with big nose. From their eyes, we could see that they were not quite concern about our presence, a big contrast to evening time when there were too many tourists and boats around. We were the only tourist boat on the river that morning.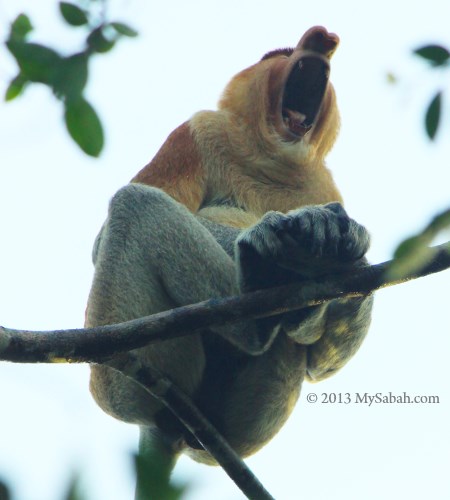 So we could get really close to them for a good look. One of them was so relax and even yawned. This one was just on top of our heads. I was so worry that it would poo. Our boat found about 5 to 6 herds of proboscis monkey.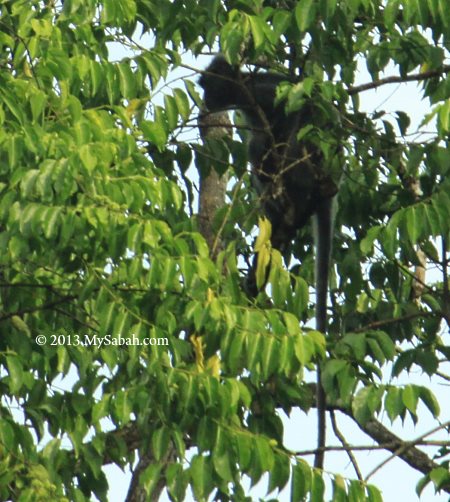 Pic: silver-leaf monkey. There were some macaques too.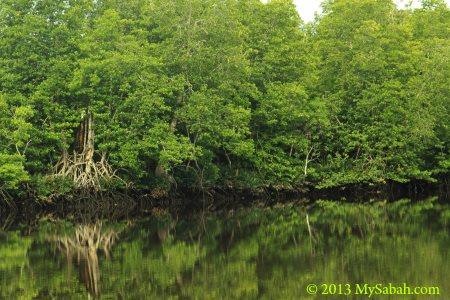 Pic: the mangrove trees of Klias River.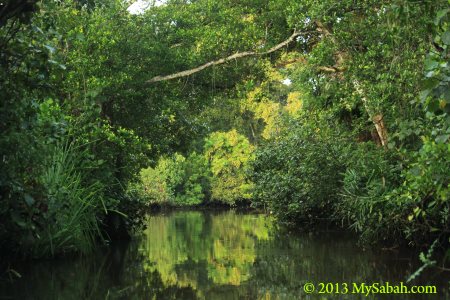 Pic: Peat Swamp Forest is an important habitat for rare Borneo wildlife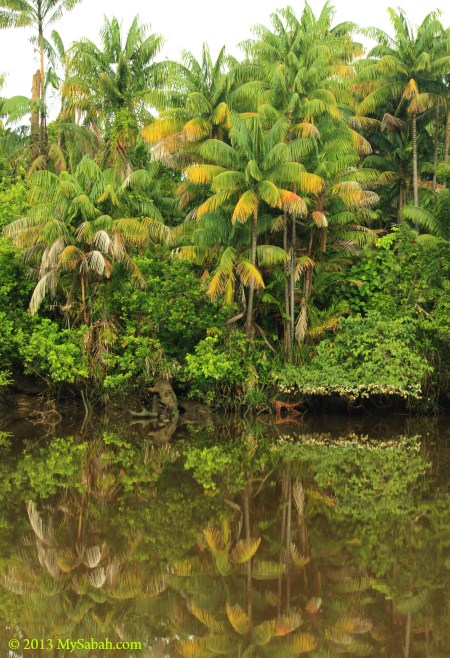 Pic: Nibung Palm, a tree that grows between swamp and dryland. Its straight and strong trunk can be used for building houses and bridges.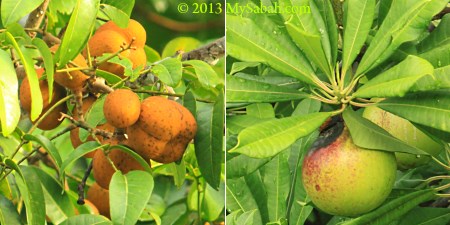 Pic: fruits are abundant in the swamp but no monkey eating them, probably they are poisonous.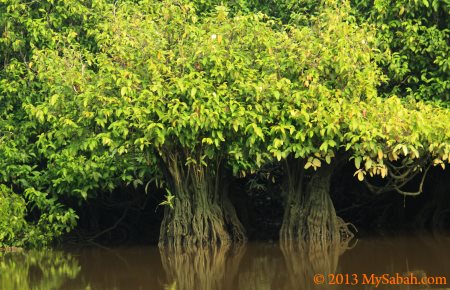 Pic: mangrove trees that can survive in the water during high tide.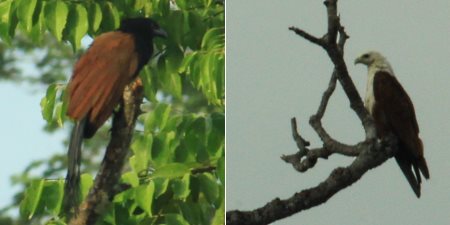 I saw some birds such as Brahminy Kite, Oriental Darter (Snake Bird), Stork-Billed Kingfisher, Hill Myna and Greater Coucal. Sometimes you can see hornbill and woodpecker around this area too.
Below is a short video of our Morning River Cruise:
How to get there
Firefly Eco Camp is about 80 Kilometers away from Kota Kinabalu (capital city). It is very accessible, just next to the road (left side) to Kuala Penyu (see location map).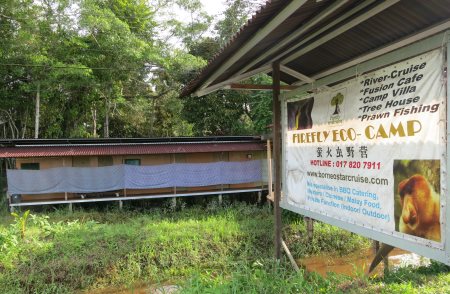 Pic: the signage and entrance of the camp at roadside. You won't miss it.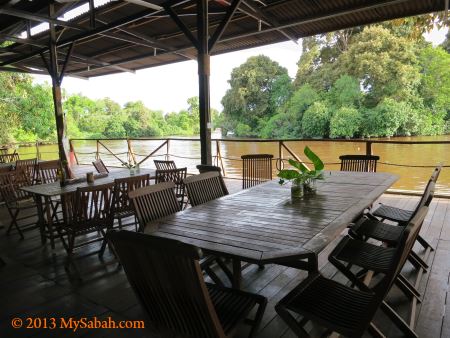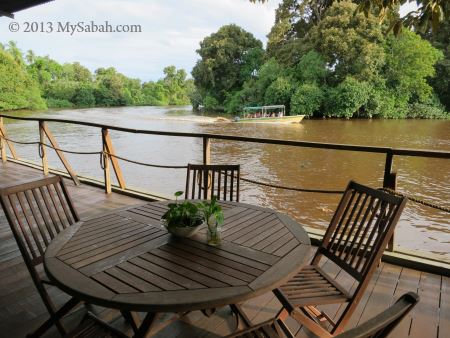 Pic: the dining and activity hall of Firefly Eco Camp
Below is a short video of the camp and its dining hall: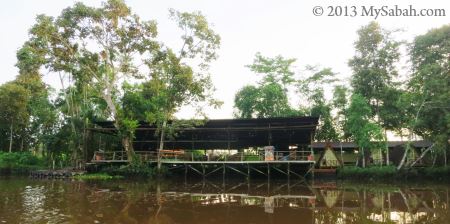 Pic: view of Firefly Eco Camp from the river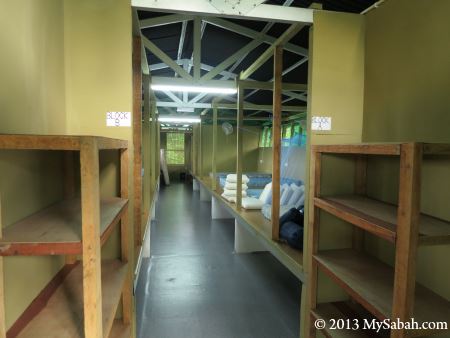 If you have a big group such as 20 students, you can book the long house dormitory.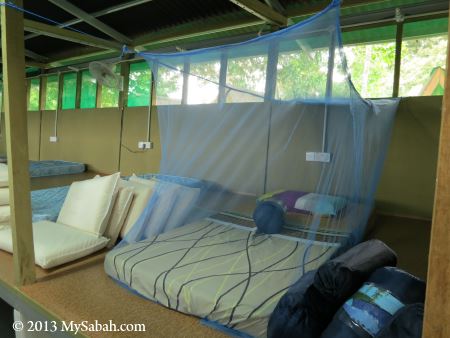 The room rate starts from RM68 (≈USD20, as of Aug 2013) per head per night. You also can consider a 2-day-1-night full-board tour package for RM298 (≈USD90, as of Aug 2013) per head, which includes transportation, meals, accommodation, 3 river cruises, etc. They also offer optional tour to Sands Spit Island and other places.
For booking or latest info about Firefly Eco Camp, you may contact Borneo Starcruise (星程生态旅游公司) at:
E-mail: info@borneostarcruise.com / borneostarcruise@gmail.com
Website: www.borneostarcruise.com
Facebook: Click Here
Address: Ground Floor, Lot 7, Jalan Pasar Baru, Kampung Air, 88000 Kota Kinabalu, Sabah, Malaysia.
Tel: +60 88-212009 / +60 17-8137911 (hotline)
Photos taken in Beaufort, Sabah, Malaysia Borneo