Continued from part 2…
(You may Click Here to start reading from Part 1)
Long-Tailed Macaques
It was a late afternoon in Sepilok Laut Reception Center. "The bad guy is coming!" the forestry guide warned me, "Do NOT leave any belonging outside your room."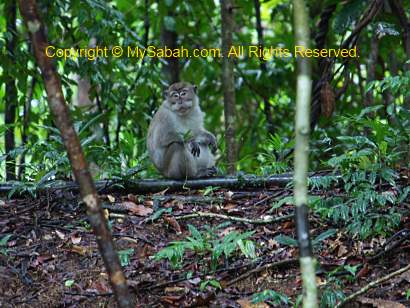 >> Click Here to see more photos of Sepilok Forest
Then I saw a long-tailed macaque sitting in the wood about 15 Meters away from us. It looks so kind, with a face like a friendly Santa Claus. In fact, macaques can be so aggressive that even the big orangutan doesn't dare to agitate them.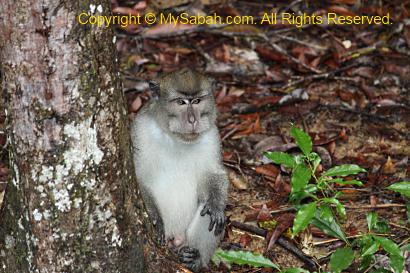 After observing us cautiously for a while, this monkey came closer to our building and sneak under our platform, peeping us through the gaps of the boardwalk.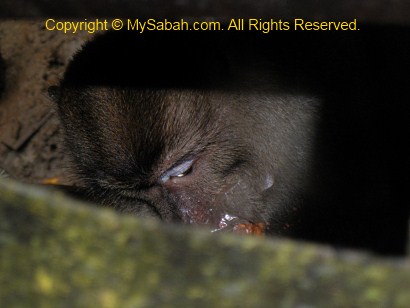 Then the rest of the cheeky monkey followed. The guide told me that just a few days ago, these monkey stole the syringe and medication of a tourist, who has diabetes, and ran into the forest. The monkey also knows how to open a door.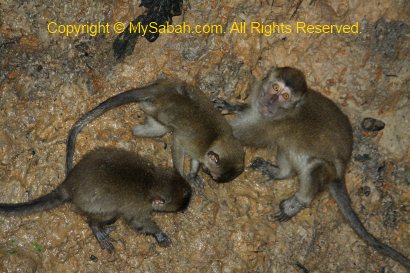 >> Click Here to see more photos of Sepilok Forest
There is also a group of red-leaf monkey living nearby, but they are very shy and seldom come near to the building.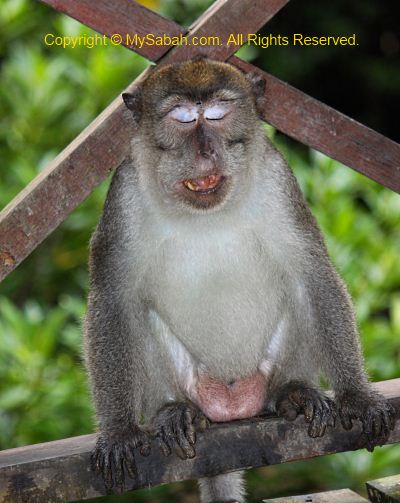 "This is an alpha male," the guide says, "We call him Paul." Indeed, Paul is relatively larger than other monkey in his gang. Look at the size of his balls!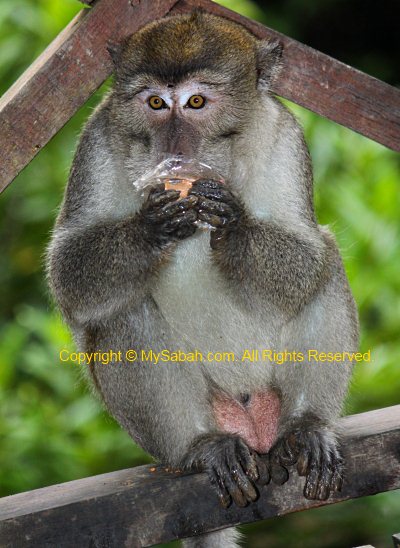 The guide wanted to get Paul closer to me for a mug shot session, so he gave Paul a pack of chocolate biscuit. Paul came forward to accept the offering and enjoyed the biscuit only 5 feet in front of us.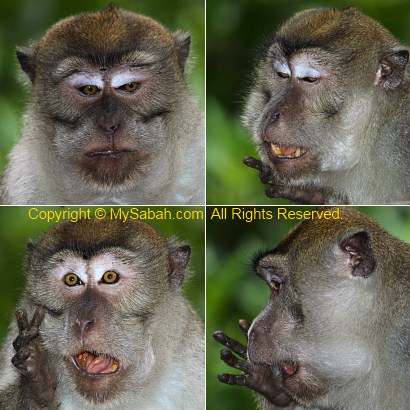 The expression of monkey is so rich and human-like. Of course I got a lot of good/funny photos. It is not advisable to feed them. If they are too used to human, they will attack anyone who carries food and become a nuisance to tourists. For now, they are still wild.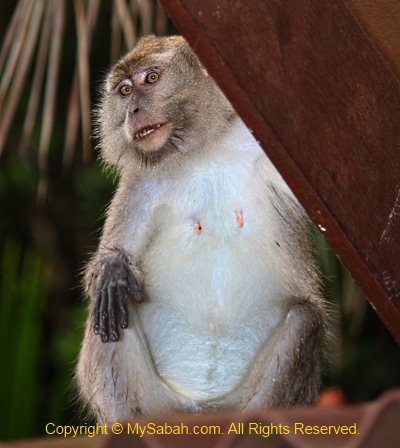 That's a female monkey on the roof. Probably the wife of Paul.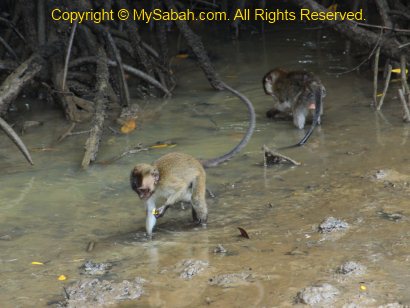 >> Click Here to see more photos of Sepilok Forest
In the mudflat not far away from our building, a few baby long-tailed macaques busy searching for food. They also eat crab. That's why they are also known as Crab-Eating Monkey.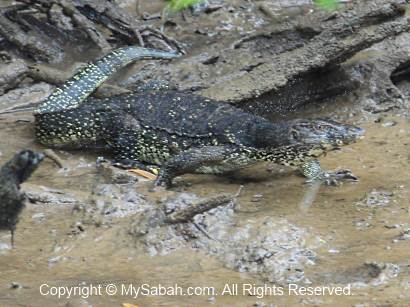 And there was a big monitor lizard stalking on these little monkey. It is very smart. It stayed still whenever the monkey looked at its direction.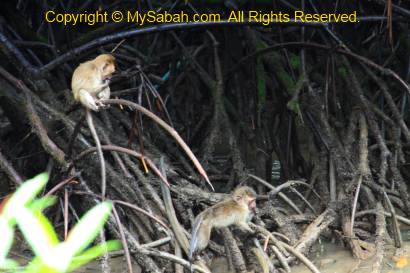 But too bad the monkey still discovered the lizard and making alert call to warn others.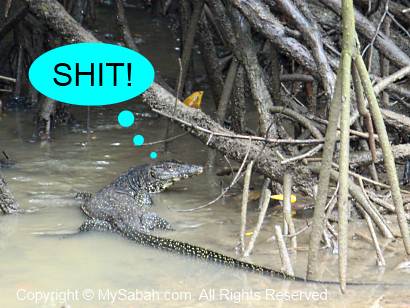 Mission failed, so the disappointed lizard retreated into the mangrove.
After meal hour, those monkey groomed one another. They are so relax and don't even bother about us. I even heard their annoying screeching noise during bedtime.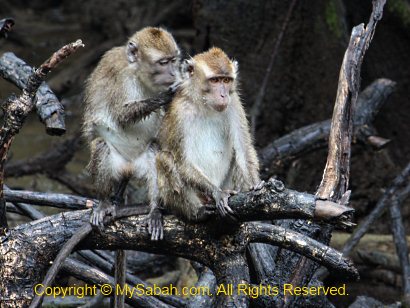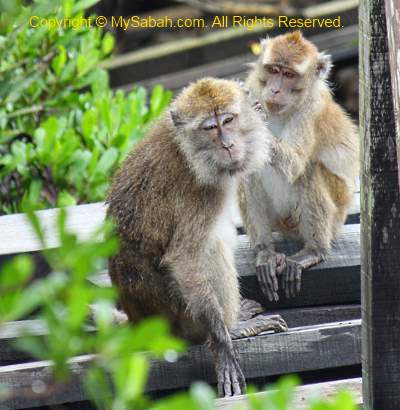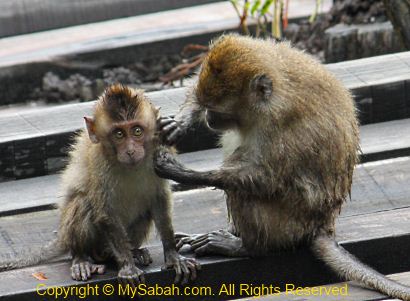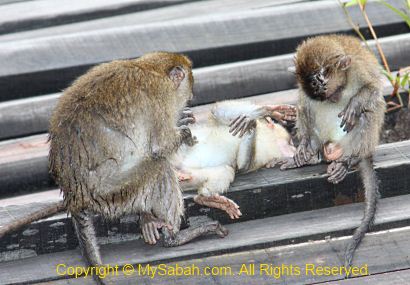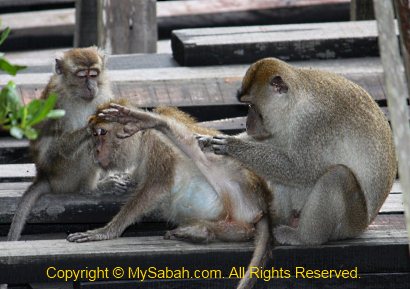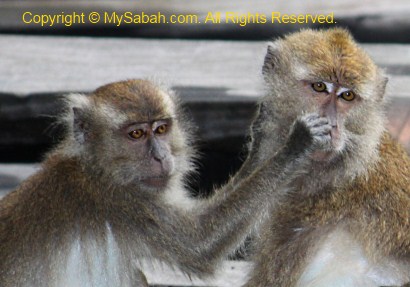 >> Click Here to see more photos of Sepilok Forest
If you want to see more monkey faces, check out the video below:

Click Here to see wider video
This place is supposed to be ideal for bird watching. Due to the poor weather, I only saw a few Pacific Swallow, Ashy Tailorbird and Common Iora. If you are lucky, you would see woodpecker, kingfisher, hornbills, etc.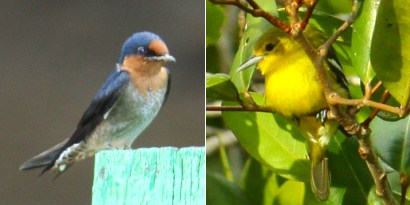 Night Safari
If you stay in the jungle, always take a walk at night, you will see more interesting stuffs than daytime. After dinner, I told the guide I wanted to do a night safari at night. He is also very interested and want to join, so we went into the wood at 7:30pm. As expected, there are so much too see at night. I search slowly with torchlight and turned almost every leaf. Though the guide was with me, he was always out of my sight, leaving me engulfed by darkness, scary…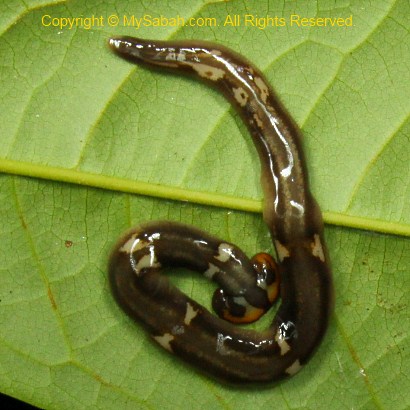 Hammer head worm.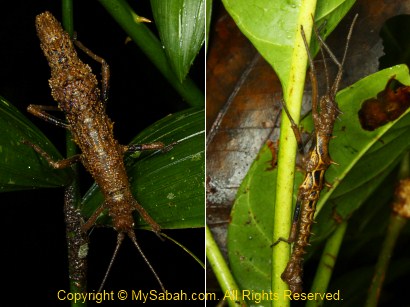 Stick insects.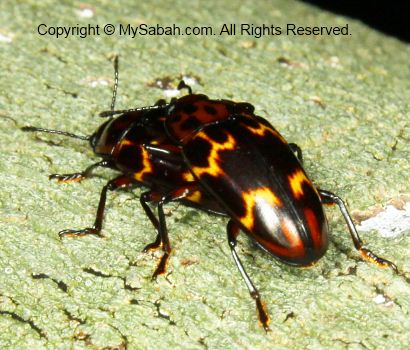 Fungus beetles busy mating.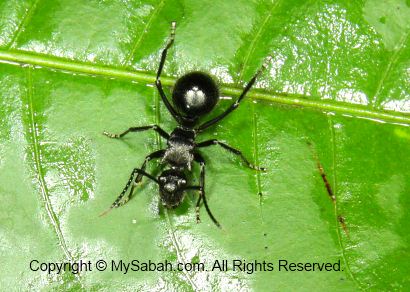 Big ant..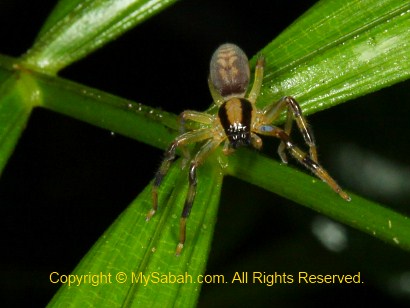 Jumping spider..
>> Click Here to see more photos of Sepilok Forest
We also saw scorpion, frog, big millipede, snail, centipede and other small creatures.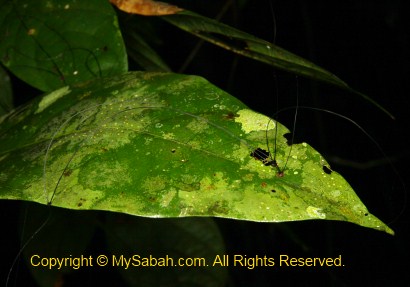 Above: a few leaves weaved and connected by human-hair-like threads, spooky!
The jackpot of my night safari is the Borneo Anglehead Agamid, which is endemic to Borneo. It is quite small and shorter than the length of my palm. Unfortunately, suddenly it rained and I didn't bring my raincoat, so we had to run more than half a KM back to our building. That ended my day.
FYI, they say there are a lot of fireflies in deeper part of the mangrove. You may hire a boat to check it out at night.
Photos taken in Sandakan, Sabah, Malaysia Borneo