Horray!!! I was so happy with the coming of Pesta Kaamatan (Harvest Festival) grand finale, the biggest cultural and tourism event at KDCA Penampang, from May 30 to 31 annually. In fact, Pesta Kaamatan 2005 is the FIRST photo gallery of MySabah.com. That time I was a total newbie on photography, so most photos turned out blur. However, my excitement never cool down. Normally, I would stay there from 8am to 5pm for 2 days, just to take pictures. I was so dedicated that last year I almost got sun stroke. I sat under a shaded area for hour and could feel that my blood was boiling and restless. The theme this year is "Harmony in Cultural Diversity." But I think it should be "Cuteness in Cultural Diversity" coz I found many "cute" traditional costumes this year.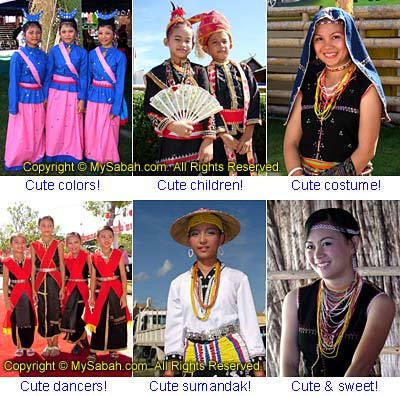 Click Here to see more photos of Pesta Kaamatan >>
Usually I started taking photos early in the morning, when there were less people and the sunlight was soft. As I am getting more demanding on the photo quality, I would not be pleased to see the background of the subject is full of people, commercial banners, cars, and other unwanted objects. I would also request them to remove their name tag and bring them to a place with "cleaner" background for photo-shooting. Many other photographers there also tried to shoot at very low angle to avoid the crowded and cluttered background.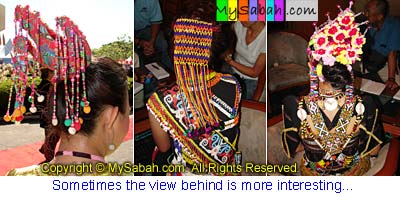 Click Here to see more photos of Pesta Kaamatan >>
The two new ethnic groups came here this year are Makiang people from Tongod and Kolobuan from Penangah. These places are so remote that you can't find them on common Sabah map. Basically, these places are right in the middle of Sabah (above Maliau and Imbak). Many of them came to Kota Kinabalu city the first time, and they were surprised to see so many fans (photographers) interested in them.


Click Here to see more photos of Pesta Kaamatan >>
Every year I would visit all the exhibition huts, go to house to house, to take pictures. You also can try the local food / wine, see the hand-made handicraft, listening to traditional music, and even dance with the cultural dance performers. Sadly, due to pouring rain in the 1st day afternoon and Unduk Ngadau pageant in the 2nd day afternoon, I took very few photos this year (SIGH~ SIGH~ SIGH~).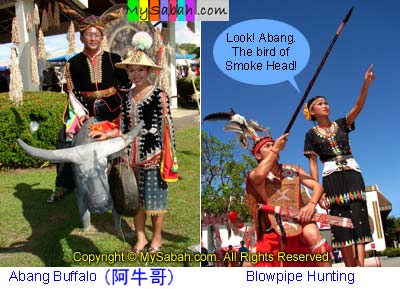 Click Here to see more photos of Pesta Kaamatan >>
To be honest, I think the Pesta Kaamatan 2007 showed little or no improvement compared to last year. In year 2005, we had 6 exhibition huts for 6 different ethnic groups, now we have 3 only. This year is Visit Malaysia Year 2007 leh, how come it displayed so few promotion banners on the street this year? Except the two big Sompoton at KDCA entrance, I didn't see anything new. Why the budget seems to "shrink" year after year, when government says this event is getting more and more important each year?
Related Posts
Pesta Kaamatan 2006
Sabah Fest 2007
Sabah Fest 2006
Pesta Kaamatan 2005
Photos taken in Kota Kinabalu, Sabah, Malaysia Borneo