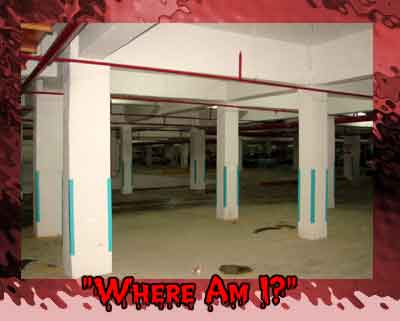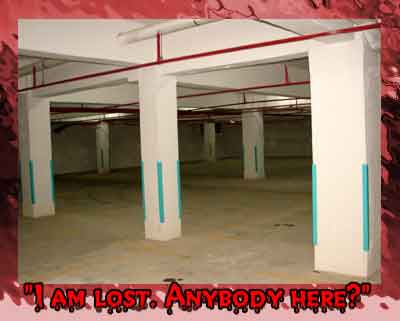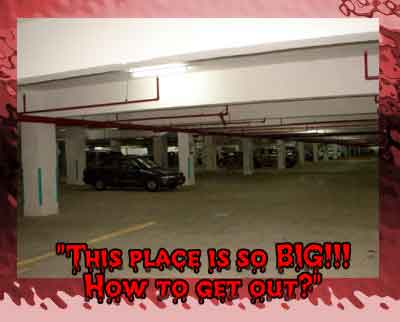 This is NOT a Horror Movie.
I spent over 10 minutes to find where my car parked, in BIG underground car park of City Mall, and I thought I lost it. It is so huge and every spot looks the same, and they do not use any labeling to mark the parking zones. So stupid… all they need to do is just write something like A-1, A-2… B-2…Z-5… on the pillars, so their shoppers can locate their cars easily. Otherwise, their customers will need a GPS device to locate their vehicles in this 2 sq. KM car park. Just click the picture above for 180 degree view of this car park to get the idea.
What if there is any emergency happens in the car park? For example, imagine if anyone got heart attack, his family member, Mrs A, tries to ask for help from the security guard:
Mrs A: "Help! Help!… My husband got heart attack! He needed to be sent to the hospital ASAP!!!"
Security Guard: "Ok, where is your husband?"
Mrs A: "He is in the car park basement."
Security Guard: "Huh?! The car park is so big lah. Where ah, where ah?"
Mrs A: "I'm not sure. No labeling. Turn left, turn right… Arrg… I don't know lah (try to figure out the direction, but becoming more puzzled due to fear)"
Security Guard: "Aiya, like that ah, hard to find leh… We go look look first lah."
After 10 minutes of searching, they only find a lifeless body, which has no more heartbeat…
Security Guard: "I had tried my best. I have no regret…"
Whatever will go wrong, IT WILL. If you think I am exaggerating, let's wait and see in the future (of course I don't wish that happens). I don't see any CCTV inside too. That reminds me a few years ago, a lady was kidnapped in the car park, raped and brutally murdered. If you are the developer, for security reason and customer convenience, please do something. I heard that Karamunsing Complex has crappy security, and their CCTV is not functioning (and they don't bother). Not sure if they have fixed it now.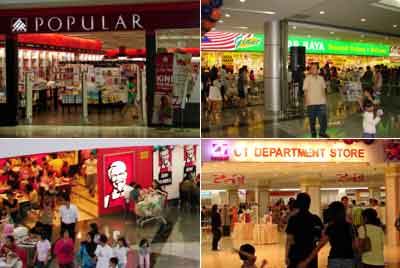 Another thing City Mall drove me nut was that they temporarily locked the male toilet at the ground floor for cleaning. The cleaner said the male toilet in 1st floor is open. After a while, I went up and found that it was also locked. The cleaner there asked me to go down to ground floor male toilet. Then I got there again, the cleaner (ground floor) pointed her finger up and said "Atas!" I was mad already, so I told her that 1st floor toilet was locked. She still INSISTED that it was open. Well, later I found another open toilet at the very far end on 1st floor. Can't they clean the toilets at different time?
To get there, when you come from Damai to the traffic light, which leads to Jalan Kolam and Jalan Lintas, turn left to follow the road to Kolombong. Very soon you will see a big Giant signboard at your left, where City Mall located. Haha… Such a strategic location, drivers, who don't want to get stucked in traffic jam on the way to Jalan Bundusan, can go there shopping first. The mall is still very empty, as most shops are unoccupied. Most who have gone there before would tell you nothing much to see one. Hopefully they will have more shops opening soon.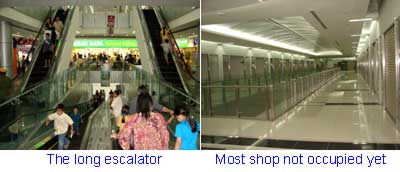 There are two 50-feet-long flat escalators from car park basement to ground floor, like the kind we see in KLIA. Those ignorant parents would let their children running and chasing on them. If their fingers or cloth trapped in the yellow edge, they might lose their fingers or hand. This tragedy happened in a KK shopping mall before. The escalator is not a toy ok. The security guard should warn the parents and children.
Even though I am teasing their car park, City Mall is still a nice shopping mall. I consider it as one of the most beautiful and fashionable shopping malls in KK. Every car passby would want to drive in to take a closer look inside. Its architecture and interior are nicely designed, with modern feel and look, unlike most other KK shopping malls, everything just square-square and cheap-cheap look, totally no design taste. The shops are neatly arranged in a way that all would get almost equal exposure (human traffic).

Everyone in KK city never stops saying, "We have so many shopping malls in KK already. How many more they want to build?" Now we have Wisma Merdeka, Centre Point Sabah, Karamunsing Complex, KK Plaza, Asia City Complex, Warisan Square, 1Borneo… Not many companies are as rich as Popular, Coffee Bean, KFC, etc. can throw money opening branches here and there. On the other hand, many also commend that now Sabah has better facilities that we even attract tourists from Brunei and Sarawak. It can be good too.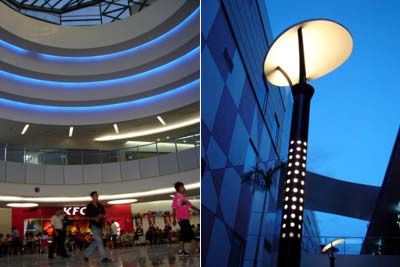 Photos taken in Kota Kinabalu, Sabah, Malaysia Borneo