Traveling is more than sightseeing in a foreign land. Only walking into the people and experiencing their lifestyle will inspire you to see the world differently, and a local market is always a good starting point. If you tour around Sandakan city of Sabah, a stroll at Pasar Malam Kim Fung (Kim Fung Night Market in English; 金凤夜市 in Chinese) in Saturday evening (5pm-10pm) will be fun, even if you aren't in shopping mood.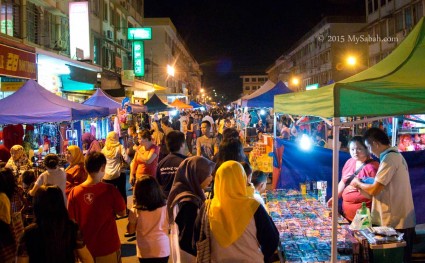 To foodies, Kim Fung Night Market is a gastronomic destination because a wide variety of Chinese and Halal (Muslim) street food are sold there. I'm surprised to see so many snacks and finger food that I never heard of.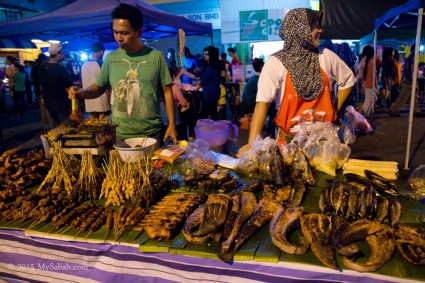 It is advisable you go with an empty stomach, so you can wolf down as many food as you want (enjoy the freedom. you can't eat in such manner in hotel LOL). Do bring wet wipe to clean your hands.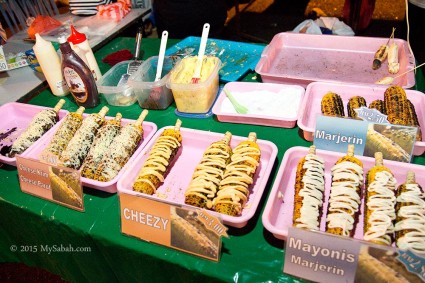 Under the dim light of night market, your smell and hearing senses would become more sensitive. The scent and sizzling food will be quite stimulating, when there is no door to shield your noses from those grilled chicken, cakes, buns, dumpling, baked corns, etc., which are so affordable and alluring.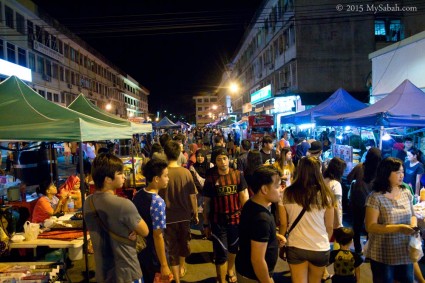 Pasar Malam Kim Fung is an open market formed by hundreds of makeshift stalls lining up along a stretch of 200-Meter street between shoplots in Bandar Kim Fung.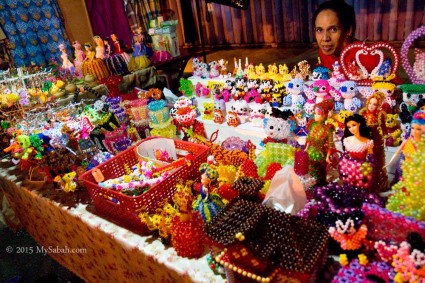 Besides food, they also sell various items such as clothing, T-shirt, toy, handicraft, shoes, music CD, pets, knickknacks, jewelry, accessories, gadgets, power bank and fruit juices. They expect you to bargain so don't feel embarrassed to counter offer.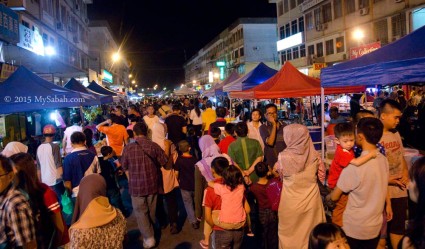 What I like most about Kim Fung is – it's an authentic local market that shows the colors and diversity of our society, it's noisy but harmonious. Thousands of local buyers from different races and background filled this place every weekend, making Kim Fung one of the most vibrant marketplace of Sabah. The market was packed and I had to move with the flow of the crowd, occasionally stop at something that caught my attention.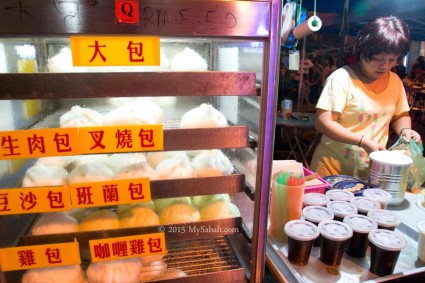 The vendors mainly targets at local people, not tourists. It's very different from the popular Gaya Street Sunday Market in Kota Kinabalu city, which sells a lot of tourist stuffs such as "I Love Sabah" T-shirt, handicraft and packaged local food, but rarely hot local food. Another advantage of night market is that you don't need to apply 10 layers of sunblock, and shopping is more comfortable in cooler temperature.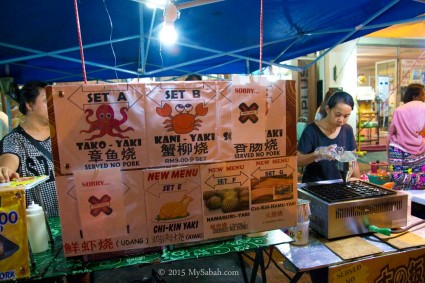 Kim Fung Night Market was started in Dec of year 2010, so it's a relatively new attraction. I saw very few tourists there. Probably most of them are concentrated in Kinabatangan River for wildlife tour and overnight stay in jungle lodges, which are far away from city. Kim Fung Night Market is also not commonly included as one of the destinations in Sandakan city tour package, because many tourists need to catch their flight in the evening. Now you know this place so you may consider to pay a visit if time permits.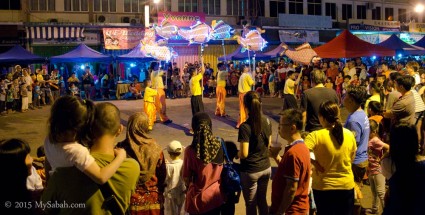 Yeah, one more thing. They have 1 or 2 lion dance performances from 8pm onward (no fixed time), but it can be other show sometimes. For example, they did "Fish Dance" in my last visit.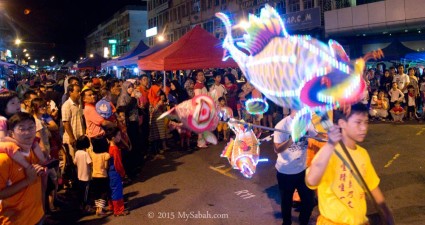 By the way, beware of pickpocket, though there are police officers around. Don't place your valuable belonging in the front or side pocket of your backpack. When you stand still watching lion dance or buying stuff, move your backpack to your front. The same rule applies to any country we travel.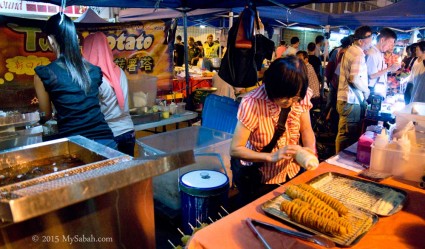 The following is the direction to Kim Fung Night Market:
Address: Lorong Bandar Kim Fung 6, Mile 4, Bandar Kim Fung, Sandakan, Sabah, Malaysia
GPS Coordinates: 5.856307, 118.077304 (see Location Map)
Opening Hours: 5pm – 10pm (Saturday only)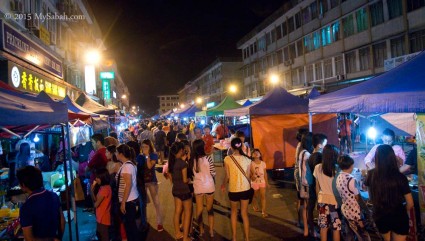 The night market is about 6.5 KM (4 miles) away from Sandakan City Center. If you drive there yourself, expect for congested traffic and limited parking space there. For tourists, the best option is to get a taxi. Be very specific by saying you want to go to Pasar Malam Kim Fung at Mile 4. Miss one word and they would send you to "Pasar Kim Fung" (a wet market a few blocks away) or the taxi driver would think it's another night market near Post Office (which open daily).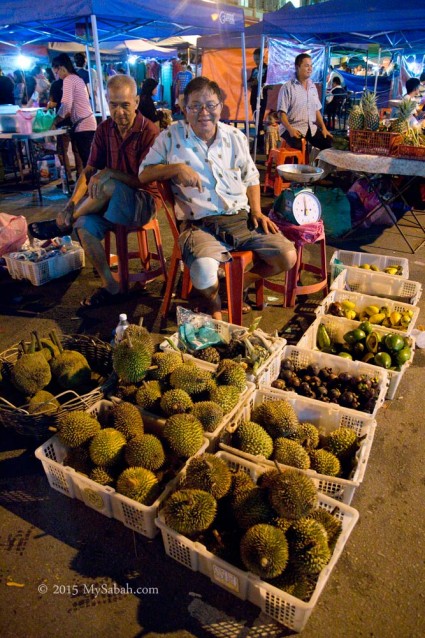 For return trip, you can find any taxi nearby the night market. You can ask the friendly police there for the location of taxi stand.
"If you reject the food, ignore the customs, fear the religion and avoid the people, you might better stay home." – James Michener
Photos taken in Sandakan, Sabah, Malaysia Borneo