Imagine a baby orangutan loses its mother due to deforestation and illegal poaching. This orphaned orangutan is traumatized and in distress. Without help, its chance of survival is slim. The population of Bornean orangutan has been dwindling by 50% in the past 60 years. Currently, only 45,000-50,000 orangutans left on Borneo and 6,000 on Sumatra. In Sabah, there are about 10,000 orangutans in the wild.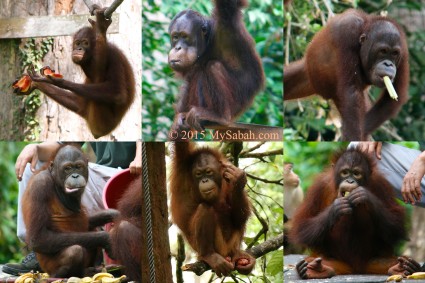 The name "Orangutan" was derived from the Malay word Orang Hutan, which means the "Man of the Forest". Orangutan is the only ape of Asia and found only in Sumatra and Borneo. Though orangutans won't give you an eye-roll if you mistakenly call them monkey, people would laugh at you as apes have no tail. I won't object if you say orangutan is my "cousin" because orangutan is the most human-like primate and its DNA is 97% similar to ours. And orangutans know what is love.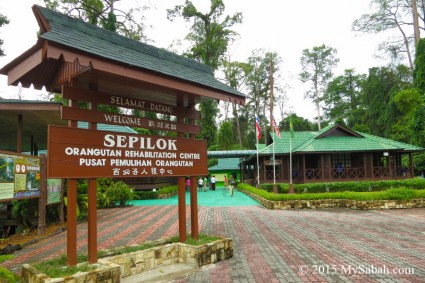 Orangutan is endangered and a fully protected wildlife in Malaysia. Harming orangutan or keeping it as pet is against the law, offender will face a mandatory prison sentence of six months to five years and/or fine up to RM50,000.
Sepilok Orangutan Rehabilitation Center
However, law protection isn't enough, we need a long-term conservation project, so Sepilok Orangutan Rehabilitation Center was established in 1964 to train orphaned orangutans to become self-reliant in the rainforest when they grow up. The Center is also the first orangutan sanctuary in the world to dedicate itself to the rehabilitation of orangutans.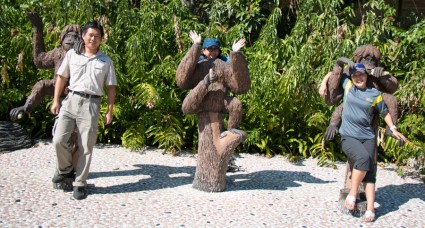 For over 50 years, 758 orphaned baby orangutans, who are the victims of logging, plantations and illegal pet trade, are rescued and brought to this Center. About 81.6% of them are successfully rehabilitated and 66% of these orangutans were released to protected forest reserves such as Tabin. (The released orangutan will be monitored for week, to ensure it can survive on its own.)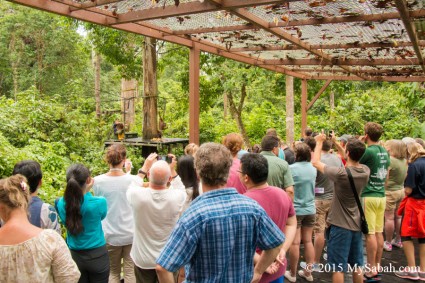 Sepilok Orangutan Rehabilitation Center is Not a zoo, the orangutans here aren't treated as pet either, so expect no animal show and touching of orangutan. The Center is located within the protected Kabili-Sepilok Virgin Forest Reserve, which covers an area of 4,294 Hectares (43 KM²) and serves as a natural classroom for orangutans.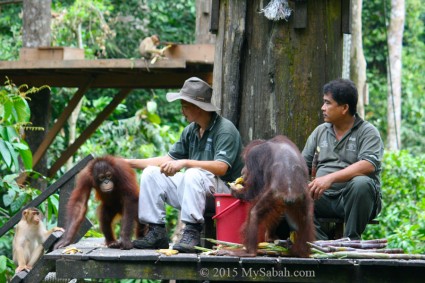 A baby orangutan stays with its mother for 7 to 10 years. During these vital stage, the mother will teach her young everything it needs to know to survive. Young orangutans, which are not parented, don't have the ability to find food, build nest and climb. The Center takes the role as their mother to turn them into wild orangutans.
Orangutan Feeding
The best time to see orangutans is during the feeding time at 10am and 3pm every day. The food is meant to be "supplement" to orangutans, before they can live fully independent in the forest.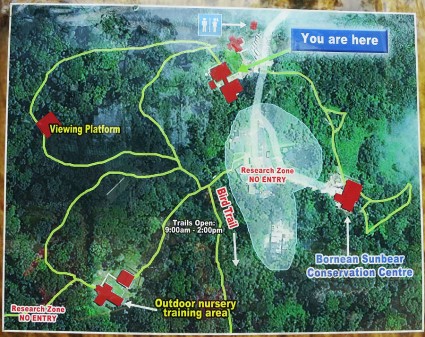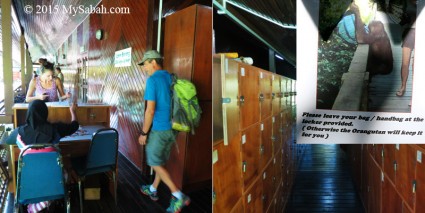 Visitors are not allowed to carry their bag, food / drink and insect repellent (poisonous to orangutan if they get ahold of it) to the forest. Orangutans and monkey are highly curious and won't hesitate to rob any object they find alluring. Visitors can store and lock their bags (for free) in locker of visitor building. Still, you must remain vigilant because your smartphone or shiny jewellery could be a target.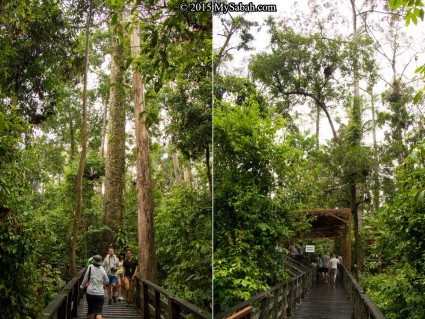 After ticket checkpoint, visitors need to walk about 200 Meters on a raised wooden boardwalk that leads to the orangutan feeding platform. The walk takes about 10 minutes, so you better move earlier to be on time for the feeding (at 10am or 3pm). Along the way, you will see many towering tropical trees, the perfect habitat for orangutans.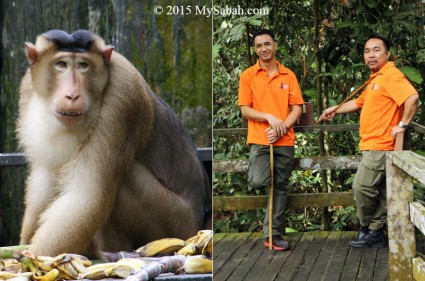 Don't get excited if you see wild orangutan or macaque on the boardwalk. Never look into the eyes of macaque, as this is perceived as a challenge and provokes them. Whatever the tourism posters show you, adult orangutan is not cute. They can grow up to 1.4 Meter tall and weight up to 100 Kg. You really shouldn't upset this beast which is 3 times stronger than human. Usually these fellows will leave you alone, otherwise you can turn back calmly and ask for help from rangers who station nearby.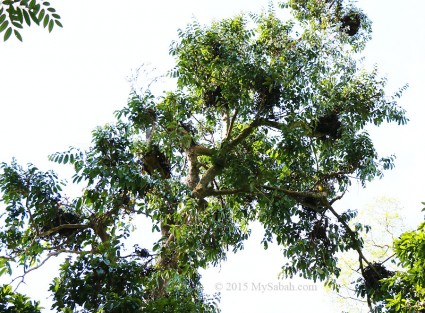 Orangutans make nests for bedtime every day by breaking and folding branches in the treetops. Just look up and I'm sure you will see some orangutan nests near the boardwalk. Sometimes you would see hornbill and eagle flying over the tree canopy.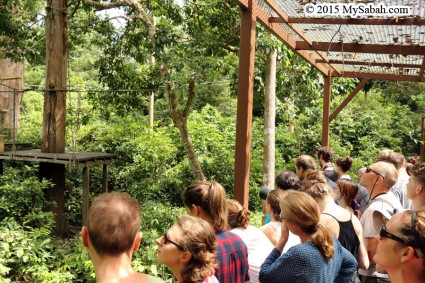 The Center is visited by an average of about 80,000 tourists annually. You will see hundred of orangutan fans waiting eagerly to see orangutan the first time at the viewing platform. It's important to keep quiet to avoid scaring the orangutan away. Normally, you will see 4 or more orangutans come for the free food. However, during fruiting season, you would possibly see none. This might disappoint you, but you should feel happy that they can find enough food on their own.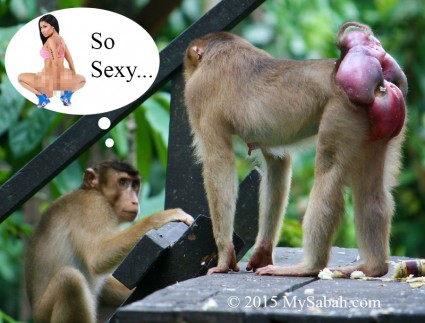 Sometimes it's the naughty pig-tailed macaque that does the opening. The big red buttock of female macaque would stir up the crowd, "OMG, look at her butt!" "Ew.. That's gross." In fact, the swollen hip is a sign of ready to mate. To male monkey, she is as hot as Nicki Minaj LOL.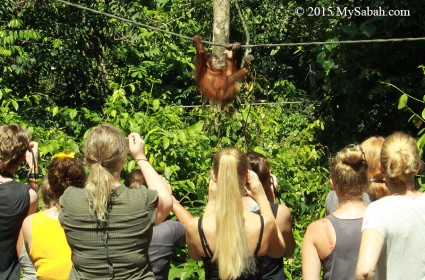 Orangutan is very good climber but clumsy in walking. There are a few long ropes that are used by orangutans to approach the feeding platform about 15 Meters away from tourists. At some points, someone would notice the movement of swaying ropes and blurts out "it's on the way!"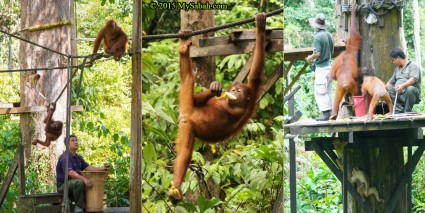 One by one, these beautiful reddish-brown creatures swing along the ropes and land on the feeding platform. Most of them are juvenile above 5 years old. If you are lucky, you would see mother orangutan carrying her baby for extra diet there.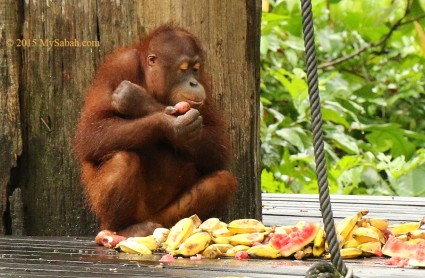 They are given bananas and milk most of the time, sometimes sugar-cane, watermelon, vegetables, etc. The Center deliberately repeats the similar menu every day, a tactic to make orangutans bored of the monotonous food and more motivated to forage for other fruits in the jungle.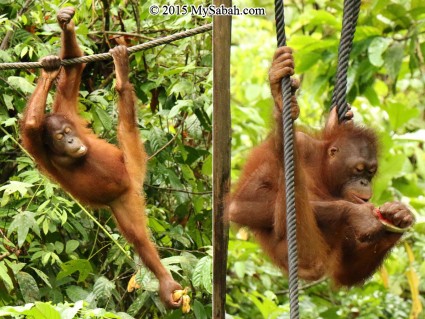 Orangutan is a solitary and quiet animal. Most of them focus on eating, and occasionally playing or arguing with their mates. One or two greedy orangutans would stuff 4 or 5 bananas in their mouth, grab another bunch in their feet then go away.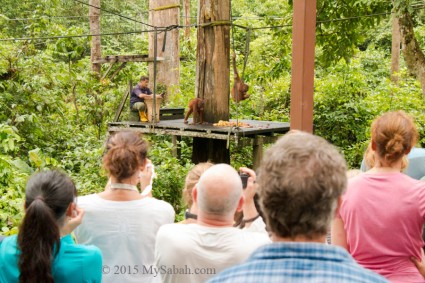 Every orangutan there has a name, for example, Mimi, Mariko, Kam Chung and Rosa, and they all have unique faces and personalities. Some are introvert, some are hyperactive and some are bully. Orangutans reach maturity at 7 – 10 years of age and can live up to 40 years old.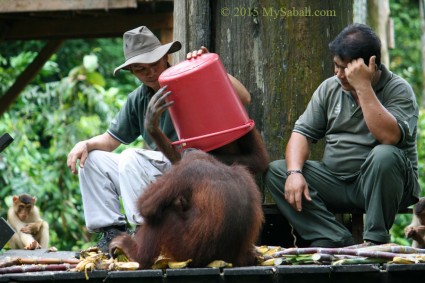 The crowd is so awed by the playful and adorable orangutans. One orangutan couple even practiced mating after meal. You can watch the following video for the hilarious moments:

By the age of 10, orangutans will learn to identify more than 200 different food plants. They keep a memory map of location of different fruit trees and their fruiting time, and they would not visit feeding platform anymore. The rehabilitation costs about RM8,000 (≈USD$2,200) per orangutan per year (include toy)!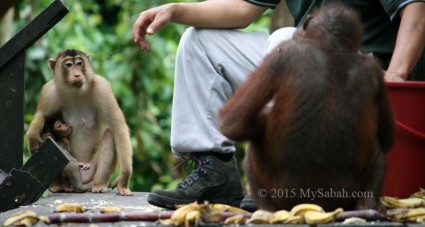 The feeding usually ends after 30 minutes. After all orangutans left, the pig-tailed macaques would have a family picnic at the platform to finish the leftover.
After the orangutan feeding, you can proceed to the Outdoor Nursery, or turn back to watch a 30-min video (in English) on orangutan conservation, which is played at 8:30am, 11am, 12pm, and 3:30pm in the Visitor Information Center.
Ticket (Conservation Fee)
Sepilok Orangutan Rehabilitation Center is open to public every day (include weekends and holiday), so any visitor can walk in and buy a ticket to enter. No prior booking or application is required. The ticketing counter is open at 9am-11am and 2pm-3:30pm. The following are the ticket fees, which they call Conservation Fees (prices in RM, as of Aug 2015):
Malaysian
Foreigner
Adult (above 17 years old)
RM5
RM30 (≈USD$8.50)
17 & below
RM2
RM15 (≈USD$4)
Camera & Video Cam
Personal: RM10 per unit (≈USD$2.80)
Commercial: Professional Filming / Photography (with 400mm lens and above). RM1,000-RM10,000 (ask the Center)
The ticket is valid for the whole day, and you can use it for entering feeding area and Outdoor Nursery. If you are crazy about orangutan, you can go at two feeding times with the same ticket on the same day.
Outdoor Nursery
Open in Oct 2014, the new Outdoor Nursery Building is an excellent addition to the Center. It is connected to feeding platform with 300-Meter boardwalk. Just follow the crowd and signage after the orangutan feeding and you will reach the building, it's quite a long way though.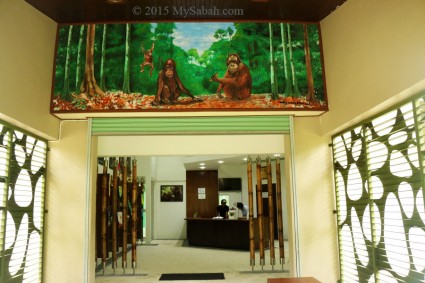 You don't need to buy another ticket to enter Outdoor Nursery, a double-value to your tour. In the past, to avoid human contact and stressing the orphaned orangutans, Outdoor Nursery was a no-entry zone to tourists. Now visitors could sit comfortably in a hall to watch baby orangutans in action. We love them but we don't want them to be so attached and used to human.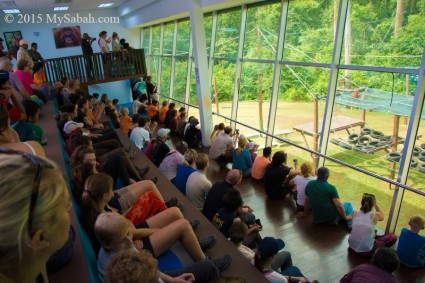 Outdoor Nursery is a play school for baby orangutans 5 to 7 years old to learn to climb. Orangutan is arboreal animal that spends most of its time on trees searching for food and building nest, so climbing skill is crucial for its survival. The Center won't stop (actually they encourage this) young ape from exploring the forest on its own.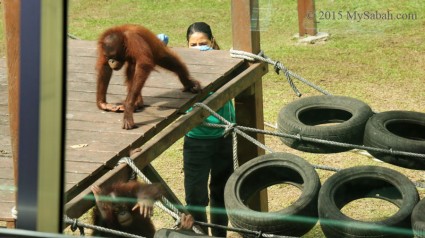 Same as juvenile orangutans, baby orangutans are also naughty and playful. Everyone laughed when they saw the orangutans fooled around with their trainers. In the video below, you will see a mischievous orangutan grabbed and pulled the hair of a volunteer: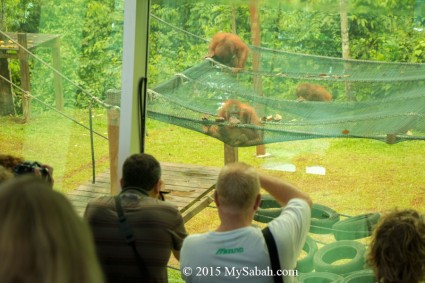 The Outdoor Nursery has large indoor halls with about 100 seats. Visitors can overlook the play area through the large window, but the orangutans outside can't see us. They still can hear us if we are too noisy.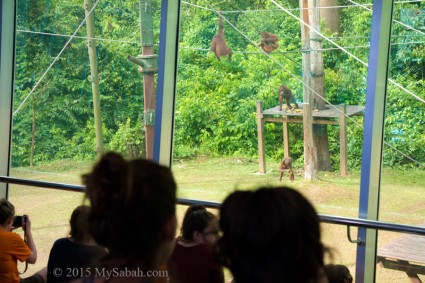 The baby orangutans are so cute, but each of them has a sad story. Most of them were admitted to the Center in malnourished, traumatized or injured condition, after they lost their mother. Under good care for some time, they will be paired up with an older orangutan to help them to develop the survival skills. This buddy system is used to replace a mother's teaching and it works quite well.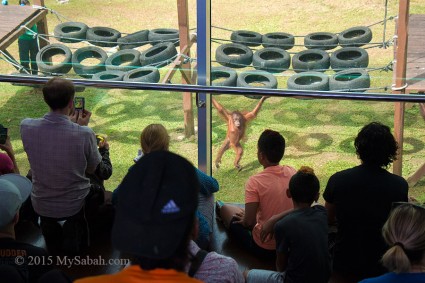 You can be part of the conservation effort to prevent this charismatic ape from extinction. You may Adopt an Orangutan, which starts from a contribution of RM200 (USD$70) per year. They will send you the update and photos of your adopted "cousin" every 6 months. You also can work as a volunteer at the Center for an once-in-a-lifetime experience with orangutan.
How to get there
Sepilok Orangutan Rehabilitation Center is located 25 KM to the west of Sandakan City (see Location Map). Public transport to Sepilok is available readily and the journey takes about 45 to 50 minutes one way.
By Bus
The following is the departure time of regular shuttle between Sandakan and Sepilok Orangutan Rehabilitation Center. The bus fare costs RM4 (≈USD$1) per person one way:
Sandakan City → Sepilok: 9am, 11:30am, 2pm, 5pm
Sepilok → Sandakan City: 6:30am, 10:30am, 12:30pm, 4pm
Tel: +60 12-8067067, +60 17-8632684
Or you can take the mini-bus (route: Batu 14) near to the bus terminal of Nak Hotel in Sandakan.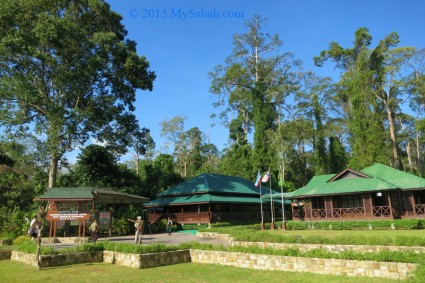 By Taxi
You can hire a taxi for a return trip for about RM100 per car (≈USD$28)(negotiable). There is also a taxi stand in car park of Sepilok Orangutan Rehabilitation Center.
Facilities
Overall, the Center has adequate amenities for tourists as it is one of the most developed destinations in Sabah.
Toilet
The public toilet of Sepilok Orangutan Rehabilitation Center is probably the best in Sabah. It's air-conditioned and handicapped-friendly. Visitors don't need to pay any entry fee.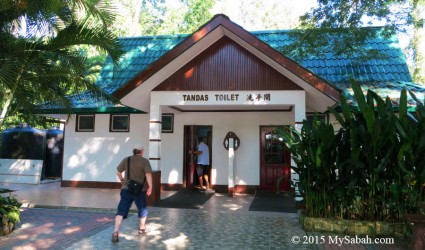 Cafeteria
In the Center, there is a Sepilok Cafeteria where you can buy food (e.g. sandwiches, fried rice, noodle, omelettes), snacks and drink. It's convenient but the place is quite crowded, you can expect a long queue to cashier counter during busy hours.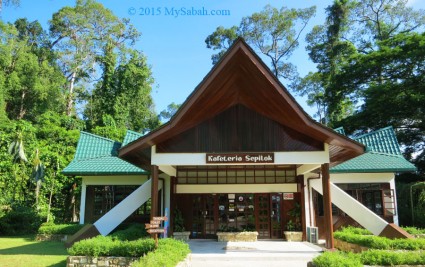 If you want great food and not in a hurry, I strongly recommend Lindung, which is only a 5 minutes walk away from the Center (see Location Map). They have nice restaurant, art gallery and exhibition.
There is also a small souvenir shop (in front of ticketing counter) in visitor building. The Center is managed by Sabah Wildlife Department, which is reachable by phone (Tel: +60 89-633587) and e-mail (sorcsylvia@gmail.com, ppous64@gmail.com).
Accommodations
There are many other things you can explore and do at Sepilok, for example, Rainforest Discovery Center, Bornean Sun Bear Conservation Center, bird-watching, jungle trekking, so you may like to spend a few days there. Below are a few accommodations that are only a 10 or 15 minutes walk away from Sepilok Orangutan Rehabilitation Center:
1. Sepilok Jungle Resort
I stayed there before. The accommodation is quite affordable and very popular among tourists. This resort has 45 air-conditioned rooms and 15 fan rooms ranging from dormitory, standard, family to deluxe room with balcony. Though the rooms and facilities are a bit old, the nice swimming pool, lake and garden make it up.
Rates: RM38 per person – 190.80 per room (≈USD$10-50) (Online Booking available)
Website: www.sepilokjungleresort.com
Facebook: fb.com/SepilokJungleResort
E-mail: info@sepilokjungleresort.com
Tel: +60 89-533031, +60 89-533051
GPS Coordinate: 5.866024, 117.951640 (see Location Map)
2. Sepilok Forest Edge Resort
It's about 700 Meters away from Sepilok Oran Utan Rehabilitation Center. The resort comprises of stylish Malay design chalets around green surrounding and hills with nice view. It has long house accommodation for budget travellers, as well as standard, family and superior chalets.
Rates: RM40 per bed – RM590 per chalet (≈USD$11-168) (Online Booking available)
Tel: +60 89-533190, +60 89-533245, +60 13-8859890
Website: www.sepilokforestedgeresort.com
E-mail: sepilokforestedge@gmail.com
GPS Coordinate: 5.867155, 117.950294 (see Location Map)
3. Sepilok Nature Resort
Sepilok Nature Resort has fully air-conditioned twin bed chalets feature beautiful lake or jungle view verandah and private bathrooms with hot water. The accommodation fees for Double / Twin Room start from RM265 (≈USD$75)
Website: sepilok.com
E-mail: mail@sepilok.com
Tel: +60 89-673999, +60 89-674999
GPS Coordinate: 5.867229, 117.949029 (see Location Map)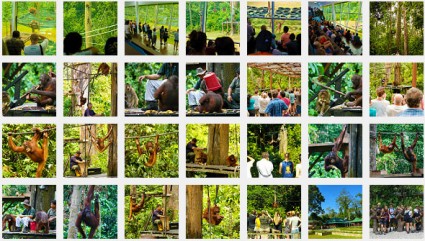 Photos taken in Sandakan, Sabah, Malaysia Borneo