Mount Trus Madi (or Mt. Trusmadi) is the second highest mountain (2,642 Meters or 8,668 ft) of Malaysia. Albeit 1,453 Meters lower than Mount Kinabalu (4,095 Meters), climbing Mt. Trusmadi is more challenging, so it offers a thrilling experience for adventure seekers. Many tourists who have conquered Mt. Kinabalu are also keen to give it a try. If you are physically fit and exercise regularly, you would find Mt. Trus Madi is very climbable even though the trail is less tourist-friendly.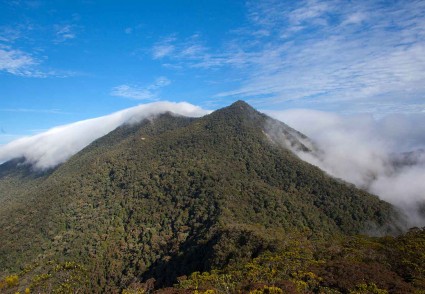 The facilities of Trusmadi have improved tremendously in past few years (especially the Tambunan side), so it has become a hot destination. Mt. Trus Madi is located in Trus Madi Forest Reserve (Code: FMU-10 = Forest Management Unit No.10), so you need to apply entry permit from Sabah Forestry Department for the climb. This article provides the most complete and updated information to help you planning the climb.
Overview of 3 Summit Trails to Mt. Trus Madi
Climbing Mt. Trus Madi can be done in 2 to 4 days, depends on the trail you pick. There are three summit trails that lead to the highest peak of Mt. Trus Madi, i.e.:
Kaingaran Trail in Tambunan
Mannan Trail in Keningau
Mastan Trail in Sook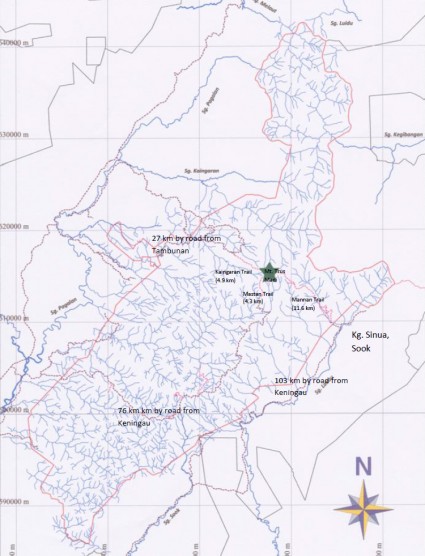 These trails have different climbing distance, starting point, road accessibility, level of difficulty and facilities on the mountain. Picking the trail is your first step to plan the climb. Kaingaran Trail (Tambunan) is the most popular choice because its climbing distance is shorter (4.9 KM) and the facilities are the most developed. Mannan Trail (Keningau) is the second best choice. Though the climb takes 4 days, the view along the trail is more beautiful and you don't need a 4-Wheel Drive.
The following table is a comparison of three trails (can click to enlarge):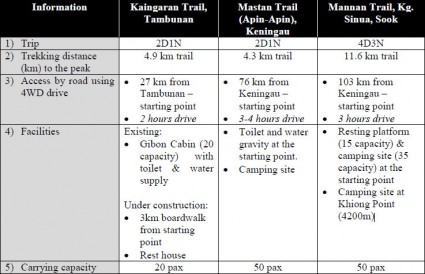 Since these three summit trails are connected to one another on the summit, you also can choose to ascend and descend to different points for more fun. For example, you can climb up the mountain via Kaingaran Trail from Tambunan, but climb down via Mannan Trail to Keningau, if you are able to arrange your return transport waits at other end.
Below are more detail reviews of three summit trails to Mt. Trusmadi:
1. Kaingaran Trail
Kaingaran Trail is the oldest and most developed trail. I climbed Mt. Trus Madi via this trail in year 2010. However, the climb is much more enjoyable and easier nowadays because of upgraded trail and accommodation.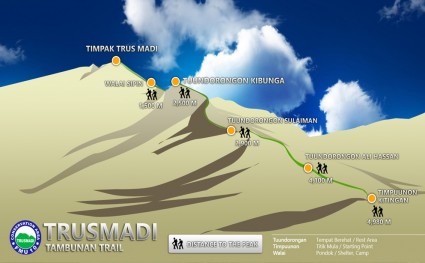 Climbing Distance: 4.9 KM (require 2 day 1 night)
Location: Tambunan District
Starting Point: 27 Km (2.5 hours drive) from Tambunan Town (mainly gravel road. The last 6 KM road trip needs 4-Wheel Drive)
Accommodation: Mirad Irad Base Camp (foothill), Rest House (at 2.9 KM of mountain trail)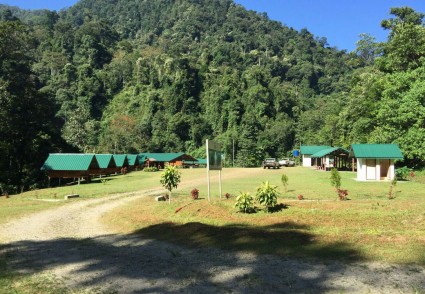 You can spend one extra night at Mirad Irad Base Camp of Mt. Trus Madi (7 KM before starting point (20 min drive) and 900 Meters above sea level), if you want to start your climb very early in next morning. The accommodation at Base Camp can accommodate 24 people, and camping (Fee: RM10) is allowed. The room rate is RM20 per night per person. Please note you MUST book 1 month in advance.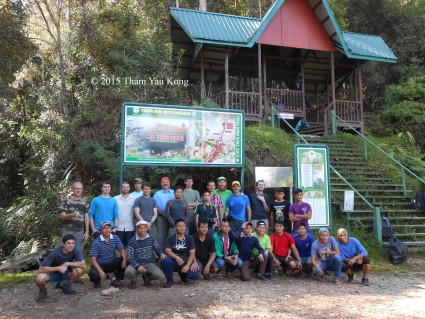 If you start your climb on day 1 from Kota Kinabalu City (KK), you need to drive about 4 hours from KK to starting point in Tambunan, very likely you will start your climb around noon, which is kind of late. That's why some climbers prefer to stay an extra night in Mirad Irad Base camp or hotel in Tambunan.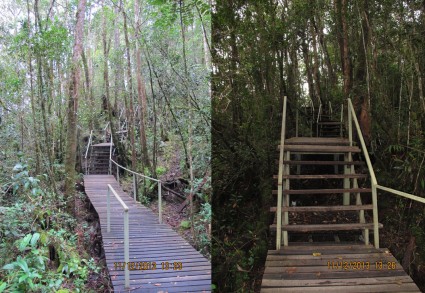 The first 3 KM of Kaingaran Trail is boardwalk. It's leech-free and makes climbing more like hiking.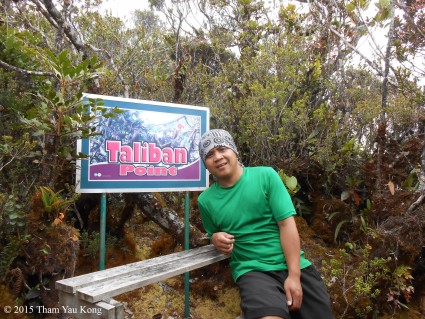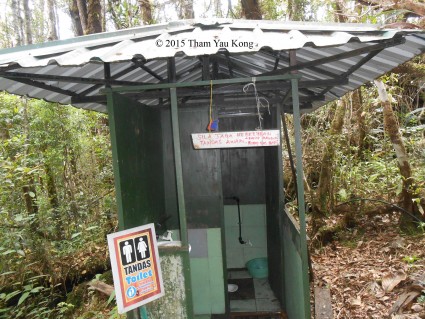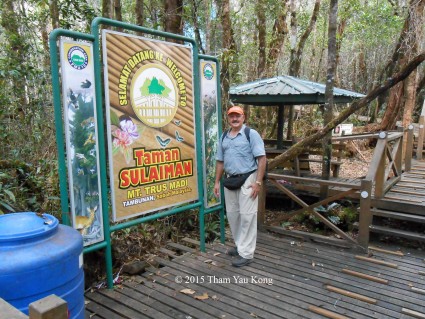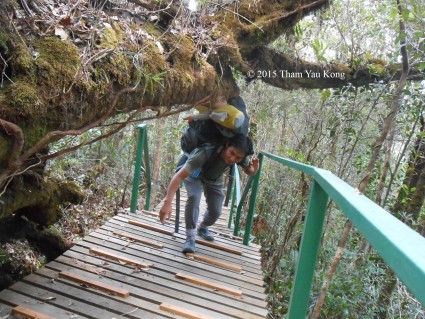 Mt. Trus Madi Rest House (only available for Kaingaran Trail)
There is only one accommodation on Mt. Trus Madi and about 2.9 KM away from the summit. The Rest House has 5 rooms, each with 4 bunk beds, and able to host 20 people at a time. The fee per person is RM20-RM100 per night per bed. The amenities are quite basic, water supply and lighting are available.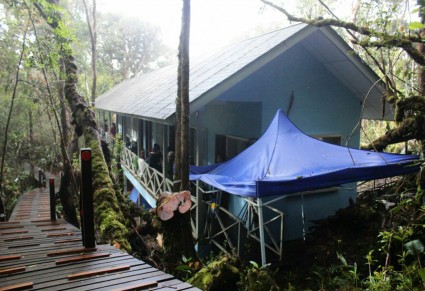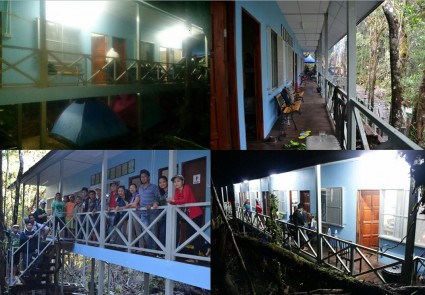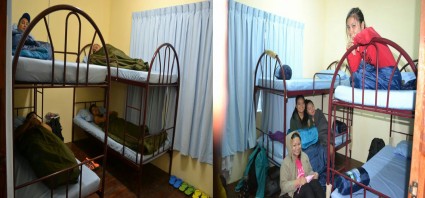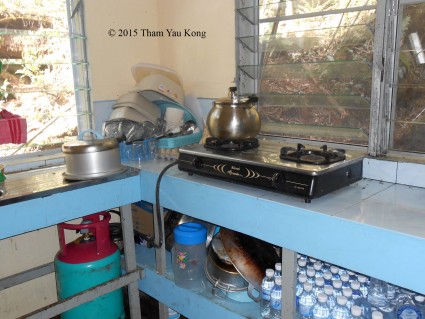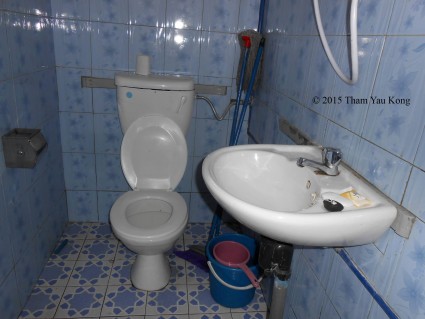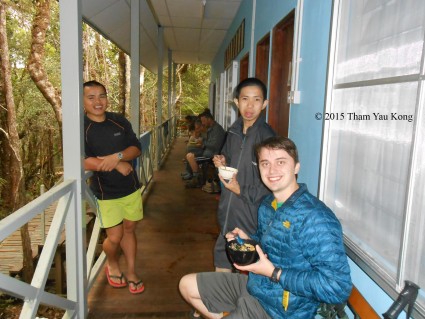 The following video gives a good overview of Kaingaran Trail, with a lot of aerial views of Mirad Irad Base Camp, Mt. Trusmadi Rest House and the summit:
The next two trails are relatively new and located in Keningau District (Sook is a sub-district of Keningau).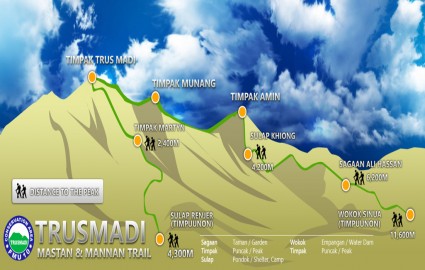 There is no accommodation in Mastan and Mannan Trails, so you will need to bring your own camping and cooking gears. This means you need to carry more weight, making the climb tougher. You can hire porters to share your burden. The camping fees are RM3 and RM5 for Malaysian and foreigner respectively.
2. Mannan Trail
Though Mannan Trail takes the longest time (4 day 3 night), many adventurers love its scenic view and pristine route. Another advantage is – you don't need a 4-wheel drive to travel to the starting point.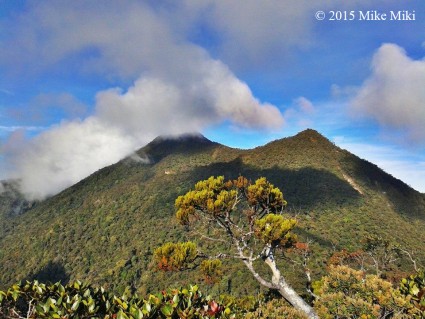 Climbing Distance: 11.6 KM (require 4 day 3 night)
Location: Sinua Village (Kampung Sinua), Sook (Keningau District)
Starting Point: 103 KM of paved road (3 hours drive) from Keningau Town. Good road condition. No need 4-Wheel Drive.
Accommodation: Camping and Resting Platform only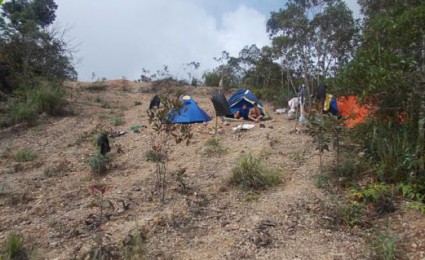 The GoPro video below gives you a good idea of trail condition in Mannan Trail:
If you want the most detail video walk-through, you may check out the 56-minute video below:
3. Mastan Trail
Mastan Trail is very "raw" and the least developed. I have very little information about this trail. Judging from the map, Mastan Trail is the shortest (4.3 KM) but the steepest. You see, Mastan Trail is only 600 Meters shorter than Kaingaran Trail (Tambunan), which has far better trail and facilities, of course most climbers will go for the more relaxing option.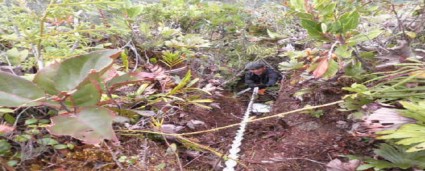 Climbing Distance: 4.3 KM (require 2 day 1 night)
Location: Apin-Apin, Keningau District
Starting Point: 76 KM (4 hours drive) from Keningau Town. Bad road, accessible only by 4-Wheel Drive.
Accommodation: Camping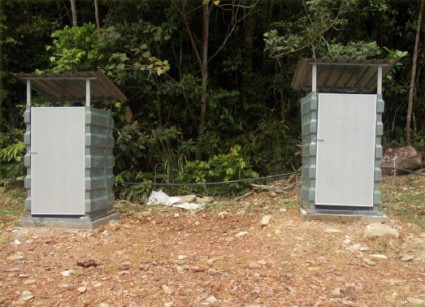 Some village folks there have been doing day climb via this trail. Anyway, if you have only 2 days and want to see the most of Mt. Trus Madi, you may ascend via Kaingaran Trail on day 1 and descend via Mastan Trail on day 2.
The Summit
The flora of Trusmadi is very diverse and fascinating, where almost 600 species of 160 families of plants have been recorded here. Remember to get your certificate if you make it to the top (RM10 fee applies).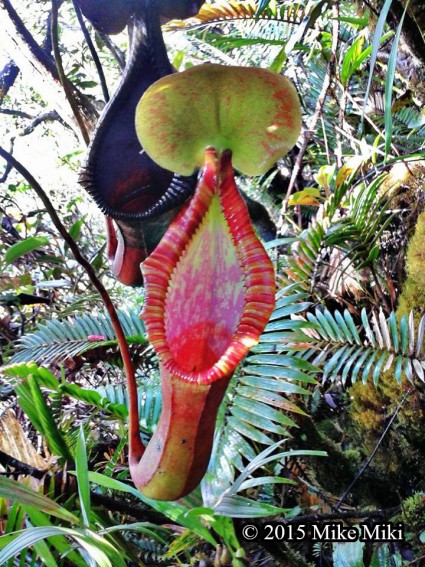 Nepenthes trusmadiensis is the natural hybrid between Nepenthes lowii and Nepenthes macrophylla, you would see it when you are close to the summit.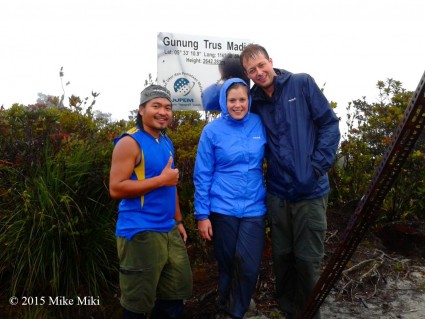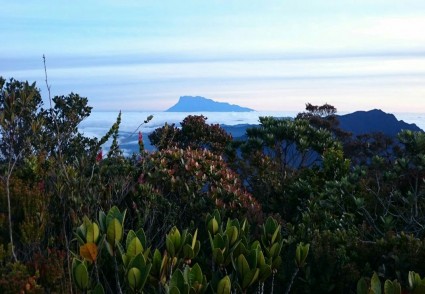 When you reach the summit of Mount Trusmadi at dawn, if the weather is good, you will be mesmerized by a breath-taking view of Mount Kinabalu, which lies about 40 KM to the north.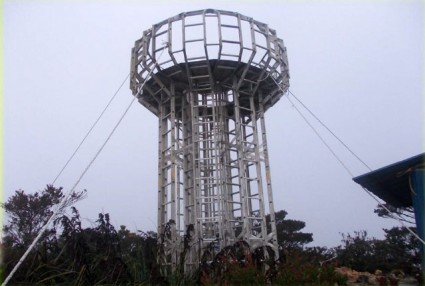 How much does the climbing trip cost?
The total fee varies greatly, depending on the trail and services that you select. Below is a list of basic fees (in Malaysian Ringgit (MYR)).
| | Malaysian | Foreigner |
| --- | --- | --- |
| Climb Permit | 30 | 80 |
| Entrance Fee | 5 | 15 |
| Vehicle Permit | 100 | 100 |
| Accommodation (1 night)* | 100 | 100 |
| Forestry Guide (2 days) | 100 | 200 |
| TOTAL: | 335 (≈USD$95) | 495 (≈USD$140) |
*For Rest House only. Replace this with camping fee if you don't use Tambunan trail
The final cost can range from RM400 to RM800 per person, after you include other variable and optional fees such as rental of 4-Wheel Drive (RM800/day per car), insurance, transport (gasoline), food & personal supplies, porter, certificate (RM10), etc. You can save more money by going in group, so you can split the cost on transportation and guide fee.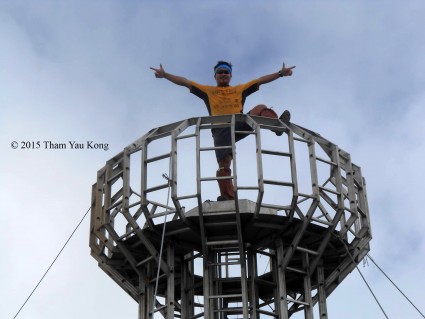 If you have more questions, you may contact the Forestry Officers listed below:
1. Tambunan
Contact Person: Mr. Saleh Intang, District Forestry Officer ("DFO") of Tambunan
Address: Pejabat Perhutanan Daerah Tambunan, Peti Surat No 64, 89657, Tambunan, Sabah, Malaysia
Tel: +60 88-899589
Fax: +60 88-899588
E-mail: saleh.intang@sabah.gov.my
2. Keningau / Sook
Contact Person: Mr. Azman Said, District Forestry Officer ("DFO") of Keningau
Address: Pejabat Perhutanan Daerah Keningau, Peti Surat No 88, 89007, Keningau, Sabah, Malaysia
Tel: +60 87-331203
Fax: +60 87-338721
E-mail: azman.said@sabah.gov.my
Tour Operators
If your budget permits, you should consider hiring a tour operator to arrange the climbing trip for you. The cost will be higher, but they will save you the problems on paperwork (permit), 4-wheel drive transport, camping, cooking, etc. I strongly recommend the following tour operators, who are experienced in adventure trips:
1. TYK Adventure Tours
Address: Block E, Lot 38, 2nd Floor, Damai Plaza IV, Luyang, Kota Kinabalu, Sabah, Malaysia
Tel: +60 88-232821
Website: www.tykadventuretours.com
E-mail: thamyaukong@gmail.com
Fax: +60 88-232827
2. Mount Trusmadi Travel & Tour Tambunan
Address: Lot No. 5, Kedai Tepi Sungai Tondulu, Majlis Daerah Tambunan, 89657 Tambunan, Sabah, Malaysia
Tel: +60 87–771312
Mobile Phone: +60 19-8831568
E-mail: widuresorttbn@yahoo.com
By the way, currently Sabah Forestry Department only has 16 mountain guides. During peak season, they may not have enough manpower to guide the climbers. They would disapprove your climb in that case. Therefore, I advise you to register a few months before the climb, to secure the limited capacity.
Useful Slides
Most of the information here is extracted from the following slides by Sabah Tourism Board and Sabah Forestry Department. You may download them for further reading. Also special thanks to Mr. Tham Yau Kong and Mike Miki from TYK Adventure Tours for contributing the photos. (Note: some info is inconsistent in different slides. I'll correct them once I confirm the details).
Overview of Mt. Trusmadi, e.g. photos of road condition, starting points, accommodations, facilities, itineraries.
Useful info for planning the tour, e.g. booking and reservation procedures, various fees (permit, entrance, forestry guides), application forms and checklist of Things to Bring.
This slide contains some latest photos of the trails.
Please feel free to leave your question in comment section below, I'll try my best to answer.
Photos taken in Sabah, Malaysia Borneo