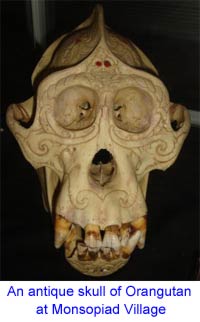 Hope the 360 degree Mount Kinabalu Panoramic views did not make your mouth wide open, cool huh? Before you close your mouth, I still have more Panoramic Virtual Tours to show you. Can you digest fast enough? 🙂
Yes, the next one is Monsopiad Village in Penampang. Monsopiad is the name of the most popular Kadazan headhunter, a legendary warrior who harvested 42 human skulls. In the past, the more skulls you owned, the more heroic you were. The headhunters believed that the spirit of the victim would trap in the skull and protected them. Today there is no more headhunter in Borneo, but you still can see the 300-year old human skulls displayed in the House of Skulls of Monsopiad Village. Monsopiad Village is one of the BEST tourism spot in Kota Kinabalu but is not very well-known among the Sabahans. Don't know why…
Actually I feel a bit guilty to publish this virtual tour because it is so thorough and complete that — after you watch it, you can close your eyes walking in the village and know where you are, like you had been there. I have posted 150+ photos, 4 video clips, and 1, 2, 3, 4… 10 panoramic tours for this village. Goodness… I hope they will not kill me.
Video Clips of Traditional Dances
BTW, another thing that I would like to highlight is — I find that the Kadazan Sumazau video clip is the most popular download item of MySabah.com.
To make your life easier (find them all in one place), I list all the links to the Sumazau video clips below:
(1) Orchid De Villa, (2) Pesta Kaamatan, (3) Monsopiad Village.
If you are interested in Murut's Magunatip (Bamboo Dance), I also got four versions:
(1) Monsopiad Village, (2) Pesta Kaamatan, (3) Orchid De Villa, (4) TV3 Carnival (by kids).
If you visit Monsopiad Village, normally they will show you Sumazau, Magunatip and Sazau (by Kadazan Papar) dances. For more video clips of traditional dances of Sabah indigenous people, you may check out my Pesta Kaamatan page.
Photos taken in Penampang, Sabah, Malaysia Borneo