This is one of the biggest time-wasting projects of MySabah.com. I spent half day walking around in KK City to review a total of 30 elevators (lifts), to find out the differences among them. All of them are in city centre. I felt dizzy after the visit, like returning from a spaceship. Below is my "report".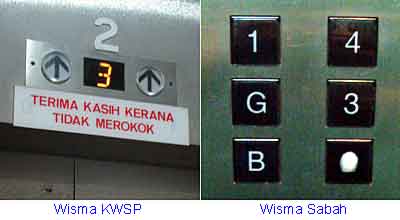 1. Unlucky Floor Numbers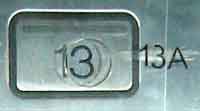 In KL, it is very common that the tall building "rename" the "unlucky" floor numbers such as 4 (means death in Chinese) and 13 to something else. For example, 4 becomes 3A. Some of them even remove the unlucky number from the floor numbers. Surprisingly, I could not find any of this superstitious practice in KK. The only one that comes close is Likas Square, who renames floor 13 to 13A.
2. Care for the Handicapped


The government has been advising us to integrate handicapped-friendly design into the building code. It is a big disappointment that even a simple and basic feature such as embossed letters (for the blind) on the buttons are not available in 96% of our lifts. Out of 30 lifts I visited, only Wisma Perindustrian and Wisma Dang Bandang (I/C Department) have such facility, not to mention the "talking" lift that reports the floor number it reaches.
3. Non-Standard Buttons
Well, this is not a big issue but something interesting to look at. For example, the ground floor can have 3 names (see below):


Below are more special buttons for your viewing pleasure:


4. Number Arrangement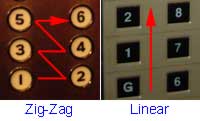 Out of 30 lifts, only 6 lifts (20%) are using zig-zag arrangement for the floor numbers, the rest (80%) are using linear format. Personally, I don't like zig-zag format coz it takes me longer time to look for a number.
5. Worst Lift in KK
Congratulations to Centre Point Sabah for winning the WORST lift system in KK. Its high score is based on two factors:
i) It is Confusing
If you don't believe me, just ask a non-local to look for 3 places in Centre Point, namely, (1) Palm Square, 4th floor, (2) Growball Cinema, 8th floor, and (3) Highest floor, 9th floor. Even though he knows the floor numbers, it will still take him a long time to figure out how to get there. As an old fish, we may have forgotten how lost we were in Centre Point the first time.
ii) It is S…L…O…W…
I was pissed off the most often by the lifts in Centre Point Sabah. For example, I want to move from 1st floor to 4 floor. They may have 3 idle lifts stopped on 2nd floor (nearest). But they would insist to send an occupied lift from 8th floor slowly down to 1st floor to pick me up. So stupid… There is more than once I give up waiting and use the staircase.
Below are the photos of the 30 lift panels in KK, in case you are curious:
I haven't gone to Yayasan Sabah (Menara Tun Mustafa), Wisma Innoprise, Wisma MUIS and Tanjung Aru Plaza yet. If you have any interesting discovery, please let me know.
Recommendations
To improve the quality of our lifts, below are my suggestions:
a) Put some soft background music,
b) Hire a sexy "Lift Lady" to serve the passengers,
c) AND put a bed in it, just kidding…
Ok, at least she can help us to slap those annoying kids who mischievously press all the buttons in the lift.
Photos taken in Kota Kinabalu, Sabah, Malaysia