When I was a kid, I thought only rich people could afford to have a party on a big boat. So cruising with a big boat is one of my small dreams. As sunset cruise becomes increasingly popular, nowadays it is not that hard to make my dream comes true. Last year I organised a sunset cruise party for a group. Since we had nearly 70 pax, we got a deep discount. Usually the market rate is about RM120 (USD30+) per person.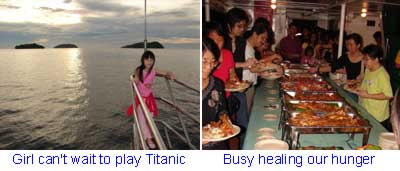 Click Here to see more photos of Sunset Cruise >>
Let me briefly introduce SeaStar (note: I don't work for them), the boat for our sunset cruise. SeaStar can accommodate up to 100 people and it has 4 levels, let's call them, from top to bottom, (1) top deck, (2) upper deck, (3) lower deck and (4) basement. Below is an overview of different sections of the boat. Don't worry if the photos below are too small, you can check out the photo gallery for bigger pictures and more description.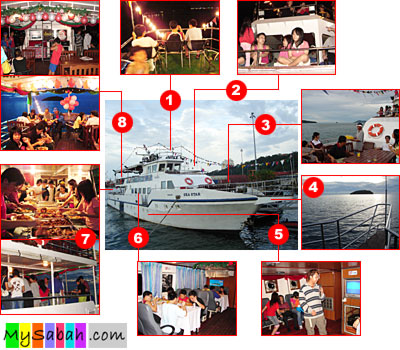 Click Here to see more photos of Sunset Cruise >>
1. Top deck. Highest spot but small space, mainly for sunbathe.
2. Upper deck, area near to captain's chamber.
3. Front of lower deck. Open space. The Best view is here.
4. You can play Titanic here, but don't jump into the sea.
5. Basement is a mini-hall. Kids love to look outside through the small round windows.
6. Air-cond dining room of lower deck.
7. Rear of lower deck is buffet area, where food is served.
8. Shelter area of upper deck. Get karaoke and TV set.
My advice to ladies is – don't wear skirt and high heel shoes. These will make climbing steep ladder difficult. And if your skirt is too short, the guy below you will get free eye candy. Due to monsoon season, the weather was quite bad that day and it rained until 3pm. Luckily the sun came out after 4:30pm, 1 hour before we started the cruise. Even though the sky was cloudy, I was still happy that trip was not totally screwed up. The Mount Kinabalu also showed her face after the rain.


The sunset cruise ran from 5:30pm to 8:30pm. The 4 main highlight are:
1) Cruise around the islands. Feel the refreshing sea breeze.
2) Stop on Manukan Island. Take a walk and enjoy the sunset at the beach for 40 minutes.
3) Dinner Buffet. We had fried rice, chicken wing, seafood, fruits, etc. Free flow of juice.
4) KK City Night View. Seeing the night view from island and also up-close.
I personally love activity no.4, the city night view is magnificent. Coz of high tide, our boat could sail very close to the shore. We cruised along the shore of KK city, up to WaterFront. Our boat was so near to WaterFront that we could see the Murut traditional dance performance inside (see picture below).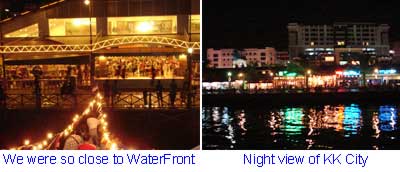 Click Here to see more photos of Sunset Cruise >>
Overall, it is an unforgettable experience. Some companies even have their annual dinner onboard. To me, it is far more interesting than having the dinner in a hotel. On the boat, you don't sit around a fixed table. You can move around and talk to everyone. If you have spouse, you can have a romantic time watching sunset and city night. If you have children, they will really love it. If you don't want to socialise, you can sit at a corner and enjoy the sea view alone.
FYI, after heavy renovation and construction, the new KK Ferry Terminal is now called Jesselton Point. I admire the design based on historic theme of British colony time, it looks more beautiful, meaningful and classy. I would say it is a welcomed change. They also expand the jetty to turn it into a recreational area, where you can take a leisure walk and watch sunset. You can see more photos of Jesselton Point in my photo gallery. Happy? Forgot to tell you what is the MOST impressive change. The price of jetty fee has increased from RM1 to RM6, an increase of 500%!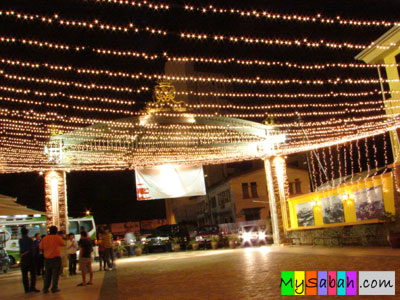 Click Here to see more photos of Jesselton Point >>
Photos taken in Kota Kinabalu, Sabah, Malaysia