(Update (Jan 2021): Tavern restaurant is closed).
Malaysians love Nasi Lemak (Coconut Milk Rice), which is our unofficial national dish, and I wonder why 1Malaysia campaign doesn't use Nasi Lemak in their logo design, as this is the food that can unite every races. Well, probably it isn't a good idea to have a patriotic logo that makes people drool lol.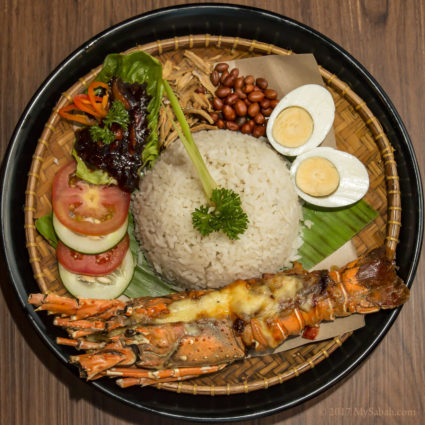 The rice of Nasi Lemak is normally cooked with coconut milk and pandan leaves that give it a pleasing aroma and creamy flavour. Standard nasi lemak is served with sambal (chili-based sauce) and various garnishes such as crispy ikan bilis (fried anchovy fishes), roasted peanuts, fresh cucumber slices and boiled egg.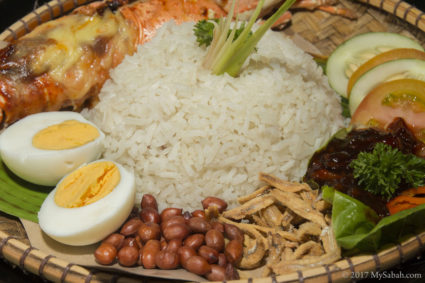 Nasi lemak can be served in a variety of ways. For example, you can add fried chicken, cuttlefish, or rendang daging (beef) to the rice for a more fulfilling meal. You may have eaten hundreds of nasi lemak, but have you ever tried it once with lobster?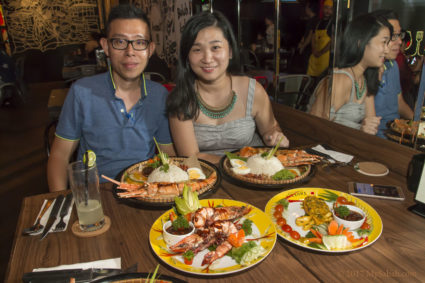 For those who have curious tastebuds, Tavern Kitchen & Bar, one of the best restaurants in Kota Kinabalu City, is creative to make this exclusive menu for you.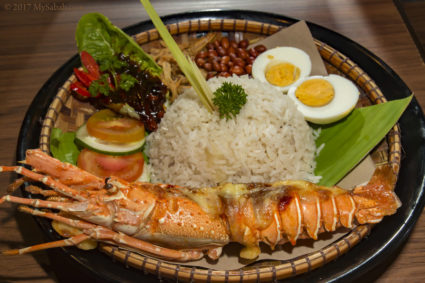 Similar to traditional nasi lemak, Lobster Nasi Lemak consists of coconut infused steamed rice, pandan leaf and traditional ingredient to enhance the rice flavour, accompanied with tomato & cucumber slices, crispy anchovy, toasted peanuts, acar (mixed pickled), boiled egg & sambal (hot & spicy, pre-cooked). On top of these, it is also served with a 400gm lobster oven baked with chef marination ingredient, preferred sauce (3 topping choices: buttermilk, satay sauce and spicy sambal) top with cheese.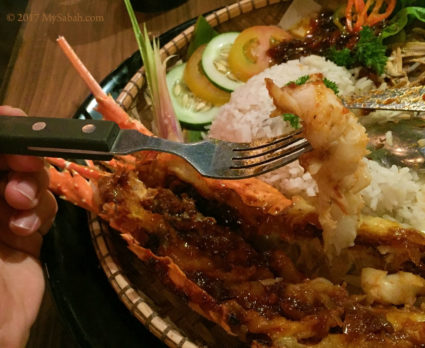 The cuisine is placed on banana leaf and mini bamboo sieve, giving it a nice touch. Nasi Lemak is always sold as an economic food in roadside stalls and hawker food centres, so I applaud the bold idea of Tavern Kitchen & Bar to push it to higher level.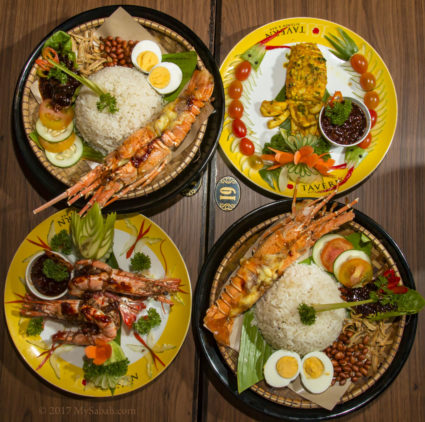 Lobster Nasi Lemak tastes wonderful. The lobster meat is tender and well-marinated, and blend well with the taste of nasi lemak. Rice is the soul of Nasi Lemak and is well taken care of by Tavern. The savoury coconut milk-infused rice has fluffy texture and not oily.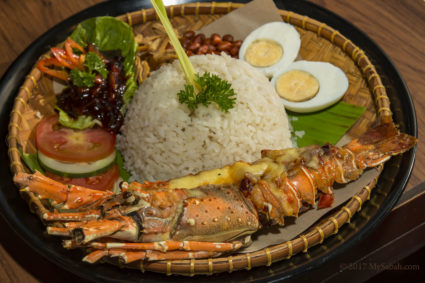 Limited Time Offer: Tavern Kitchen & Bar offers promotional price of RM49++ for Lobster Nasi Lemak from October to December 2017 (Normal Price is RM79), and it's limited to only 30 plates daily. FYI, even a normal nasi lemak is sold for over RM45 in Vancouver (Canada). For Lobster Nasi Lemak like this, it could cost 10 times more overseas.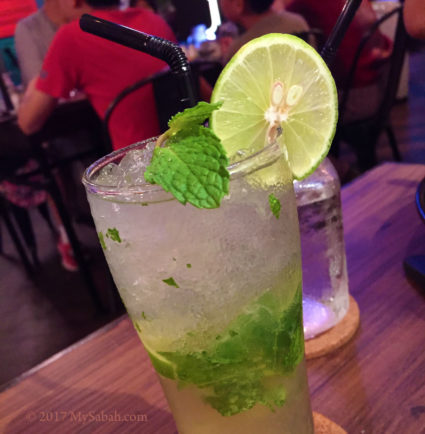 The recommended drink to go with Lobster Nasi Lemak is Virgin Mojito (lime juice with brown sugar and fresh mint, topped with club soda, RM15.90 per glass), a sour drink to remove the oily feel in your mouth.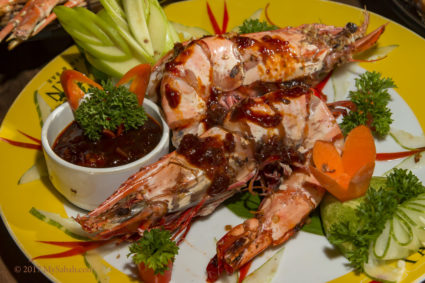 To enjoy three kinds of seafood flavours, you can order two other side dishes:
Tiger Prawn (RM49++): grilled tiger prawn 500gm, marinated with garlic, tuhau (local wild ginger) and top with cheese
Giant Squid (RM38++): grilled large squid weight 450 gm with chef special marination, served with sambal and acar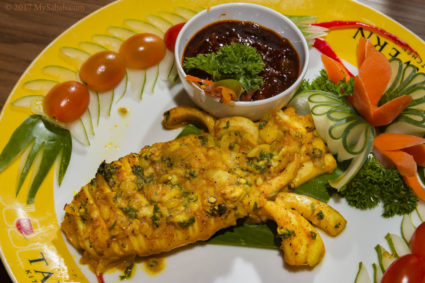 Tavern Kitchen & Bar was located in Imago Shopping Mall, just next to Nike shop, on the same row as Starbucks in ground floor.
Address: Lot G-93, Aramaiti Street Walk, Imago Shopping Mall, KK Times Square Phase 2, Jalan Coastal, 88100 Kota Kinabalu, Sabah, Malaysia.
GPS Location: 5.971437, 116.066320 (see Location Map)
Opening hours: Closed
Twitter: @tavernkk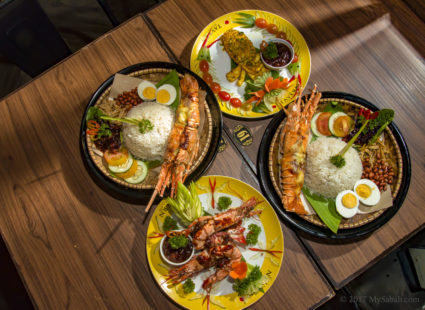 Photos taken in Kota Kinabalu, Sabah, Malaysia Borneo