At the north of Sabah, Kudat has the most number of nice beaches in Sabah, and many of them have unique geological features more than a stretch of white sand. Kelambu Beach (or Kulambu Beach) is a tombolo, which is a sand bar joining an island to the mainland and something rare in Sabah. Kelambu means mosquito net in local language, probably the beach is named after the mosquito-net shape of Kelambu Island.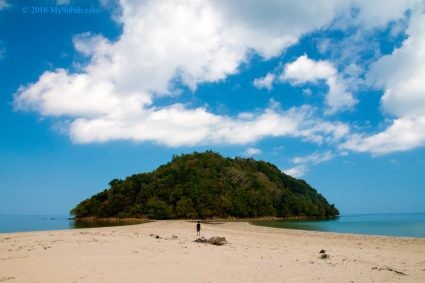 Kelambu Beach (locally known as Pantai Kelambu) is accessible by tar road (mostly) and about 31 KM to the north-west of Kudat town and 8 KM at the south of the Tip of Borneo. There is no public transport going there, so you need to drive there yourself (GPS: 6.987443, 116.724120, see Location Map).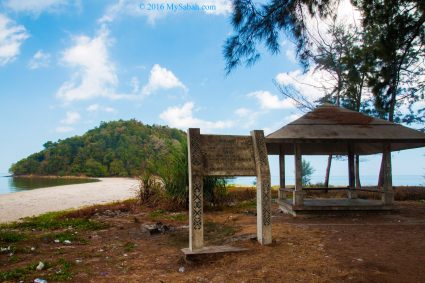 Kelambu Beach is a beautiful destination that escapes the radar of tourists. It has no facilities, except three seaside pavilions and a few barbecue pits (someone says a public washroom is available but I didn't see it). In fact, locals would prefer that it remains undeveloped because we don't to share this secluded beach with noisy tourists and greedy developers.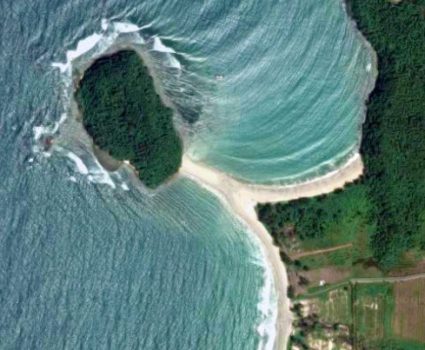 The 200-Meter sand bar to Kelambu Island is quite broad, about 20 to 30 Metres in width, and the soft sandy beach is comfortable to walk on with bare feet.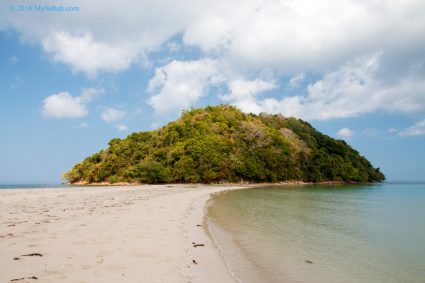 There were only two families playing at the beach during my visit. The beach is big and everyone is far from one another, so I hear only lapping waves most of the time.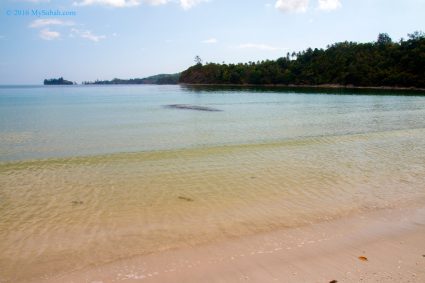 The crystal clear and shallow sea water is very inviting, so I soak my feet to enjoy the cooling water. I tried the water at both sides of the sand bar just for fun because someone say the water temperature is warmer at the right, which is a bay area. It's true.

Here is a secret. If you come here at night, you would find luminous sea at Kelambu Beach. Whenever you touch the water, it will leave a light trail of your movement. The light is a natural chemical reaction called bioluminescence emitted by phytoplankton (a tiny organism) when disturbed. The light is more obvious during new moon.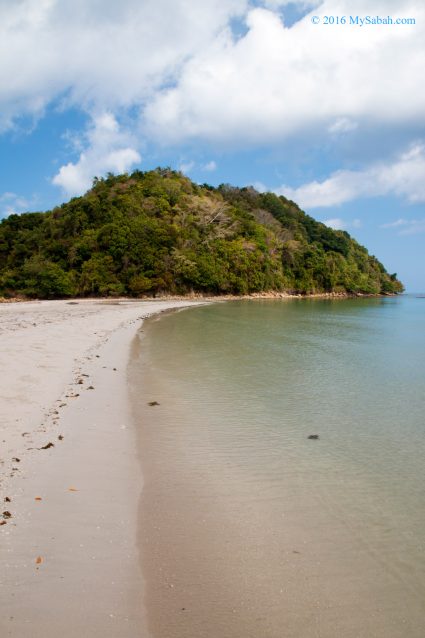 However, there is no lighting around the beach, so please bring a torchlight if you want to explore here at night, and don't go alone.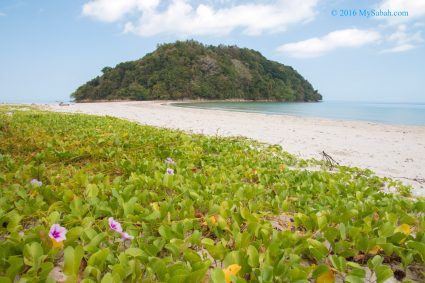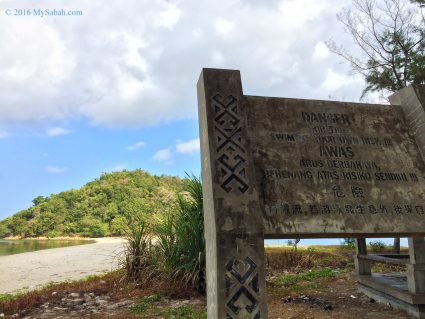 Due to presence of rip tide, Kelambu Beach is not a safe place to swim. It's ok to play near the shore, as long as you stay in water lower than your waist.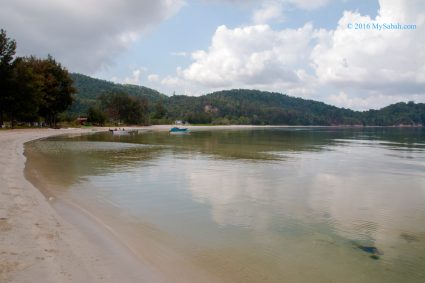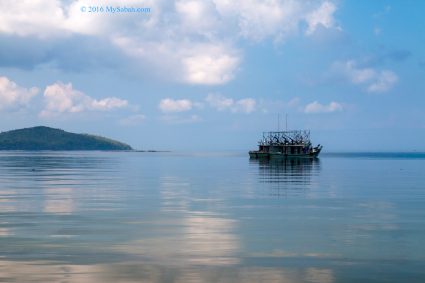 Unless you plan to have a picnic, a short visit to this beach takes less than an hour. Anyway, it is a great place to take vacation photos to harvest some Likes on Facebook. A selfie on this beach with Kelumba Island as your background is quite a killer shot.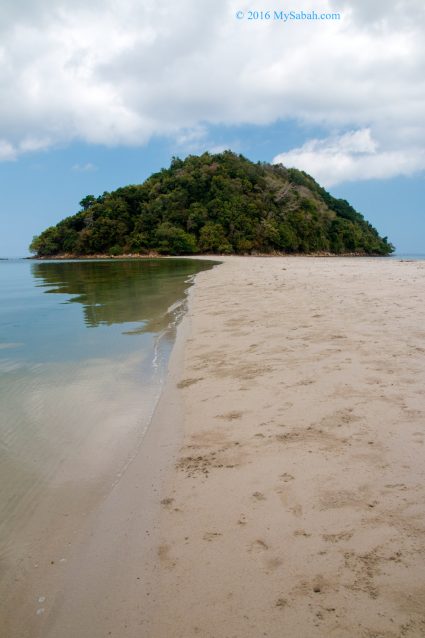 Kelambu Island is an uninhabited and rocky island covered with lush forest. It takes you only 5 minutes to walk to that island during low tide.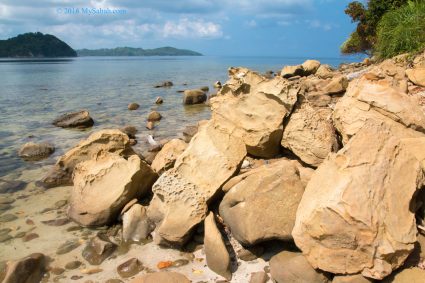 When I explored around the island, I found a nice angle for photography. But a pile of seaweed on the beach was in the frame, and I didn't want this. Therefore, I gave it a BIG KICK. Suddenly I was all over by a swarm of buzzing sandflies. That freaked me out because I thought I was attacked by bees. I ran like an Olympian to mainland and screamed "WTH! WTH?" all the way. Now I think it's funny.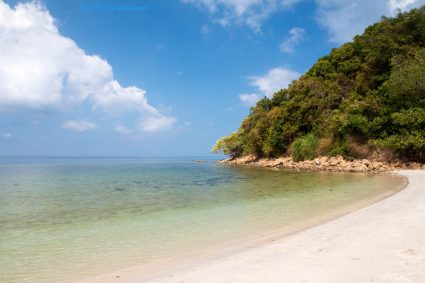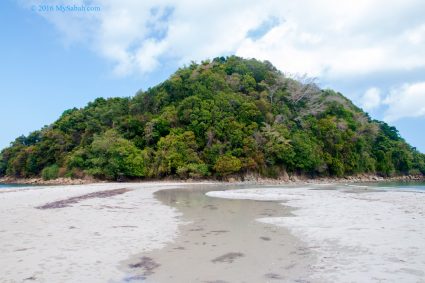 You can camp in Kelambu Beach, and the sand bar looks like a loving place to setup a tent. I would advise you not to do that because you would find that you sleep in the water later.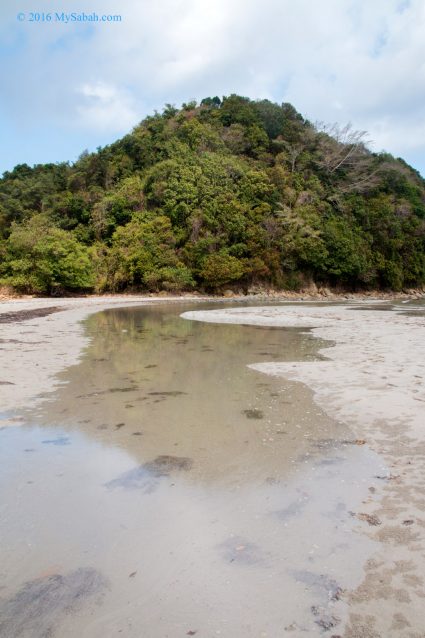 However, there are some rubbish scattered around Kelambu Beach, especially the area near the pavilions. A local non-profit organization, Kudat Turtle Conservation Society (KTCS) has been doing some beach clean up, but the visitors still litter at the beach.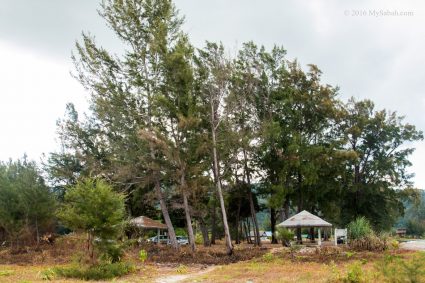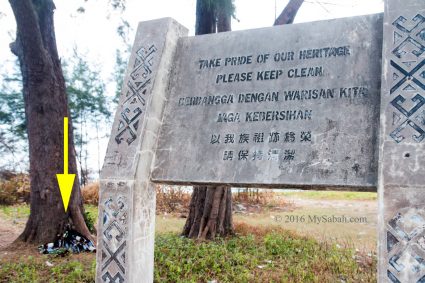 You see. Local people always complain when some resorts or developers privatize a beach. But when they own the beach, they turn it into a dumping ground. With such attitude, do we deserve to have beautiful beach?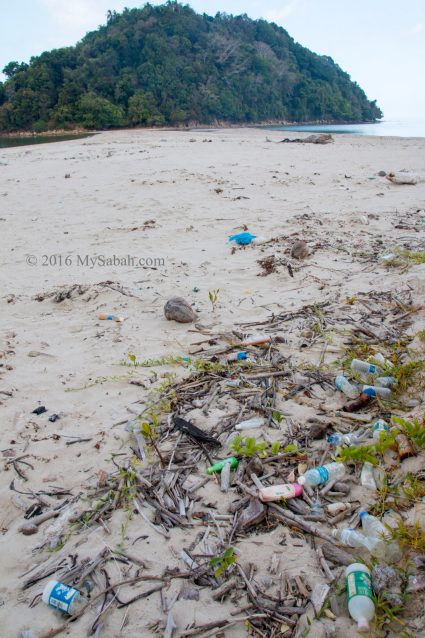 The pavilions are also not in good shape due to poor maintenance. I didn't see any dustbin around too.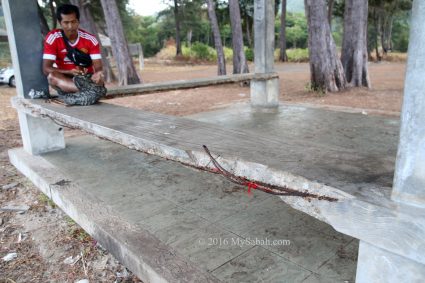 Now Kelambu Beach just looks like a pretty but dirty girl. After some cleaning, I believe the beach will become super nice again.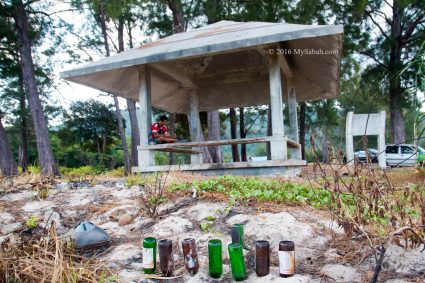 I'm sure our government will do something about it after they see this post. Anyway, please don't leave any garbage behind after you visit the beach. If we want to be successful in life, please learn not to let others to take care of our mess.
Photos taken in Kudat, Sabah, Malaysia Borneo