Malaysians do not like jungle trekking, so I bet 99% of you didn't try the jungle trail on Gaya Island. Gaya Island is the biggest island of Tunku Abdul Rahman Park and it got the biggest island forest too. The jungle trail of Gaya Island is 4 KM long and need at least 2 hours to finish. You may start at Gayana Island and complete the trail at Hornbill Beach, or vice versa. I started from Hornbill Beach and ended at Gayana Resort, so I didn't need to wait for a boat to pick me up at the Hornbill Beach.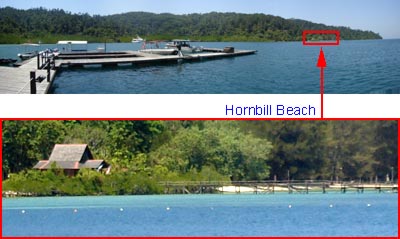 Click Here to see the photo gallery of Gaya Island jungle trail >>
FYI, there is no leech in the trail, their staff says only the area more inside the island got. They also say if you are lucky, you can see wild boar, snakes, monkeys… Well, I saw some bugs only. It was so dark in the forest, making photo-shooting very difficult. I used a head lamp but still not bright enough to light up the subjects, sigh… I think there are thousands of cicada on the island and they are so loud that we can hear them from the resort. Just click this link to hear them sing. Turn your speaker to maximum volume and that was what I heard in the jungle. No kidding…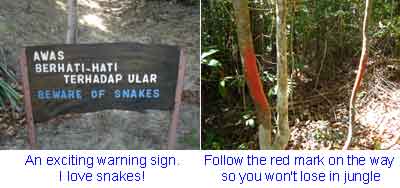 Click Here to see the photo gallery of Gaya Island jungle trail >>
To go to Hornbill Beach, you need to take a boat from Gayana jetty and you can arrange it with their staff at the arrival hall. If you are the resort guest, it is free. I paid RM5 and the boat ride took less than 30 seconds. Please note that you need to pay Sabah Parks a conservation fee to enter (RM3 for Malaysian adult, RM10 for non-Malaysian). But there was nobody there that day, so I didn't pay. Hahaha… The Hornbill Beach is also a nice place to swim, dive, camp and BBQ.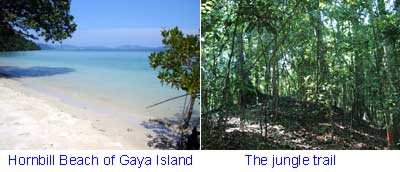 Click Here to see the photo gallery of Gaya Island jungle trail >>
In the jungle trail of Gaya Island, you won't feel that you are walking on an island. The jungle looks like a typical dense tropical rainforest. Plenty of hundred-feet tall trees, ratan, mushroom, fungus, bugs, lizards. I think I also heard the voice of hornbills. I know coz I have seen a lot of them in Sepilok forest before. The trail is not a flat path all the way. Half of the time I needed to climb up and down, very tired… I tried to find something interesting for photography, then I realised that I walked less than 1 KM after an hour (since 1 PM). So I walked quite fast later, probably missed out something cool too. I will come back again next time and start earlier (and carry a big lamp)… By the time I got out of the jungle, it was already 4 PM, but quite worth the time and effort.
FYI, Gayana Resort was used to have a Mangrove Forest trail. Due to poor maintenance, the broadway is out of order for a long time, though they still advertise this trail in their leaflet. Too bad…
Click Here to see the photo gallery of Gaya Island jungle trail >>