Ok, you guess it right, now I blog about the last island on the list, Gaya Island. No sure why some people call it Gayana Island, it once made me confused, probably it got a Gayana Resort on it. FYI, boat to Gayana Resort is available daily at 8AM, 9.30AM, 11AM, 12.30PM, 3.15PM, 6PM, 7.30PM, 9.30PM and 11PM. Two-way fare costs RM15 (less than USD4) but subject to change.


Click Here to see the photo gallery of Gayana Resort >>
So I went to Gaya Island on last Monday. The resort is built on the sea water, which is clear and shallow. When you walk on the broadway, you can see many fishes, corals, seaweeds and other sea life such as sea cucumber and sea urchins… under your feet. Most visitors are there to stay, hang around, relax, and eat. Not many are doing watersport such as snorkelling, swimming, diving.. I find this place is less attractive for such activities, if compared with other islands.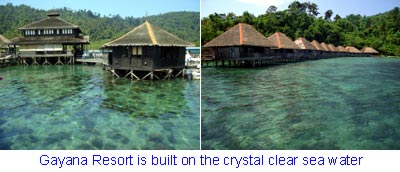 Click Here to see the photo gallery of Gayana Resort >>
I am poor so I can't afford to stay in the resort. But judging from its appearance and words of mouth, it should be good. Each house got a balcony, where you can sit, relax and watch the sea. I also like the wooden houses with atap roof, giving a touch of nature. Many couples like to stay here for a romantic vacation.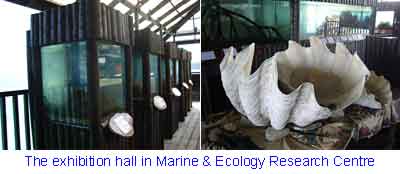 Click Here to see the photo gallery of Gayana Resort >>
There is also an exhibition hall (Marine & Ecology Research Centre) at far end of the resort. Many corals, clams, fishes and other sea life are displayed. The entrance is free for the resort guests. For Malaysian adult, it is RM5, non-Malaysians, RM10. Below is the opening hours info.
Opening Hours
Mon and Thu: 6PM – 8PM
Tue, Wed, Fri, Sat, Sun: 9AM – 12PM, 1PM – 4PM, 6PM – 8.30PM
(I was there in Monday morning, but they let me enter.)
Ya, ya, I know most of you, especially the locals, already knew what I mention above. I post the info just for fun and for foreigners to know more about Sabah islands. Do introduce my site to your friends overseas, please? I also create an interactive 360° panoramic view for you to explore the resort.


Click Here to see the photo gallery of Gayana Resort >>