Even though the Annual Regatta Lepa Festival in Semporna is over many months ago, I want to add more info to this most colorful cultural event of Sea Bajau people in Sabah's east coast. Lepa means "boat" in Sea Bajau dialect. I have blogged about lepa a few times, you may read my previous articles about regatta lepa festival 2005 and 2008.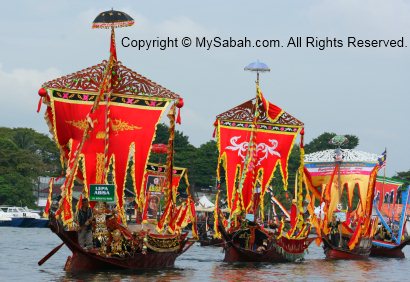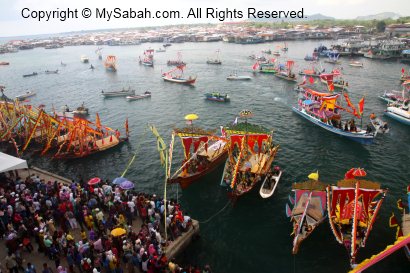 During the festival, Sea Bajau, also known as Sea Gypsies, will decorate their traditional lepa boats with colorful canvas and flags. And thousands of locals and tourists will flow into this small town, it is always so crowded that all hotels are fully booked.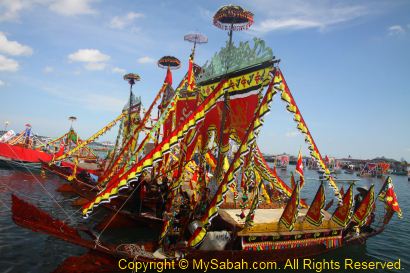 Hundred years ago, Sea Bajau spent most of their lives on lepa boats. They cooked, ate, slept, traveled and gave birth on-board. They only came to the shore to bury the dead, as they believe that they were cursed and not allowed to walk on dry land. Of course, thing is different today. Most Sea Bajau lives along the coast and work mainly as fishermen.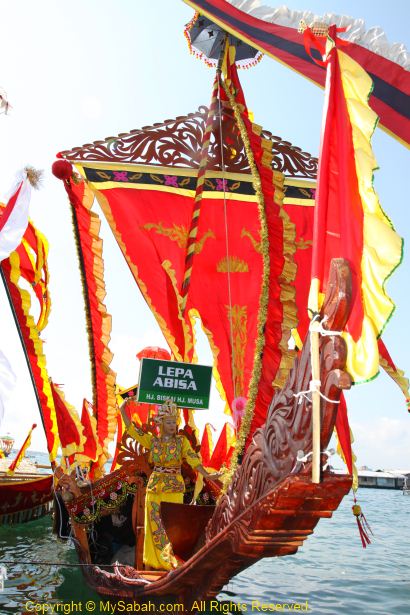 Hearing about their history, aren't you curious to take a look inside the lepa boat? The Sea Bajau people were using lepa to travel between Sabah, Philippines and Indonesia by sea.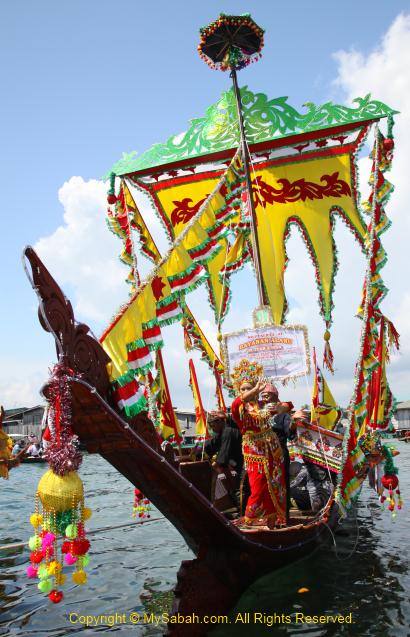 Still not interested to check it out? Hey, see what is waiting for you on the boat. It's a Sea Bajau dancer in beautiful traditional costumes.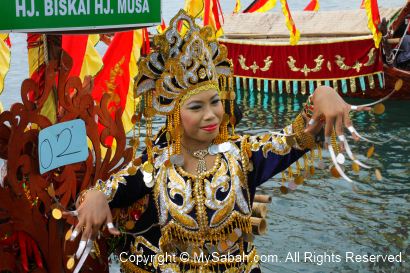 Besides long line of traditional lepa boats on display, one of the highlights of Regatta Lepa is that each boat has someone dancing on it and accompanied by loud music from drum, gong and kulintangan (idiophones). The dancer(s) can be a pretty girl, a child, a couple or even a family.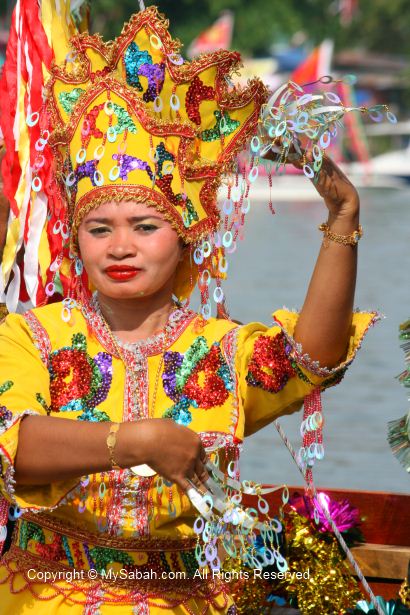 Though I have visited Regatta Lepa the 4th time, the scene is always eye-catching and I can't stop clicking shutter button.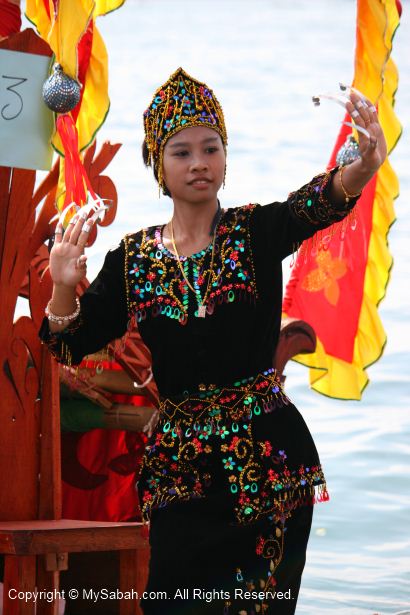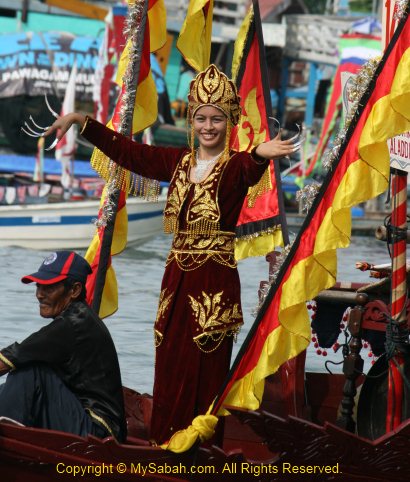 The dancers move and shake their fingers, hands, shoulder, wrist and feet gracefully, as they dance Igal-Igal. The dance is mesmerizing and it can be seductive (if the dancer intends to).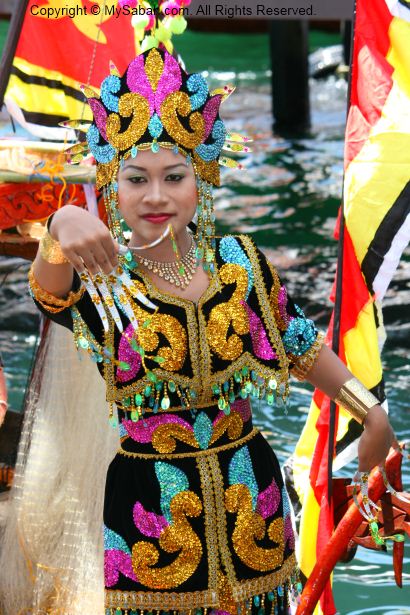 You will definitely notice the dancers wearing long metal fingernails, which is known as Janggay, a nail extension to emphasize the graceful movement of fingers. Janggay can be a simple cut-out from aluminum Milo tin. But I notice over the years the nails are getting more fashionable by having more colorful ornaments and shiny accessories on them.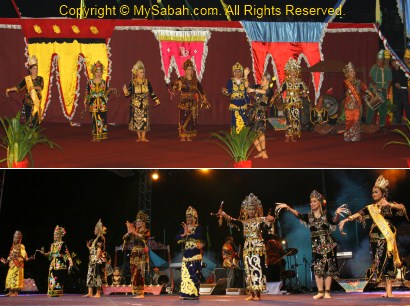 Every year this festival also holds Lepa Queen Beauty Pageant in Semporna town field (padang) at night. Usually I skipped this show because the field was so packed with people that I could hardly moved. Anyway, I paid a visit this year and got some photos. The contestants are judged based on their beauty, traditional costumes, dancing skill and IQ. Just click the link below to view the photos: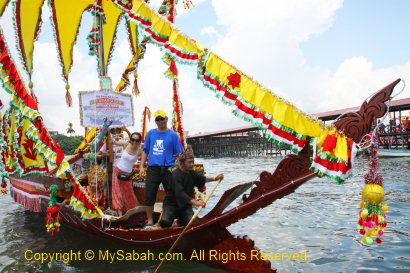 Don't forget to take a fun ride on lepa boat if you come to Regatta Lepa (usually in April of every year). It is something new and cost only MYR20 per person per trip.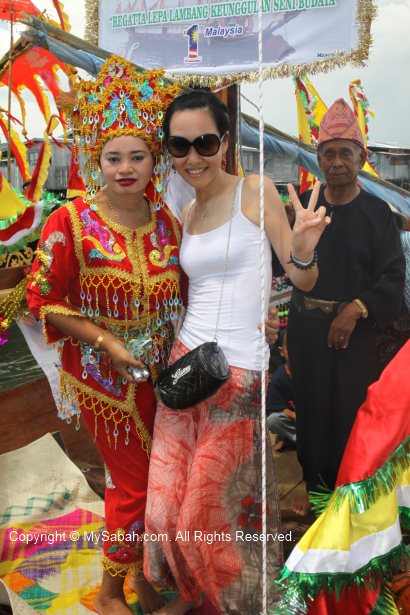 The best time to take the ride is in the morning, when the day is not too warm and everyone is full of energy. If you go in late afternoon, the lepa dancers may be taking a rest or leave earlier to prepare for beauty pageant.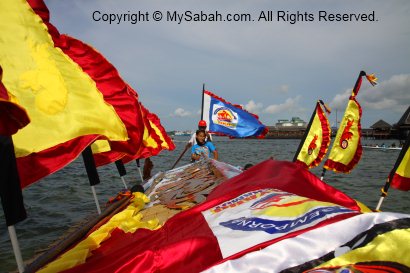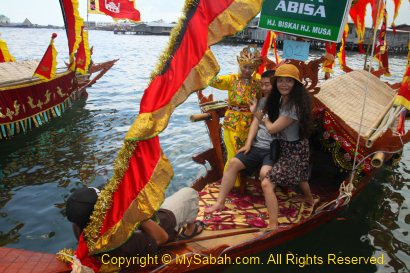 The lepa boat will take you for a 20-minutes trip on the sea. Every tourists come back with happy smile, a nice way to wrap up the whole lepa experience I guess. Do take a few photos for your album.
You may watch the following 30-sec video of Lepa fun ride:
More Photos
You may check out the photo album of Lepa fun ride for more nice pictures: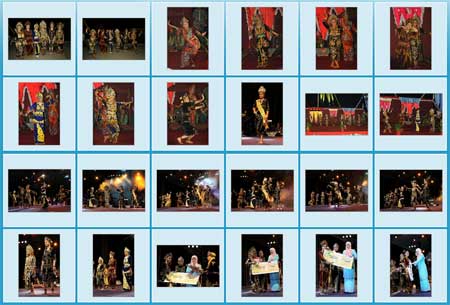 Related Posts:
Regatta Lepa 2005
Regatta Lepa 2006
Regatta Lepa 2008
Photos taken in Semporna, Sabah, Malaysia Borneo