Sabah Surfing Association is proud to announce the third instalment of Borneo Surf Festival. This yearly anticipated event is slated to be held on it's home ground venue at Nexus Resort & Spa Karambunai Kota Kinabalu for 2-days from Dec 17th through Dec 18th 2016 and is open to the public to attend. As with the previous years, this year the event promises an exhilarating surf competition open to local and international surfers alike.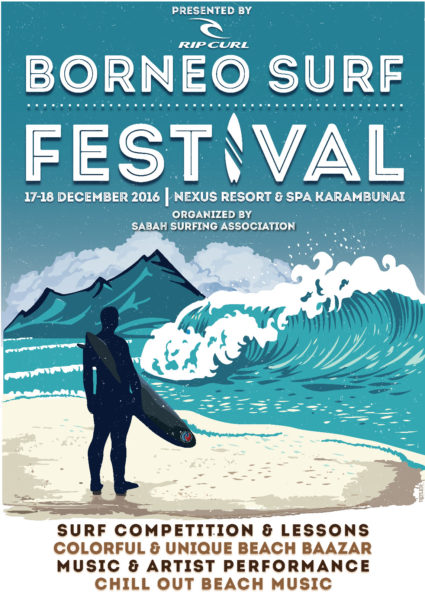 This year Borneo Surf Festival is presented by main sponsor Rip Curl alongside Happy Plugs and supported by The Ministry of Tourism and Culture, Tourism Malaysia and Sabah Tourism Board.
"We are extremely excited to partner with Rip Curl again this year and getting strong support from tourism agencies like MOTAC, Tourism Malaysia and Sabah Tourism Board. We are also delighted to have Happy Plugs to be a part of Borneo Surf Festival", says Ivan Tan, the president of Sabah Surfing Association.
This year will see the event being graced yet again by Rip Curl's PRO surfers from Bali after the success and overwhelming response from the previous event. They will be having a demonstration to impress the crowd with their surfing techniques and skills over Sabah's very own local waves.
Apart from the competition, the public can expect many fun and family oriented activities to be enjoyed with their family and friends at The Borneo Surf Festival. Among others is Tamu Pantai bazaar that offers varieties of local sourced products and services ranging from clothing, arts and crafts, food and drinks, self-pampering and family fun
activities.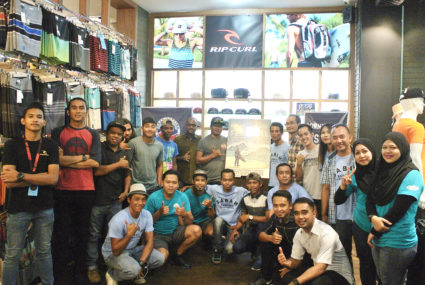 There will also be chill beach music performances by local talents throughout the 2 days event. Sabah Surfing Association is looking forward to a larger crowd this year seeing that there has been a healthy growth and awareness towards the local Sabah surfing scene locally and internationally fuelled by the recent acknowledgement and inclusion of surfing as part of the upcoming Olympic 2020 in Tokyo.
The Association also hope to be the catalyst to the potential of surfing a as a sustainable tourism product and growing Sabah as a surf touristic destination.
Facebook.com/BorneoSurfFestival
For more info contact:
Shafina Adly
Sabah Surfing Association Committee
Mobile: +60 12-3069977
E-mail: sshafina@gmail.com
Hastags: #BSF16 #BorneoSurfFestival #SabahSurfing