Wherever we go, we will leave our footprints behind. People who walk to the end of Gaya Street, the oldest street of Kota Kinabalu City (KK), would see a small double-storey white building, sitting awkwardly among the modern building around. This hundred-year-old building represents a trace of memory from British colony era. Currently it is the office of Sabah Tourism Board. You can say that it's the oldest office building of Sabah.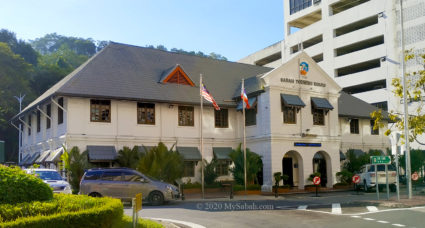 Built in 1916, this British colonial building survived bombing in World War II and is one of three pre-war structures that still remain in KK now. One story I heard is that the occupants removed the roof of this building, so it looked like a ruin and no longer targeted by bomber plane.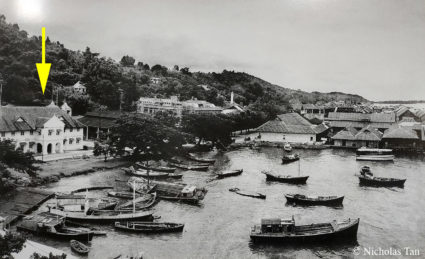 The reason it becomes a heritage building is more than age. Designed by JW Norman, Sabah Tourism building features a very formal axis with two arches at the facade at the front. The building was built of block stones, other than timber which was used more commonly in old day construction. All these make this historical building the best classic legacy that deserves preservation.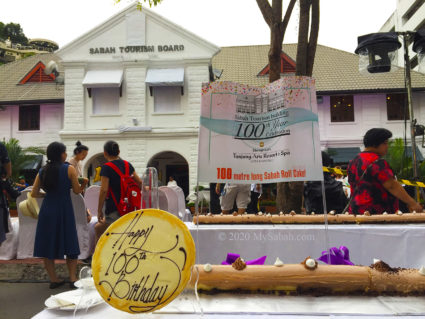 History
Sabah is ruled by British from 1880s to 1963. During British era, Sabah, Kota Kinabalu City (KK), and Gaya Street were called North Borneo, Jesselton and Bond Street respectively. Sabah Tourism building has been housing different government bodies. The following are some important timeline:
| | |
| --- | --- |
| 1916 | Construction starts |
| 1918 | Printing Office (British) moved in on 16 Mar |
| 1936 | Treasury, Audit, Bank Agency and Post Office |
| 1942-1945 | World War II |
| After WW2 | Posts and Telecommunications, Treasury, Audit, Town Board, Resident Office, District Office, Attorney General Office |
| 1950s | Jesselton Post Office |
| 1963 | Malaysia is formed |
| 1968 | Department of Posts and Telegraphs |
| 1968-1986 | KK Post Office |
| 1986 | Sabah Tourism Promotion Corporation (now Sabah Tourism Board) |
| 1988 | Gazetted as a historical building by Sabah Museum |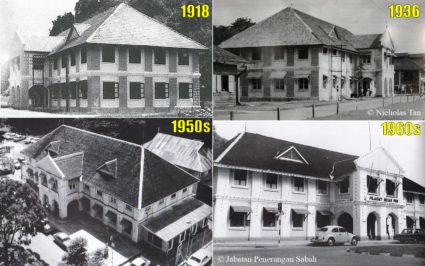 Some local elders still call this place "old post office". My dad used to queue there to buy First Day Cover for me, because only this (head) post office has the postal chop with special picture.
Here are something you might not know about this iconic landmark.
Tourist Assistants
Tourists can walk into this building to get some travel information. The tourist counter is right behind the glass door. The friendly tourist assistants there have many years of experience and are capable of answering most of your travel-related questions such as bus schedule, recommended itinerary and sighting of blooming rafflesia. They can speak English and Malaysia languages, even Chinese if one is on duty.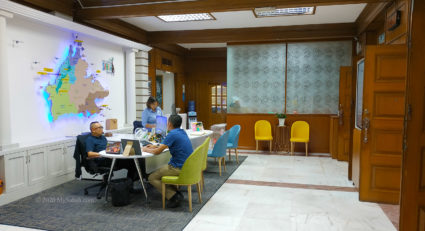 Want to meet them huh? Below is the contact:
Address: No. 51, Jalan Gaya, 88000 Kota Kinabalu, Sabah, Malaysia.
GPS: 5.985459, 116.078119 (See Location Map or Street View)
Tel: ?60 88-212121
E-mail: info@sabahtourism.com
Website: www.sabahtourism.com
Opening Hours
Mon-Fri: 8am – 5pm
Sat, Sun, Public Holiday: 9am – 4pm
Even if the office closes, you still can ask questions via their e-mail or social media such as Facebook, Twitter and even Weibo. They will get back to you fairly quick. Please note they are government agency and not a tour company, so they don't sell any tour package or accommodation, but they can give you some recommendation and travel advices.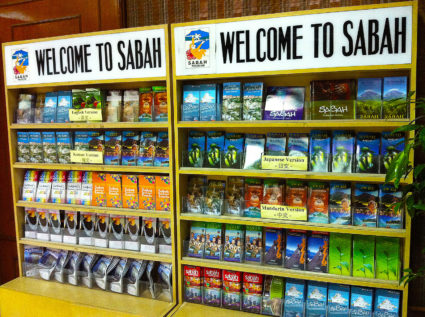 In the lobby is a brochure rack full of free tour brochures for you to take. The most useful ones are Kota Kinabalu street map and Sabah brochures (some available in Chinese, Japanese, and Korean languages, also can be downloaded.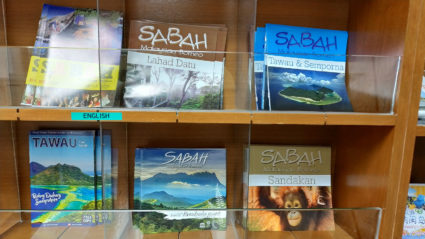 Zero Kilometre (0 KM)
In front of Sabah Tourism building got a bronze plaque known as "Kilometre Zero" engraved in granite. 0 KM is a starting point to measure the distance between Kota Kinabalu City and other places. Such marker is usually installed in post office because postmen need to know the exact distances to towns or villages where they deliver the letters to.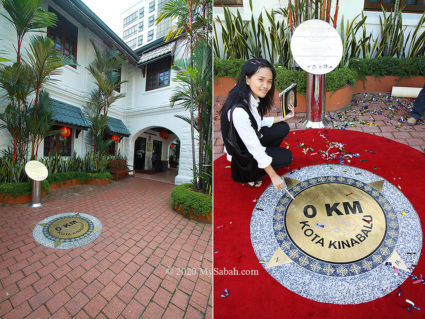 Look closer to the plaque you will see illustration of Mount Kinabalu on top, the city's official flower, the Borneo Orchid, and an ancient motif of the Murut people, called Nantapuan, meaning a meeting place, and four cardinal points. Sometimes wedding couples take photos on this spot to mark the start of their new life journey.
Free Walking Tour
Visit Sabah the first time and interested in learning the history of Kota Kinabalu City (KK)? You can sign up for a 2-hour free walking tour, which is held every Tuesday, Thursday and Saturday at 9am. The walk starts at 0 KM of this building.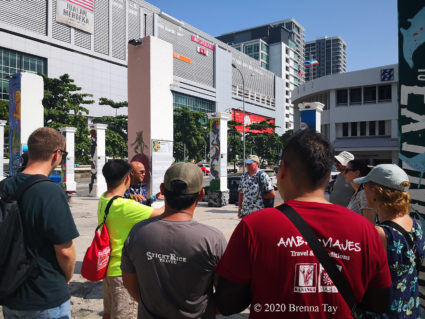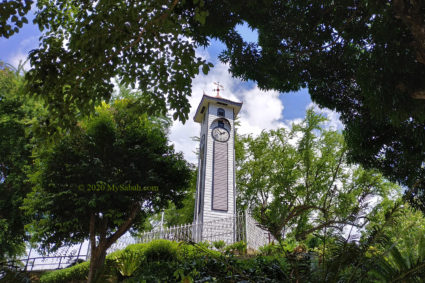 A professional tour guide appointed by Sabah Tourism will show you around the city to visit some interesting landmarks and building such as the hundred-year-old Atkinson clock tower, former Land & Survey Building (now street art graffiti site) and Signal Hill.
Events
There are two days Sabah Tourism building shines every year (check out their calendar for exact date).
Lampoopalooza: largest outdoor colourful lights projection on this building, and celebration with music, food and street party. The next one will be on 27 March 2020 evening
Christmas Tree Lighting: held in early or mid December, with Christmas song and dance performance, food trucks and lighting up of big Christmas tree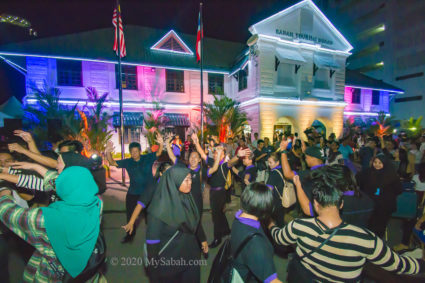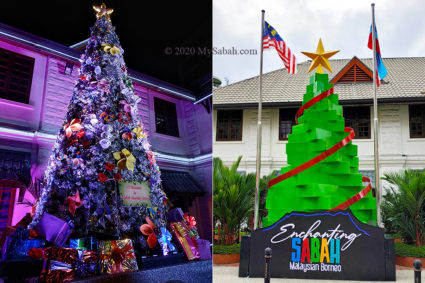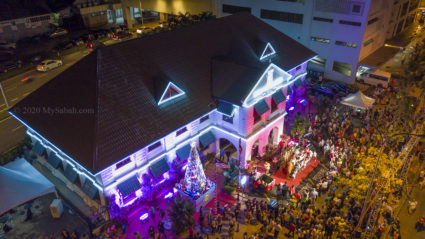 Lastly, just for your information, there is a public toilet next to Sabah Tourism building. It is open from 7am to 5pm. Cost only MYR0.30 per entry.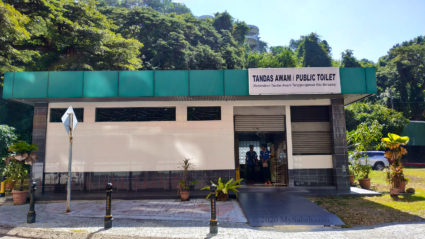 Photos taken in Kota Kinabalu City, Sabah, Malaysia Borneo