Do you fancy a holiday in Borneo rainforest? The top choice is to stay in Danum Valley of Sabah, which is located inside a 130-million-year-old virgin rainforest. The world famous Borneo Rainforest Lodge is a high-end resort in Danum Valley, luxurious accommodation but comes with 5-star price. Kawag Danum Rainforest Lodge nearby offers the similar nature experience at a budget price and is considered as the second best choice.
About Kawag Danum Rainforest Lodge (KDRL)
Built in 2014, Kawag Danum Rainforest Lodge is a jungle lodge located in the buffer zone (edge) of the Danum Valley Conservation Area and part of 242,000-ha Ulu Segama Malua Forest Reserve (classified as Fully Protected Forest).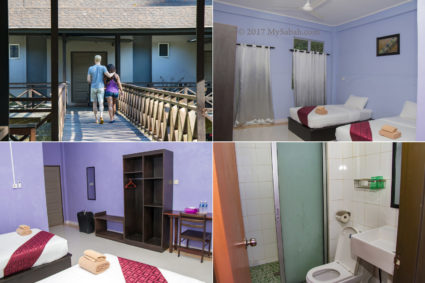 KDRL offers basic but comfortable chalet style accommodation and has 10 standard rooms (fan) and 10 deluxe rooms (air-conditioning) for tourists. 24-hour electricity is available in the lodge.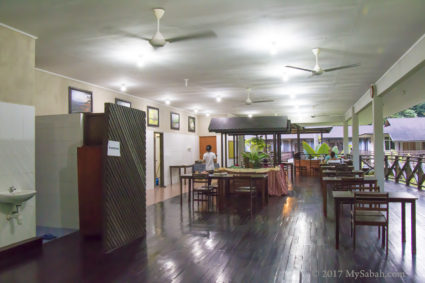 Kawag means cursed place. Locals believe that the forest there is resided by Bunian people, the elf-like supernatural beings usually live in remote forest or mountain. People who went there would have weird dream or gone missing. Don't worry. Nowadays Kawag is a tourist-friendly destination.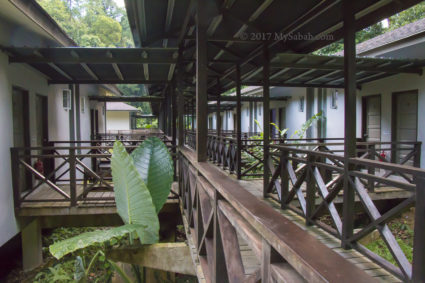 One of Kawag's highlight is good chance of seeing the highly endangered Bornean pygmy elephants. I saw a herd of them at the roadside while I was on the way to KDRL. When our van approached, the adult elephants formed a defensive circle with the calf in centre. Too bad I didn't see any orangutan, which said to be abundant in Malua forest.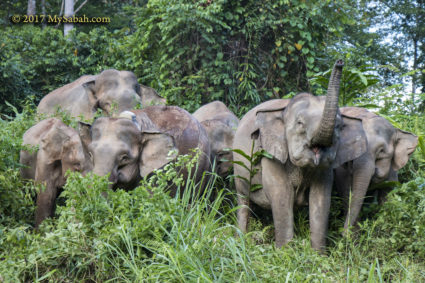 During my stay I saw a wild bearded boar named Rudy foraged around the lodge, and a Malay civet hunted insects attracted by the light. Everything there reminds visitors that they are in the wild.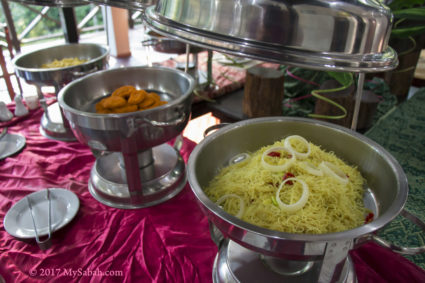 Nature-Based Activities
Though this lodge is surrounded by secondary forest, the forest is regenerated well and thick enough to house rich variety of flora and fauna. Kawag rainforest is characterised by younger trees and denser undergrowth but have almost everything a typical primary rainforest offers.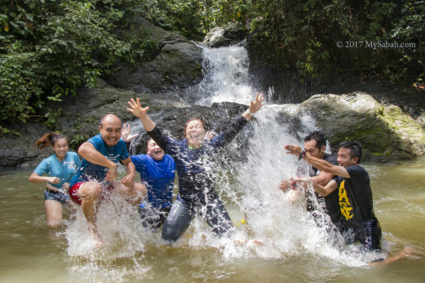 Therefore, you can have fun with many nature adventures such as jungle trekking, night safari, bird watching and river tubing, to fully experience the jungle. I really enjoyed my 3 days 2 night stay with KDRL. Thanks to their in-house guides, Mr. Donny and Ms Hana, for sharing the interesting stories of every animal and plant in Kawag.
1. Exploring Jungle
Birds and wildlife are thriving in Kawag. In day one, after lunch at the lodge, we went for a short guided walk at 3pm on the Kawag trail. We looked at the biggest tree in Kawag, which is a 80 to 100 years old Seraya tree (species: Shorea johorensis), a popular timber.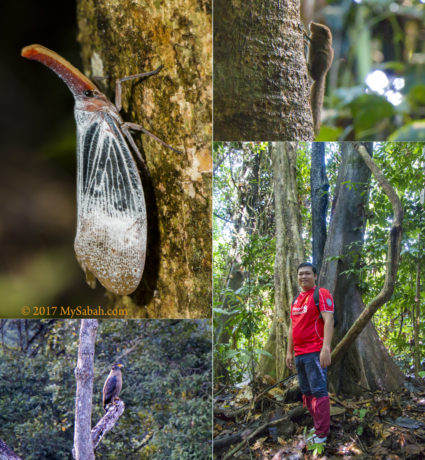 Then we found a 3-in-1 trees, i.e. Kayu Malam, Seraya and Jati trees grow like they are hugging one another. The guide showed us a Bayur tree that produces salty sap, which was once used by villagers for cooking during the World War II, salt was scarce that period because Japanese seized from them. Sometimes deer chews the bark for salt supplement (a behavior called Salt Lick).
Locally known as Belian (means Diamond in local language), Borneo ironwood is one of the hardest and most valuable timbers. There is one that stands over 120 years in Kawag.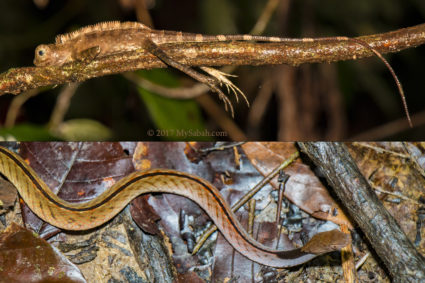 Iconic Borneo wildlife such as gibbon, elephants, banteng (wild cattle), orangutan, deer and leopard cat have been sighted on the Kawag trail.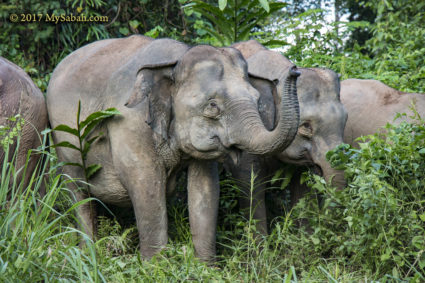 During my two hiking, I spotted Trogon bird, Black & Yellow Broadbill, pygmy squirrel, giant orchid, Goshen Hawk, Barbler, and long tailed macaques. We also heard Great Argus not far away.
My friend in front bumped into an albino mouse deer (Kancil) before it ran away. Too bad I missed it. I was told that a limestone cave next to the trail has white bat. I didn't see it but found some white tractor millipedes. This added more sense of mystery to this forest.
After dinner, we climbed up to the back of a pick-up truck for a night safari tour. The car drove slowly along the road. The guide used spotlight to scan the forest and bushes at roadside for nocturnal animals. It's a very relaxing activity, we enjoyed the breeze and amazed by blue and green light fireflies pass-by occasionally.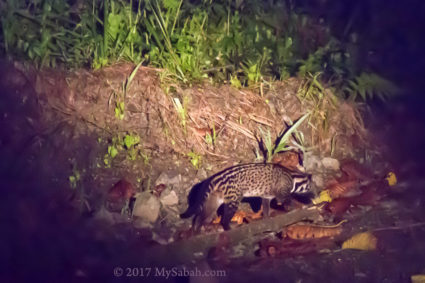 Our guide did the hardwork of searching and found us sleeping Prinia, Ashy Tailor bird, flying Colugo, slow loris, etc. The jackpot is western tarsier, an odd looking small primate which has eyes bigger than its brain, and can turn its head almost 360 degrees. No wonder locals call it Ghost Monkey.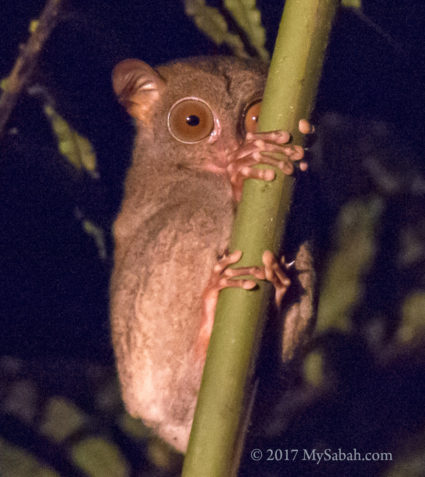 The next morning, we walked to the higher ground to see sunrise shined over the misty forest. The trail condition of Kawag is ok overall, but a bit slippery after rain. And always watch out for leeches and fire ants.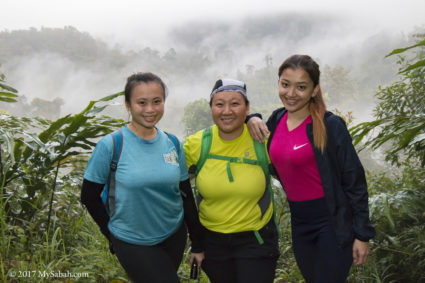 2. Bird Watching
In the morning you can walk to a 15-Meter-high observatory tower near the lodge. From the top, I saw Bornean Forktail, Serpeant Eagle and leaf bird, and heard loud morning call of Gibbon.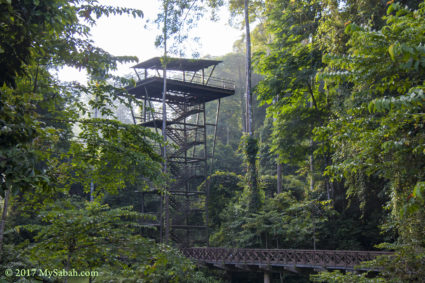 Based on a Bird Survey 2015 in Kawag Forest Scientific Expedition, over 100 species of birds can be found here. Just to list some cool ones, Great Argus, Scarlet-rumped trogon, fish owl, babbler, White-Crowned Shama, green leaf bird, black and red broadbill, sunbird, bulbul, crested hawk, oriental darter, oriole, and hornbill. 5 species of Pitta, the most colorful birds of Borneo, can be spotted in Kawag.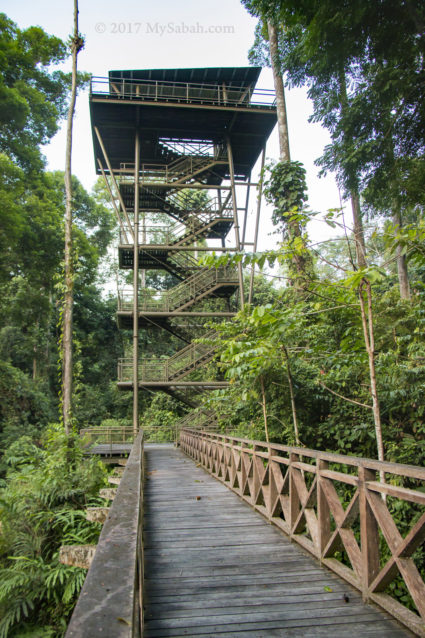 Jason, my professional bird guide friend found Raptors, Hornbills, migratory Dark-sided Flycatcher, and Large Frogmouth in Kawag. You may check out his birdwatching blog.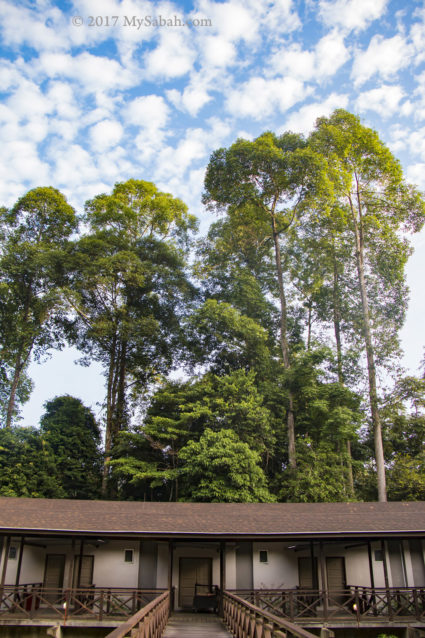 If you are interested in bugs too, you would be happy to see Mantidfly, Hornet / wasp like praying mantis, strange looking goat moth, Rajah Brooke's birdwing butterfly, endemic Borneo damselfly, and lantern bug. (Thanks Dr Arthur for the info)
3. Ali Baba Waterfall
Borneo forest is a warm and humid place, so a bath at their Ali Baba Waterfall is very welcomed. The 2.4-Kilometre walk to this waterfall takes about 1.5 hours.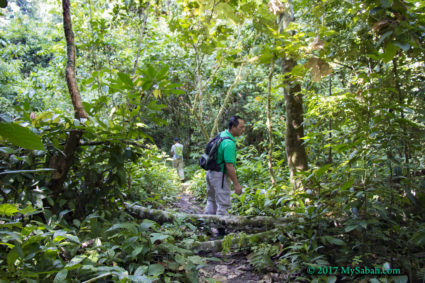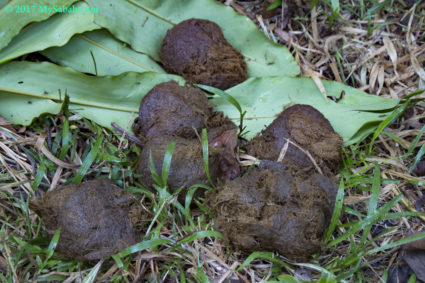 We saw some fresh elephant dung along the trail. The trail was quite flat so it didn't take much effort to reach Ali Baba Waterfall.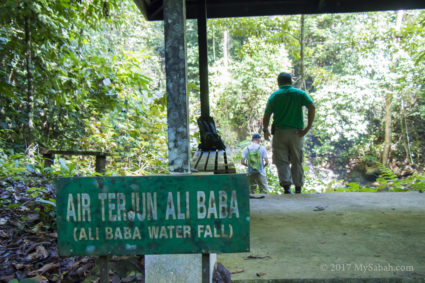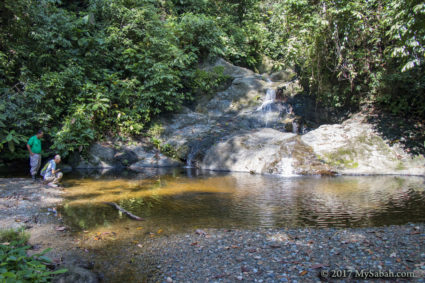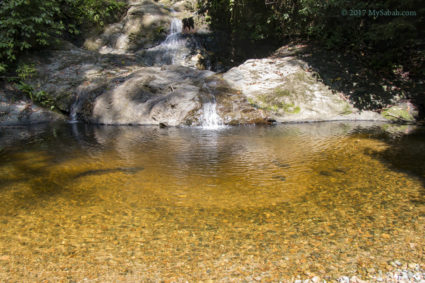 It's dry season so this waterfall pond wasn't deep for a swim but good enough for a dip. Do you know gold can be found in river of Danum Valley? I tried to see through the clear water hoping to find a gold nugget or two. The water appears golden color because of natural tannin from the plant rot in water.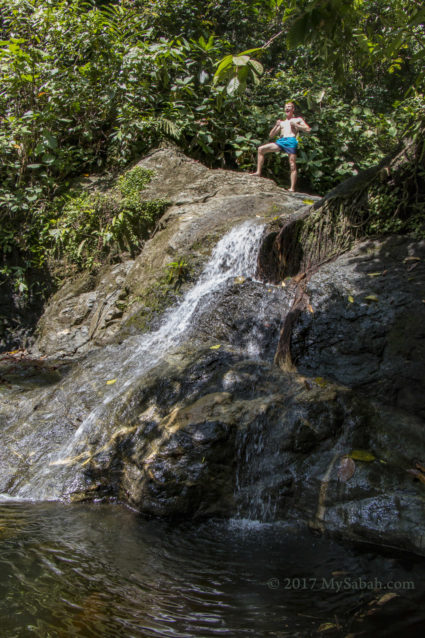 With me was a friendly European couple. The guy stood in the water and started giggling hysterically. Thinking that he found gold, I walked closer and found that he was actually excited with the small fishes nibbling his feet like giving a fish massage.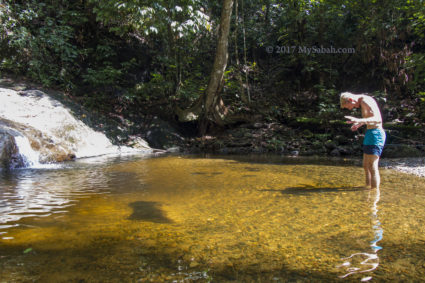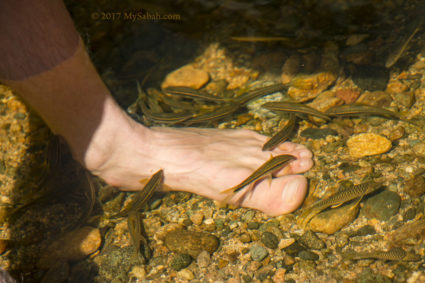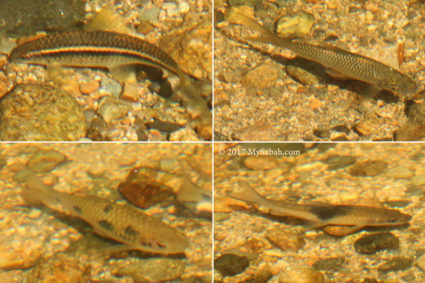 We climbed up the cascading waterfall and saw two more waterfall ponds. One of them is 4 Meters deep. The handsome man is keen to be my model to play Tarzan in my photos. Thank you friend.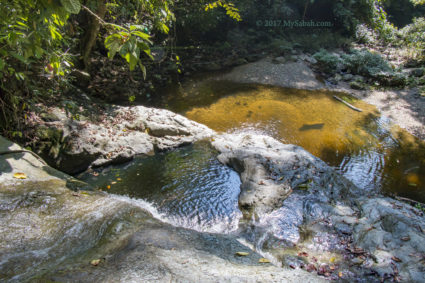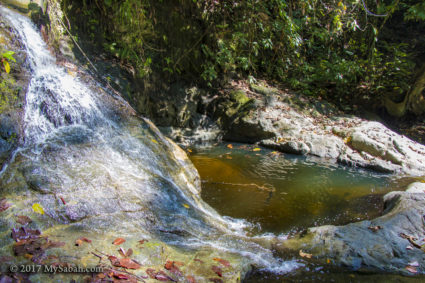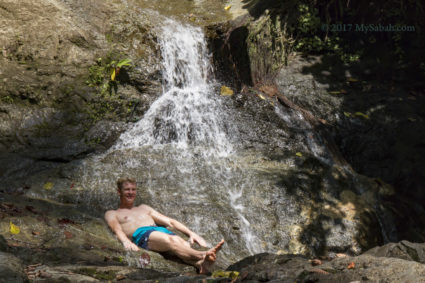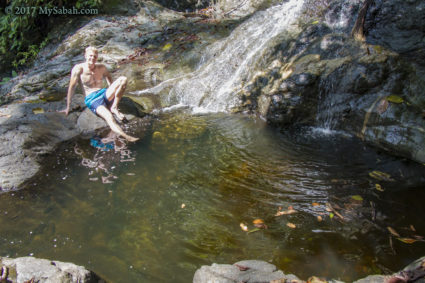 How to get there
KDRL is located in Lahad Datu district, east coast of Sabah, Malaysia. No walk-in tourist to the lodge allowed. Without a permit for you and your vehicle, you will be blocked from entering this protected forest. You must book the accommodation with the operator Borneo Refugia in advance. Below is contact information and more details for you to find out more:
Tel: +60 88-267637 (Kota Kinabalu office), +60 89-862451 (Lahad Datu)
E-mail: info@borneorefugia.com, ann.neogia@gmail.com
Facebook: Kawagdanumrainforest
Website: borneorefugia.com
GPS Coordinates: 5.049416, 117.972651 (see Location Map)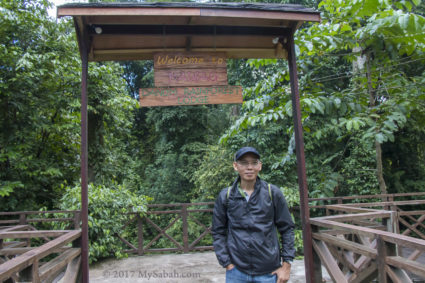 A 3-day-2-night full board tour package costs around MYR2,000 per person (about USD480), which includes accommodation, return transfer (between Lahad Datu Airport and KDRL), meals, guiding service, and permit. Check their Facebook before booking, sometimes they have deep discount promotion.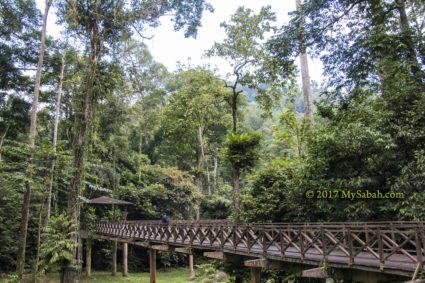 They will pick you up at Lahad Datu airport, and drive 1 hour 45 minutes on 52-Kilometre gravel road to the lodge. You need to get your own flight ticket (from Kota Kinabalu to Lahad Datu) via MASwings airlines, which is available every day.
Things to Bring
Clothing, towel, toiletries, swimwear, anti-leech socks, raincoat / poncho, insect repellent, hiking shoes, flashlight, sandal / slipper, backpack, camera, phone and power bank.
Photos taken in Lahad Datu, Sabah, Malaysia Borneo