From 1888 to 1963, Sabah (then North Borneo) was colonized by British empire, as part of their economy plan to build a kingdom that never sleeps. The construction of railway in 1896 is a major development that transformed the wild West Coast of Sabah into a belt of prosperity.

Having more productive lands means earning more wealth, the 134-kilometre Borneo railway helps to open up more lands and forms the lifeline of west coast. Cargo after cargo of tobacco, rubber, paddy, coffee, timber and other agricultural products were transported from the fertile inland to the harbour of Jesselton (now Kota Kinabalu City or KK). Colonial townships such as Kinarut, Papar, Beaufort and Tenom also sprouted up along the railway.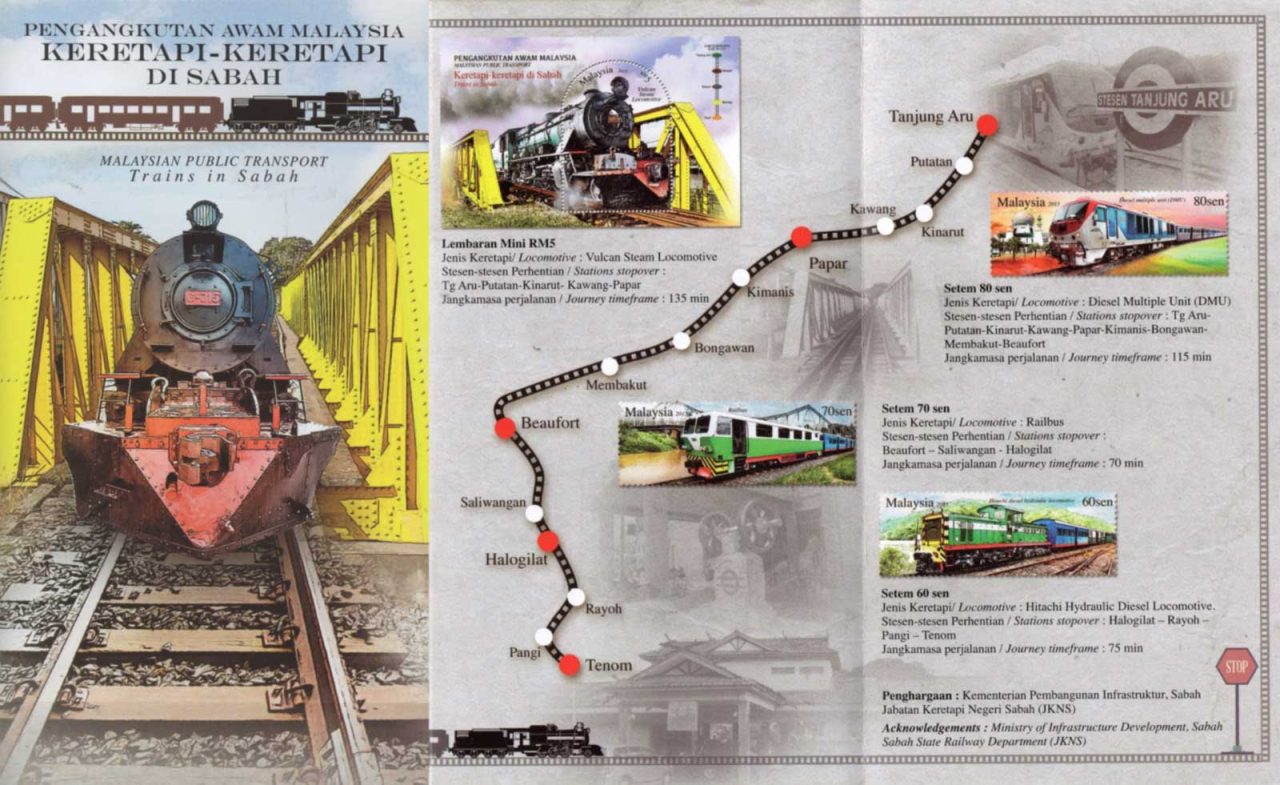 The success of the tobacco industry between 1880 and early 1890 created a high demand for land, so was the rubber bloom in early 1900s. Thousands of China immigrants were imported into North Borneo in early 19th century to construct the railway and to farm on the new lands. North Borneo Railway has been operating until today and still remain as the only railway on Borneo island.

Though it's renamed to Sabah State Railway after the formation of Malaysia, locals always view it as a legacy of British. Our great grandparent generations always have a lot of stories to share about the locomotive steamer, which holds a special place in their hearts. Indeed, North Borneo railway is a memory lane with history that involves Bruneians, British, Japanese, Australians and forebears of Sabah Chinese.

"It is a well known fact that wherever the British went, they planted flowering trees as well as built railway lines." — Chung Mui Kong, "Little Snapshots"
North Borneo Train Tour
Though Sabah's railway towns are quiet and peaceful places nowadays, they were flourishing and eventful towns in the past. The North Borneo Train Tour is like a time machine trip that brings you back to these places full of stories, some with tears and blood. The locals can join this nostalgia and fun ride to learn the past.

If you haven't been on a train ride, it's a must-try (do bring your kids). The half-day tour starts at 8am at Tanjung Aru train station. Before boarding you will enjoy some Sabah coffee and light refreshment. Professional tour guide(s) will join you onboard as the storytellers who connect you to the happening along the railway.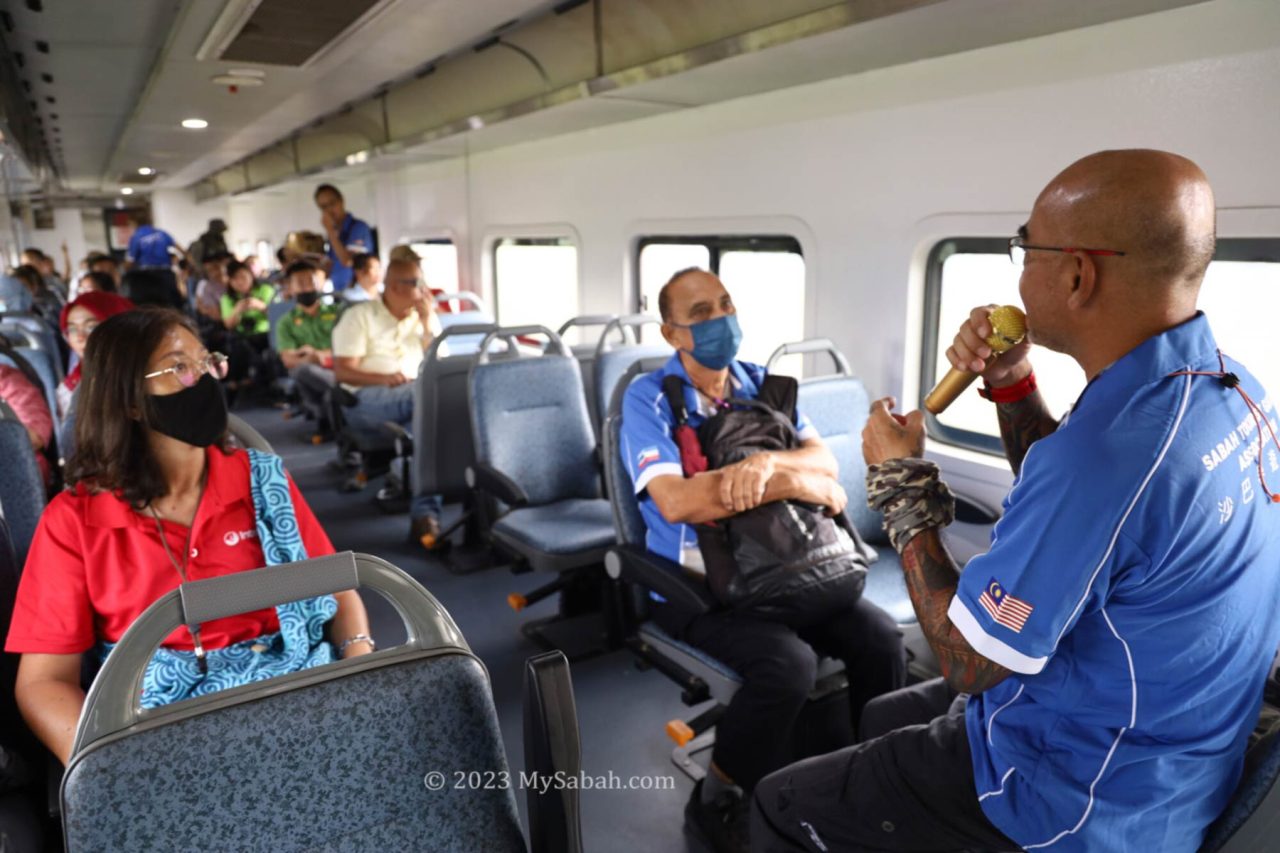 The passenger carriages are air-conditioned with comfortable seats. You can enjoy the scenic countryside view through the glass window. In old days, the passengers would not wear white shirt because it would be smeared by ashes from steam engine that was powered by burning firewood. The following are some interesting landmarks and major happening being shared.
"If history were taught in the form of stories, it would never be forgotten." — Rudyard Kipling
Petagas
The Kota Kinabalu International Airport (KKIA) would be the first landmark that catches your attention. KKIA receives million of visitors every year and it is the busiest airport on Borneo island. Over 90% of tourists come to Sabah by air.

Opposite to KKIA is Petagas War Memorial Garden with temple-like white arch. In 1944 during World War II, a group of 176 Kinabalu guerilla members launched Double-Tenth Revolt to fight Japanese for control over Jesselton. Unfortunately, their victory didn't sustain, and they were captured and transferred by this railway to this memorial site to be executed on 21 Jan 1944.
Kinarut
The name Kinarut derived from the words 'China Road'. From the train, you can see the large Tien Nam Shi Toaism Temple (镇南寺) that worships Guang Ze Zun Wang (广泽尊王). Chinese immigrants didn't have an easy life in Borneo. In some estates, their mortality rate could reach 40% due to ill treatment and poor living environment. Religion would offer them some comfort.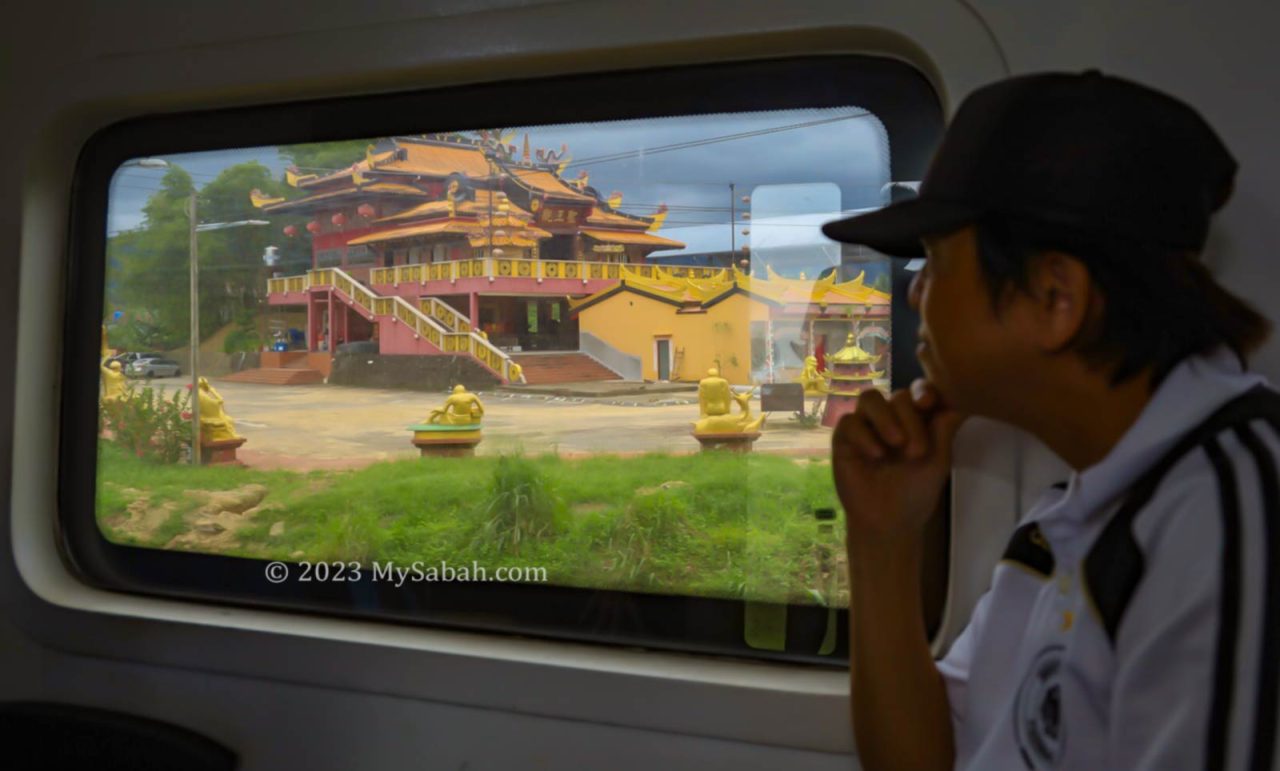 From Kinarut, you will start to see more old wooden shoplots. Most residents are Kadazan, Dusun, Bajau, Bruneian Malay and Chinese, they constitute the main coastal tribes on the west coast of Sabah.

Kinarut is like a nobody town today but it was once an important base of Brunei Kingdom. In the late 17th century, due to civil war, Sultan Abdul Hakkul Mubin fled to Sabah and built a base in Kinarut. He remained there for ten years as the Sultan of Kinarut, and with the help from local Bajau and Dusun people, he managed to counter several attacks from Sultan Muhyiddin. The remains of his fort still can be seen in Kinarut river during low tide.
Kawang
In 1885, a group of British officials were on a hunt to search for a Murut chief called Kandurong. At that time, Kinarut was still under the Brunei sultanate, and there were tensions between the British officials and Kawang villagers.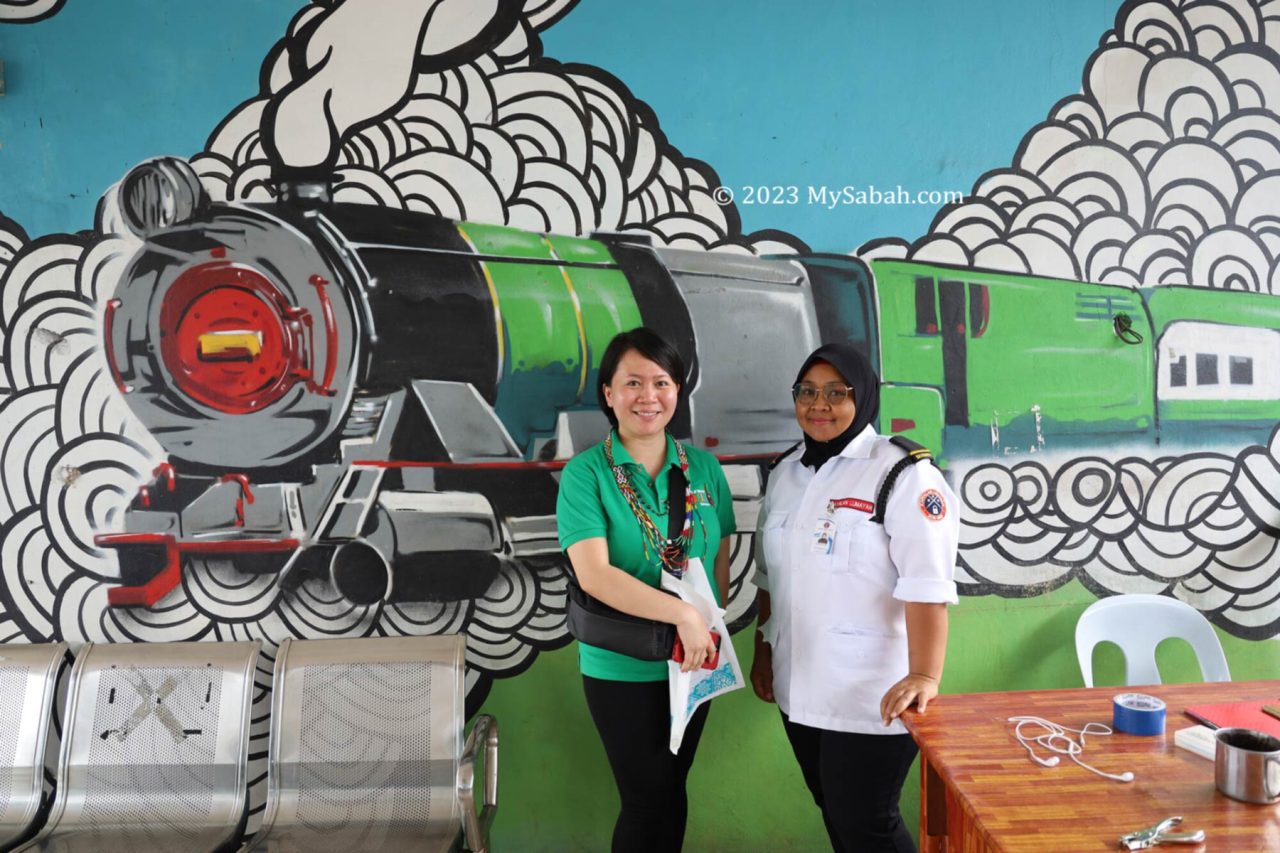 They were ambushed and attacked by the local Bajau villagers. Five members of the police force lost their lives, which included Captain de Fontaine, Dr Fraser, Jemadhar Asa Singh and two Sikh officers. The De Fontaine Monument was elected in Kawang as a remembrance of this incident.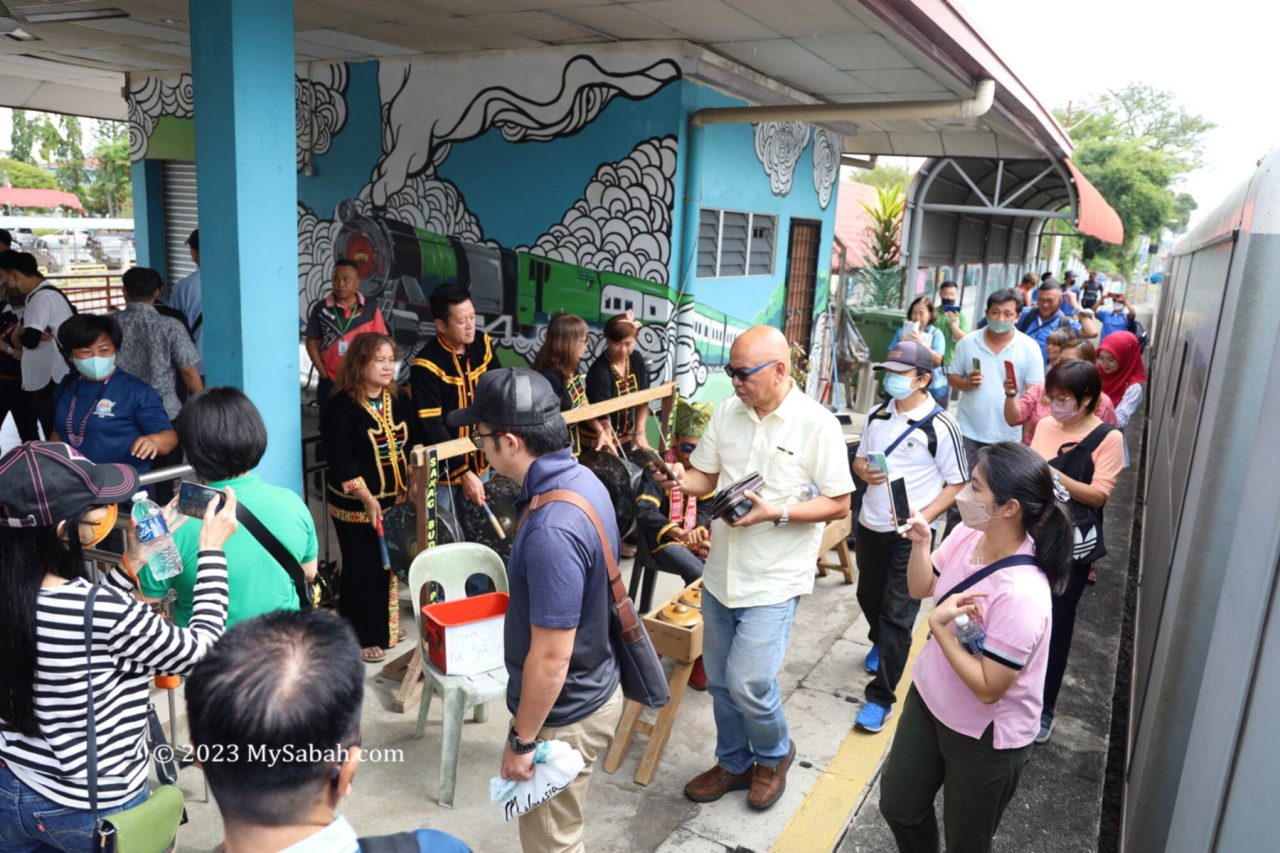 Papar
The final stop of this train tour is Papar town, which is one of the oldest settlement and the most multi-racial town of Sabah's West Coast. The name Papar is derived from the Brunei word meaning flat and sloping land. Papar was used to be the rice bowl of Sabah. Before British came, it's a slave trade centre.

You know you have arrived Papar town when you see the yellow steel-concrete bridge that crosses a wide river. Under the welcoming music from local Kadazan Papar people, everyone can walk out of the train to breathe some fresh air in Papar town, where you will have lunch before heading back to KK on the same train.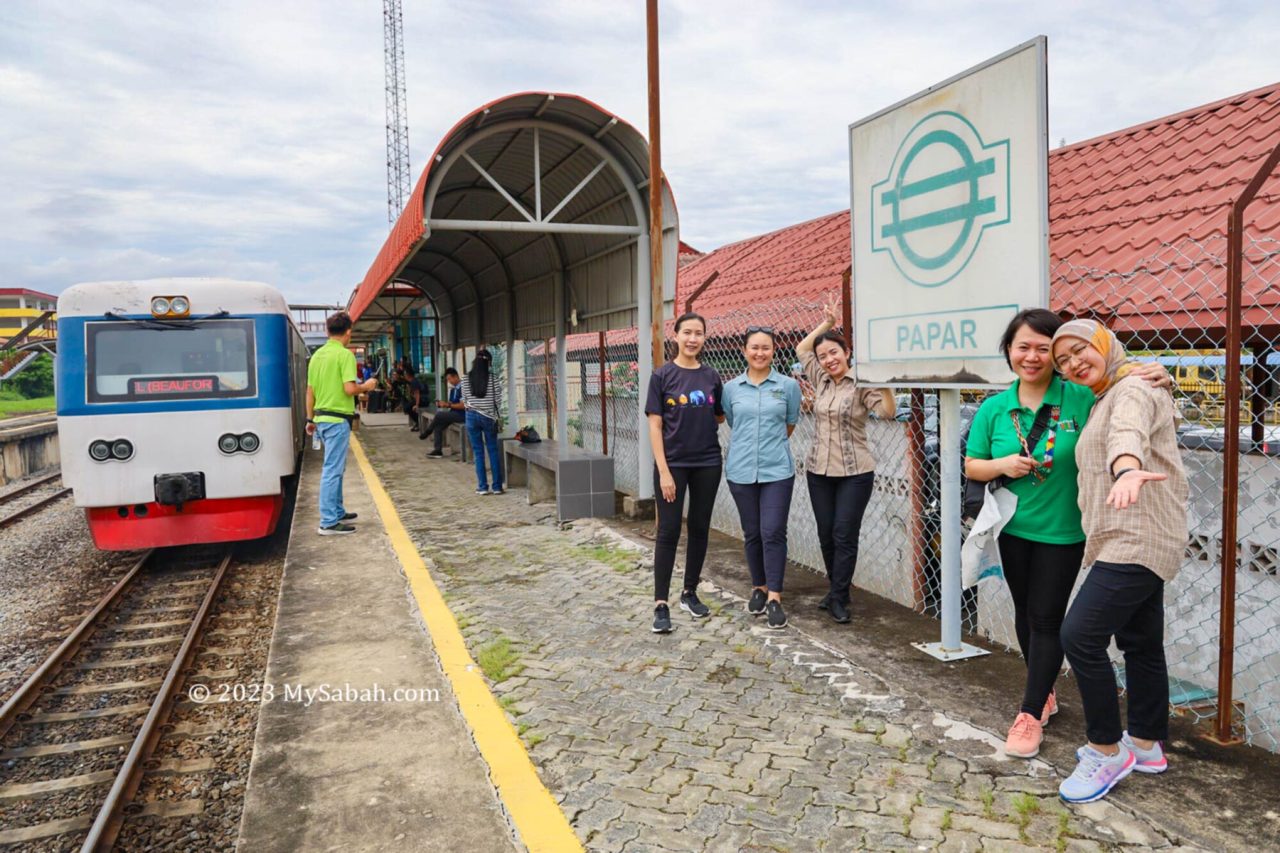 Your tour guide will lead you on the sightseeing. The most fun part is to explore the local market. If the tour is on Thursday, the weekly tamu market would turn this peaceful town into a busy marketplace, where you can shop for variety of local produces, snacks, food and fruits. I can assure you that you would not want to leave with empty hand or stomach.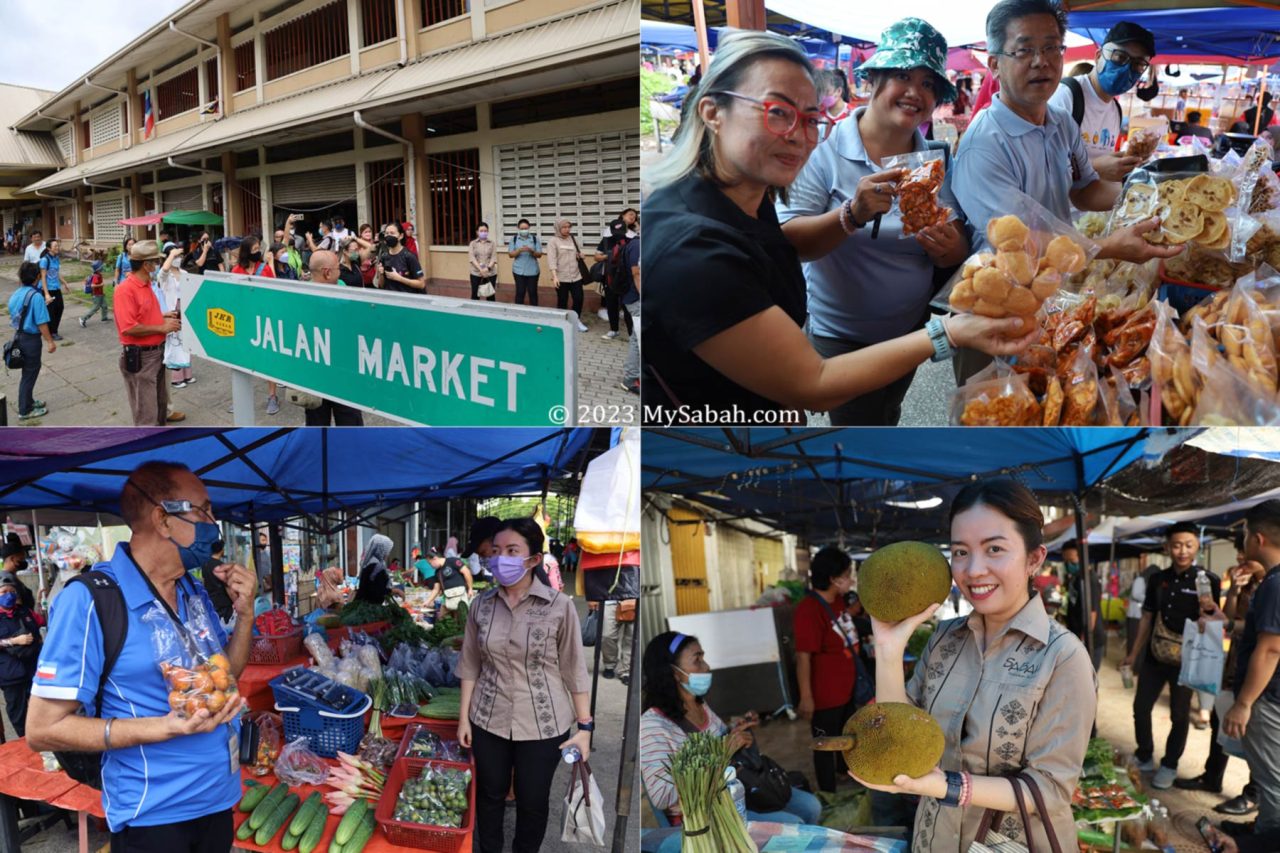 The post-war shophouses are another historical heritage of Papar. The typical shophouses consists of one or two rows, either linked or individual structures spread along a linear arrangement. Some are still using traditional bamboo blinds and signboards from 60s and 70s.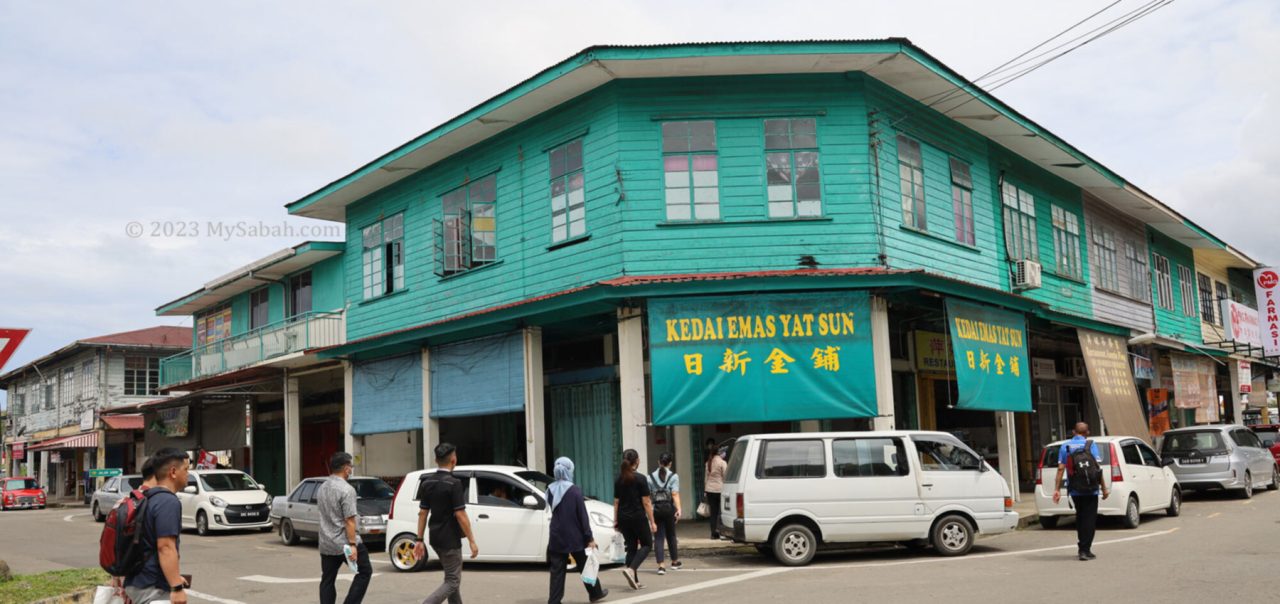 The shophouses are mostly occupied by Chinese settlers. The shops are in ground floor, and the families live on upper floor. You just have to be there to feel the retro vibes. Just grab your coffee or lunch at one of the kopitiam (coffee shop) there. Personally I recommend Liang Yung Hua Restaurant (梁荣华饭店), a Chinese restaurant more than 80 years old.

After a delightful lunch and sightseeing in Papar town, you will head back to KK train station. For Sabahans, this historical tour will give you a fresh look into your local history, you will never look at these places the same way again.

Join the Tour
North Borneo train tour is available every day except Sunday. Besides this tour, the agent also organizes train trip to Beaufort and Tenom. Tour guides speaking in English, Chinese or Malay are available.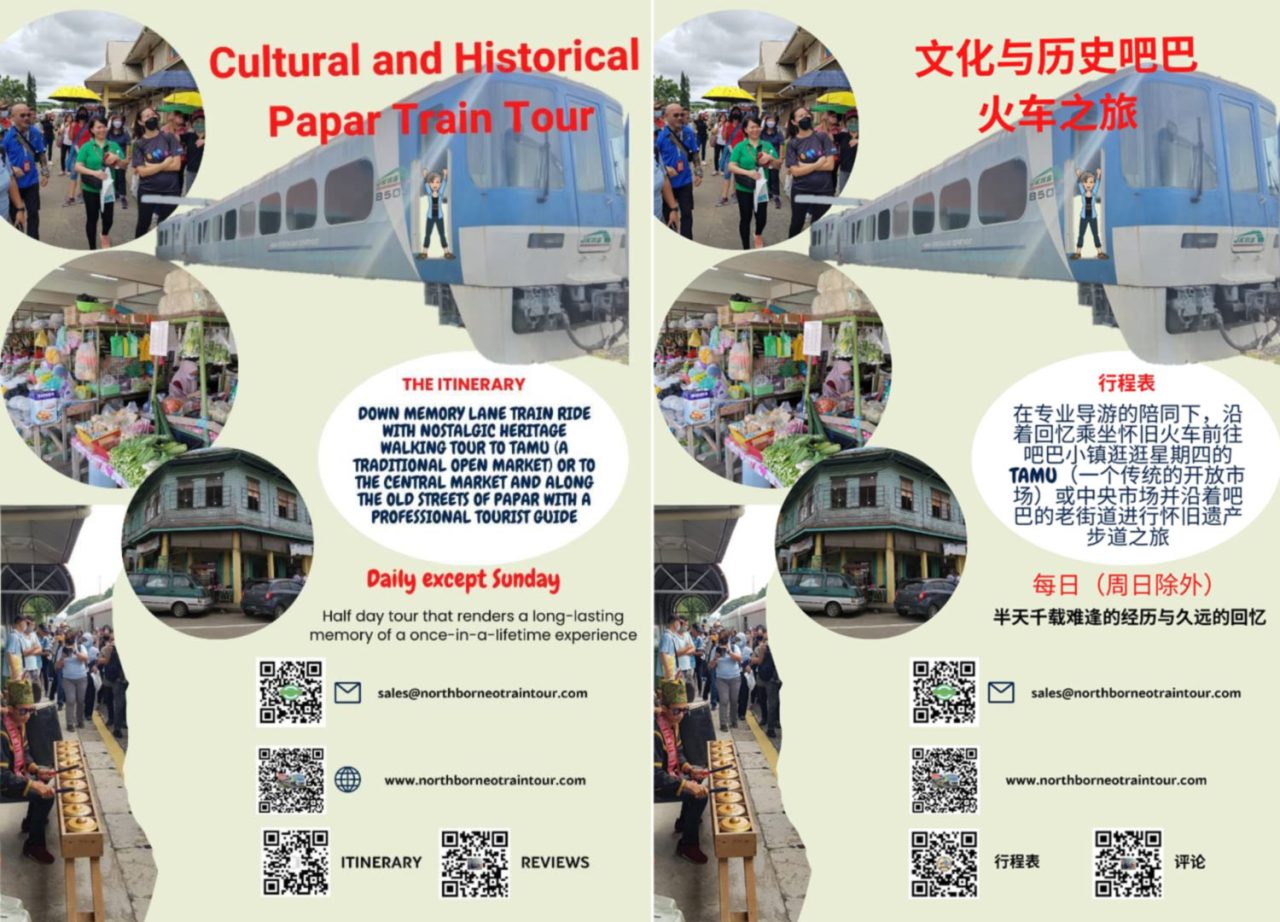 To book a North Borneo train tour, you may contact or follow the agent via the following channels:
Website: northborneotraintour.com
Facebook: North-Borneo-Train-Tour
Phone (Whatsapp): +60 12-8028824
E-mail: sales@northborneotraintour.com
Photos taken in Sabah, Malaysia Borneo