I like to explore places that few people know. One of them is Kawang Forest Reserve, which is about 23 KM away from Kota Kinabalu city, somewhere between Papar and KK. It is quite easy to get there. See the picture and description below:


1. If you drive from Kota Kinabalu International Airport (KKIA) to Lok Kawi, you will reach a traffic light, one is turn right to go to Kinarut town, another is going straight to Papar (old road to Papar). Go Straight.
2. Within a minute, you will see a junction, one to Penampang (left), one to Papar (right). Turn right to go to Papar.
3. After 5 minutes of driving, you will passby a bridge above "Sungai Kawang" (river name). A few hundreds metres later, you will see the Kawang forest signboard at your left side. Turn in and follow a cement road for another 3 minutes.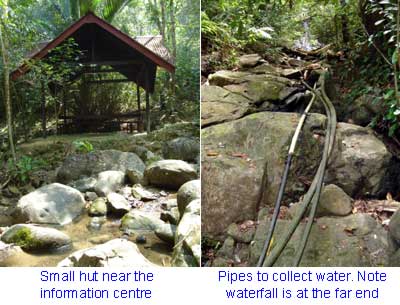 Click Here to see more photos of Kawang Forest >>
Once you arrive, you will see a building, which is a Information Centre, with bit of exhibition and information about this forest reserve. Behind is a garden that has huts, man-made ponds, stream, toilets and chalets. It was so quiet coz I was the only visitor. I doubt if they have more than 100 visitor a year (judge from the surprise expression "how you find this place?" of their workers there). Based on the description of the workers there, they have camping area and 2 chalets (room with 4 beds) for you to overnight, cost about RM70 per small group per day. The entrance is free.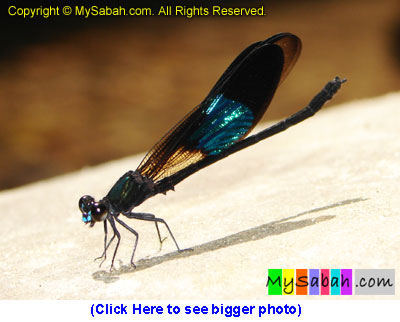 Before I went into the Kawang Forest, I walked around in their garden. I saw about 10 dragonflies, on the rocks at the stream. Their wings have reflective and metallic pattern, so beautiful! You can click the picture above to see it closer.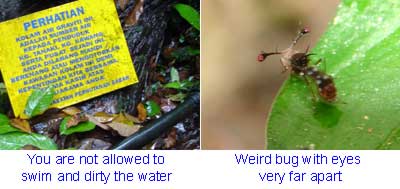 Click Here to see more photos of Kawang Forest >>
The Tanaki Waterfall and Bat Cave are the highlight of their park. Unfortunately, the trail to the cave was covered with grass and not clearly marked, so they didn't want me to explore. The trail to Tanaki Waterfall is less than 1 KM and easy to spot coz you will see a few big and long water pipes along the trail. Along the trail in this lowland forest, I also saw some bugs, lizards, birds and other animals. Now is dry season, so no irritating leeches lurking around. If I stay long enough, I am sure I will get a lot of photos.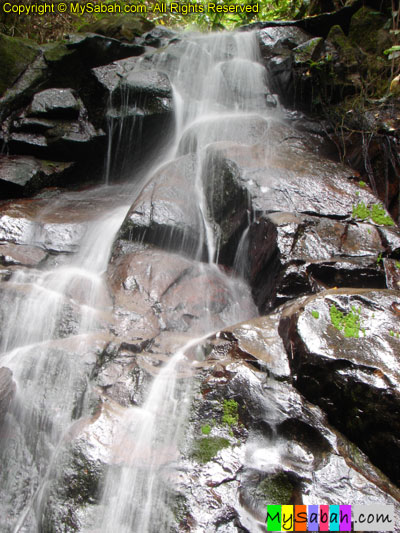 Click Here to see more photos of Kawang Forest >>
It took me about 30 minutes to reach Tanaki Waterfall. My spirit turned high and took some pictures of this 2-storey high waterfall. Too bad we are not allowed to swim there, coz they use the pipes to send the upstream water, with gravity energy, down to Tanaki and Kawang Villages for daily use. In short, it must be kept clean. You can Click Here to watch the video clip of the Tanaki Waterfall.
I also got two more video clips. The first one (left below) was – I heard a very NOISY bird, so I went and checked it out. Guest what I found? The second video (right below) was a "Energizer" bug that is commonly found on the stream in Kawang Forest. They swim so FAST! When I caught them and put them on the floor, they did one thing that impressed me further.
Photos taken in Kawang Forest, Sabah, Malaysia Borneo