In the past, I always wonder why Borneo never has a zoo of its own, since we have been telling the world that we have rich variety of wild plant and animals. We also enjoy making the mouth of our tourists open wide, with the number of blah blah species we have in Borneo. Whatever, all this impressive facts sound more like a number. Nobody really knows what are the "content". Many locals don't even know what are pygmy elephants and proboscis monkeys. At last, we have a "Lokkawi Zoo" (The correct name is "Lok Kawi Wildlife Park"). It is a good start, though it is not only showing animals that are native to Sabah.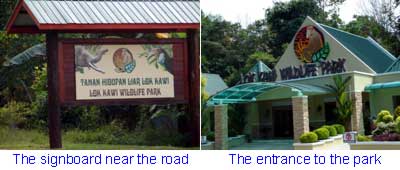 Click Here to see more photos of Lok Kawi Zoo >>
If you said Lok Kawi, I would think you mean the road between KK International Airport and Kinarut. Later I figured out the Lok Kawi Zoo is actually next to the Old Penampang road. If you follow the road from KK to Dongongon town, just go straight after you passby Dongongon town, after nearly 10 minutes, you will see its signboard at your left side. About 18 km from KK, but very near to people live in Penampang. The zoo is open daily from 9.30am to 5.30pm.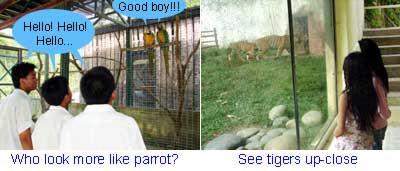 Click Here to see more photos of Lok Kawi Zoo >>
Probably it is newly open, the response is quite good. I went there on Monday and there were 30 to 50 cars parked there at any time. To see what are in their zoo, you may Check out the Trail Map I got with the ticket. The entrance fee is RM10 for Malaysia Adult, RM5 for children, RM20 (nearly USD6) for foreigner adult tourist, RM10 for foreigner children. The admission is free for Malaysia Senior Citizens (above 60).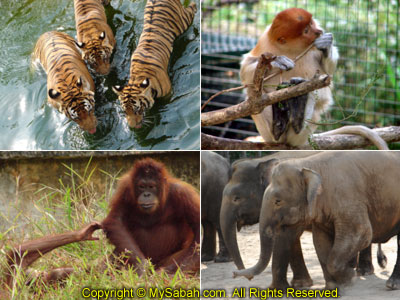 Click Here to see more photos of Lok Kawi Zoo >>
What they have? They have birds, deers, orang utan, proboscis monkeys, civets, elephants, ostrich, hornbills, tigers, otter, rhino, etc. They also have a Botanical garden, but I haven't explored it. For serious visitors who want to learn something, it can be a full day trip. However, they don't have restaurant or cafe shop in the park to provide lunch. Overall, the facilities and trail are well planned. For bigger animals such as tiger, they have an allocated open space, and the visitors can see them from a viewing shelter, which is equipped with fans and description board.


Click Here to see more photos of Lok Kawi Zoo >>
They also have elephant ride (for children below 12 only) at 10.30am – 11.30am and 3.30pm – 4.30pm. Hope they will have tiger ride soon, hahaha… I personally think that morning is the best time to visit. Coz in the hot afternoon, most animals would become tired and sleepy, hiding in shaded area, no mood to move already. BTW, I recorded a video of orangutan playing and relaxing, Click Here to watch it.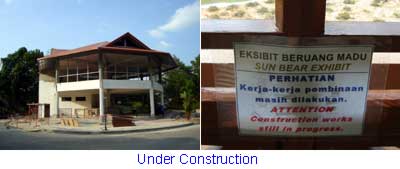 Click Here to see more photos of Lok Kawi Zoo >>
Sadly, the Reptile House (for snakes and lizards) is still under construction. Hope they will be completed soon. Overall, the park is well done, but I have a few suggestions:
1) Provide more shaded area for the animals
Goodness… I advise the people there take a walk in the forest and feel how cooling it is. Most area only provide a small tree or net covering roof. The excessive light still makes their surrounding very hot.
2) Animal Employee's Right
Welfare for the animals again. The park should be closed for 1 day per week, so the animals can rest and release stress.
3) Offer Lunch and Food
With that number of traffic flow, it is probably not wise not to have a restaurant that provides food, something like stomach filler, not just light snap.
4) Provide better direction
Build more signboards next to the road. Good for promotion too.
Photos taken in Lok Kawi, Sabah, Malaysia Borneo