In year 2000, Mengkabong River Bridge (or Jambatan Gayang) is constructed to connect both sides of the Mengkabong River in Tuaran. Probably a bonus by accident, this longest bridge of Sabah also connects us to the perfect sunrise view of Mount Kinabalu, the highest mountain of Malaysia. When motorists cross this bridge, they would have a 330+ Metres (1,080 ft) of enjoyable ride because of the beautiful scenery.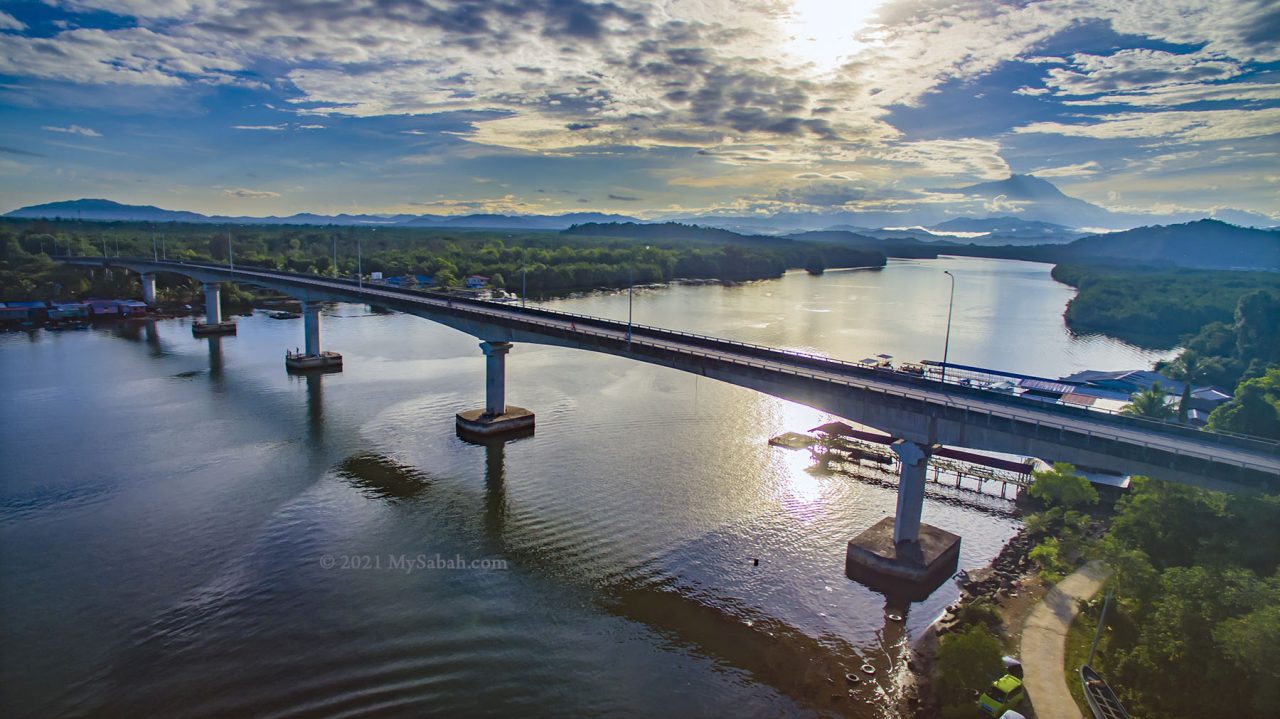 Best Sunrise View of Mount Kinabalu
Mengkabong River Bridge is a landmark and attraction well-known among Sabahans, who have seen its amazing sunrise photos many times in photography contest, tourism calendar, social media, etc. The high vantage point of Mengkabong River Bridge allows photographers to fit Mount Kinabalu, sunrise, rolling hills, mangrove forest and river into one frame.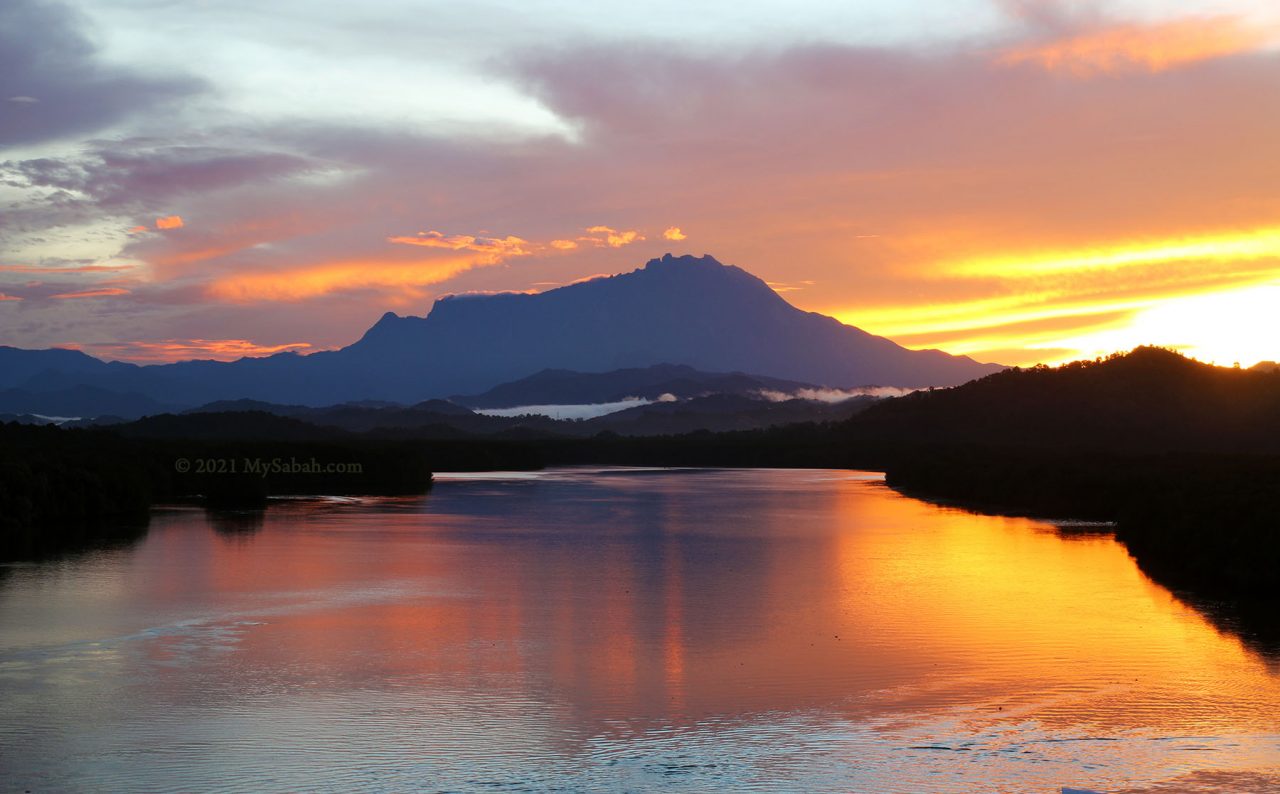 In most days you have a good chance of seeing Mount Kinabalu in the morning. Just standby on the bridge by 5:30am or earlier, before sunrise starts between 5:59am and 6:33am. The sun rises from different spots in different time of the year, creating more variation of sunrise view. I did a Facebook Live Stream there for fun too.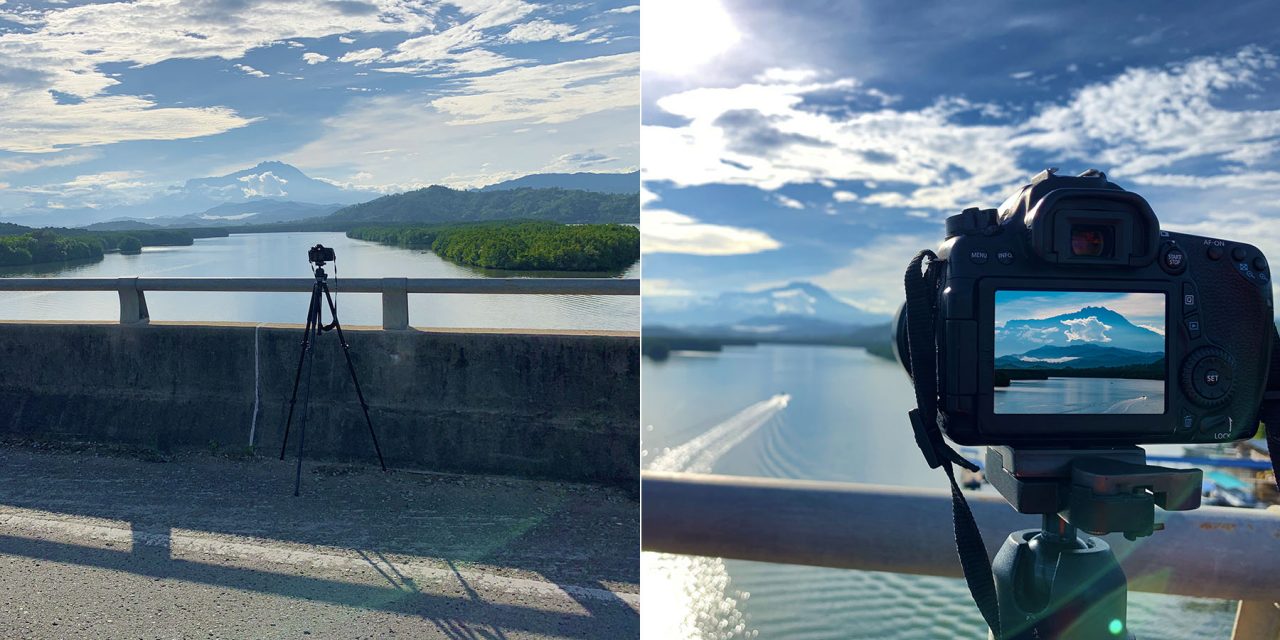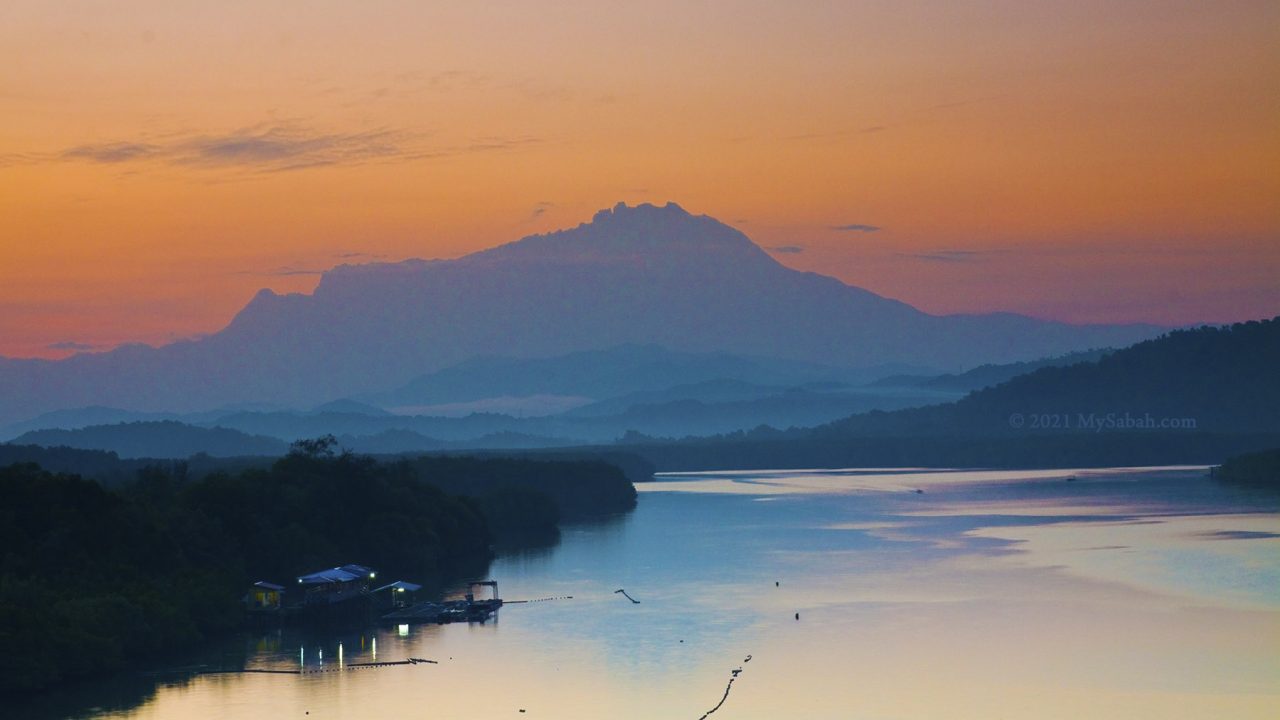 Fishing and Mangrove
Mengkabong River is an estuarine fish habitats where fresh water from river mixes with the saltwater from the South China Sea only 2 Kilometres away. The lush mangrove forest and brackish water of this river provide important feeding, spawning and nursery sites for some palatable marine fishes. Crabs and prawns grow bigger in such environment too.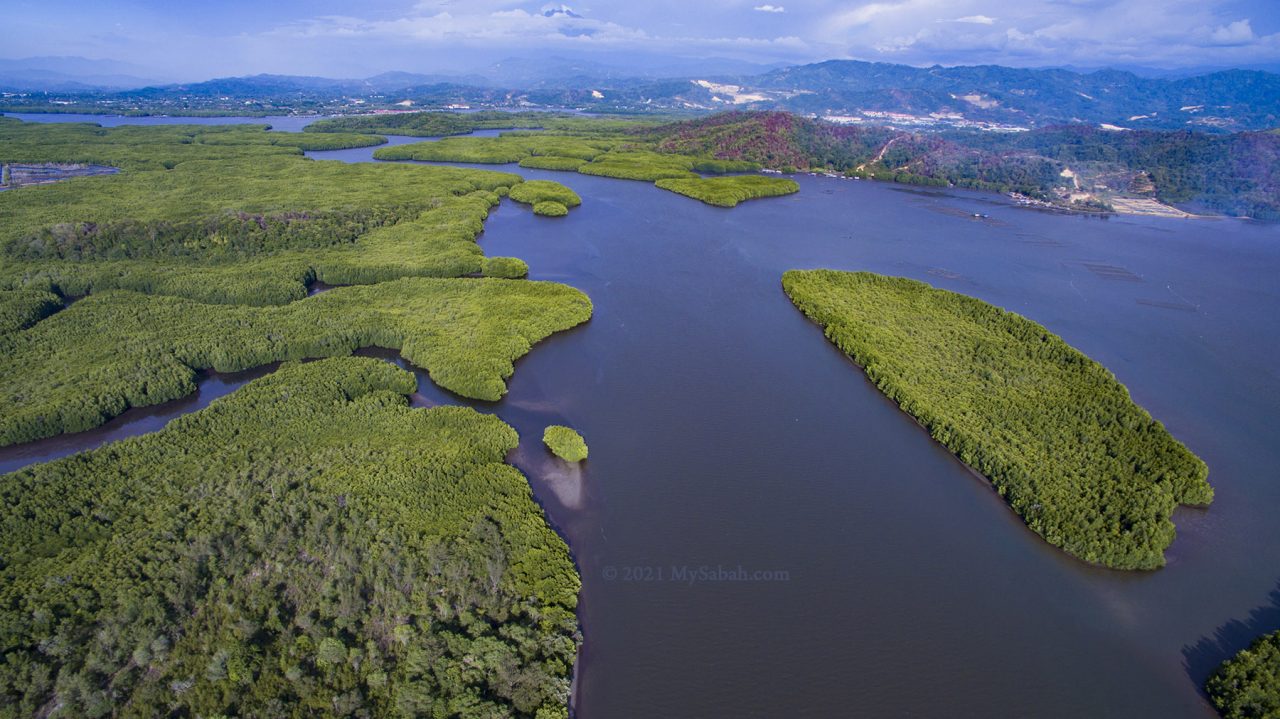 During high tide, sea fishes follow the current to forage in Mengkabong River. Therefore, the bridge becomes a hot area to catch high-valued marine fishes such as barracuda, snapper, grouper, sea brass (selunsung / siakap), trevallies and Jack fish. Local anglers love to erect a few fishing rods at the jetties under the bridge.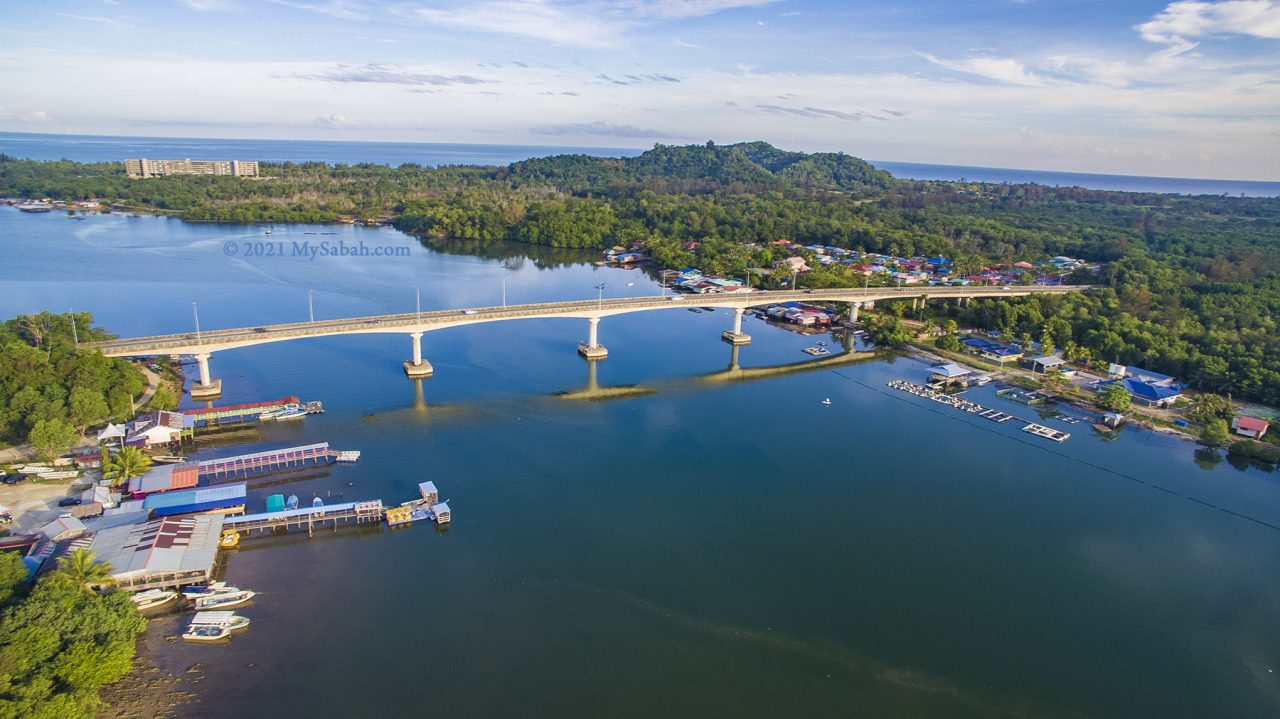 Before sunrise, the fishermen from nearby water villages has started their day fishing in Mengkabong River. You can bargain with them and buy their fresh caught for a good price on the spot.

Do take some moment to appreciate the mangrove forest in the river there. The net fisheries contribution from 1 ha of mangrove forest amounted to US$846 year (RM3,500 per year). According to a study by Omar et al, in 2017, Sabah had about 378,195 hectares of mangroves which covered about 60 per cent of total mangrove areas in Malaysia (and 7.6 percent of the global mangroves)!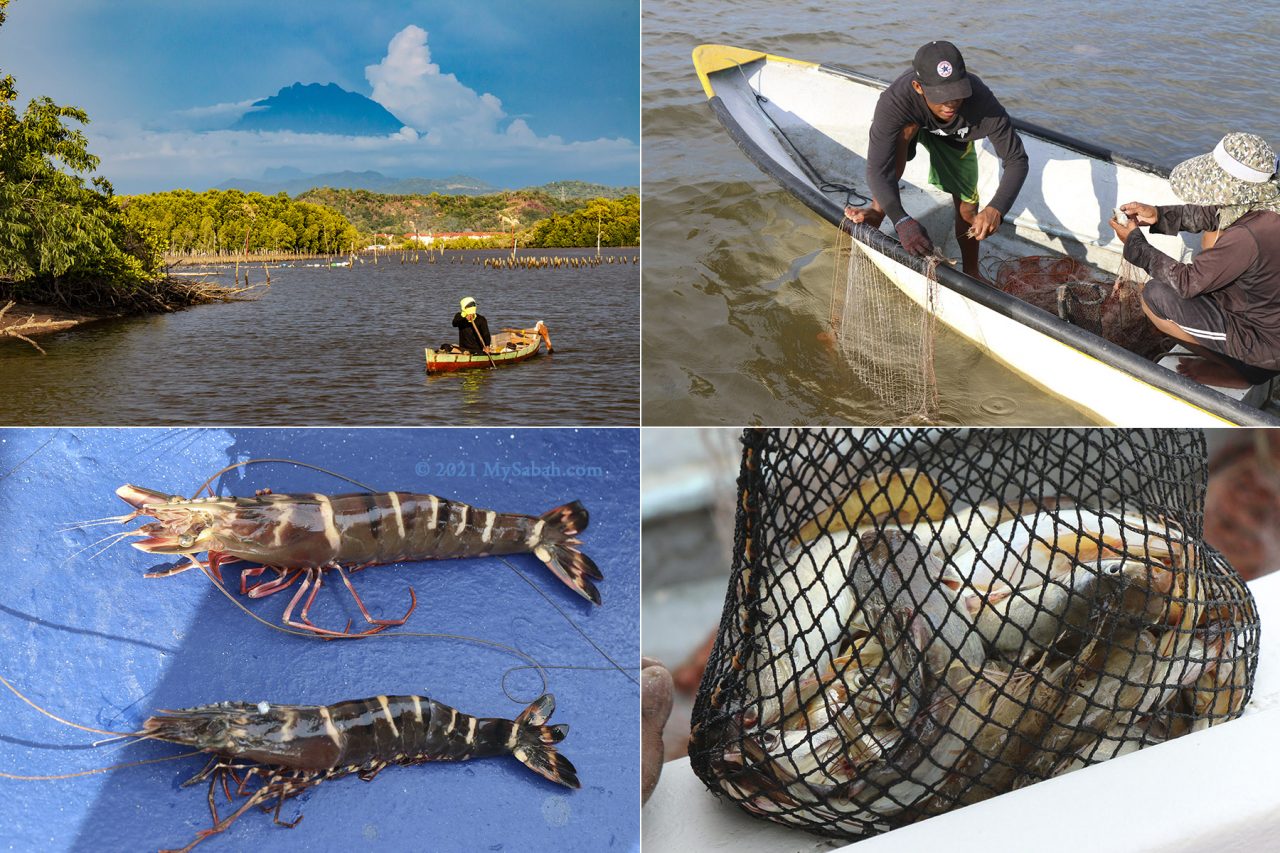 Firefly and proboscis monkey, the residents of mangrove wetlands in Borneo, also attract thousands of tourists and generate a lot of income for Sabah every year. Mangrove forest are really our money trees.
Note: There might be crocodile around there, so do not wander mindlessly on the river bank or swim in the river.
Cycling
Cycling is a popular sport of Sabah now, thanks to our scenic countryside. Mengkabong River Bridge is one of the favourite routes of cyclists, without doubt, is due to the spectacular sunrise.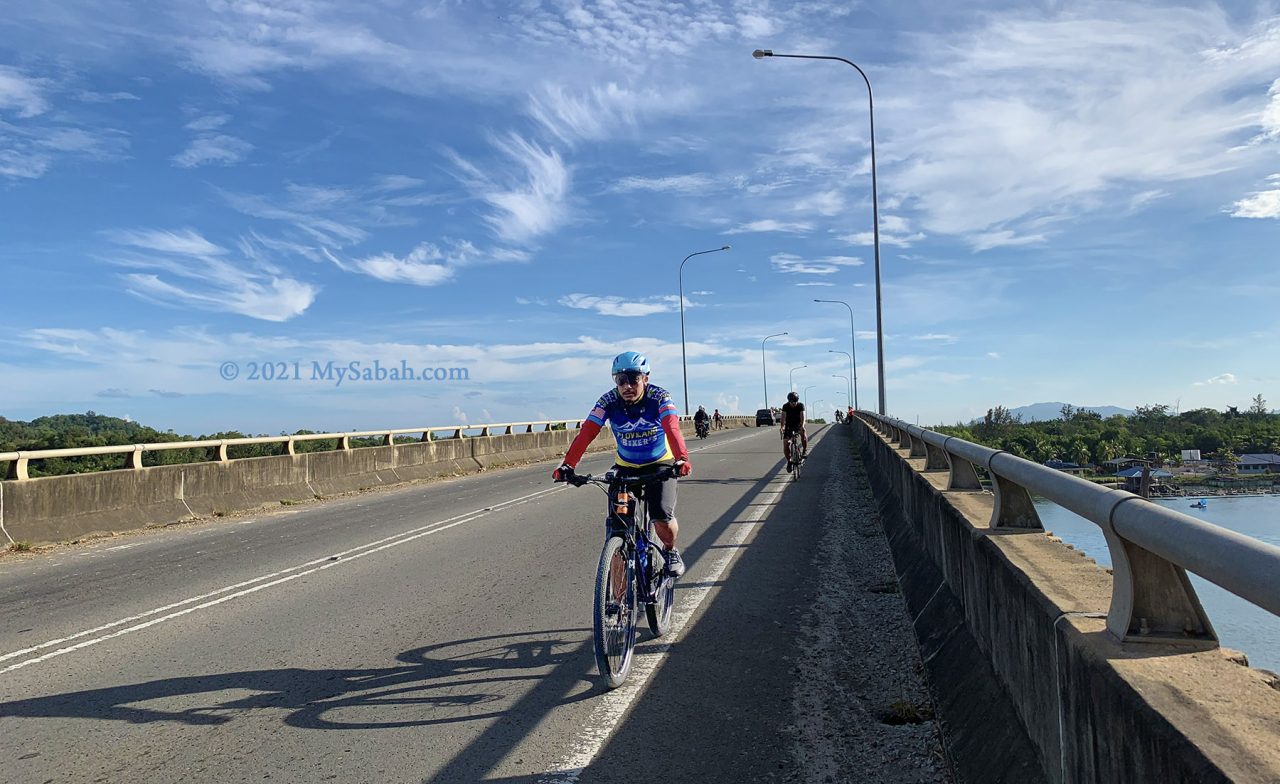 Hundred of cyclists cross this bridge every morning. They would get off their bicycle in the middle of the bridge and selfie with Mount Kinabalu, to show the world how beautiful their lives are.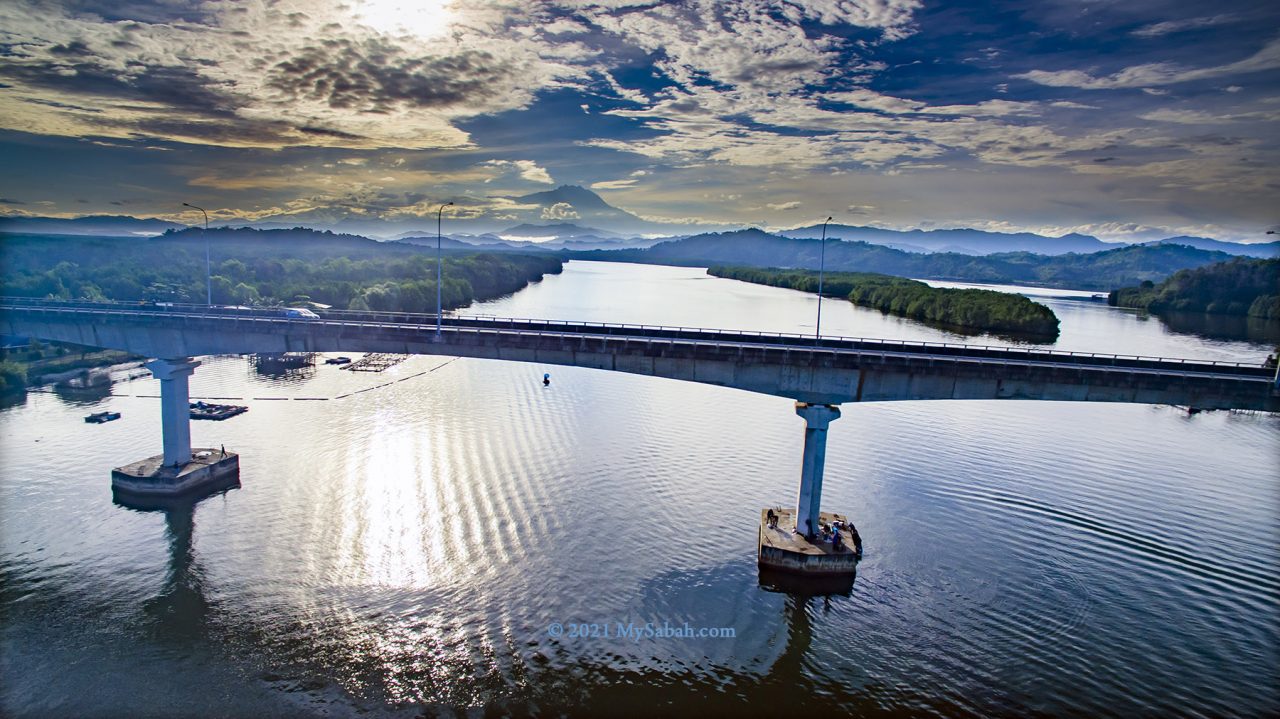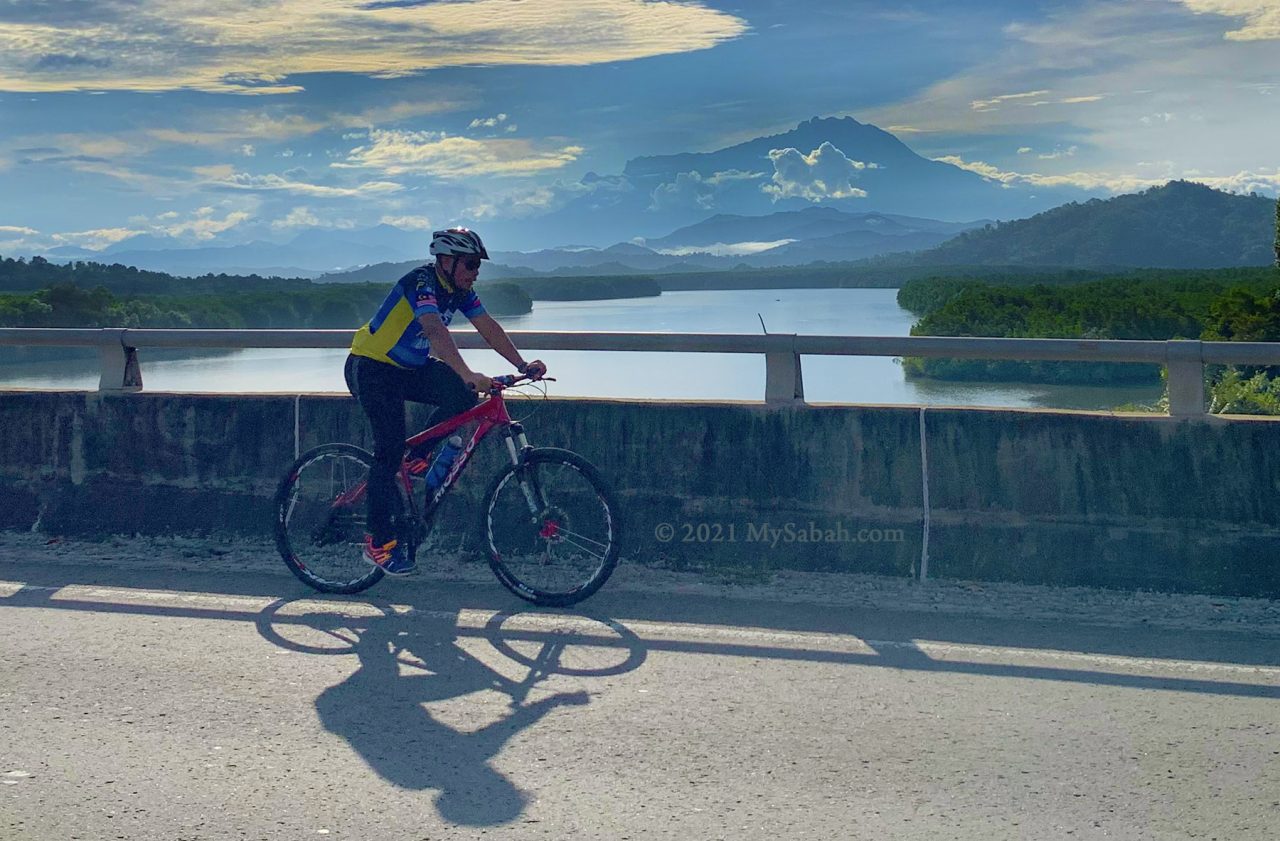 Sunset Tour
If the sunlight is strong, you could have a nice sunset view of Mengkabong River after 6pm, with the sky of Mount Kinabalu being illuminated by pinkish or reddish color of sunset from opposite side, a phenomenon called alpenglow. The colors are less intense but a preference for those who are not early bird and always miss the sunrise.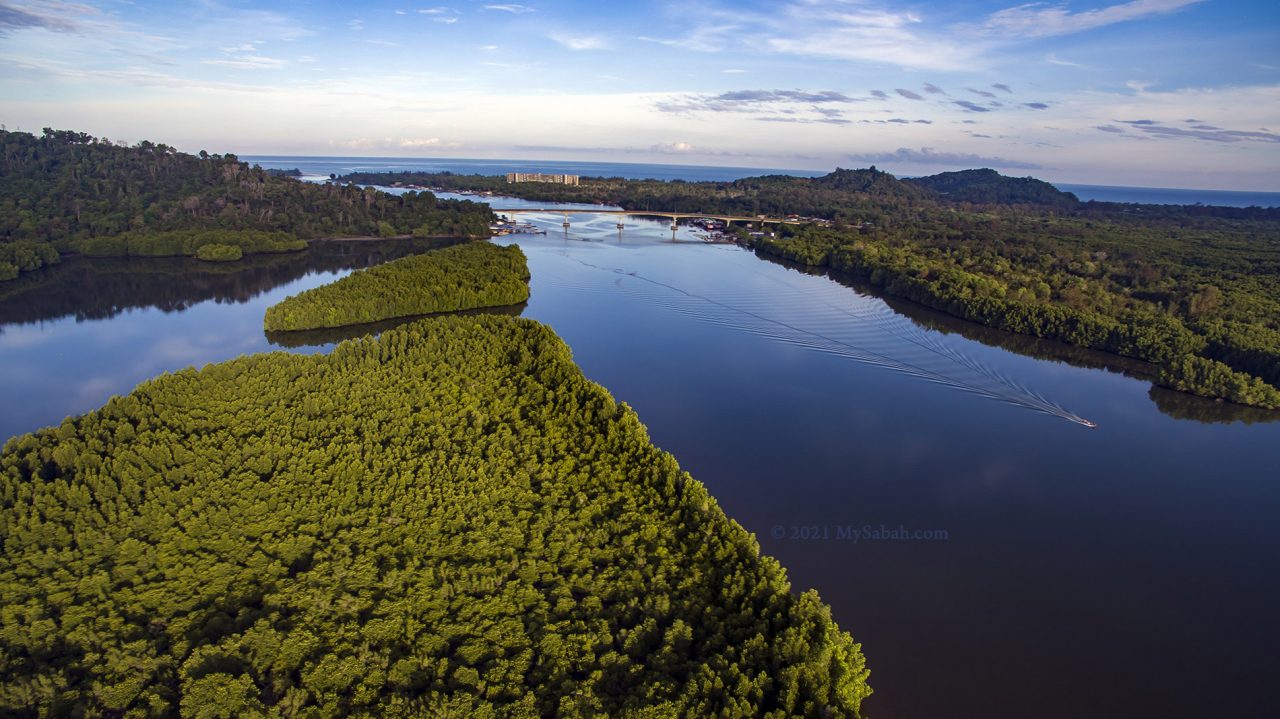 Personally I would recommend you to join the sunset tour below that can send you to Dalit Beach at river mouth of Mengkabong River for a magnificient sunset view. (This is not a sponsored post. I don't get paid to promote this.) This tour is managed by Kinabalu Heritage Tours, a licensed travel agent owned by my friend.
Tour Package: Mengkabong Fireflies & Sunset River Cruise with BBQ Seafood Dinner
Duration: 3 hours
Departure Time: 4:00pm (Every Friday / Saturday / Sunday / Public Holiday)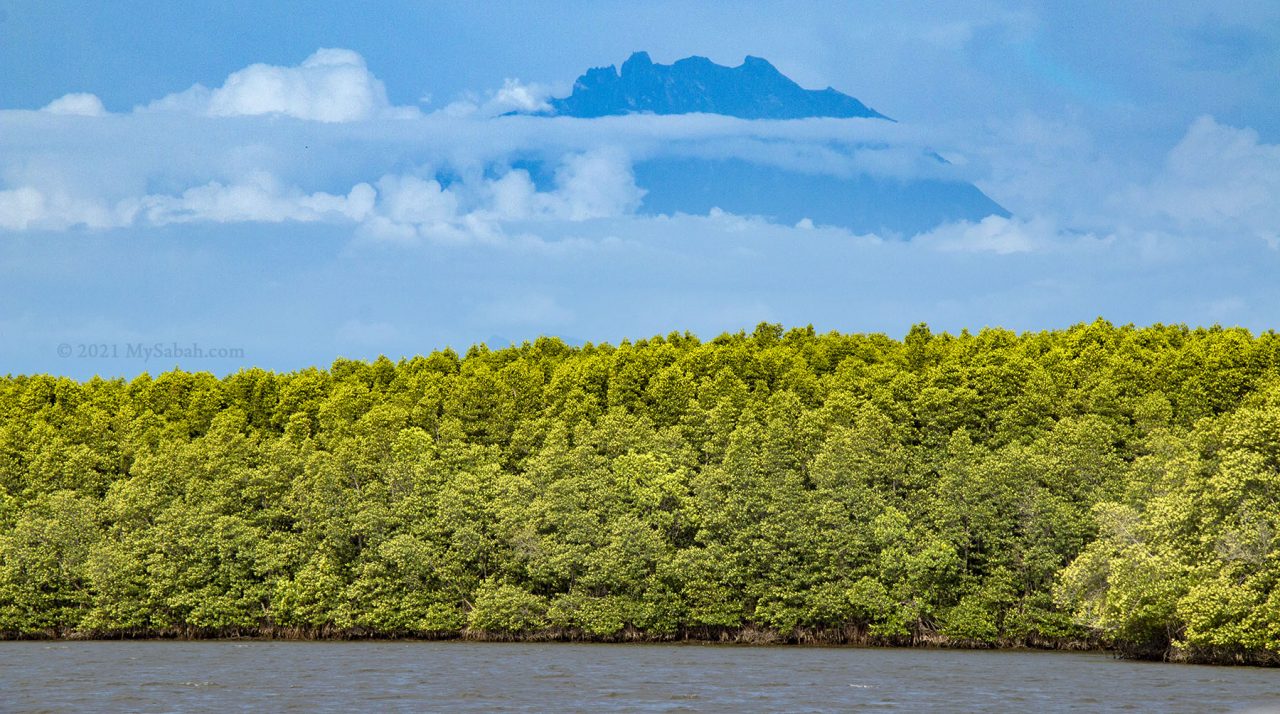 Tour Info & Activities
Mengkabong Village is part of the Tuaran district and home of the Bajau Sea Gypsies Malay Fishing Village. Experience the memorable and educational river tour about the importance of Mangrove forest with beautiful natural scenery along the river where water streams peacefully and see sea real-life one of our famous indigenous tribe Bajau fisherman lifestyle who still live in water village (i.e. house build on stilts and connected by narrow wooden planks) formerly known as the Sea Gypsies. Experience our local ways of crab catching activities during the cruise and visit the local Oyster and Fish Farm before heading to the river mouth to catch the spectacular view of sunset on the white sandy beach. After the tour, enjoy our BBQ SEAFOOD Dinner before returning to your respective home.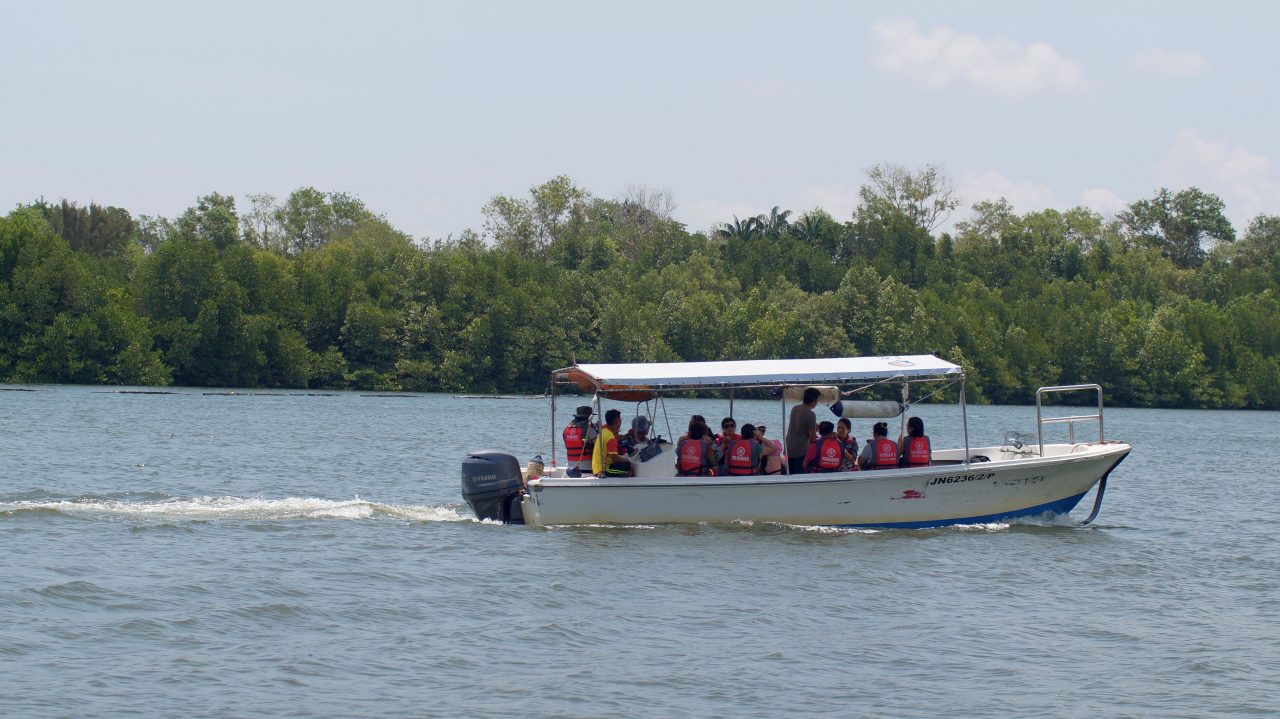 Tour Fare Inclusive: Land Transport, River Cruise, Fun Fishing using hand lines, Crab Catching, High Tea, Dinner and English Speaking licensed tourist guide
Promotion Rate!!! RM50 per person (Minimum 4 people). Rate is valid until 31 Dec 2021. You can book now travel later.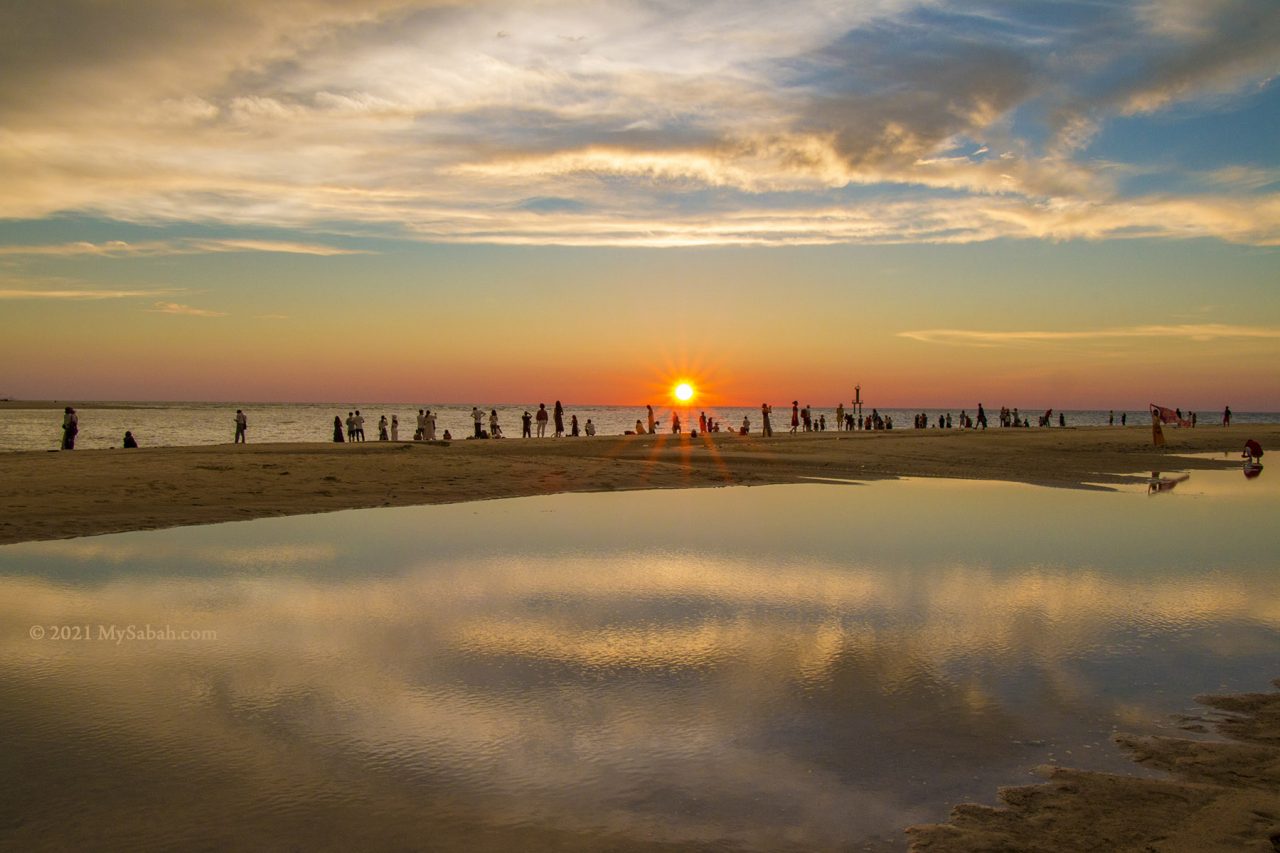 The tour is on deep discount now. I've taken the tour before. It's fun and I even saw "Blue Tears" (Bioluminescent Sea) in the river. The sea water glowed when it's disturbed by a wave breaking or a splash in the water by our boat at night.
The following is their contact for booking tour:
Hotline: +60 13-6068333 (Whatsapp available)
Company: Kinabalu Heritage Tours & Car Rental Sdn. Bhd.
KKKP/PLN (Tour License No.): 5189 (683895-A)
Address: Lot E–2-7, Block E, 2nd Floor, Tanjung Aru Plaza, Jalan Mat Salleh, 88100 Kota Kinabalu, Sabah, Malaysia.
Phone: +60 88–318311
E-mail: info@sabahborneotours.com
Facebook: KinabaluHeritageTours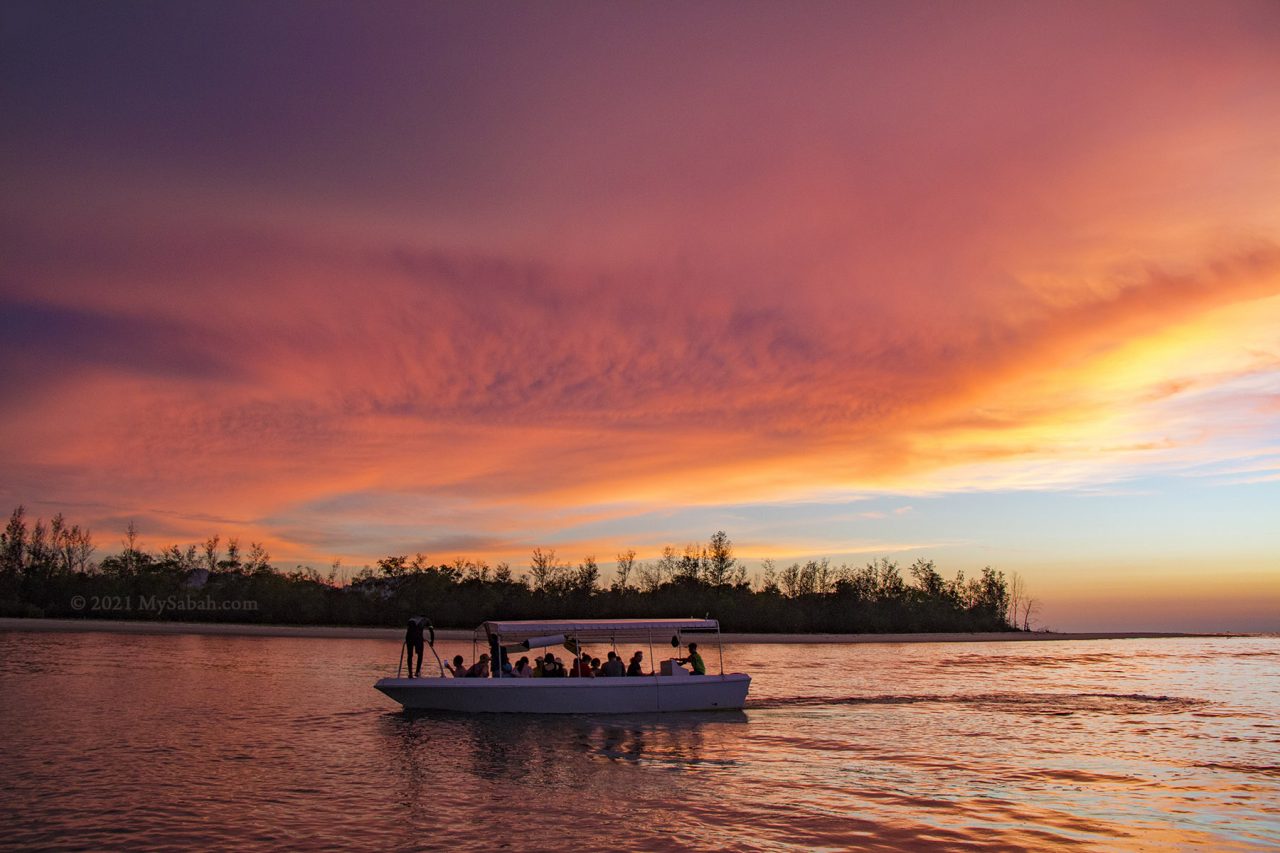 How to get there?
Mengkabong River Bridge is about 29 Kilometres away from Kota Kinabalu City (KK) and highly accessible by highway (about 35 minutes by car). The bridge is never closed, so you can visit anytime, and you don't need a tour company to bring you there. Just depart from KK at 5am, set your destination as "Mengkabong River Bridge" in Waze, Google Map or other navigation apps.
GPS: 6.14165, 116.15459 (see Location Map or Street View)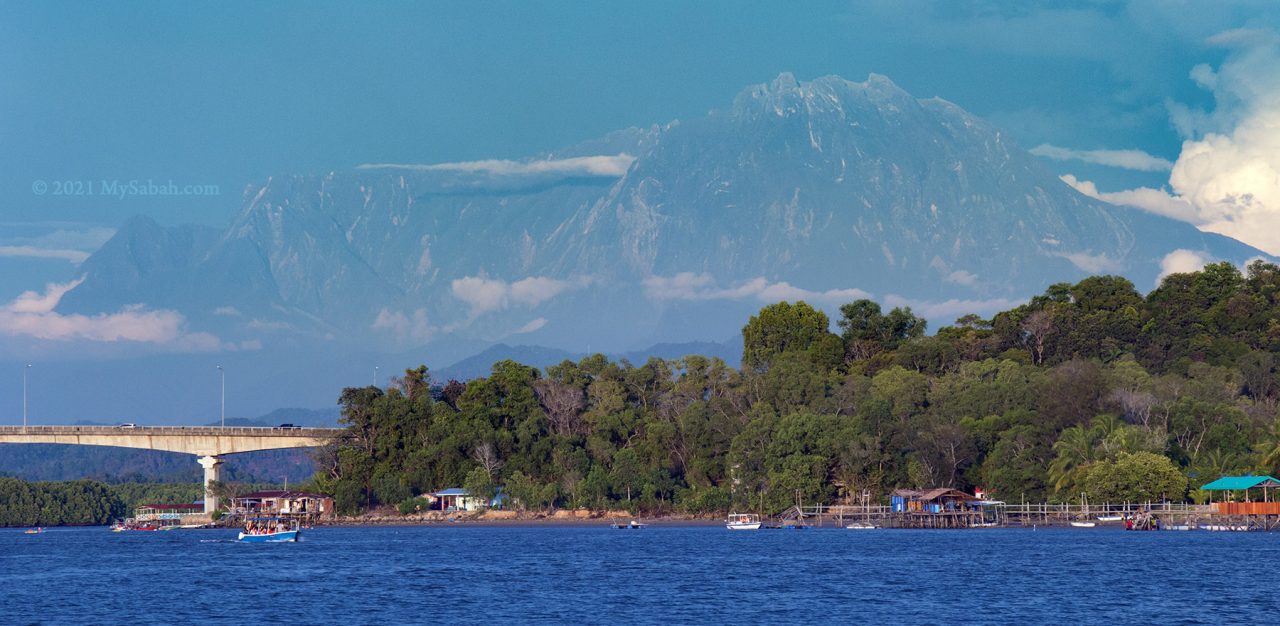 Once you arrive, park your car at roadside before or after the bridge, and walk up to this bridge. There are lampposts on the bridge to lit the way. The 5-feet-wide pedestrian lane on the bridge can keep you safe from busy traffic, but always keep an eye on incoming bicycles that use the same space as cycling lane.
After sunrise, you can drop by Tuaran town nearby to have the famous Tuaran Fried Noodle as breakfast. Please note the highway from Tuaran to KK is quite congested when people rush to work in the morning of weekdays. It's also advisable to check weather forecast of Tuaran in advance, so you won't waste your time and disappointed by the bad weather. Toilet is available in the building behind the jetties.
Photos taken in Tuaran, Sabah, Malaysia Borneo