Serinsim (or Sorinsim) is a nature park and substation in northern part of Kinabalu Park (in Kota Marudu, Sabah, Malaysia). Once you enter Serinsim, you can tell its main attraction is the river because many families swim, camp or picnic at the river side.

Serinsim lies between the Serinsim and Kinarom rivers. Kanarom River (Sungai Kanarom in local language) is just 10 Meters away from the car park near the park entrance. The river is unpolluted and straight from the fully protected forest, so swimming in this crystal clear and cooling water is like bathing in mineral water.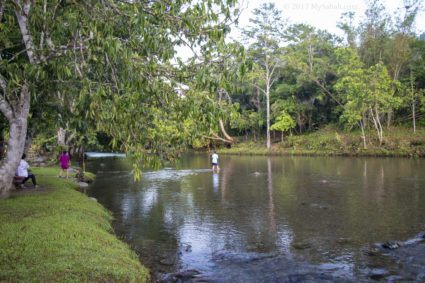 During weekends and school holiday, many locals come to frolic in the wide and shallow river, which is kid friendly and not swift. I met a family who drove 130 KM from Kota Kinabalu City (KK) to this place.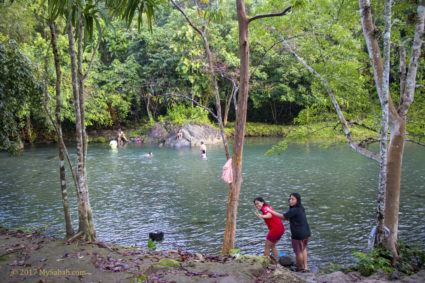 Another reason Serinsim becomes a local family choice is due to the cheap entrance. For example, a local family of parents with 3 children spends less than 10 Ringgit to enjoy the Chlorine-free river. If they go to theme park such as Sunway Lagoon, it can cost them half a thousand Ringgit (but of course the facilities there are far more better and fun).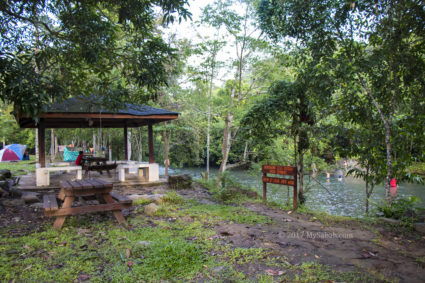 The amenities in Serinsim are fairly basic. They have changing rooms cum toilet and gazebos with benches and table near the river. The place is not crowded as it is far away from big city and not a popular tourist destination.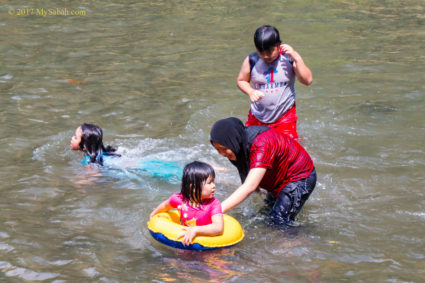 Sabah is blessed with many clean rivers. According to a report of the Department of Environment (DOE) in 2013, about 42% of the 473 rivers in Malaysia were under stress of pollution. In some urban area, the only clean source of water is from the tap.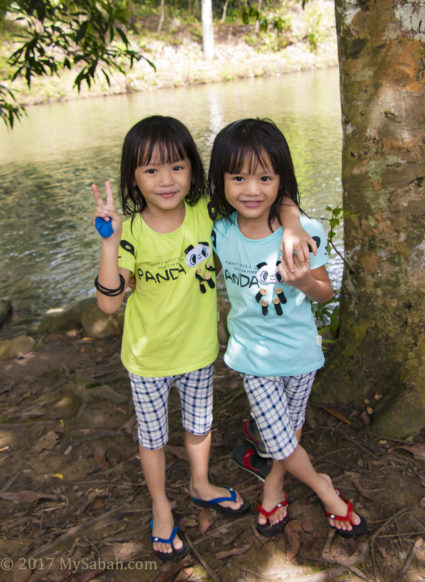 However, this can change, especially downstream that are under constant environmental threats by poorly-managed development and farmland, rampant illegal sand mining, and indiscriminate dumping. More and more rivers turn into milk tea color, or worse, smelly blackish bacteria soup.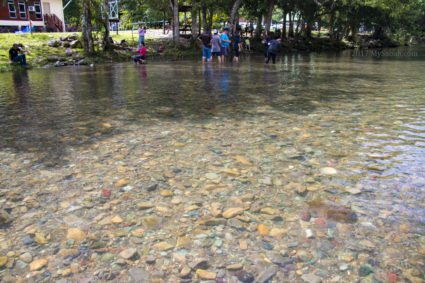 Ask the elders who have lived in KK for over half a century, they can share their childhood stories of swimming and fishing in crystal clear water of Sembulan River. But look at this river now, it's so filthy and has become a conveyor belt to transport floating rubbish to our sea.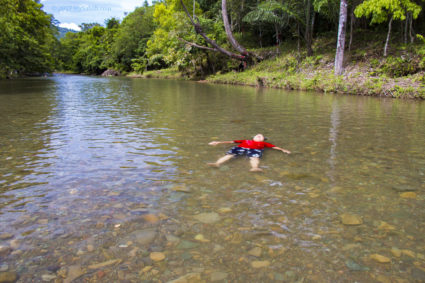 While posting the photos of Serinsim here, I also share some random fun facts about our rivers.
River is Good for our Health
Nobody says swimming is bad, unless you swim in dirty water. Indeed, swimming can serve as a medicine, stress reliever, therapy, exercise, immunity boosters, etc. all good for physical and mental health.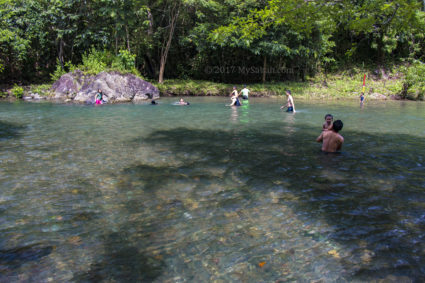 "Natural waters are full of life, biological energy from plants and different creatures, minerals, enzymes, and many other beneficial substances. Swimming in natural waters has been prized as a therapy for many health problems for centuries." – moulindebeny.com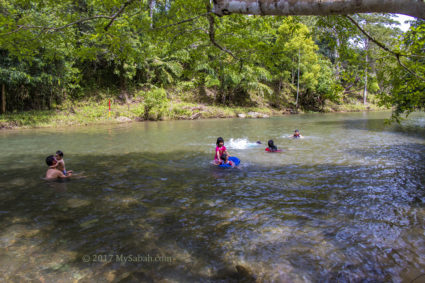 The funny thing is – except human and apes, almost every other mammals can swim instinctively, that includes heavy elephant and cats which hate water.
Freshwater Ecology is Magnificent
Even if we close our eyes, our ears would still expose to many conservation messages about Loving our Ocean, to name a few, don't eat turtle eggs, shark is endangered, plastic kills our marine lives, corals are under threat. Furthermore, we are always awed by the amazing photographs, videos and experience in diving, and determine to protect our marine ecology. Good.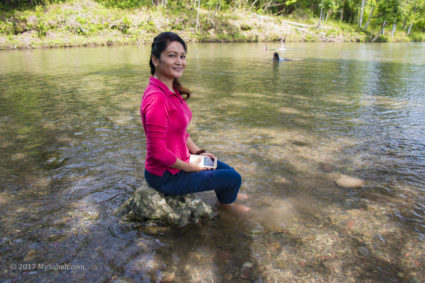 However, compared to ocean, very little is said about river conservation. I would see news about beach cleaning occasionally but not river cleaning so far. To be fair, we have Tagal system (No Fishing) to protect fish stock in Sabah rivers, but it mainly targets at over-fishing.
You know, no water, no life, so no river, no wildlife. Our rivers have been supporting many iconic Borneo wildlife such as Proboscis Monkey and Bornean pygmy elephants. They help our tourism to rake in a lot of cash, so we know it's imperative to take care of their well-being.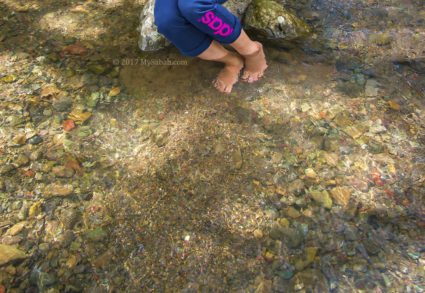 However, we forget the animals live in the rivers. Populations of freshwater species have declined by 76% since 1970, a lot faster than land or marine animals. I was told by my aunt that 50 years ago, the river was so clean that she saw something like sponge corals.
In Sabah rivers, there are 150 native freshwater fish species and 36 of them are endemic (24% of native species), according to the paper titled ?A working checklist of the freshwater fish diversity for habitat management and conservation work in Sabah, Malaysia, North Borneo?.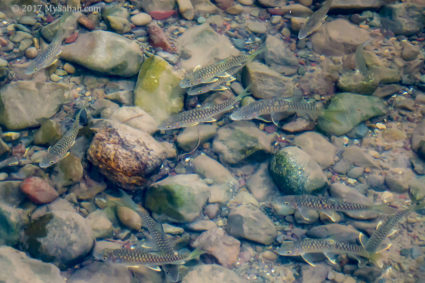 Did you know friendly Irrawaddy Dolphins, monster Largetooth Sawfish and child-eater Tapah Catfish were used to be common in Kinabatangan, the longest river of Sabah? But now what is left are only some interesting stories about them among the villagers.
Some fishes of Borneo rivers are eco treasure too. A giant empurau fish from a Sarawak river was sold for a whopping RM7,900 (nearly USD$2,000). The market price of empurau ranges from RM400 to RM1,000 (USD$100-250) per Kg.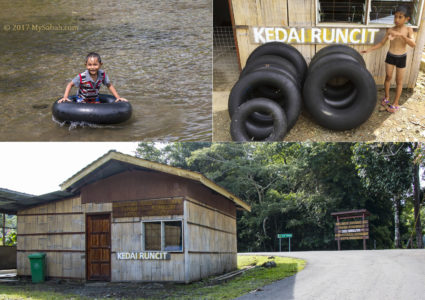 Though Sabah has no empurau, our Ikan Pelian (Malaysian Mahseer) is doing well too, it is priced for RM80 to RM100 (USD$20-25) per Kg. Both Empurau and Ikan Pelian are belong to same species (but I'm not sure if they are different sub-species).
Therefore, rivers shouldn't be treated as less important than ocean. Time to do more to save our rare and endemic fishes. River pollution is currently threatening the survival of many rare species. Rivers are more prone to pollution, as they are smaller water bodies than the ocean. One selfish act of a company or village can compromise the health of a river.
Forest & Rivers
If forest is the lung of our planet, then river is the blood capillary of nature. Protecting our forest comes with two significant outcomes, clean air and water, which we can't live without.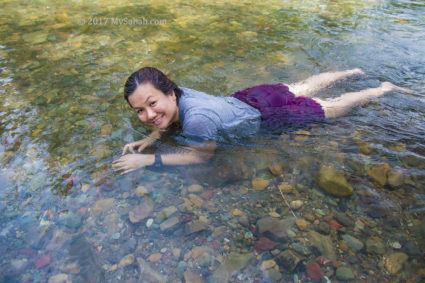 Humid tropical rainforest can add water to the atmosphere (through transpiration) thereby forming more cloud and bring more rain. The forests in Southeast Asia can influence rain patterns in south-eastern Europe and China. Lose of moisture due to deforestation can lead to drought.
Furthermore, forest (especially riparian vegetation) can filter sediments and other contaminates (e.g. pesticides, fertilizer, chemical waste) from the water in the soil before it reaches rivers.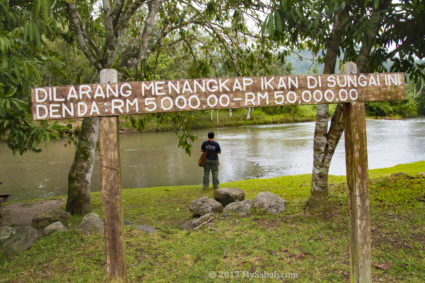 Forest also regulates the flow of water. The leafy canopy of forest intercepts rainfall, slowing its fall to the ground and releasing it slowly into streams and rivers. Therefore, the water from undisturbed forest is in high quality.
Misumpak Waterfall
If the river in Serinsim is too ordinary to you, and you want to see rivers in true wilderness, you can try jungle trekking to Misumpak Waterfall.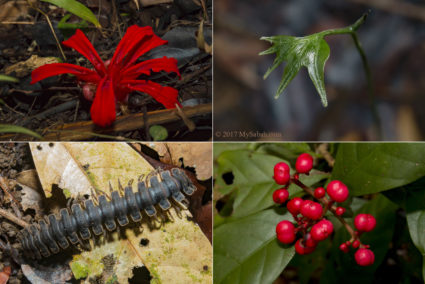 The distance to this 12-Meter waterfall is 6.5 KM one way. Normally a return trip takes about 9 hours.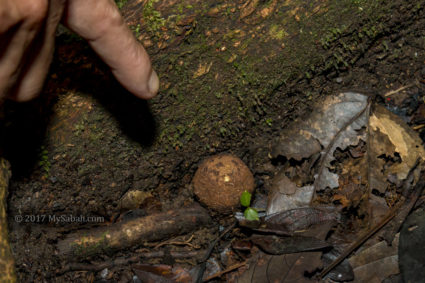 You must hire a guide to go with you. This can be arranged easily with the park. The guide fee is RM90 (about USD$22) per group, and one guide can take up to 5 people.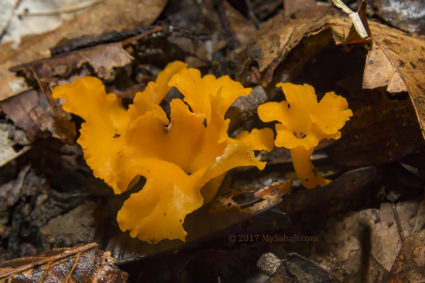 You will cross a few rivers and streams on the way so be prepared to get wet. The water quality will impress you, it's so clean that it's almost transparent. You would not see the water if it does not move and reflect.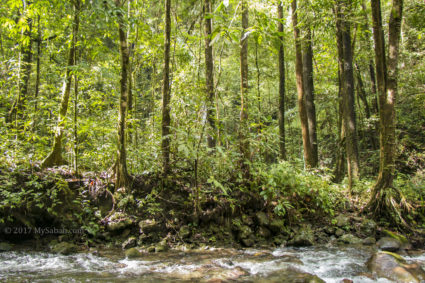 As the forest is in pristine condition, leeches are lurking everywhere. You can wear anti-leech socks if you are not keen to donate some blood.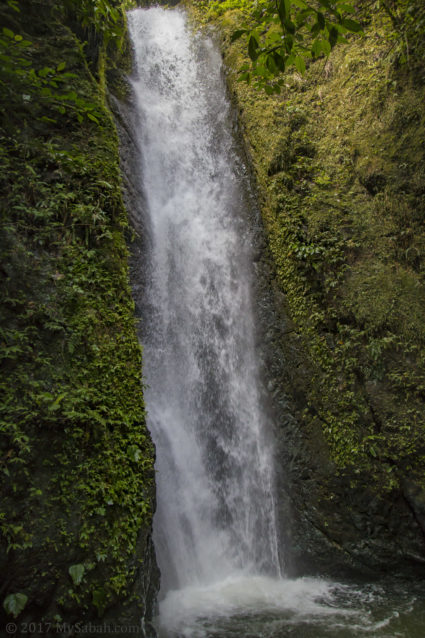 The waterfall is far away and the trail isn't tourist friendly. Unless you are really interested in appreciating the beautiful fauna and flora of rainforest, I don't really recommend it.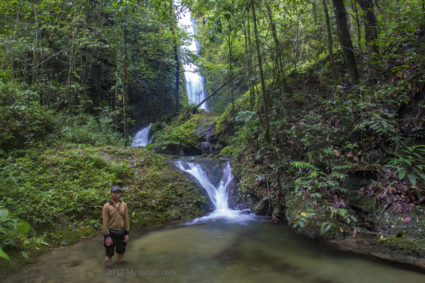 Anyway, you will be rewarded by cooling waterfall ponds. Very, very few people venture so deep into Serinsim, so you can have all these for yourself.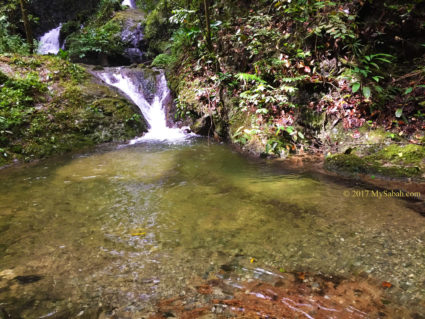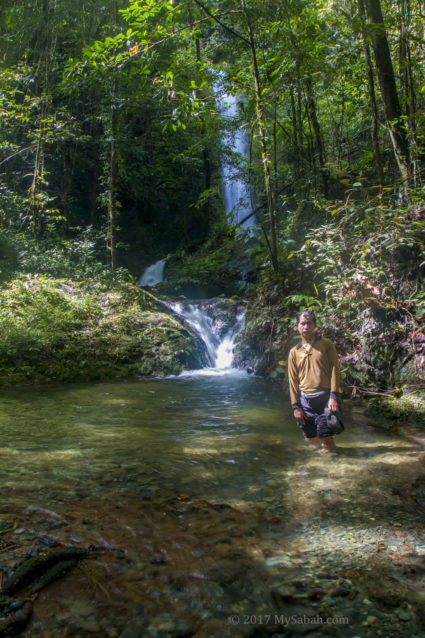 Entrance Fee
The following is the ticket fee to enter the park:
Item
Fee / Rate
Conservation Fee
Malaysian: MYR3.00
Foreigner: MYR15.00
Below 18: MYR1.00 and MYR10.00 respectively
Photos taken in Kota Marudu, Sabah, Malaysia Borneo