In a dreadful climb to Mount Tambuyukon, the third highest mountain of Malaysia, I rested on a high ground where I could enjoy a panoramic view of rolling mountain range. Then I noticed Mt. Nombuyukong (Gunung Nombuyukong), which has a pointy peak like a witch hat. I was bewitched by its beautiful tit tip and wanted to climb it since then, and I did, after 6 years.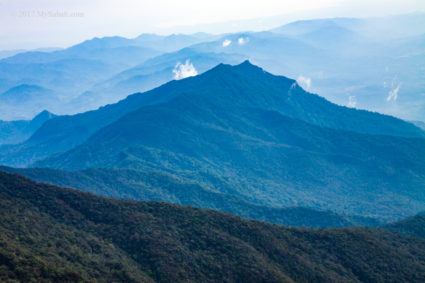 Compared to Mt. Tambuyukon (2,579M), Mt. Nombuyukong's height at 1,603.57 M is less intimidating and can be conquered within half-day. Since it's on the same mountain range with higher Mt. Tambuyukon, technically it's a peak, but people call it Mount Nombuyukong anyway.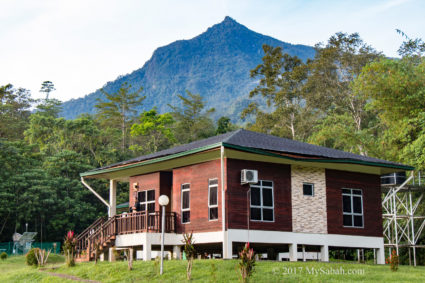 Managed by Sabah Parks, Mt. Nombuyukong is located in Serinsim Park substation (in Kota Marudu) at north of Kinabalu Park. The park is highly accessible by paved road and about 130 KM away from Kota Kinabalu City (KK), the capital of Sabah, Malaysia. Currently, this mountain is not well-known, and most climbers are hardcore adventurers from Peninsular Malaysia, who would try to conquer Mt. Tambuyukon and Nombuyukong in one trip.
Summary of Mt. Nombuyukong
Height: 1,603.57 Meters (5,261 feet)
Starting Point: Serinsim Park, Kota Marudu. GPS: 6.292631, 116.707422 (see Location Map) (130 KM away from Kota Kinabalu City)
Hiking Distance to Summit: 6.47 KM one way (You will use the same route to ascend & descend)
Time: Return trip (nearly 13 KM) normally takes 9 or more hours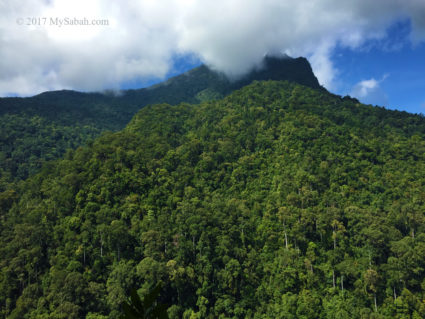 Difficulty: 3.5 out of 5 (I'm a seasoned hiker)
Temperature: about 27°C. On the Peak: 20-24°C
Minimum Cost of Climbing: MYR59.80 (Malaysian) or MYR146.00 (Non-Malaysian) per adult (approximately USD$15 and 35 respectively). More details on this later.
Notes: Register and pay first before climbing. Sabah Parks requires climbers to start climbing before 7:00am, and you must hire a guide from them.
The 6-min video below will show you how the climb looks like:
How soon you reach the summit is depend on your fitness and "style". For example, I started climbing at 7:00am, reached the top at 1:15pm, and return to the park at 6:20pm (a total of 11 hours & 20 minutes!). I was slow because I stopped a lot to take photos.
The Climb
The following is my climbing log. You can click any photo in this article to enlarge it.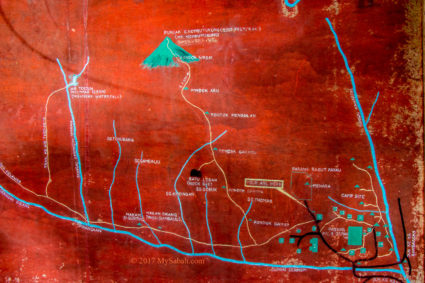 Start of Climb
I met my guide, Mr. Hendrick, at the starting point of the climb, which is just behind my hostel (Name: Asrama Kanarom) in Serinsim Park. After a short briefing, we started the climb at 7:00am. Please note you will pass through 6 gazebos along the way (about one for every 1 KM)(Pondok is Gazebo in Malay language). I use them as markers here.
Starting Point?Gazebo No.1
We reached Gazebo No.1 (Pondok Damar) at 7:25am.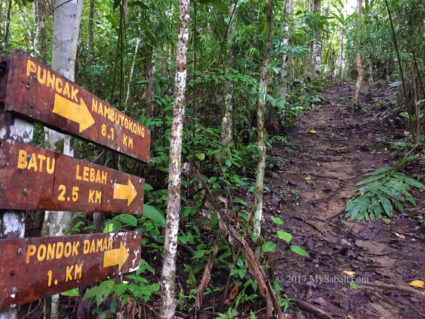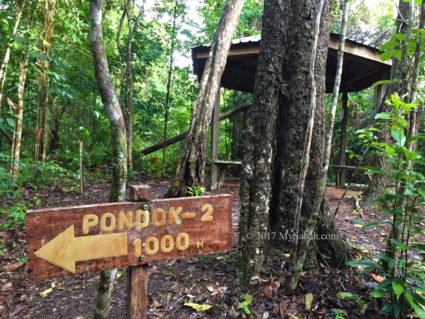 The trail is mostly flat in the beginning and under the shade of lowland rainforest. Mt. Nombuyukong is a mini version of Mt. Tambuyukon. Whatever hardship you experience in climbing Mt. Nombuyukong, multiple it by 3 and that's what you will face on Mt. Tambuyukon. Both look quite alike in terms of vegetation and trail condition.
Gazebo No.1?Gazebo No.2
We reached Gazebo No.2 (Pondok Seraya) at 7:45am.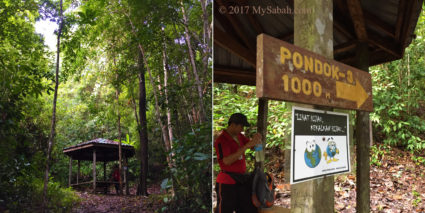 The peak looks so far away, even for car. But sorry, no shortcut such as cable car and helicopter.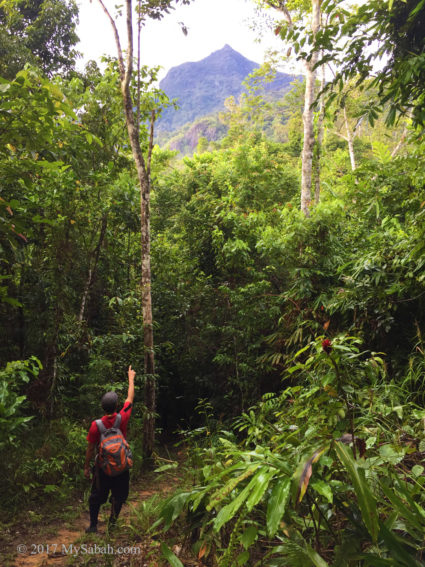 With a few gentle slopes, this trail section is relatively flat and a bit muddy. Next to Gazebo No.2 (Pondok Seraya) is a portable toilet (squat type) with a broken door.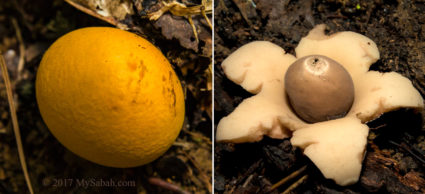 Gazebo No.2?Gazebo No.3
We reached Gazebo No.3 (Pondok Gaharu) at 8:36am.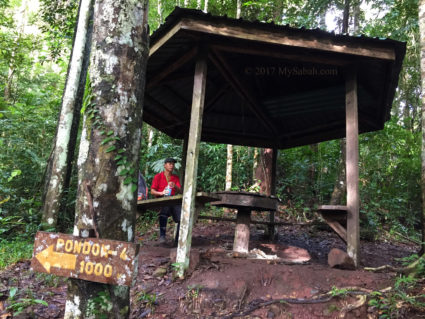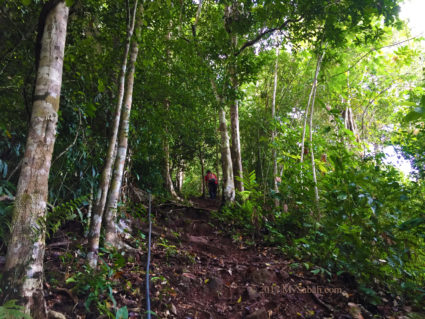 There are about 300 Meters of steep trail, and the trail is relatively flat after that.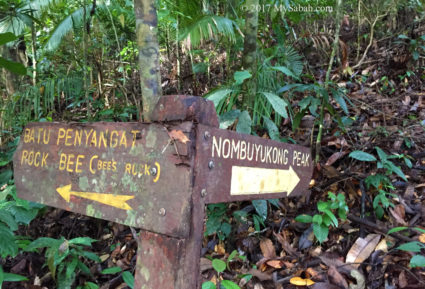 The popular version of Kinabalu Park is its mossy and foggy montane forest in cooling Kundasang highland. In Serinsim, you will see different face of Kinabalu Park, which is dominated by lowland rainforest and mixed hill dipterocarp abundant with tall trees under warm and humid environment.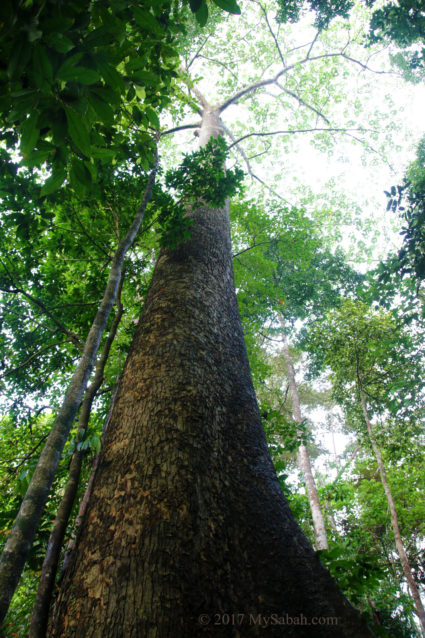 As we were in higher altitude, we were rewarded by soothing breeze and cooling air.
Gazebo No.3?Gazebo No.4
We reached Gazebo No.4 (Pondok Menggilan) at 9:50am. We were only 2.3 KM away from the summit now.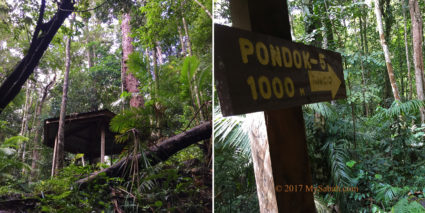 The trail was getting more undulating, and we started to feel like real climbing.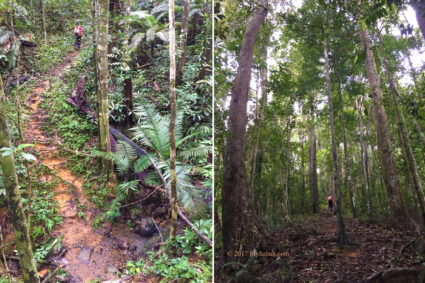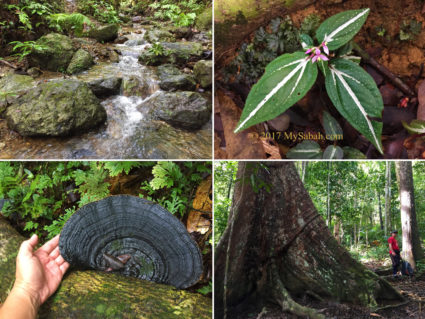 From Serinsim Park, you also can walk two days to the Musang Camp about 18 KM away, the last campsite on Mt. Tambuyukon. The distance is longer but less challenging than the standard summit trail to Mt. Tambuyukon, according to Hendrick.
Gazebo No.4?Gazebo No.5
We reached Gazebo No.5 (Pondok Aru) at 11:03am.

After 200 Meters of flat trail, we ascended on a gentle slope to the ridge. The trail 200 Meters before Gazebo No.5 is quite steep.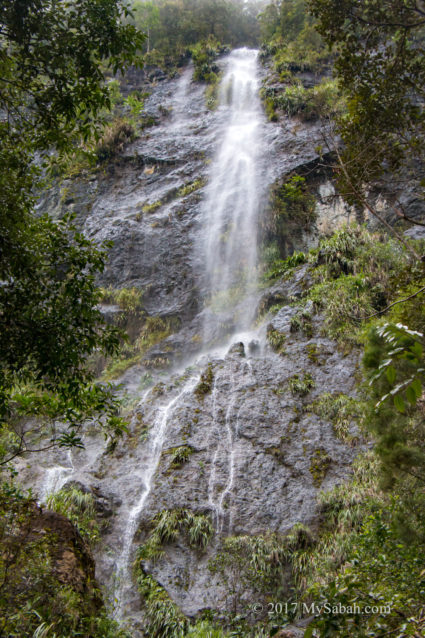 As we were deep inside the jungle, we saw the holes dug by wild boar, heard woodpecker pecking the wood, and spot a herd of red leaf monkey on the tree. This is a healthy rainforest, so inevitably there are some leeches. Just put on anti-leech socks and you shall be fine.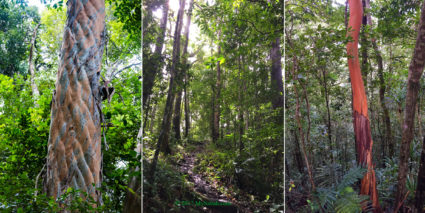 Hendrick said if we were lucky, we would see Orangutan, Pygmy Squirrel, Clouded Leopard and Tufted Ground Squirrel.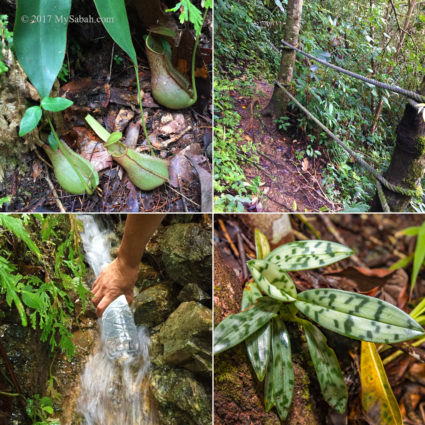 Gazebo No.5?Gazebo No.6
We reached Gazebo No.6 (Pondok Wasai) at 11:48am.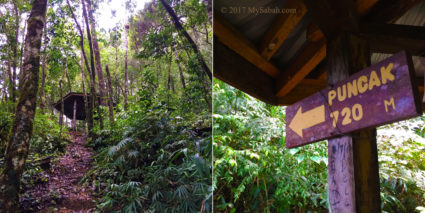 This section is the most difficult part of the climb. Minimal rope support is available along the steep or narrow trail.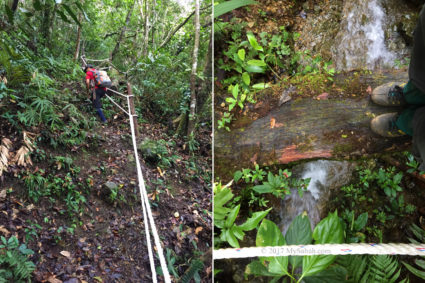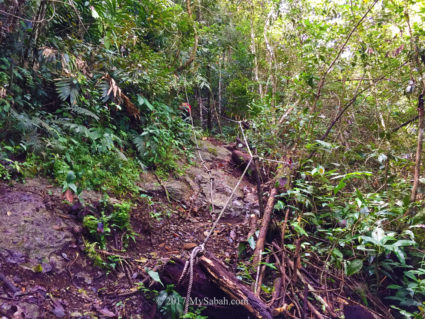 We started to see green moss, lichen and algae on the tree barks and ground, a characteristic of lower montane forest (cloud forest) in mountain region.
Gazebo No.6?Summit
We reached the summit at 1:15pm!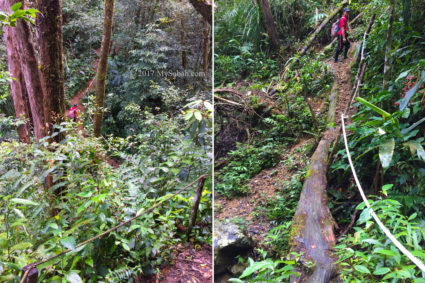 The last 720 Meters to the summit is mainly steep trail with loose soil and gravel, and flanked by dense undergrowth.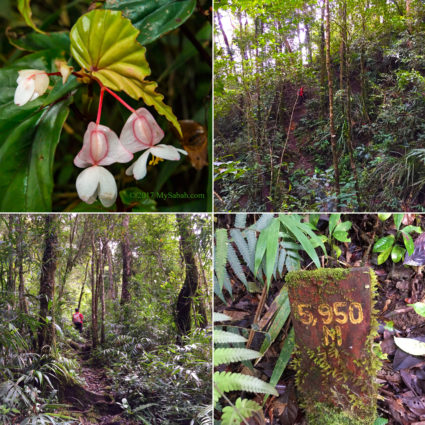 There is a camping ground about 200 Meters before the summit. Some climbers camped there so they could catch the sunrise next morning.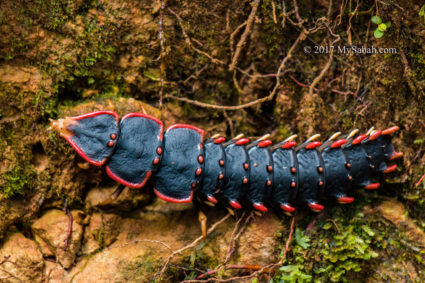 The Summit
Finally we were standing on the peak about 1,603.57 Meters (5,261 feet) above sea level.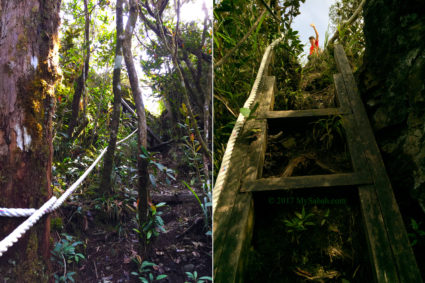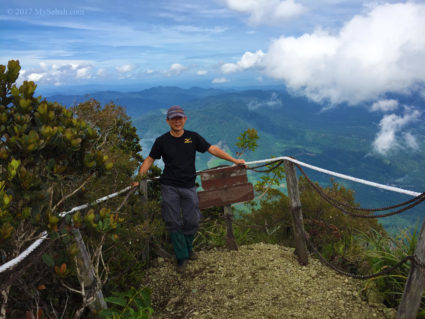 It was windy and cooling up there, with dense cloud passing by the peak swiftly.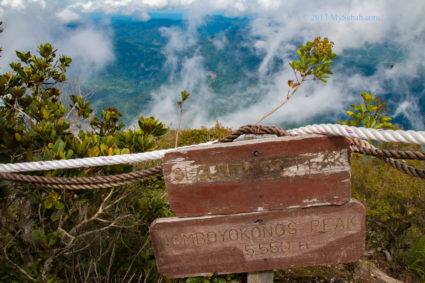 On the summit, you can have a bird-eye view of Kota Belud, Kota Marudu, and Poring. However, sometimes the peak is enveloped by fog then you would see nothing.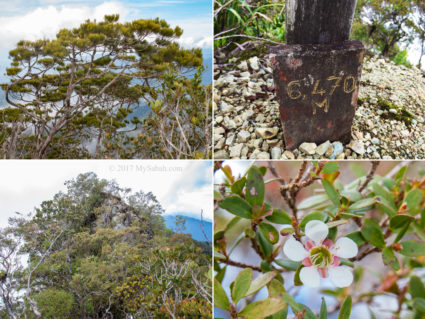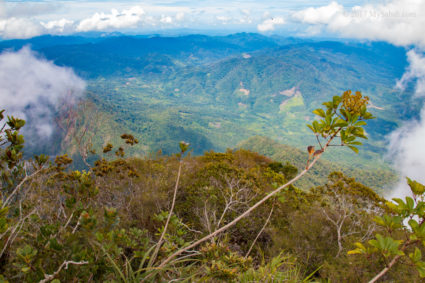 After taking enough photos and selfie, we descended at 1:53pm and reached the park at 6:20pm (a total of 4 hours 13 minutes).
How to Climb
Easy, just go to the Sabah Parks office in Serinsim Park, register and hire a guide one day in advance.
Item
Fee / Rate
Climb Permit
Malaysian: MYR31.80
Foreigner: MYR106
Student below 18: MYR12.75
Insurance
MYR7.00
Certificate (optional)
MYR5.30
Mountain Guide
MYR90 (can guide up to 5 people)
Conservation Fee
Malaysian: MYR3.00
Foreigner: MYR15.00
Below 18: MYR1.00 and MYR10.00 respectively
Since the Park requires climber to depart at 7:00am, it'll be easier if you stay in the park. The accommodation fee for adult range from MYR42.40 (per bed in hostel) to MYR106 (per room of chalet) per night. I leave the math of final budget to you.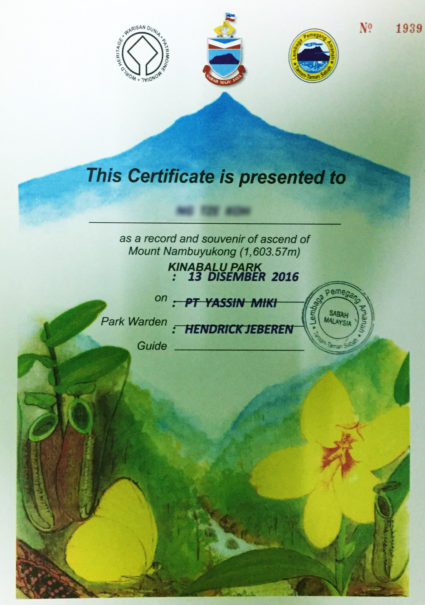 Contact of Sabah Parks
For further info, you may contact Sabah Parks:
Tel: +60 88-523500 (KK Head Office)
Website: www.sabahparks.org.my
E-mail: sabahparks@gmail.com / sabahparks@sabah.gov.my
Facebook: Sabah-Parks-122393837931233
If you plan to stay in the park, you should call in advance to check if the accommodation is fully booked, especially during school holiday.
What to Bring
The most important of all is to wear comfortable hiking shoes that work well for muddy and slippery trail.
Packed lunch
Water
Raincoat / Poncho
Camera & spare batteries
Energy bar
Insect repellent
Toilet paper
Walking stick
Torchlight (in case you come back really late)
When you go back to KK, you may try using the new highway (asphalt road in great condition) that takes 46 minutes to reach Poring. The view is scenic when you pass through small villages and mountain along the way.
Photos taken in Kota Marudu, Sabah, Malaysia Borneo