Whenever you see people go caving in a movie, you know something terribly wrong is gonna to happen next. Soon they would find some skeletons laying around, then they become the dinner of some unknown monster, or accidentally awaken a thousand-year-old demon. To most, cave is a dark and hideous world full of creepy and creeping dwellers.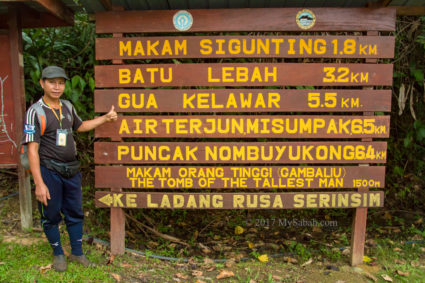 On the other hand, exploring cave is thrilling to the adventurous hearts, as one may expect to find treasure inside. Well, you can make a fortune from saliva and dung. I meant the edible bird nest (US$2,000 per Kg) and guano fertilizer (good quality as it's rich in nitrogen, phosphate and potassium), which are the real treasure from a cave. To me, whether it's a monster or Batman inside, cave is always a mysterious place that draws me.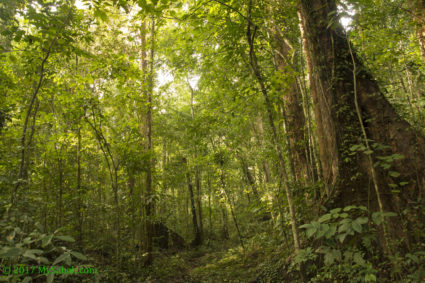 In Sabah, only a handful of caves are really huge, for example, Gomantong, Madai, and Japanese War Tunnel. Most other so-called caves listed in tourism brochure are more like crevices between boulders less than 20 Meters deep, with some smelly guano, noisy bats and stinky cockroaches that wait to be screamed at.
Therefore, at first I didn't expect much from the Bat Cave (Gua Kelawar) in Serinsim Park (in Kota Marudu, Sabah, Malaysia). When I checked it out, I was really excited to see something new and special. And for the first time, the video of this cave is available online.
Going to Bat Cave (Gua Kelawar)
Gua Kelawar (translated as Bat Cave) is located in Serinsim Park (or Sorinsim), a substation at the north of Kinabalu Park about 130 KM away from Kota Kinabalu City (KK). In the park, you need to walk 5.5 Kilometers (one way) on a jungle trail to reach the cave, and you must be escorted by a guide. You can request Sabah Parks (management of Serinsim) to get you a guide. The guide fee is MYR60 (about USD$15), you can hire one guide for your group and share the cost among yourselves.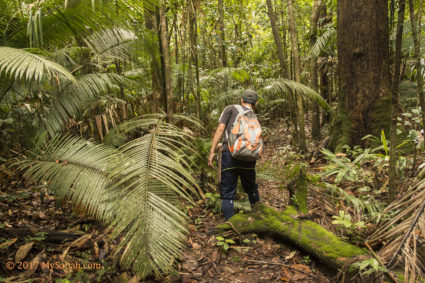 A round trip is 11 KM in distance. FYI, I departed around 7:30am and arrived the cave about 11:30am. You better go in the morning, so you can come back before nightfall. Do bring water, packed lunch and raincoat with you. Dry bag is optional but good to have because you will cross two rivers. Hendrick is my guide. Though he looks very serious in my photos, he is really friendly and helpful.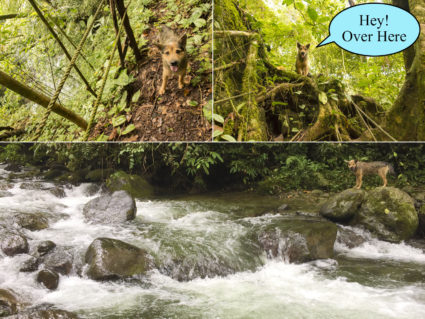 A village dog named Genat (means flash or lightning in Dusun language) was following us. Genat was always running 10 Meters in front of us. He would stop and wait if we were too slow. Sometimes he would go missing in action, then suddenly pop out of the wood next to us. According to Hendrick, Genat had followed the tourists to the peak of Mt. Nombuyukon (Height: 5,550 feet!) a few times. Sadly, after 3 KM, he was stopped by a river. After barking at the river for a few minutes, he headed back to village in disappointment, poor dog…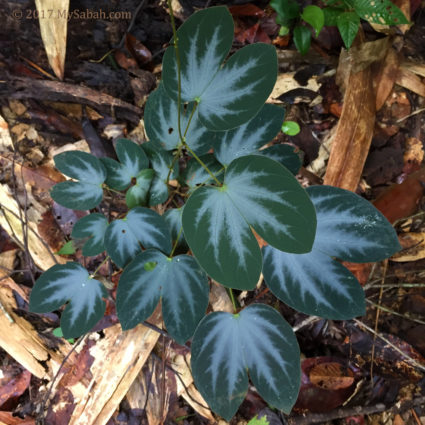 The jungle trekking is not so tough. The first 3 KM is mostly flat area, with some short walk on gentle slopes, followed by a walk on undulating terrain for the last 2.5 KM. Blood sucking leeches are present in this warm and humid rainforest, so you better wear a leech socks. I saw some interesting mushroom and plant along the way, and happy to see two hornbills flied over the canopy.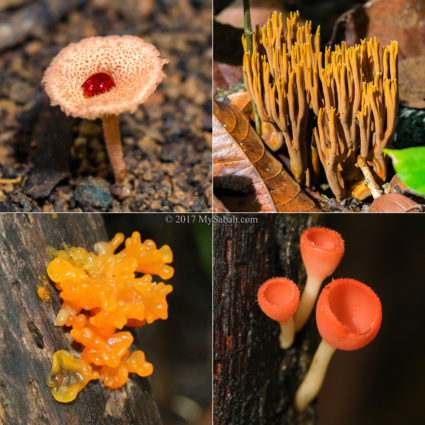 Hendrick is a very responsible guide who has been guiding tourists since 2006. I'm sure whatever shit happens to me, he will make sure I go back in one piece. He is 44 years old and a Dusun lives in Serinsim Village.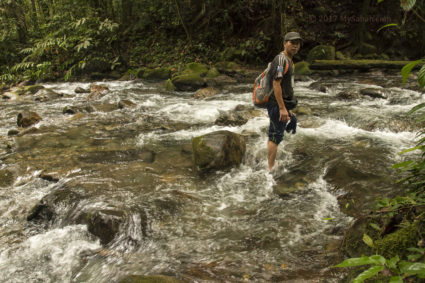 We had to cross a few streams and two rivers. One of the streams is called Thomas River, because a white man missionary died there during World War II. The rivers are about 2 to 3 feet deep (Be careful of the uneven depth). To avoid getting wet, I crossed with my underwear only lol.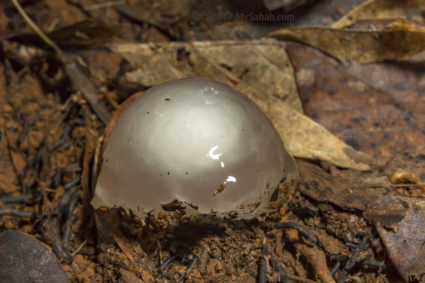 After we crossed the second river named Sungai Serinsim Gibang, Bat cave is only 200 Meters away.
Outside the Cave
As we were approaching the Bat Cave, I could smell the ammonia of the guano. This is a bat zone, evidenced by their dropping on the vegetation.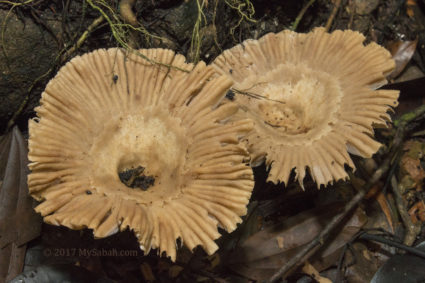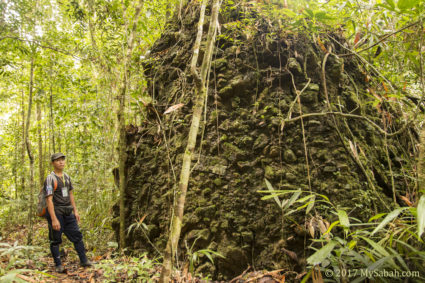 Then we saw a beautiful rocky knoll, which is about 20 Meters high and mainly constituted by dark colored conglomerate.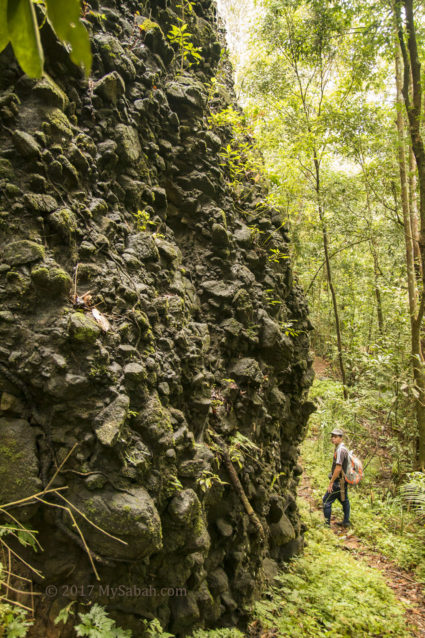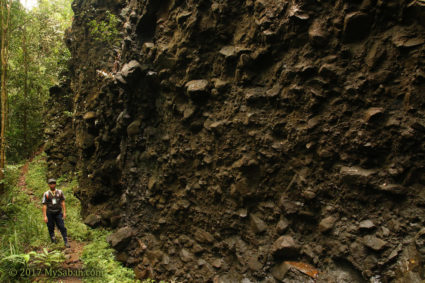 My first impression of that knoll is – it looks like a rock castle of a vampire, and something belong to another world.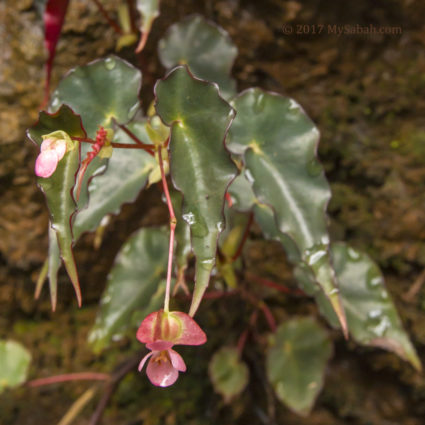 Though I was near to Bat Cave, I was so enticed by the peculiar surrounding, so I spent more time around to explore more. The cave area is a flourishing zone for begonia. More than 190 species of begonia are found in Borneo and more than half are endemic species.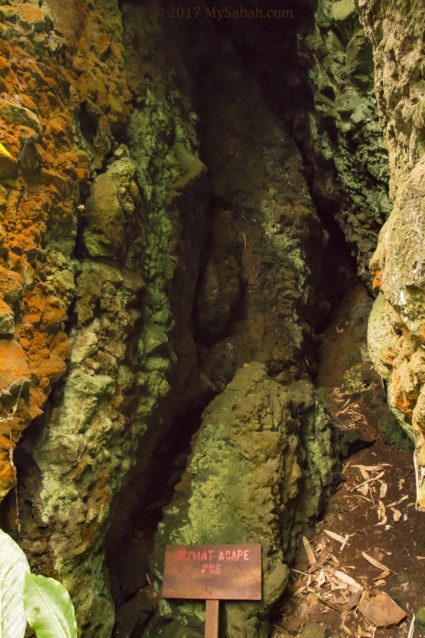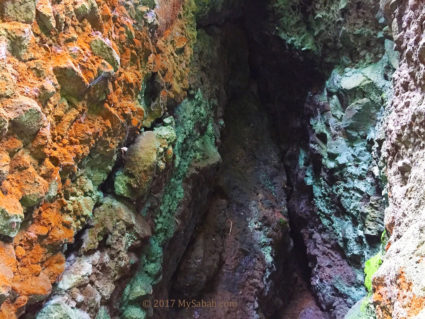 Probably due to some chemical reaction, the bat dropping "dyed" some rocks into green, orange and purple colors.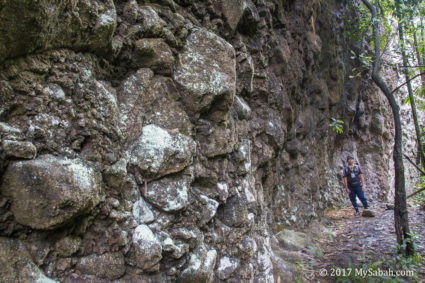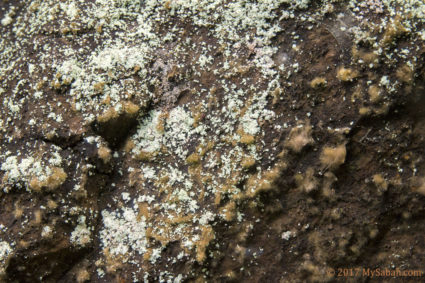 Some rocks seem to have mold growing on them and turn whitish.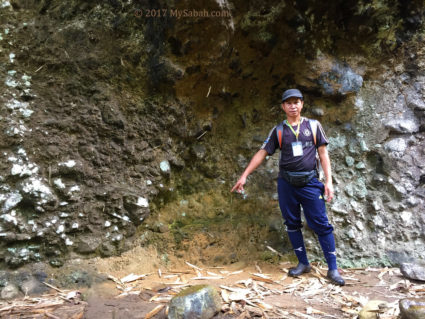 More than a hundred years ago, this place was one of the hiding places of Sigunting and his followers, a guerilla group who rebelled against the British colonial government.
Exploring the Bat Cave
The entrance to Bat Cave is about 12 Meters above the ground and doesn't look inviting. Frankly I was a bit scared because I had 0 info about this cave, and didn't know what was waiting for me inside.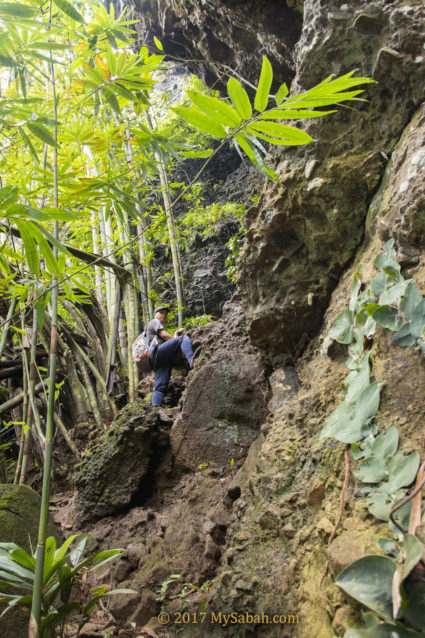 Hendrick and I climbed over some boulders with bare hands and came to a 15-feet aluminium ladder that led to the opening of the cave. The aluminium ladder was covered with mud and probably bat shit, quite disgusting, but I didn't plan to flinch once I started.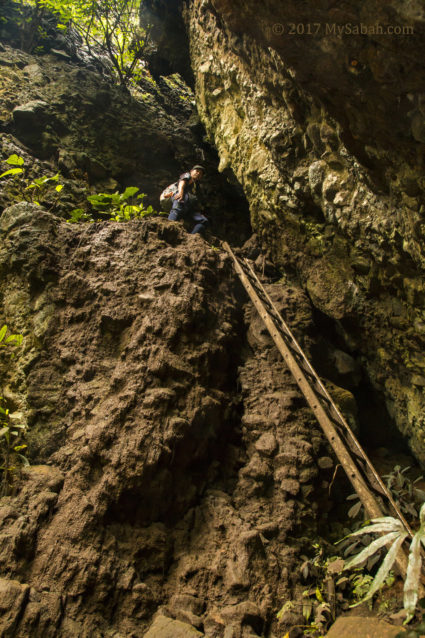 The smell of guano got stronger, and from the loud volume, I could tell there were a lot of bats in the cave.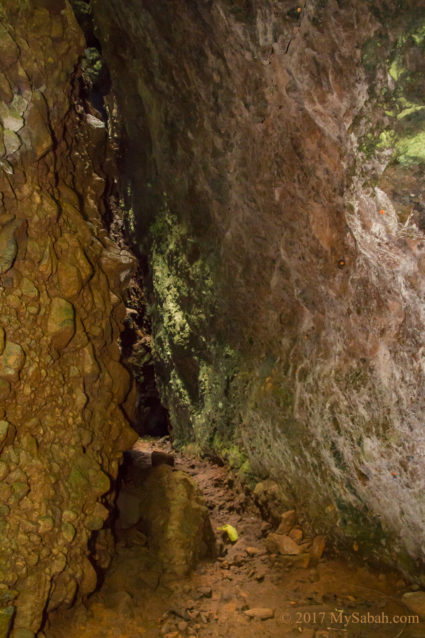 After I climbed up the ladder, in front of me is a narrow passage that is only 4 to 7 feet wide, enough to cause some panic attack to those with claustrophobia (Fear of Confined Spaces).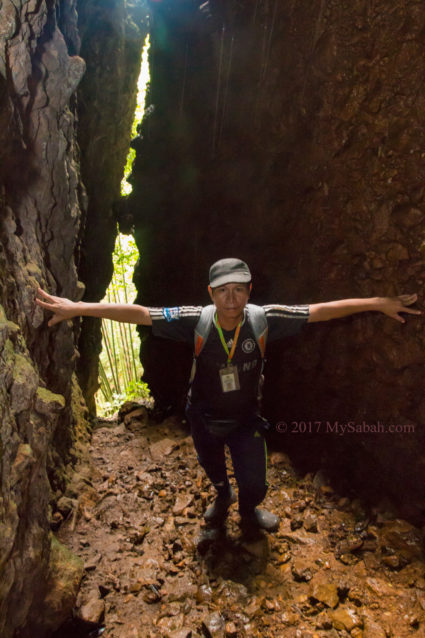 I entered the tunnel. It's quite steep, with 30 to 50 degree of slope. I moved up slowly on pile after pile of rocks with uneven surface, and had to use the rock wall as support. Hendrick was about 10 feet behind me. I worried some loose rocks would be freed by my footsteps and hit his face, so I asked him to stay closer.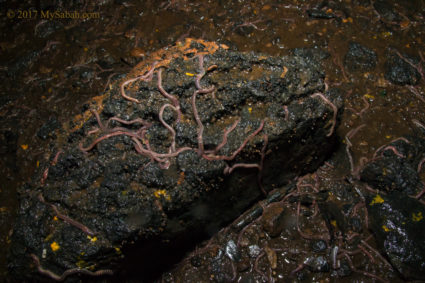 Even though it wasn't raining outside, the cave was really wet with water dripping from the top. Thanks God we reached a relatively flat and wider area after 25 Meters. It gets really dark and dingy, so I turned on my torchlight, then I noticed something like snake crawling next to my foot.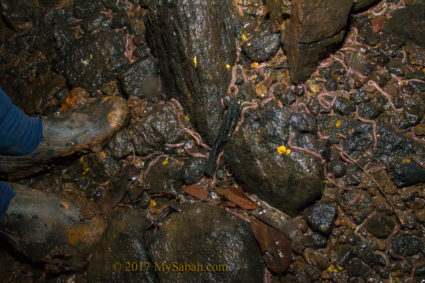 It's a… no, thousands of big and long earthworms everywhere! Most of them are over one foot long, with disgusting red segment rings. Aren't earthworms living underground? I can't explain why they lay around on exposed rocks from the ground to the wall as high as 10 feet.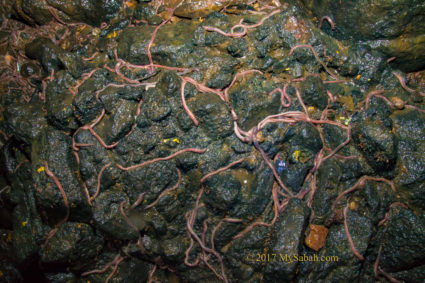 There were some cockroaches ran away from my light. Compare to earthworms, they are like a minority in this cave.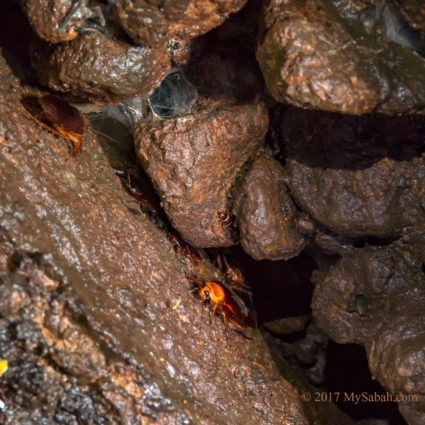 My spidey sense kept pressing me to leave the cave, but I ignored my tingling goosebumps and moved further in and faced another steep climb.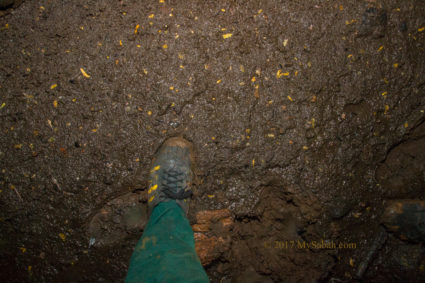 When I looked up and pointed the light to the top, Oh-My-Gosh, I saw a dense dark cloud of restless hanging bats. Their echolocate may have detected intruders, so they jittered. The deeper I went in, the more intense and louder the bat screeching, it's getting almost unbearable. I knew for sure that I was not welcomed.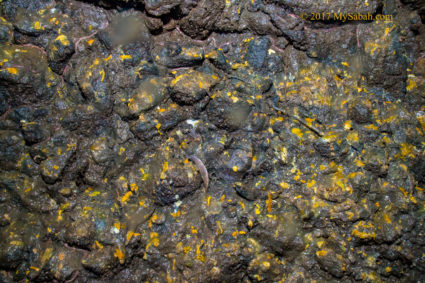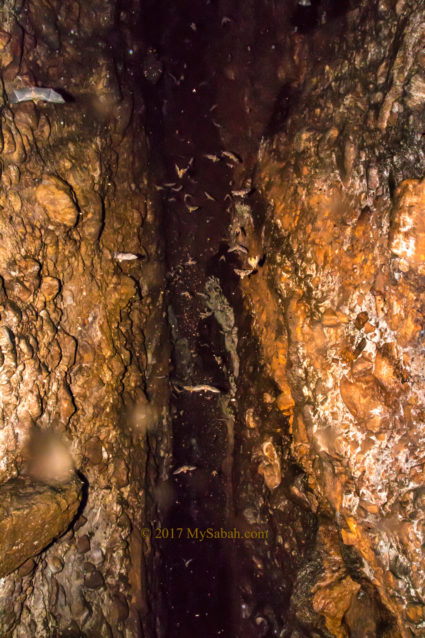 Suddenly they all took off and flied in panic. It's like turning on a giant fan and create a strong turbulence of air in the cave (I'm not exaggerating here). My heart was thumping like crazy.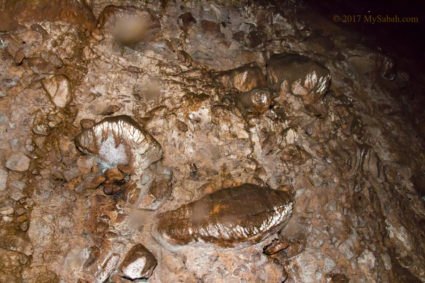 I didn't see any stalagmites and stalactites, so this is not a limestone cave I guess. After walking for another 20 Meters, we came to an edge of a 10-feet drop to a trench filled with guano. I could see light at other end of the cave. I estimate this cave is about 200 Meters long.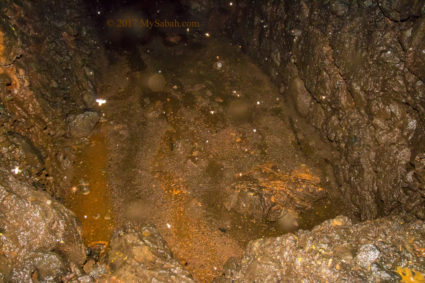 I had no idea how deep is the guano pool, so I better didn't try to walk over it for the sake of safety.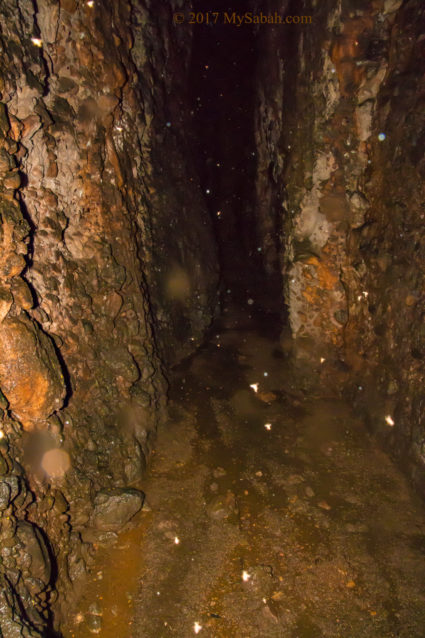 Hendrick says I'm the first tourist who goes inside Bat Cave. I would not recommend you to try this, as it carries some risk. It is not a touristy cave which have boardwalk for you to explore the cave illuminated by colorful light. If you really want to explore, bring a very powerful torchlight or LED headlamp.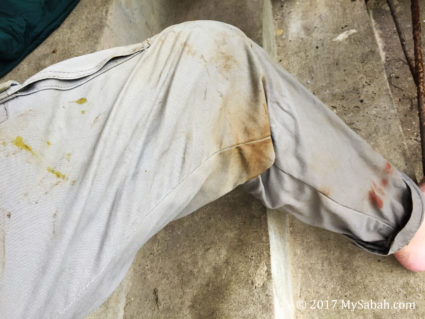 My body is full of stains of bat dropping, mud and leech bites. This is the filthiest trip that I have experienced so far, but fun.
Photos taken in Kota Marudu, Sabah, Malaysia Borneo