The tallest man in Guinness World Records is Robert Pershing Wadlow, who is 2.72 Metres (8 feet 11.1 inches) tall. However, he would look like a Barbie doll to Gambaliu, a giant man who is 24 feet in height. Gambaliu is even taller than a giraffe (20 feet). Who is Gambaliu? Is he a monster that eats children, or a gentle giant that rescues kitten stuck on a tree (and eat it)?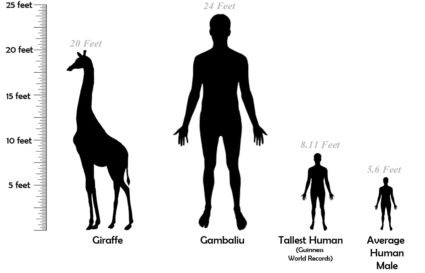 Ok, no need to get too concern. Gambaliu is only a fictional character in Sabah legend. If he really exists, NBA would had made him a superstar basketball player.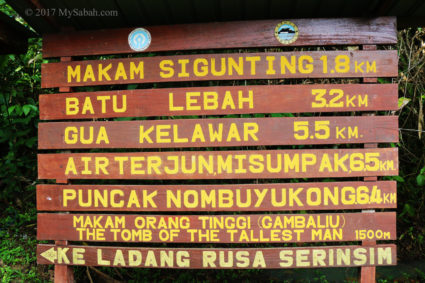 Today only his tomb is left, in an unexpected place, not in Frankenstein lab but inside Serinsim Park in Kota Marudu, about 130 KM away from Kota Kinabalu City.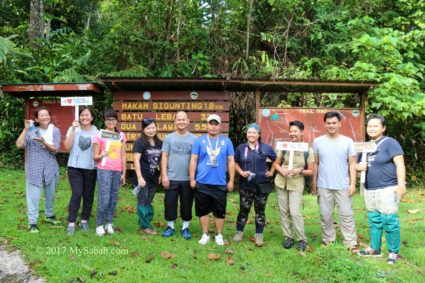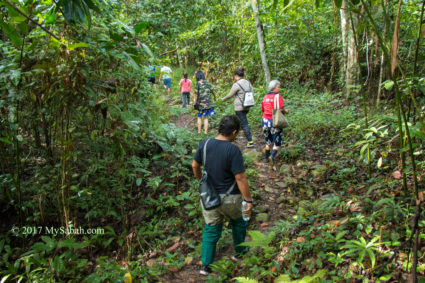 To visit his grave, you need to walk 1.5 KM in the rainforest of Serinsim Park. The trail is not very challenging. It's only a bit warm and humid, and a few leeches would present during wet season.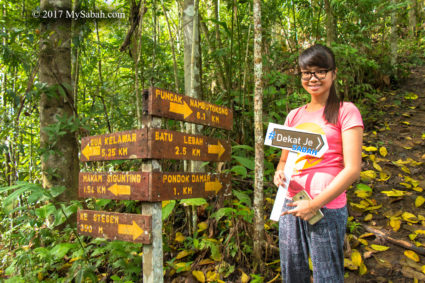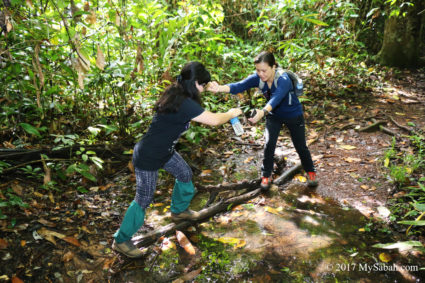 According to Mr. Tambakau Bin Tunggal, presumably an elder from Kampung Serinsim Village, Gambaliu lived there about 2,000 to 3,000 years ago.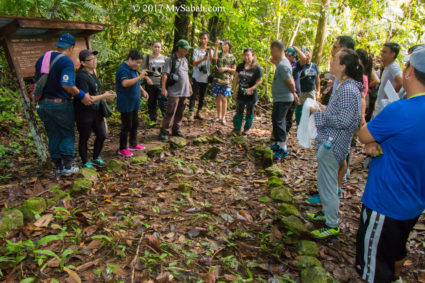 His body was so long that after he died, the people cut his body into half at knees, to make it easier to dig the grave. What this story tells me is that his people are lazy.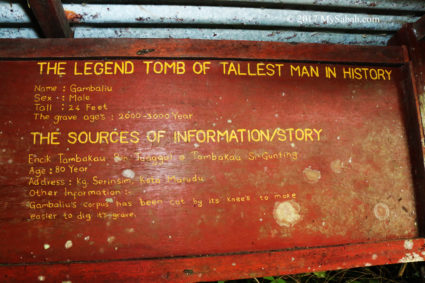 What left now is a grave encircled by rings of stones, there is no tombstone and marker.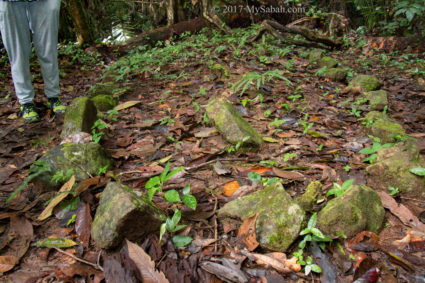 If I have a chance to talk to Gambaliu, I would like to ask him what to eat to grow tall, as every woman wants to date a tall guy. Even a 150cm girl prefers a 200cm boyfriend, so short guy like me has no market.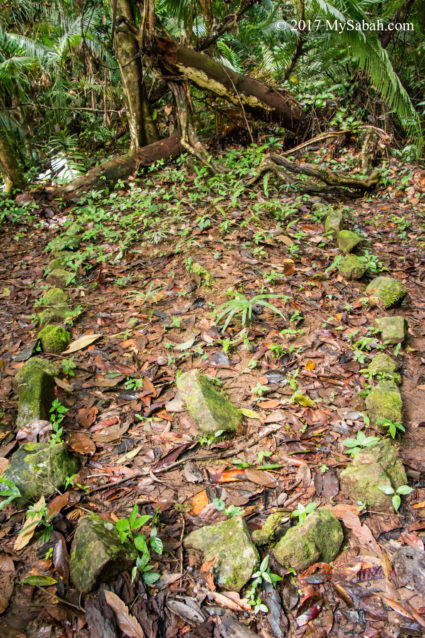 I wish to tell you more about Gambaliu, but that's all I heard. The tomb has nothing exciting, unless they allow me to dig out the bones of Gambaliu.
Other Giants in Sabah Legend
Anyway, giant is quite common in Sabah legend. I list a few examples below, and each of them has different personality. From the description in stories, some could be taller than Gambaliu.
1. Gayo Nakan
In Kadazandusun folklore, there is a giant king named Gayo Nakan (Big Eater). His people were sick of satisfying his huge appetite. Hearing the complaint, Gayo Nakan decided to sacrifice himself by asking his people to bury him on top of Mt. Kinabalu. However, he cursed the people that they would face drought and famine for lack of caring.
2. Upai Semaring
Based on Lundayeh legend, Upai Semaring was a respectable giant who is a skillful hunter and fisherman. He also possess magical power to vanish himself. Today you still can see his huge footprint near Maga Falls in Long Pasia. He even used his forefinger to carve a rock (named Batu Narit) next to Matang River.
3. The Giant of Kinoringan
When villagers broke their promise, the outraged Kinoringan (God in Dusun's belief) turned a baby into an one-eyed man-eater giant with teeth as big as elephant tusks. This giant can only be killed by seven arrows shot into its eye.
4. Bajau (or Lumanjau)
In Tambunan once lived a helpful and friendly giant called Bajau. He is so strong that he can carry a 10-feet-high stone under his arm, and he is so big that when he crossed the river, the villagers would follow behind to pick up the dead fishes trodden by him. He is also a hero who defends his village from invaders.
Graveyard of Sigunting
About 300 Metres away from the tomb of Gambaliu is the grave of Sigunting, a great man who challenged the imperialism. His story is real and recorded in history book.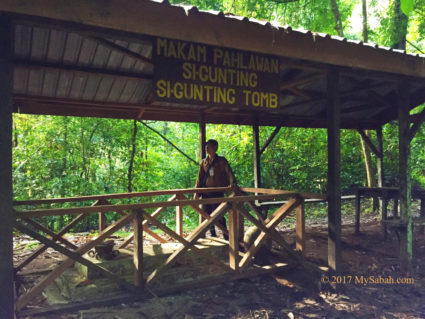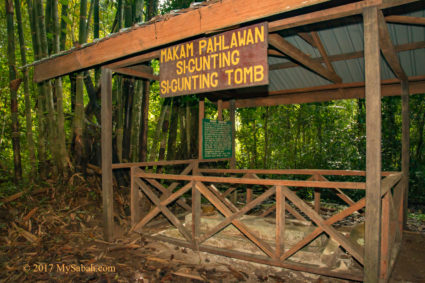 Sigunting is a Dusun warrior born in Mumus (Serinsim) in 1859. When he was 35 years old, he led a 7-year guerrilla warfare against the British colonial government between 1894 and 1901 named Perang Sigunting.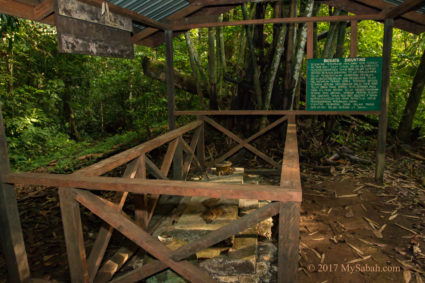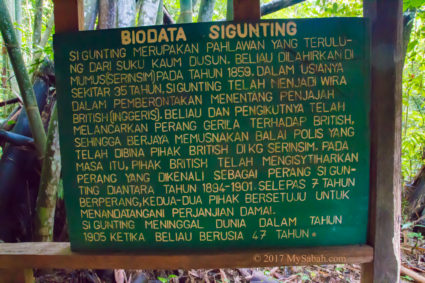 He destroyed the police station in Kg. Serinsim village. However, British force failed to annihilate Sigunting and his followers. Probably Serinsim Park is too beautiful, so the soldiers forgot their duty and went picnic and swimming.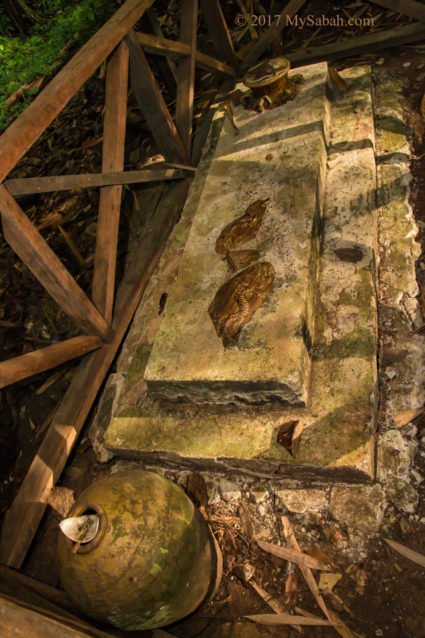 Finally, both parties signed a peace treaty to end the fight, so everyone could go picnic and swimming. Sigunting might be the only Sabah hero who survives the baptism of fire by British force.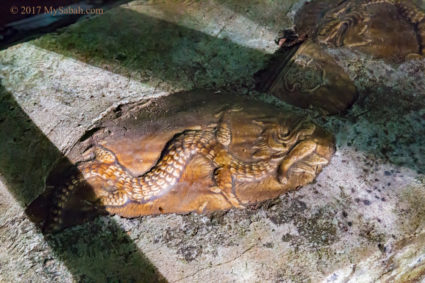 In case you wonder why there is jar in his grave. It's because in old day, Kadazan and Dusun people buried the deceased in a jar (usually ceramic jars from China). The corpse was first placed in big jar, after the body decomposed, the bones would be moved to smaller jar, and big jar will be recycled as it's precious commodity in those days. I'm not sure if they had transferred the bones of Sigunting under the cement grave.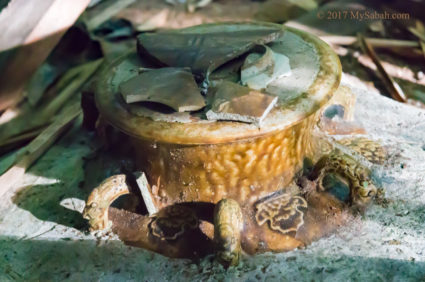 I admire Sigunting because he stood up against paying tax. Seeing that our lives are getting poorer and harder because of GST and various other taxes, I only can sigh (and wait for the next election).
Photos taken in Kota Marudu, Sabah, Malaysia Borneo