DAY 2 – AN EVENTFUL DAY
It's a cold morning in Long Pasia, so cold that all the chicks seek for warmness under the belly of their mother hen. After a heavy breakfast, we got ready for a long trip to Fefukan Waterfall. The journey will start with 3-hour of rapid shooting (river cruise) on Matang River (Sungai Matang) to Lelawid camp, then a 4-5 hours of jungle trekking (about 10 KM).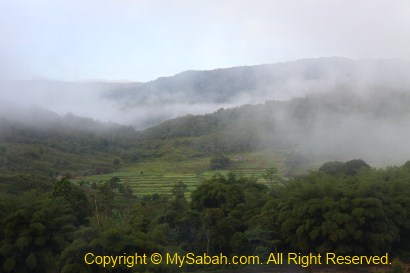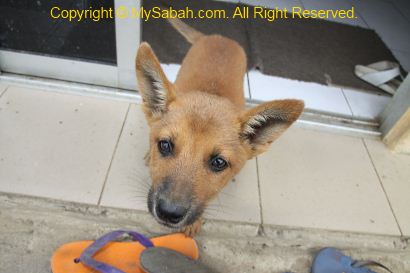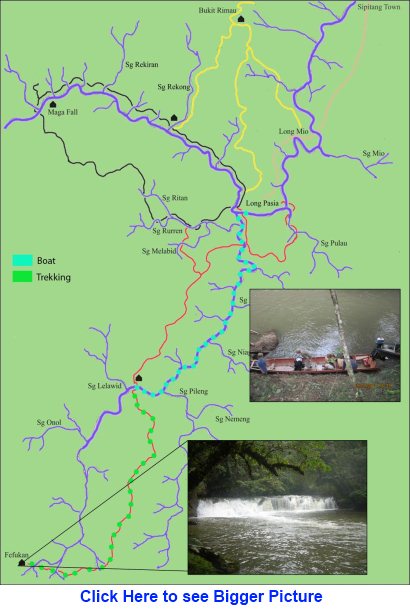 >> Click Here to see more photos of Long Pasia

Click Here to see bigger video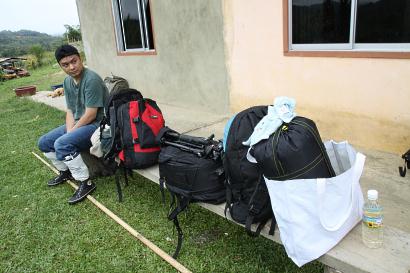 Rapid Shooting
At 8:30am, we gathered at the riverside next to the village. When I saw our boat transport, I felt apprehensive. It's a wooden long boat powered by an engine at the rear. To me, it is only a bit better than a bamboo raft and its wobbly body does not instil any confidence at all. For newbie who tries to stand on this boat, there is a 90% chance he will fall into river within 3 minutes. The slightest wrong move seems to be able to capsize this boat.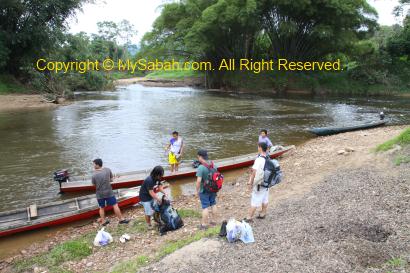 Above: gather at riverside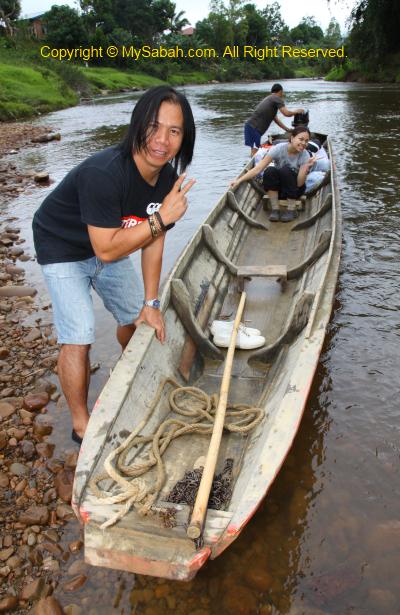 >> Click Here to see more photos of Long Pasia
We loaded our backpacks onto the boats then we departed. To keep the boat balance and stable, everyone must sit still in the center. It sounds easy but my butt hurt in long hours of cruising, and I have to shift my weight occasionally (right and left butt haha).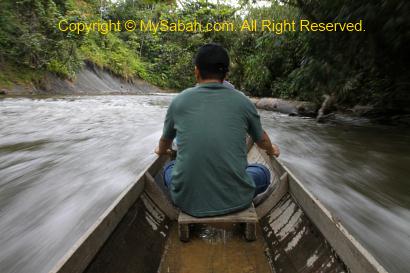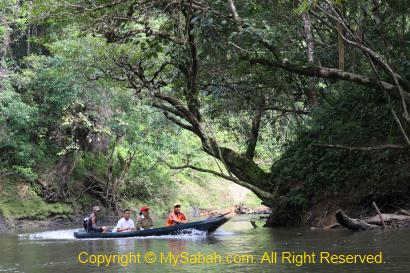 Besides a boatman who controls the engine at the rear, there is a navigator at the front. He will read the river for a safer route and use his long pole to push the boat away from bumping into boulder or to hold the boat in strong current. Only person with strong muscle and balancing skill can handle such tasks.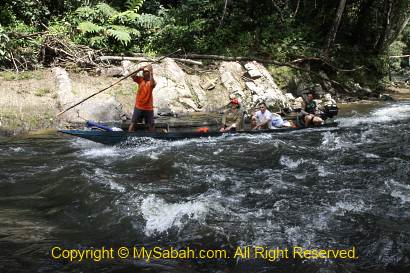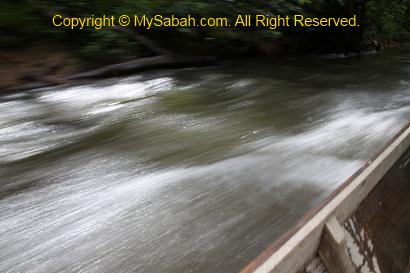 >> Click Here to see more photos of Long Pasia
It was quite a smooth ride on Matang River. I enjoyed the cool breeze and beautiful riverine forest view along the river. At first I worried that the water would splash my camera, but very soon I took out my camera and started shooting. For birds, I saw egrets, heron and stork-billed kingfisher. The river is a bit murky but cold and clean.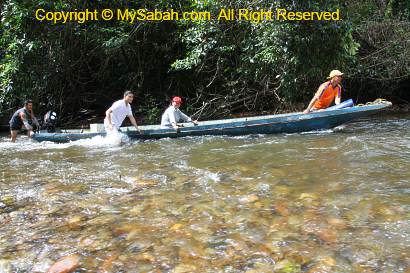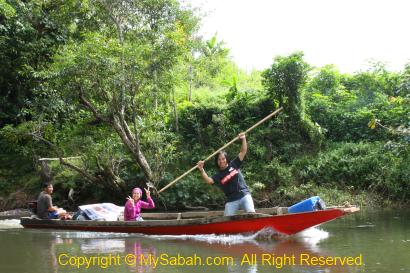 Click Here to see bigger video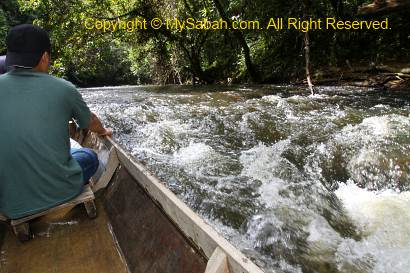 As you can see in the video above, later our wooden boat proved that it's the best river transport. We got around fallen log, went against stream, moved between rocks, and cutting through numerous rapids. There were a few times we had to get into the water and push the boats over shallow river. After 1.5 hour, we stopped briefly at the monument of Prince Henrik from Denmark, who camped there in year 2002.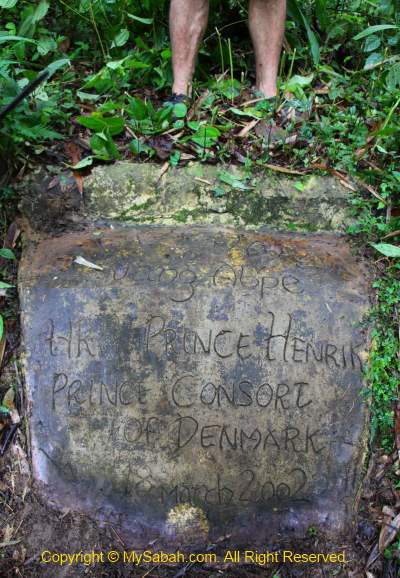 >> Click Here to see more photos of Long Pasia
Ancient Burial Site
At 11am, we stopped by an ancient burial site next to the river. There are more than 10 "coffin" jars scattered inside the forest. We also found fragment of human skulls and bones. It is a traditional practice for our ancestors to bury the dead inside a big jar, and then they will move the bones into smaller jars. And most of these jars are from China hundred years ago. It is not too hard to tell that the jars are "Made in China" coz some have figure of dragon on them. I am not an expert on antique. I only know jars and ceramics of Ming and Qing Dynasties were widely traded in Borneo in the past.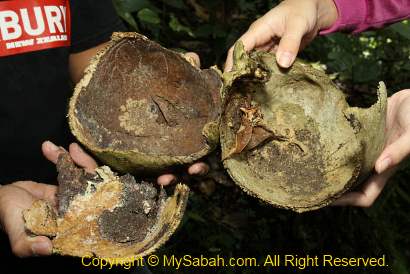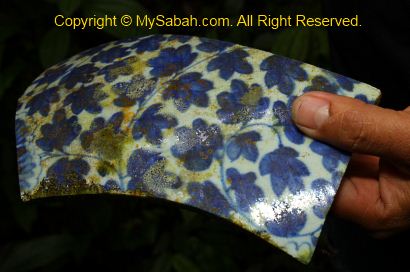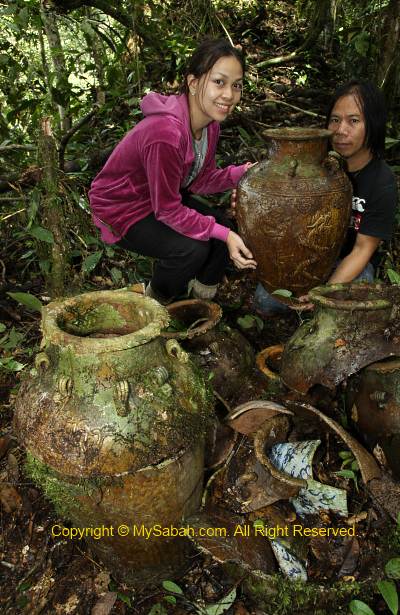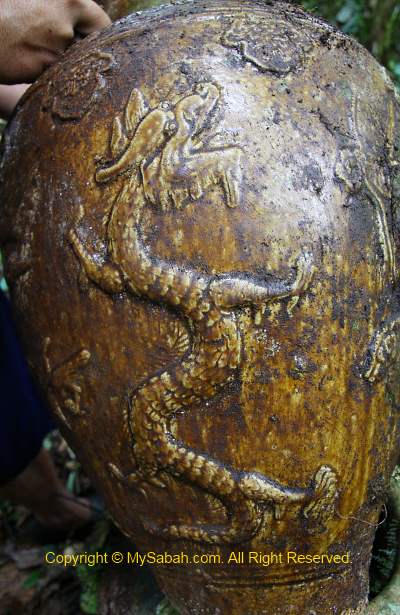 >> Click Here to see more photos of Long Pasia
Batu Narit – the Love Rock
We went on with our rapid shooting. 15 minutes later, a white boulder caught my attention coz its color looked different from other boulders. And I was right. The guide brought us to the opposite side of this boulder and we saw unusual circular carving on the surface.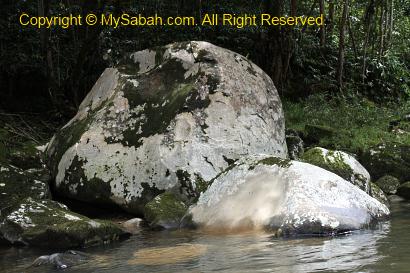 Lait told me that according to the carbon dating done by a local university, the age of the carving is about 600 years old. The carving is so smooth that they wonder what kind of tool was being used. Based on the legend of Lundayeh, it is a finger-drawing by Upai Semarin, an ancestor giant with super natural power. Another version is – it was carved by a man who missed his deceased wife, so romantic…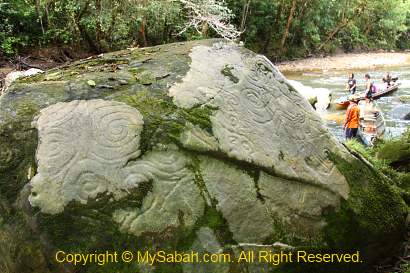 >> Click Here to see more photos of Long Pasia
This boulder seems to have life (or you may call it my superstitious feeling). I touched it and the surface is a bit soft. Personally, I think it is possible to produce such carving if we use wood with rounded-tip to scratch the rock surface persistently. This historical remnant really needs protection coz the algae is slowing eroding the rock face.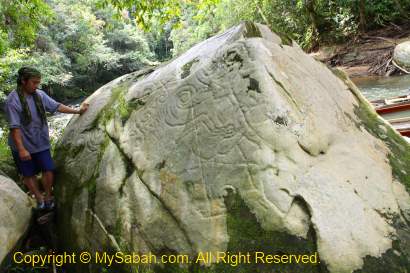 Lunch Break
When we were getting closer, there was a rapid almost every 50 Meters. Oh yes, we reached Lelawid, the starting point of our jungle trekking, at 12pm. It is next to a convergence point of two rivers and they lay a fishing net across the river (you will know what we got later).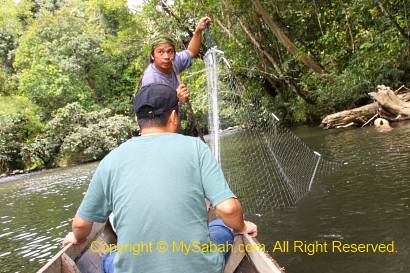 Above: laying fishing net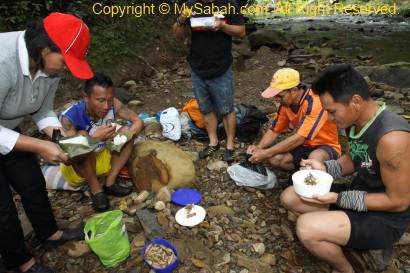 >> Click Here to see more photos of Long Pasia
Later we will need to walk about 4 to 5 hours in jungle to Fefukan Waterfall, so we have our lunch at the riverside first. It is like a picnic, so fun. We had some Long Pasia rice, with curry and hot dog. What I like the most is the small and salty "Ikan Sawah" fish. It's so soft that you can eat its bone.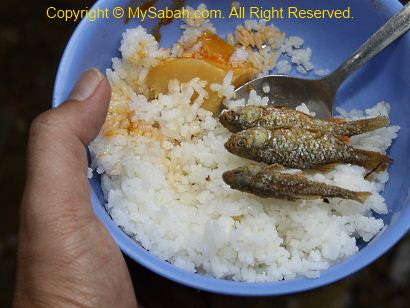 Above: Long Pasia rice with salty Ikan Sawah fishes
At last, the toughest activity of the trip is about to start… We will walk to the Fefukan Waterfall campsite.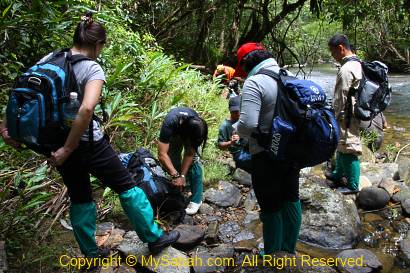 Above: get ready for jungle trekking
Photos taken in Long Pasia, Sabah, Malaysia Borneo