I'll pick Long Pasia as my hometown, if I were to born as an "orang kampong" (villager) in Sabah. More than 250KM away from Kota Kinabalu, Long Pasia is located in south-western corner of Sabah, very near to border of Kalimantan (Indonesia). With an altitude of 1,000 Meters above sea level, cool mist frequents Long Pasia, hiding some least-known natural and historical heritages of the Heart of Borneo.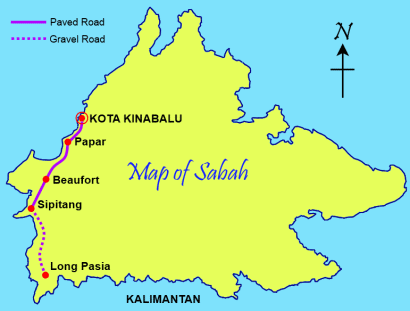 Since year 2005, I have been thinking of visiting Long Pasia. My father had been there and told me about this beautiful and remote place. Finally I had the chance to join a 4-day-3-night adventure with a group of friends in early Nov. Below is the outline of our Long Pasia trip:
Day 1: Depart to Long Pasia homestay
Day 2: Rapid shooting & jungle trekking to (and camping at) Fefukan Waterfall
Day 3: Back to Long Pasia homestay
Day 4: Back to Kota Kinabalu city
You may Click Here to see the detail itinerary.
DAY 1 – GOING TO LONG PASIA
Road Trip to Sipitang
The road trip to Long Pasia took us about 9 hours (8am – 5pm), as we made a few stops. The beginning part is easy; we drove 2.5 hours on a paved road from Kota Kinabalu city to Sipitang town (144KM). At 10:30am, we reached Sipitang, where we had our early lunch and purchased food supplies for camping. Sipitang has undergone some changes and now it has a nice sea-view esplanade.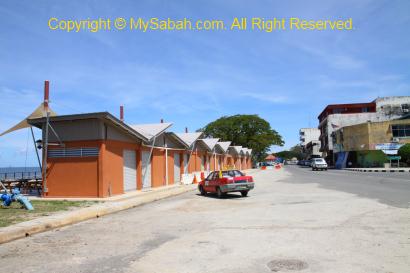 We also met up with our Long Pasia guide, Lait. At first look, you have no doubt he is a competent "jungle man" coz he is muscular. I'm surprised that he is also a talent artist, and his drawing is so fine and detail, a big contrast to his rugged figure. He always has a mischievous smile on his face, as if he would play a prank on you anytime (and he does!). He is a naughty and playful big boy, this trip would be less fun without this friendly guide as our company.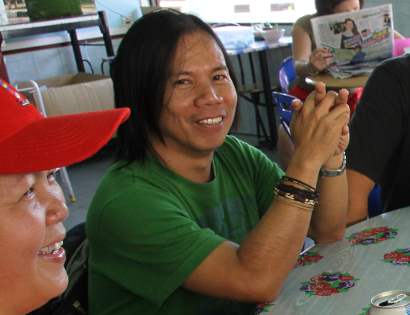 Above: Lait, our guide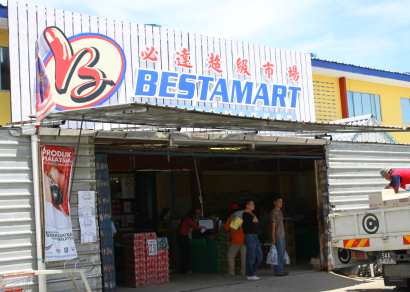 Above: Bestamart Supermarket
After lunch & briefing, we dropped by Bestamart supermarket of Sipitang, to get some stuffs for our camping. We bought biscuit, instant noodle, can food (sardine, curry), 3-in-1 coffee mix, onion, vegetables, water, oat meal, sugar & salt, cooking oil, etc.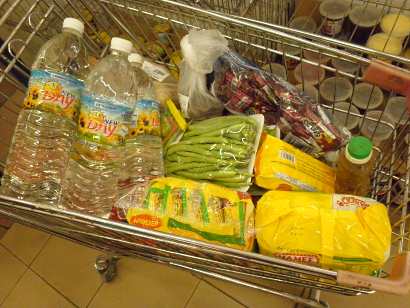 Then we loaded our bags and supplies to a 4-wheel drive. Long Pasia is 123 KM away from Sipitang, and it'll be a 4-5 hours bumpy ride on a hilly gravel road (a logging road in fact). The road was dry and dusty that time. But in rainy season, the road will turn muddy and slippery, only accessible by 4WD. It sounds very isolated, but the most beautiful and pristine places of Sabah are always in remote region.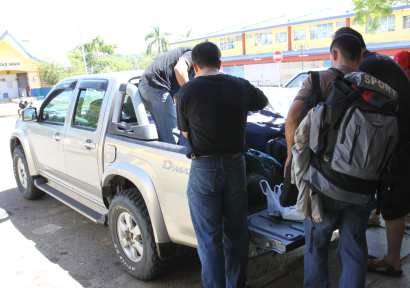 Iban Longhouse
We visited an Iban longhouse about 15-minutes away from Sipitang. I knew there were some Iban people living in Tawau district (South-east of Sabah), but didn't know some of them lived in Sipitang too. Though this longhouse is a modern version, it is really long and able to house about 40 families. The veranda is so long and wide that some children have fun racing on it back and forth.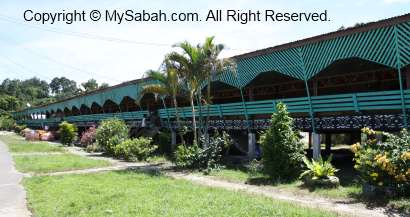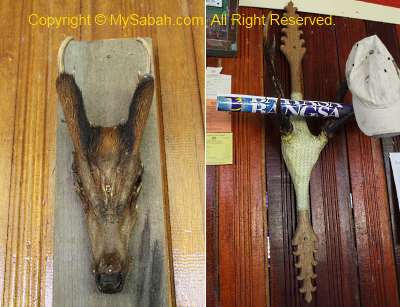 >> Click Here to see more photos of Long Pasia
The most distinct feature of this longhouse is the deer skull decors at each door. I saw the skulls of Sambar Deer and Barking Deer (Kijang). We only stopped here for 10 minutes, and then we continued our journey to Long Pasia.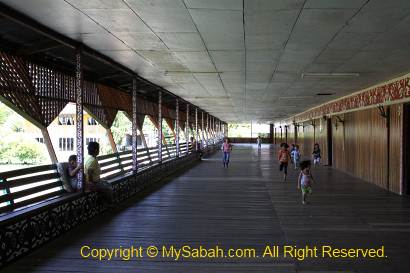 Road Trip to Long Pasia
Very soon we hit the rough gravel road. We passed by small villages, plantation (e.g. rubber, banana, paddy, tapioca, maize) and rivers, most of the time we were surrounded by lush hill forest and saw no other car. Sadly, we also saw logging trucks and deforestation done by SFI (Sabah Forest Industries). You may watch the video below to get an idea of the road trip.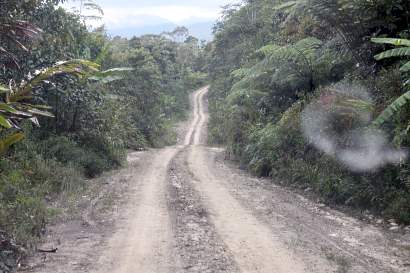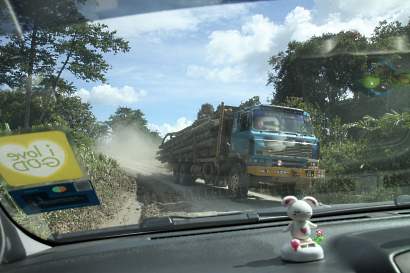 Click Here to see bigger video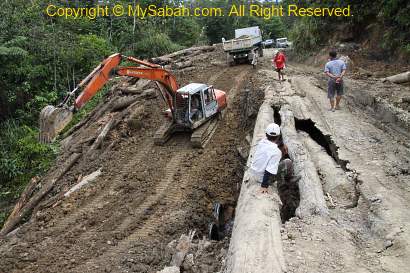 When we were about an hour from Long Pasia, we found that a bridge in front of us collapsed. Luckily a truck and excavator were there to make a new way. Within 30 minutes, we could move on again.
Long Pasia Village
Finally we arrived Long Pasia at 5pm. Long Pasia means "Mouth of the Red River" (though I want to call it "Long….. Passage" due to the long ride). First thing I felt was the fresh and cool air (remind me of Kundasang town decades ago). This highland village is always in dense mist in the morning and late afternoon. Surrounded by mountains, forest and rivers, Long Pasia is the one of the few villages closest to true nature and wilderness. They said an eagle grabbed a chick when we got there.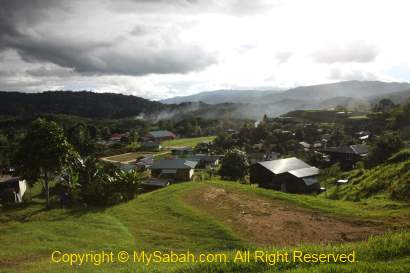 Above: Long Pasia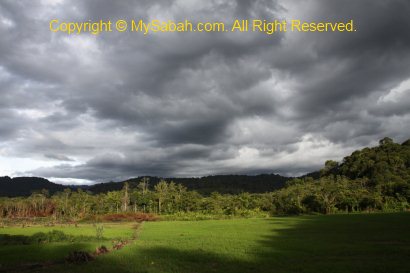 Above: Paddy field
Most of the 600 villagers here are Lundayeh people, which means "People of the Interior or Upriver". In the past, they were headhunters, as well as a strong rival to another headhunting tribe, Murut (means "People of the Hill"). Now most of them are Christians and work as farmers, fishermen and hunters, and they are one of the friendliest people I meet.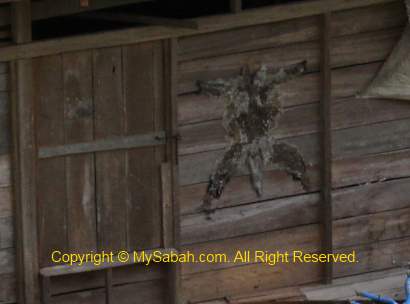 >> Click Here to see more photos of Long Pasia
Long Pasia is unlike the typical Malay kampong (village) in other parts of Malaysia. Most villagers still converse in Lundayeh, though they speak fluent Malaysia language. Lundayeh is also found in Sarawak (known as Lumbawang instead) and Kalimantan. To see their differences in costumes, you may see my blog on Lundayeh Festival.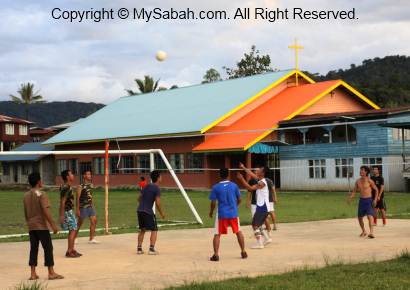 We walked around Long Pasia in late afternoon. We were greeted by friendly villagers and felt so welcomed as a guest. Many were playing soccer and volleyball on the field as past-time. I noticed there were so many dogs, probably as many as the human population here. FYI, you will be fined RM500 (USD$150) for killing a dog, coz many of them are trained as a hunting dog, a loyal partner that follows the hunters in and out forest for days.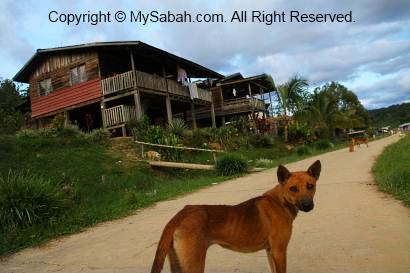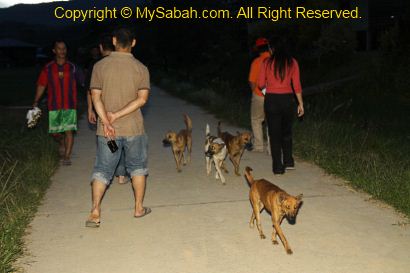 Another "feature" of Long Pasia is the Solar Panel outside every house. There is no power line here, so they rely on stored solar electricity for basic lighting and TV. This solar panel costs about RM15,000 (it is funded but I don't know by who)! If they need more power, they will turn on the generator on demand, so I can charge my camera batteries. You can save a lot on electricity bill by living here, coz we don't need air-conditioner in cool place like Long Pasia.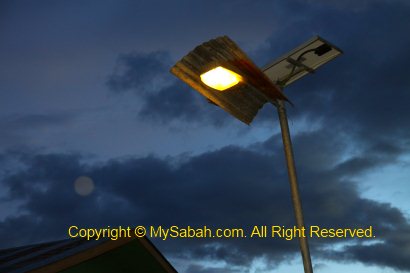 Above: Street light powered by solar panel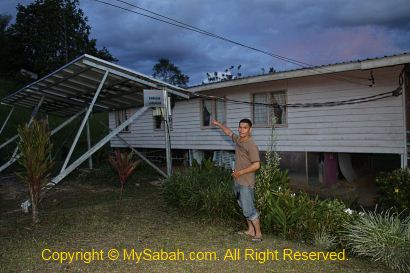 Above: Huge solar panel
My mobile phone got no line coverage here. I was told that they have Internet connection by satellite in the village, so some of them even have Facebook accounts. Not only that, many houses also have Astro channel (satellite TV).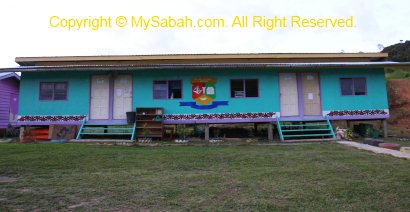 Above: SK Long Pasia, first school in Long Pasia
Long Pasia Homestay
For first day, we stayed with a local family (Dina & Janet) in Long Pasia. The people here realise the importance of eco-tourism and nature. About 15 houses have registered under the Homestay program. Under the education of environmental bodies, the villagers reduce the cutting of forest and hunting of wildlife, especially in tourist areas, though these have been their traditional practices for centuries.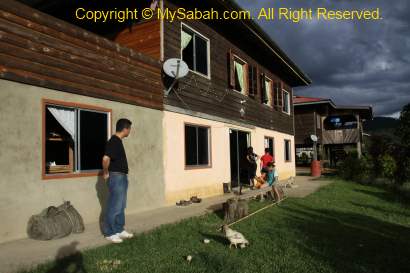 Above: our homestay in Long Pasia
The standard of living here has improved over the years, and most villagers are self-sufficient. You won't find yourselves staying under the roof of a water-leaking broken hut. In fact, their houses are spacious, comfortable and well-furnished, just as good as the houses in city. As pamper city people, we only had problem to bathe with icy mountain water. We went into the shower room, screamed then stormed out in 2 minutes, probably the shortest shower that we've ever taken, lol…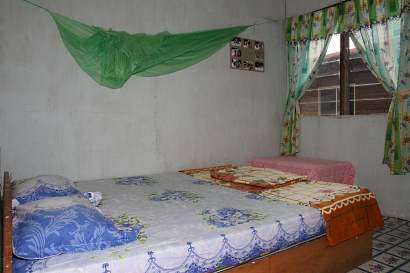 Above: our bed
The evening was getting cold and it was so nice that the family cooked a hot dinner for us. We ate a lot of delicious fresh vegetables that planted and harvested locally. Do you know that Long Pasia produces the best rice in Sabah? It's so soft and yummy that I had 3 plates.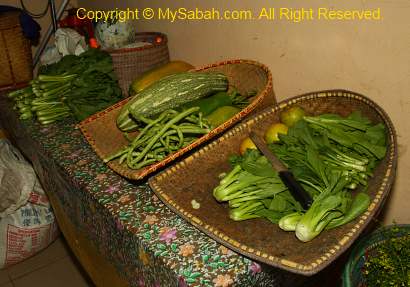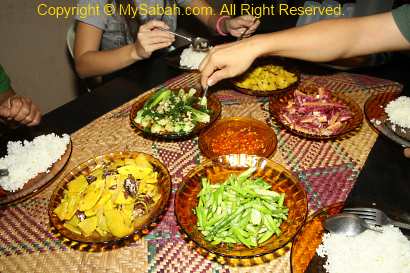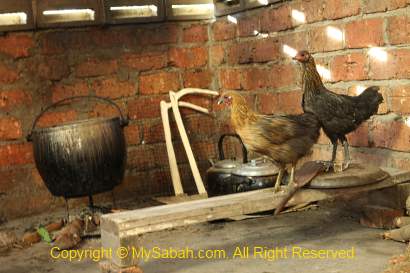 >> Click Here to see more photos of Long Pasia
Long Pasia Homestay has been around for some years, but it is under-promoted. Personally I think Long Pasia is the best homestay in Sabah and many will agree with me. Besides accessibility issue, many tour operators (outsiders) are only interested in earning more $$$ by building luxury chalet there then charging tourists a "5-star" price, just like what happens to Mt. Kinabalu now. I will only opt for homestay coz it benefits the local community, not a few blood-sucking tour players.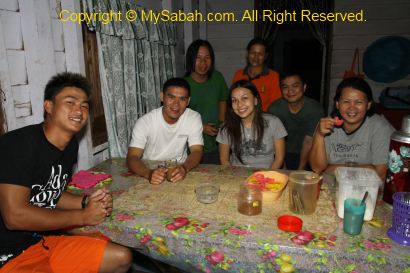 Above: homestay with Rose's family
After a briefing by Lait for the trip next day, we went to bed. Tomorrow we will explore one of the most remote places in Borneo, even to the locals, the Fefukan Waterfall. Long Pasia has many attractions such as Tiger Hill and Maga Waterfall, but Fefukan is totally new and far away.
Photos taken in Long Pasia, Sabah, Malaysia Borneo