Anyone knows where is Pitas? Many may have forgotten this little small town on Sabah map. Since I started my blog, this place was always a big question mark to me. There is nearly no information about Pitas on the Net, and I didn't know what attraction it got, otherwise I could find an "excuse" to visit it.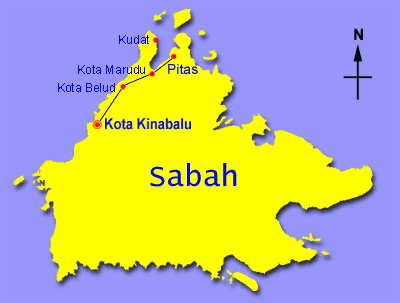 Finally the Pesta Bengkoka (fishermen festival) last week gave me the chance to come to Pitas the first time. The event was held in Mempakad Beach. The first thing that caught my attenton was the hut-like structure a few KM away from the shore. I spotted more than 10 of them. At first I thought it was a fish nursery farm.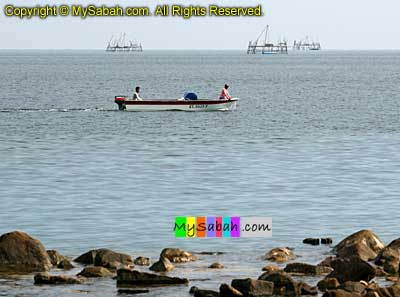 When I looked closer, each platform has a small hut on it, and it got light at night. In the following day, in a fishery exhibition, I was told that this was "Bagang," a traditional fishing device used by Pitas fishermen since 1980. They place a big fishing net in the sea bottom, using light to attract the fishes gathering above the net. When thing looks promising, they just lift the net and collect all the fishes trapped inside the net.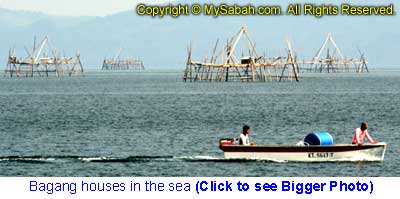 Though the mechanism of Bagang looks simple, each of them costs about RM15,000 (nearly USD5,000) to build, mainly because of the use of expensive wood, which is resistant to sea water. Sadly, with that amount of money, they don't get something like floating chalet. But they are trying to market it as an attraction. You can arrange a visit to Bagang, to see how they catch the fishes. Sound like a cool experience.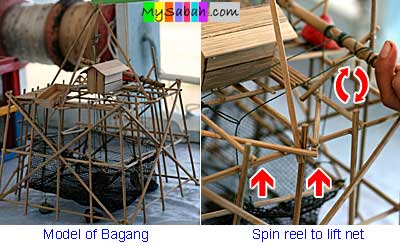 Imagine you are fishing and watching sunset on Bagang. So now you see the first promotion to Pitas on the Net. Pitas is one of the poorest district of Sabah. Hopefully tourism can bring more income to improve their living. My interest of further exploring this place is still strong after the first visit. Will tell you more if I come again.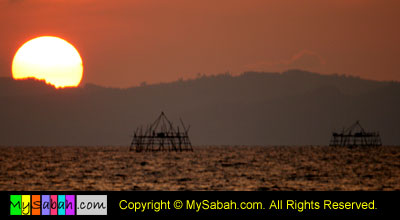 The Marudu Bay is between the "ears" of Sabah and near to Pitas too. Probably due to lack of pollution by industralisation, the sea water is clean and suitable for oyster farming.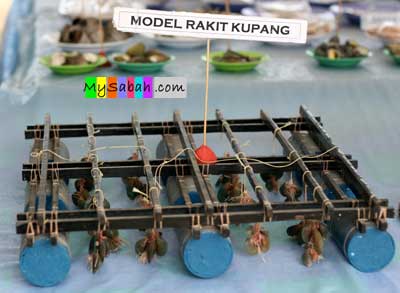 Picture below is a sea cucmber checking out the oysters. Some call these oyster as "Peacock Oyster" coz of its colours.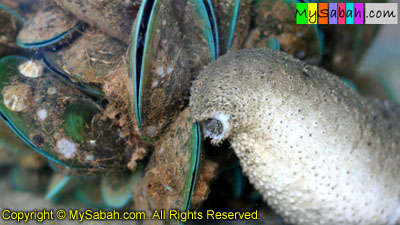 Ikan Billis (Billis Fish) is the famous product of Pitas. Besides being used as a ingredient for many local food, they are also made a good snack. My mouth watering already…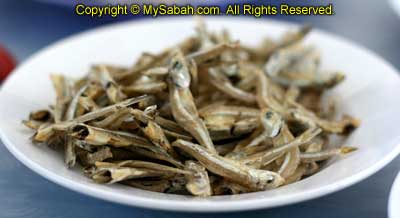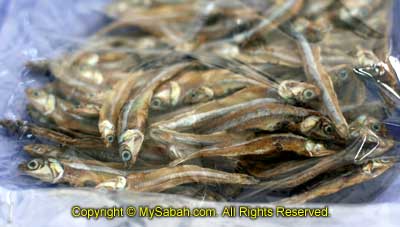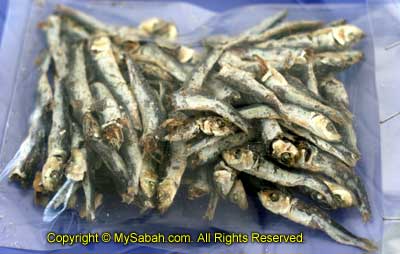 Photos taken in Pitas, Sabah, Malaysia Borneo