(Update: This place is permanently closed)
People always assume that their eyes and brain are flawless, that's why we say "seeing is actually believing." What if our eyes deceive us and what you see is not what it is? Last week I took the challenge by visiting the fascinating world of illusions in Grand Illusions, the first optical illusions gallery of Malaysia (and probably the only one in South-East Asia).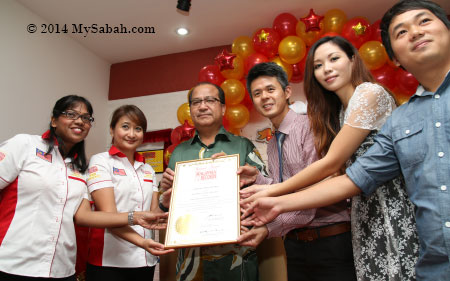 Pic: Grand Illusions was officiated by Mayor of Kota Kinabalu City, Datuk Abidin Madingkir on 20 Dec 2014 and it was certified by Malaysia Book of Records as the first optical illusion gallery of Malaysia.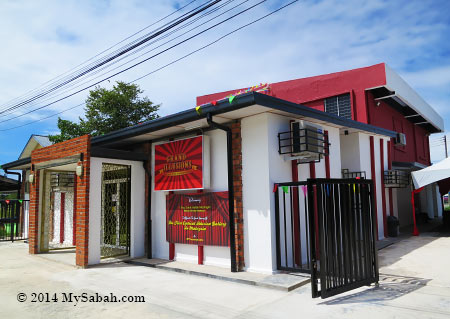 Pic: the building of Grand Illusions
Grand Illusions is like a land of magic but the difference is – you will be tricked by your mind rather than crafty magician. Even though you know those are just illusions, your body just can't help responding to them in wrong way. It's a fun house suitable for all ages (5 years and above is recommended) and both kids and adults will be intrigued by the illusions created by principles of art, physics, biology and mathematics.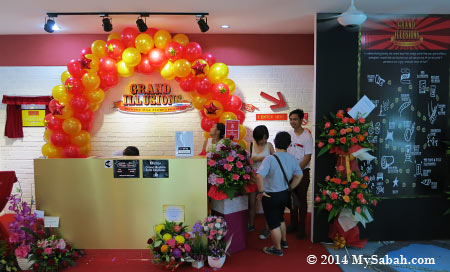 Pic: ticket counter and entrance to the gallery
Grand Illusions was opened in Nov 2014 by Chester and his wife Lena, after they were inspired by Wanaka's Wonderful World of Weirdness in New Zealand. The owners also add some designs of their own. Now it has become one of the most-talked about attraction in Kota Kinabalu City (KK). You may have heard or seen some of the popular illusions on the Internet, but this 2-storey gallery is the only place in Malaysia where you can experience and interact with these illusions in closer and larger scale. Furthermore, kids love to touch things.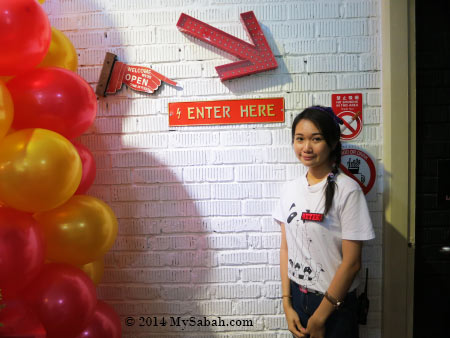 Pic: our pretty guide, Kattie. Thank you for your hospitality.
The tour takes about 40 to 60 minutes and a guide will come along playing with you. Their staff will show you how to enjoy yourself in each gallery and reveal the secrets behind the interesting phenomena you see and feel. His/her another role is to help you to pull yourself together when your mind is screwed by the illusions. But seriously, a few sections would make your senses a bit disoriented.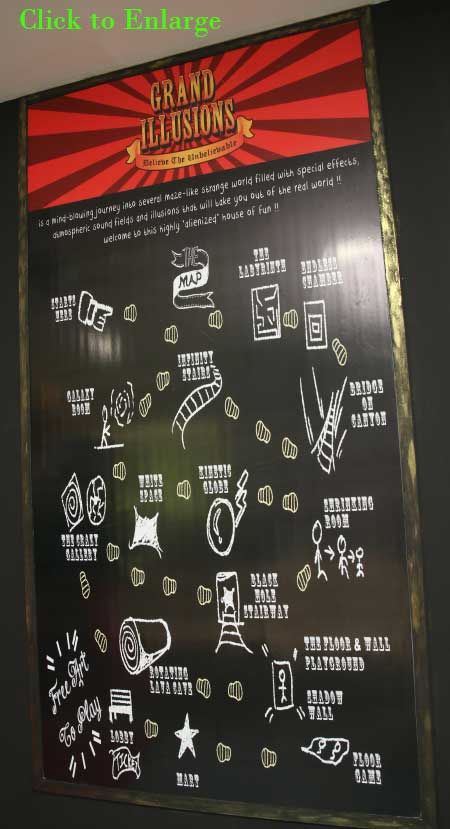 Pic: map of Grand Illusions galleries
There are 12 illusion galleries to make your world seems so "unreal", as shown in the photo above. Photo-taking is prohibited in four of the galleries. Surprises are important for getting the most fun, so I only highlight a few things here and let you go there to figure out the rest.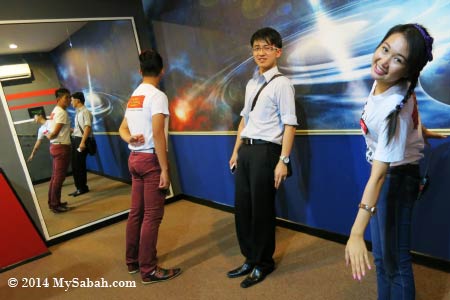 Pic: you can do the anti-gravity lean like Michael Jackson in Gravity Room. The force is quite strong that I couldn't even stand straight.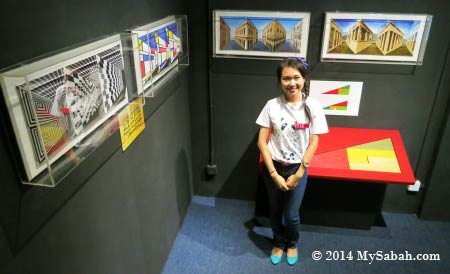 Let's do some eye tests, shall we?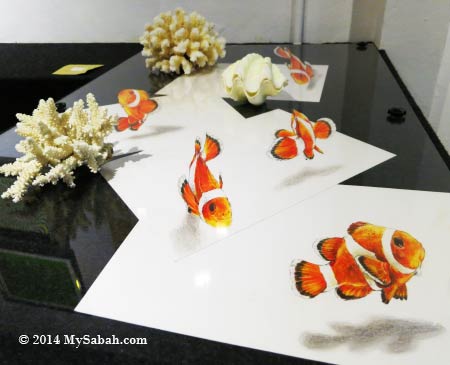 In 3D gallery, even flat painting pops like a 3D object.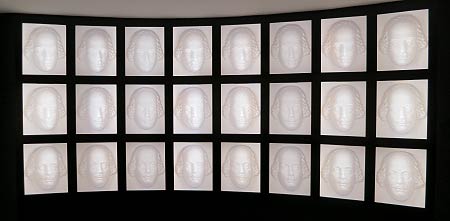 Still objects can look like living things here, like the photo above, all the faces on the wall will turn and look at you when you pass by, spooky!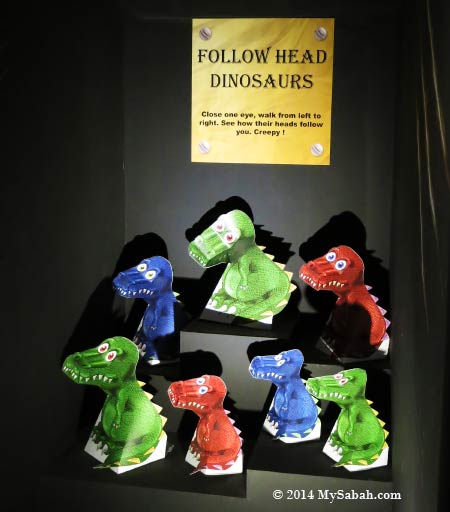 Pic: the video of these follow-head dinosaurs is so cool that it went viral on Youtube with nearly 10 million views! You must check it out.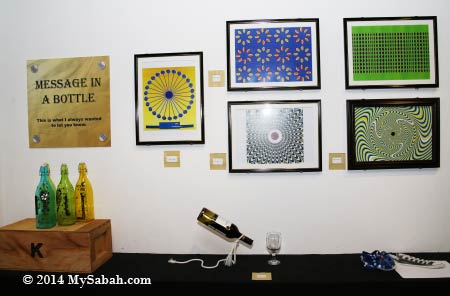 Pic: dozen of other optical illusions for you to explore. If you like to watch Brain Games of National Geographic Channel, you will enjoy it.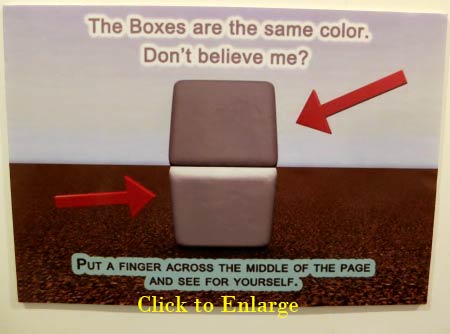 Pic: Here is one illusion that you can try on screen. It's called Cornsweet illusion, first described by experimental psychologist Tom Cornsweet in the 1960s. After trying, you will say "No Way!" but you have to believe it.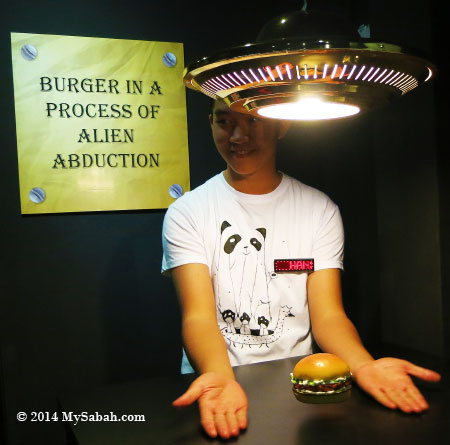 Pic: staff showing there is no string above and below a floating burger.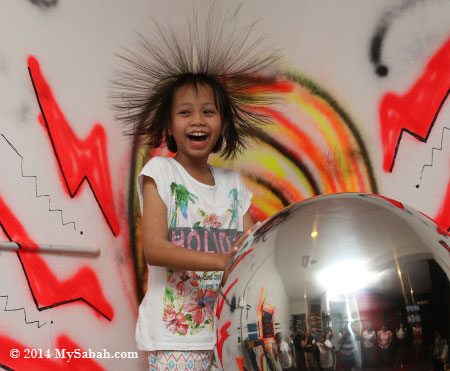 Pic: Though I had seen electrostatic generator many times on TV, I'm still amused by the effect, so is the kid.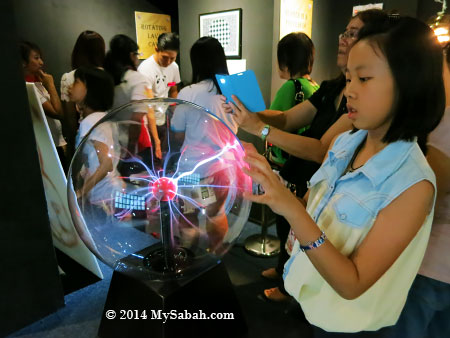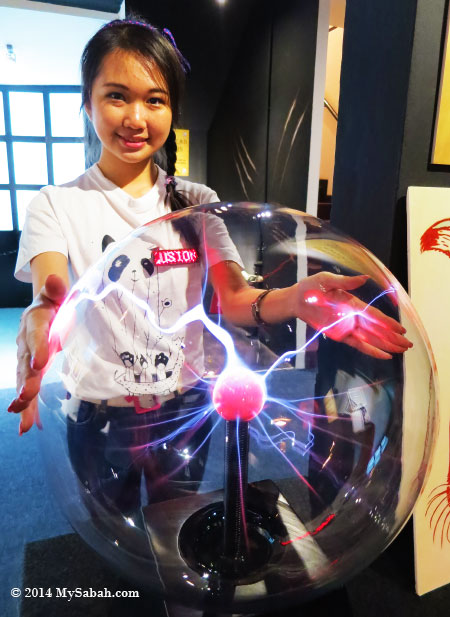 Pic: the super cool Nebula globe, even adult loves this big toy.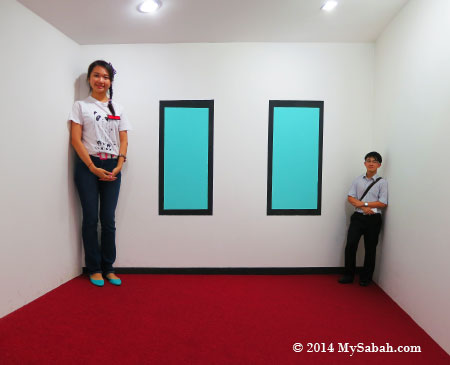 Pic: Shrinking Room (or Ames Room) is the favorite of most visitors. Kids are so happy to see themselves grow bigger than their parents. This illusion is very popular and I think you had seen it on physics textbook, now you can try it yourself. Chester says you need very precise calculation to get the visual effect right. *Note: no loss of height after trying it.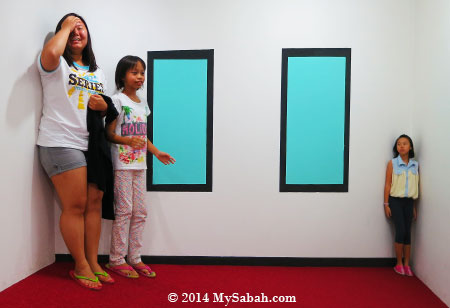 Oh No Honey, I Shrunk the Kid…
This invention, created in 1934 by American ophthalmologist Adelbert Ames, Jr., is really a masterpiece of illusion.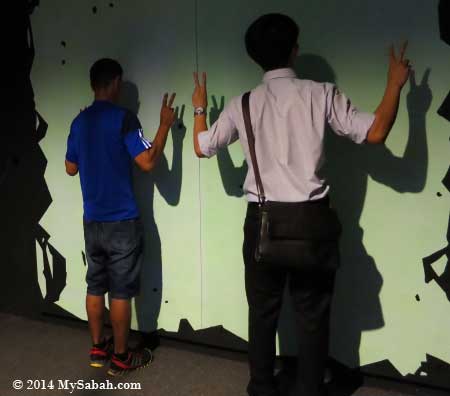 Pic: Shadow Wall is totally new to me. Your shadow can stay on a wall for a few minutes, even after you walk away.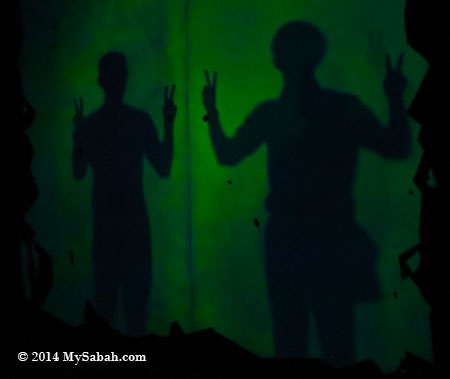 Pic: our shadow is imprinted on the wall. Somehow that reminds me of the shadows cast by heat rays of nuclear bomb.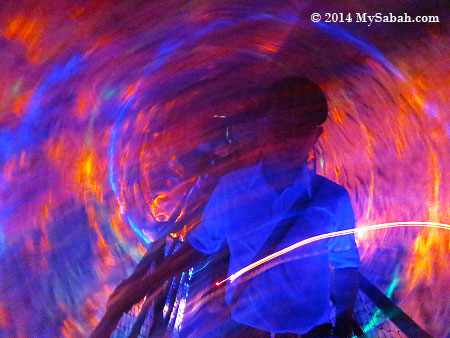 Pic: Rotating Lava Cave gives you the most intense illusion. My vestibular system is so confused that I couldn't walk straight upon exit, like everything around me was spinning. Some people would feel a bit dizzy. No worry, it won't harm you and you will regain balance again after a short moment.
The Lobby
People are quite excited about this shiny new attraction, so you may expect a waiting line in Grand Illusions during weekends. They have an air-conditioned lobby as the waiting area. Free Wifi and mini shop are available.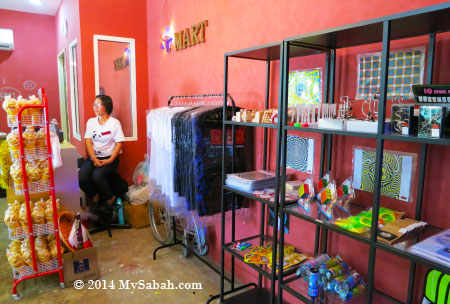 Pic: mini mart in lobby. You can buy soft drink and snacks (e.g. pop-corn, ice-cream, cookies) here.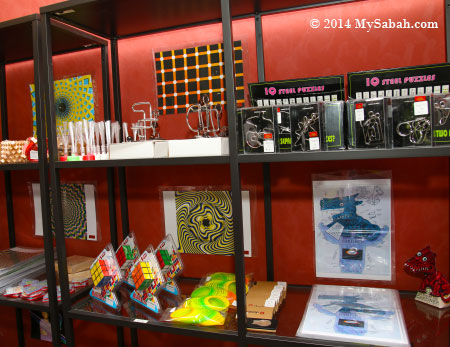 Pic: souvenir corner with T-shirt, games, illusion toys, puzzles, postcards, etc. for sale.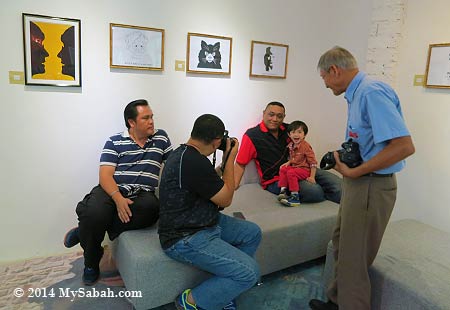 Pic: lobby with a few illusion artwork on display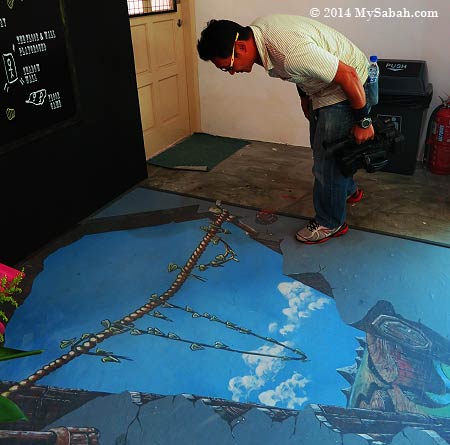 Pic: 3D floor painting in the lobby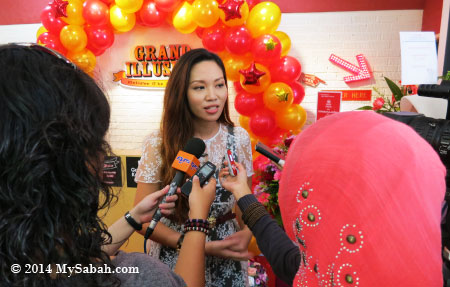 Pic: even RTM (Radio TV Malaysia) came to interview the owner, so they are getting a lot of visitors now.
Ticket Fee
Below is the prices of ticket. Locals can enjoy deep discount if they come in group of 4 or more, so please bring your friends or family (and more fun too). If you plan to organise a visit for big group (e.g. tour, student trip), you may call Lena (+60 13 8026938) or Chester (+60 13 8808938).
Visitor
Malaysian
International
Adult (13 & above)
RM30
RM35 (≈US$10)
Child (3 to 12)
RM20
RM25 (≈US$7)
Child (under 3)
Free
Free
Group Discount (for Malaysians only)
Family Pass (2 adults 2 kids)
RM70
4 adults
RM90
6 adults
RM120
More Info & Contact
Opening Hours: 10am-10pm daily (Last admission 9pm), including holiday
Phone: +60 88-211391
Website: www.grand-illusions-kotakinabalu.com
Facebook: Grand Illusions Kota Kinabalu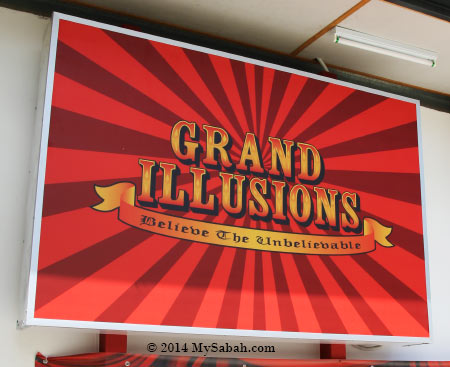 How to Get There
Grand Illusions is near to the traffic light and flyover to Kota Kinabalu International Airport (KKIA) in Tanjung Aru. Its address is: 144,​ Lorong Bunga Telur, Jalan Mat Salleh, Tanjung Aru, Kota Kinabalu, Sabah, Malaysia (see Location Map).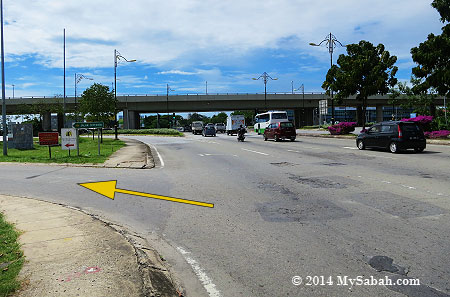 Pic: before you reach the traffic light to KKIA, turn left to the road named "Lorong Mat Salleh".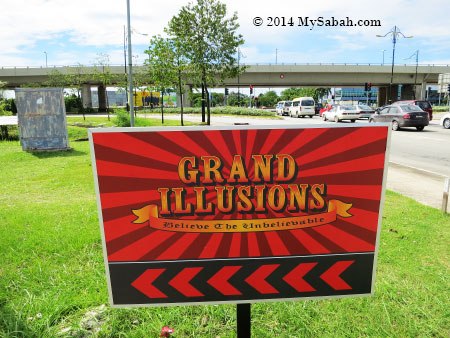 Pic: the signage of Grand Illusions at the junction.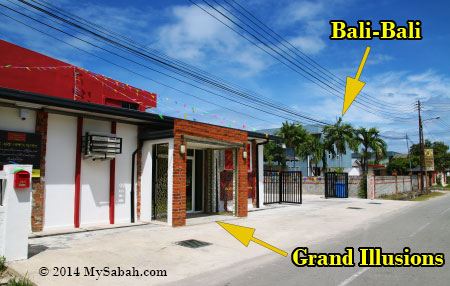 After entering Lorong Mat Salleh, turn left again in first junction, you will see Grand Illusions after 20 meters. It is just next to Bali-Bali Gardens Restaurant.
Have you visited the place? Please tell me which gallery you like the most.
Photos taken in Kota Kinabalu, Sabah, Malaysia Borneo