We have mermaid in Sabah. It lives at Mantanani, the Mermaid Islands, where it swims gracefully in the water and grazes on the seagrass. Someone even captured its photo as shown below. Wait! That isn't the glamorous mermaid which we saw in The Mermaid, a blockbuster movie by Stephen Chow!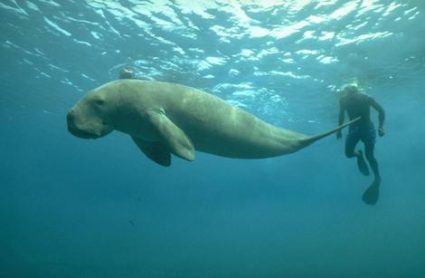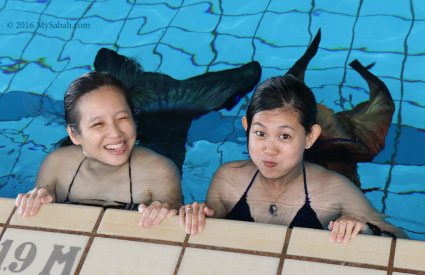 Actually mermaid is another name for our dugong (a.k.a. Sea Cow), this is probably a mistake by drunken sailor who was desperate for woman and thought he saw a mermaid having too much fast food.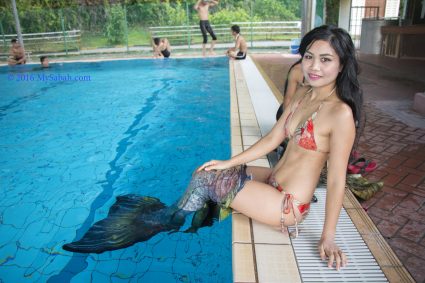 Though mermaid meant trouble to fishermen and sailors in the legend, most people think mermaid is a mysterious and fascinating creature. In fact, mermaid might be the only half human animal that mesmerizes people, while most other half human creatures are simply terrifying.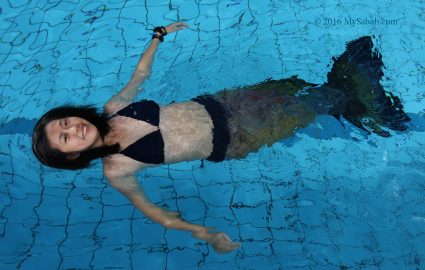 Mermaiding was used to be solely for entertaining kids. Then some serious cosplayers believe that there is a Princess Ariel living inside everyone, so putting on a mermaid tail costume and acting like a mermaid will bring out our inner beauty and transform us into a confident, elegant, and "wild" being.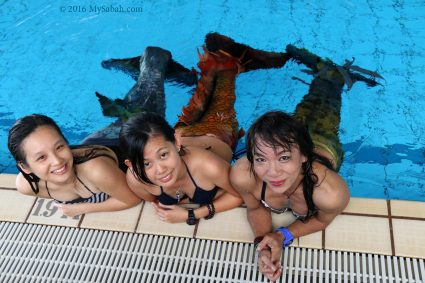 After first mermaid school was open in 2012, mermaiding is gradually becoming popular, and now it's available in Sabah because of Angie Shureena, the first mermaid of Sabah.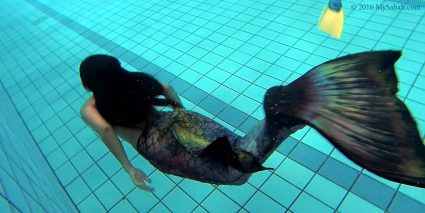 Growing up in water village of Kampung Air, the first thing Angie Shureena did after school was jumping into the sea with her siblings. She loves everything about mermaid and always glued to its stories, movies and photos.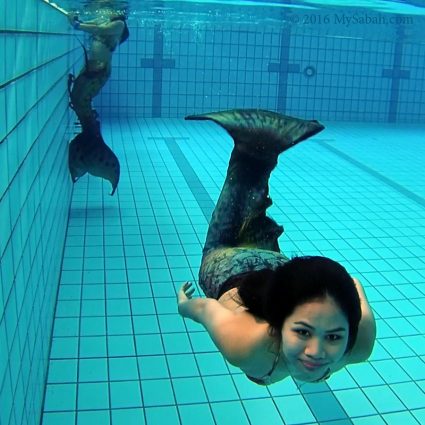 As sea is her second home, I'm sure she would have dreamed of turning into a mermaid.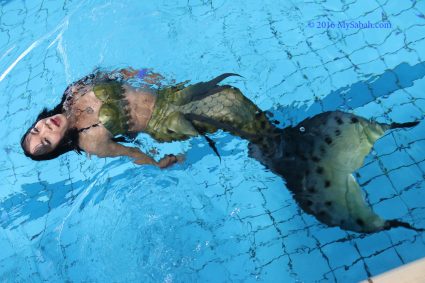 Five months ago Angie was so excited to discover mermaid tail costumes for sale on the Internet, and this really ignited her passion to be a mermaid. However, a fancy mermaid tail can cost from hundred to thousand of dollars.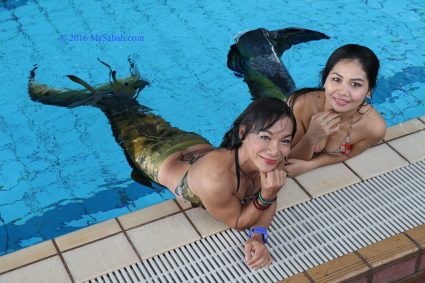 Therefore, Angie decided to create the costume mermaid tail herself. Being a self-taught painter, pianist and baker, Angie is talented and a hands-on person who is good in DIY.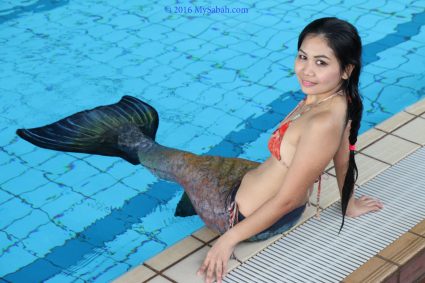 She researched for ideas online and experiment with different fabric. After some trials and errors, she has successfully made 7 beautiful handmade mermaid tails in different style.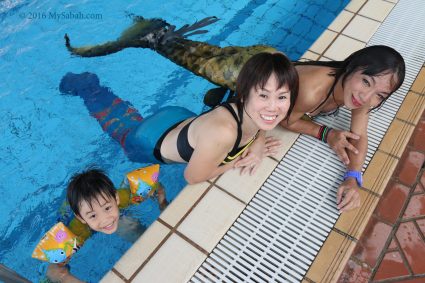 The materials of her choice is elastic and light fabric that floats. After cutting and stitching the material based on her design, Angie will paint it with waterproof colors and detailing it with shimmering scales. This requires weeks of effort, but the end product is a very realistic and high quality tail.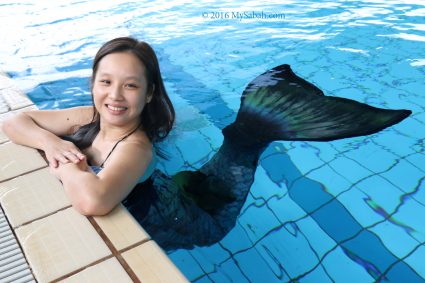 According to the Little Mermaid fairy tale (not the version in Disney's film), the Little Mermaid wanted to become human so badly that she gave up her beautiful voice and tail, in exchange for a pair of legs that gave her excruciating pain when she walked. Unfortunately, her beloved prince married someone else, so she died with broken heart and her body dissolved into sea foam.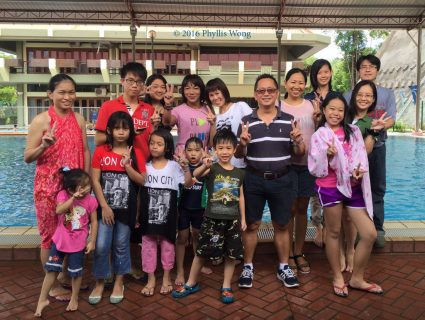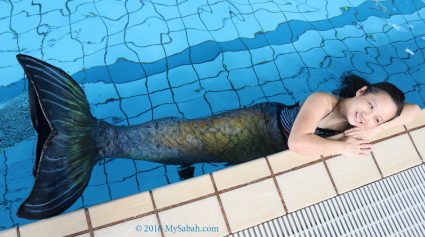 Therefore, the lesson is – be yourself and never change yourself just to win the love of those who don't appreciate your uniqueness. The funny truth is everyone wants to be a mermaid. If the Little Mermaid showed her special identity, her prince charming could be impressed, and they both would have lived happily ever after.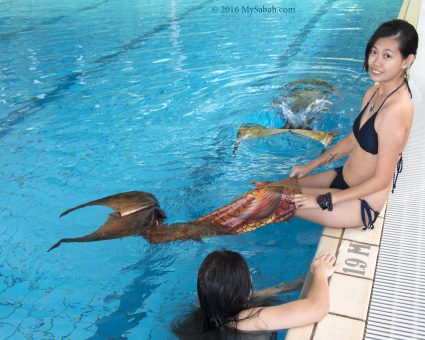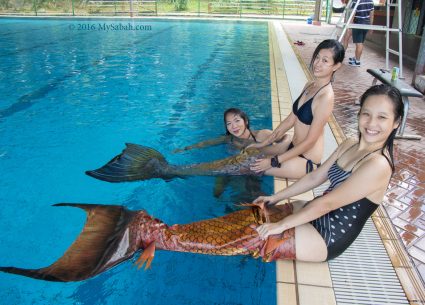 Ok, I was just trying to say it's great to be a mermaid (at least you don't need to shave your legs). Back to the Sabah mermaid, when Angie was swimming in her mermaid outfit at Babagon River, she received very positive response from the locals hence encouraging her to introduce this sport to more people.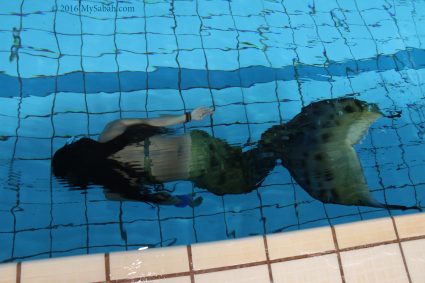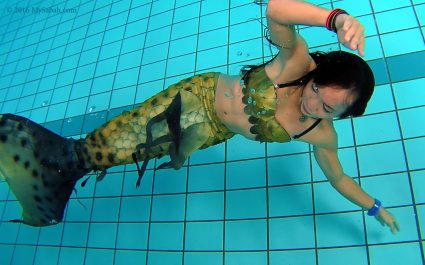 Her mermaid class focuses a lot on improving the swimming skill of her students. When your legs are wrapped inside the mermaid tail, you only can use dolphin kick to propel forward, which is a good workout for your hip, waist and thigh.

The Mermaid Swimming Class is conducted in swimming pool of Penampang Sports Complex about 8 Kilometers away from Kota Kinabalu City (KK). It is not crowded, so it'll allow mermaid to have more swimming space to practice. Both adult and kids, male and female, can join the class. Costume mermaid tail is available for lending.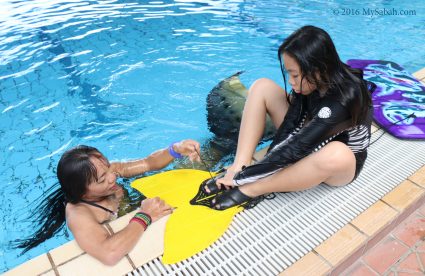 Mermaid is a born swimmer. Therefore, ability to swim gracefully is your first step to mimic a mermaid. When Angie trains you to become a mermaid, you will become an expert swimmer at the same time. Anyway, swimming is now more fun and never be the same again.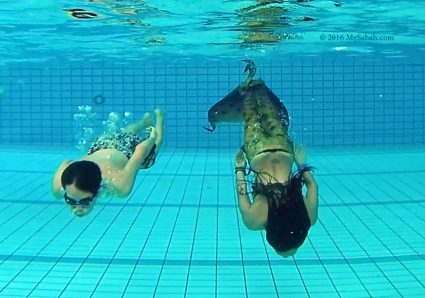 Before dressing in a flamboyant mermaid costume, beginners will exercise dolphin kick with monofin first, to ensure they can handle mermaid suit later. Besides, participants will improve their underwater breathing and free-diving techniques, so they can dive longer in the water.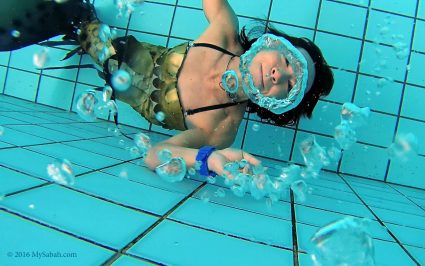 Dolphin kick is the fastest swimming style. Once you master dolphin kick like your second nature, you will swim as fast as a fish and fully enjoy the freedom. And this will change you. Angie said, "I start to see and feel the world like a fish. When I find pollution and trash in the sea, I'll feel really sad."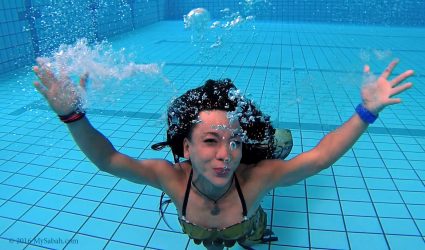 It's not all about swimming. You will be taught how to do some cool tricks underwater such as blowing bubble rings and mermaid kiss.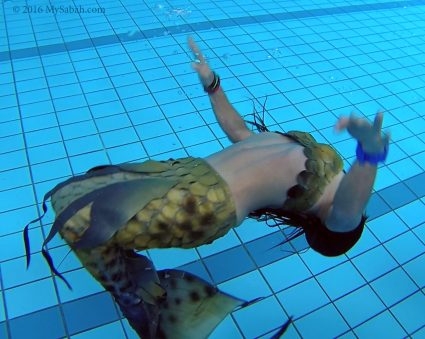 If you are interested in Mermaid Swimming Class, please call Angie's "Shell" Phone at +60 16-3532438 (Whatsapp available). She also can do mermaid show in special event such as birthday party.
Photos taken in Kota Kinabalu, Sabah, Malaysia Borneo