"Hey, do you know where to see meteor? I want to make wishes." At first I was dumbfounded at her question, then I realized that there is no more starry sky in our city. "Lasau Podi," I replied, "the sky over there is full of stars and it got so many meteors that you can make wishes all night long. Probably next day you would become the prettiest, richest and healthiest person in the world, if these are what you will wish."
Sky filled with twinkling stars was used to be a everyday thing at my home decades ago. Sadly, due to increasing light and air pollution, one-third of world population can't see the Milky Way. The night of modern cities such as Singapore and South Korea is vibrant with colorful neon lights, but they have no more scattered diamond dust in the sky. Now children would sing "Twinkle, twinkle, little star… I wonder where you are.."
Stargazing at Lasau Podi
Lasau Podi is discovered by Sabah Stargazers as an excellent location for stargazing. It's a countryside about 20 KM away from Kota Belud town, and the approximate location where I shot the stars is 6.359675, 116.559431 (see Location Map). 95% of the road from Kota Kinabalu City (KK) to Lasau Podi is paved so it's very accessible.
Last month I was drooling when my friend showed me the stunning photos of Milky Way that he took in Lasau Podi, so a BIG Yes to him when he asked if I wanted to join him in second trip. We departed at 8pm from KK. After we passed by Kota Belud town and headed to Lasau Podi, we entered the countryside without street light along the road. Our car bumped into herds of cows sleeping on the road. Drive carefully if you go there.
We reached the destination around 11pm, I was mesmerized by the breathtaking view of starry sky, with silhouette of Mount Kinabalu as the backdrop. The number of stars that you can see on a clear night in a total darkness is about 2,000, and I think I saw them all there.
After we setup the camping tent, we shot until 4am in the morning. I slept under a blanket of thousands of stars, lovely, but I was also attacked by thousand of mosquitoes.
Did you know when we look up to the winking stars, we are looking at a scene of the past? Light from a distant star can travel millions of years to reach us, it may be long gone by the time we see it.
When we waked up in the morning, we could see our surrounding better. We were on a high ground overlooking a plain with Mt. Kinabalu far away. It's a scenic dawn.
Despite sleeping for only 2 hours, we took out our tripod and camera again for second round of crazy clicking. We bagged more beautiful photos, tired but happy.
Anyway, Lasau Podi isn't a romantic location for dating. There is no toilet and comfortable accommodation. Instead, you can try Tegudon Tourism Village (TTV), which is only 30 minutes away from Lasau Podi and have toilet, camping ground and amenities for visitors.
Best Locations for Stargazing in Sabah
In Sabah, as long as you are in a countryside far away from city light and air pollution, you will see starry sky. Your best bet is at the beaches and open fields which has nothing that obstructs the star views at the horizon.
If I must name a few best stargazing sites in Sabah, I will recommend the Tip of Borneo (Kudat), Tegudon Tourism Village (Kota Belud), Pitas (Malubang Village), Borneo Jungle Girl Camp (Keningau), Kiulu and Sugud (Penampang).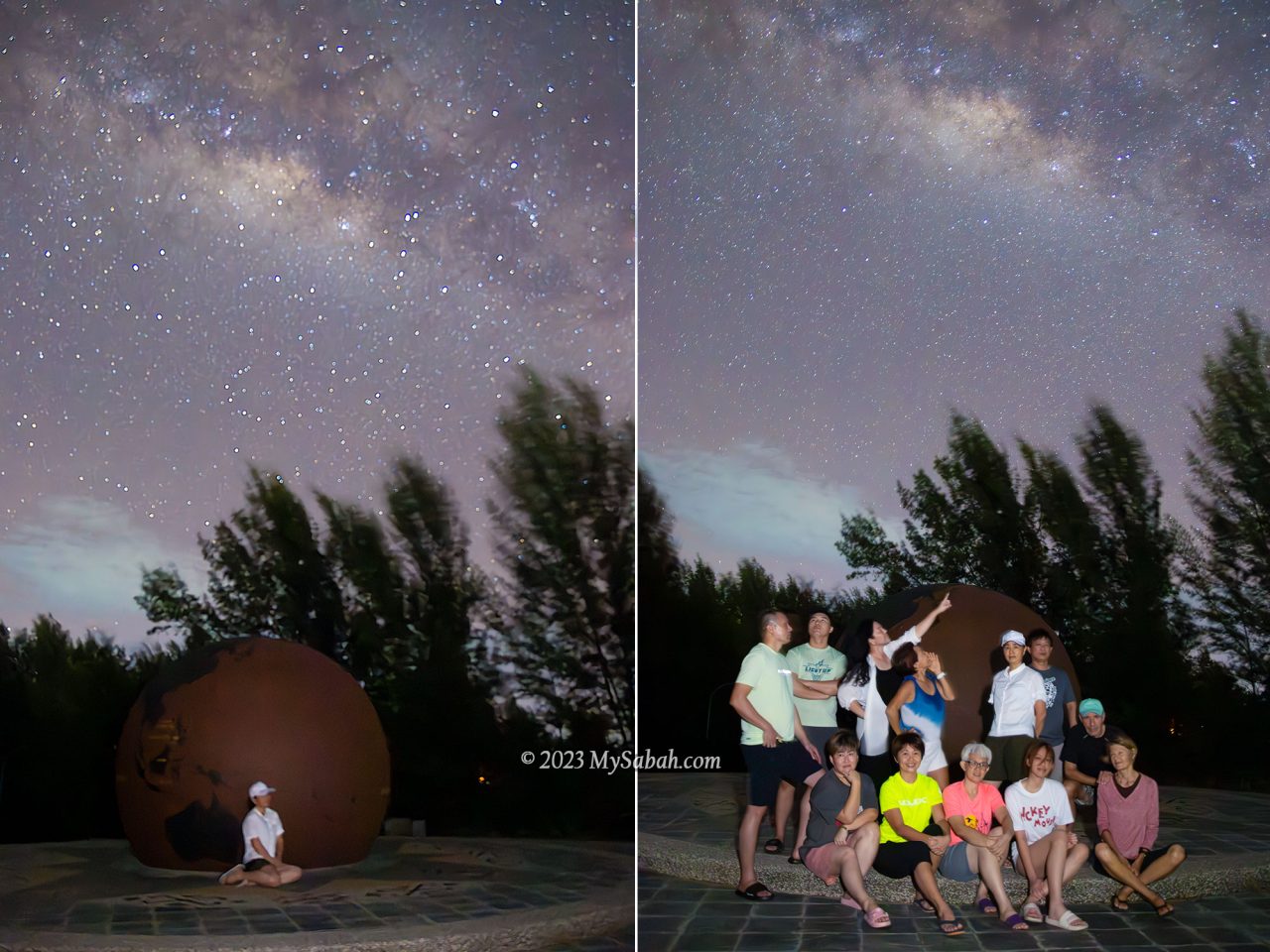 I also saw a lot of stars in Kuala Penyu, Beaufort, Keningau, etc.
What's Milky Way?
Guess you enjoy the movie "Guardian of the Galaxy"? But what does a galaxy look like? You would notice the "star river" in my star photos. It is Milky Way, the galaxy that contains our Solar System (where we live). Below is the disk-shaped structure of Milky Way.
The following is the top view of Milky Way, it contains between 100 and 400 billion stars and probably at least 100 billion planets!
If you are really interested in stargazing, you can join the activities of Sabah Stargazers group:
Website: sabahstargazers.wordpress.com
Facebook: SabahStargazers
Tips for Stargazing
Go in moonless night for best view, more stars are visible in total dark sky.
Avoid cloudy and rainy days. Common sense.
Stay far away from any light. Countryside is good place to start.
Watch out for your safety in remote area. Go in group if possible.
Bring torchlight and insect repellent
Photos taken in Sabah, Malaysia Borneo